Product lifecycle management is a really essential concept for any business for their product development, design, marketing, lunching and updating.
PLM concepts were first described in areas where safety and control are critical, such as medical , nuclear, and military.
These sectors gave rise to the discipline of configuration management (CM), which evolved into electronic data management systems (EDMS), and eventually into product data management (PDM).
Here we will cover the following:
What is Product Lifecycle Management?🤔
Product lifecycle management (PLM) is the decisive process of managing a product's entire journey from initial concept design to development, service, and removal. PLM, in other words, is the management of all aspects of a product from conception through disposal.
Product Lifecycle Management coordinates all of the data and activities of a product life cycle. Including details from documents, parts, quality procedures, specifications, and products.
PLM is crucial in assisting companies in developing the next generation of products at a better price and with a shorter time to market.
While PLM can also be regarded as a business strategy, three fundamentals influence how teams function and organizations' ability to improve and perform better.
Ensuring the quality of that product description and related information over the product's life cycle.
Monitoring and management of the company's systems that produce, manage, disseminate, distribute, and utilize information.
Access to and use of product definition information should be broad, private, and well managed.
Stages of Product Lifecycle Development🙇‍♀️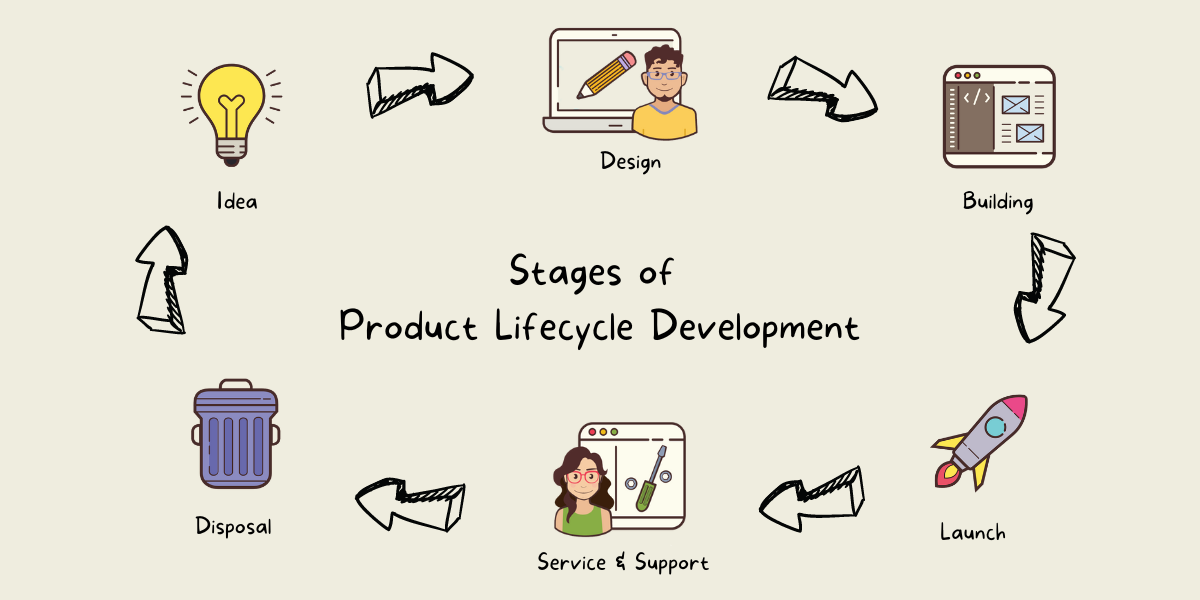 1. Idea
The first stage of the product lifecycle is the idea and the concept of the product that blinks in the founder's mind.
A product may need some specific elements, such as competitive analyses, market gaps, and needs. This is where the product itself tries to make a significant task easier.
2. Pattern
Pattern or you can say it as product design. In some cases, a group of team members work together to design the product according to its features and desired color.
Elements such as features, limits, need ability, and market the pricing and compatibility will be patterned in order to design and outlet a better product.
3. Manufacture or building
After designing and planning a product, it is all about investing in it and manufacturing or building the product. A product has to be built in the way it has been designed.
It takes lots of time in order to give finishing to a product. This phase in the lifecycle of the product is more important as the product can get its design and features from any other competitor, but manufacturing it exactly as it has been designed is quite complex.
4. Launch
Launching the product in the right targeted market is also an important part as the result and success story of the product depend on the launch and marketing of the product.
Sometimes launching can be a user failure in some products' lifecycles, but still, a product has a lot more chances to hit the market. There are lots of ways to get your product or website the attention it deserves.
5. Service and support
Any product you release has to be maintained with a view to retaining your customers. Either your customer has to maintain it or you have to give it a personal service by updating its features.
All products need to be given genuine support. It is the best way to give your customers the best impression of your business and the product. In the product lifecycle, service and support are important stages.
6. Disposal
Every product may one time come to a disposal phase or outdated phase. People keep moving on and keep getting updated or replaced with new technology.
This leads to the end of the product lifecycle. After the disposal of the product, you can keep upgrading the product or release a new product by yourself to replace the old one.
For example: Let's take Apple, they replace their own products. They release a Mac version and never wait for someone else to buid a better one. Apple itself will release a better version of the last release by building better features in all three software, hadrware and camera pixel too. This is not not for Mac but also in all thier iPhones, iPads, iWatches and more.
This is one of the reasons Apple has so many models for each product.

10 Benefits of Product Lifecycle Management😇
Improved development of the product lifecycle.
Requests for quotes (RFQ) that are more precise and appropriate.
Increased engineering efficiency and effectiveness.
Better ability to manage fluctuations due to less waste.
Increased supply chain collaboration
Advanced product design.
Enhanced forecasting to save money on materials.
Prototyping costs are reduced.
increased product quality and dependability.
Easily determine sales opportunities and financial contributors.
Product and Process Lifecycle Management (PPLM):
Product and process lifecycle management (PPLM) is a subset of PLM in which the manufacturing process is as essential as the product itself.
Traditionally, this is the market for life sciences and sophisticated specialty chemicals.
The manufacturing method of a certain compound is an important component of the regulatory submission for a new medication application.
Process Development Execution Systems are one type of PPLM deployment (PDES).
PDES combines individuals from various backgrounds with data, information, and expertise, and workflows from possibly distinct legal organizations.

History of Product Lifecycle Management🧐
Prior to 1990
Solutions were CAD-centric and focused nearly solely on the administration of CAD files or documents.
This rapidly amplified to include controlling the cost of materials BOM and engineering change processes ECOs, but it remained purely concentrated on product development.
Globalization, outsourcing, and time-to-market pressures forced corporations to extend their PDM installations in the 1990s.
PLM software was initiated with a layer of security and collaboration attributes, and it helped support many features all across the product lifecycle, including process improvement, manufacturing, agreement with the points, product costing, and others to address challenges beyond core product development.
Although PDM is at the heart of any PLM solution, old tools are hardly full-featured nor user-friendly, necessitating costly and substantial changes.
In 2000
A new version of PLM software appeared in 2000. This new development was centered on product releases and included more capabilities throughout the lifecycle, such as innovation and requirements management, as well as increased links with bottom manufacturing, supply chain operations, and commercialization processes.
These skills were frequently obtained and merged with help in making sure. While businesses could use the new capability, the legacy approach was complicated and required considerable adaptations.
However, the constraints that drove the early development of PDM and PLM systems grew stronger.
Businesses required an approach to satisfy their objectives for innovativeness, as well as the most recent technological innovation and industry efforts. Today's current PLM software is supply chain and customer-centric.
It's based on the software as a service (SaaS) paradigm, so businesses don't need to engage a full IT group to handle it.
Companies can use PLM to create and manage a digital thread that joins the numerous voices of machines Internet of Things, products including digital twins, factories, and customers through social monitoring across the organization.
Access to this information from anywhere, at any time, bidirectionally in the cloud, tightly connects previously unconnected corporate operations, breaks down data silos, and removes the burden of acquiring data across supply partners.
There is faster innovation, better decision-making, time-to-market, lower costs, and increased efficiency.
Summary
PLM encompasses all aspects of product development and manufacturing, as well as marketing and consumer segmentation.
PLM's key advantages include shorter product development times, understanding when to ramp up or lower manufacturing processes, and knowing where to focus marketing efforts.
---
LeadMine : Find Your Next Customer without Wasting Time
LeadMine is a lead generation platform used by all types of businesses. From over 200 million contacts, you may identify your target b2b leads as well as their email addresses.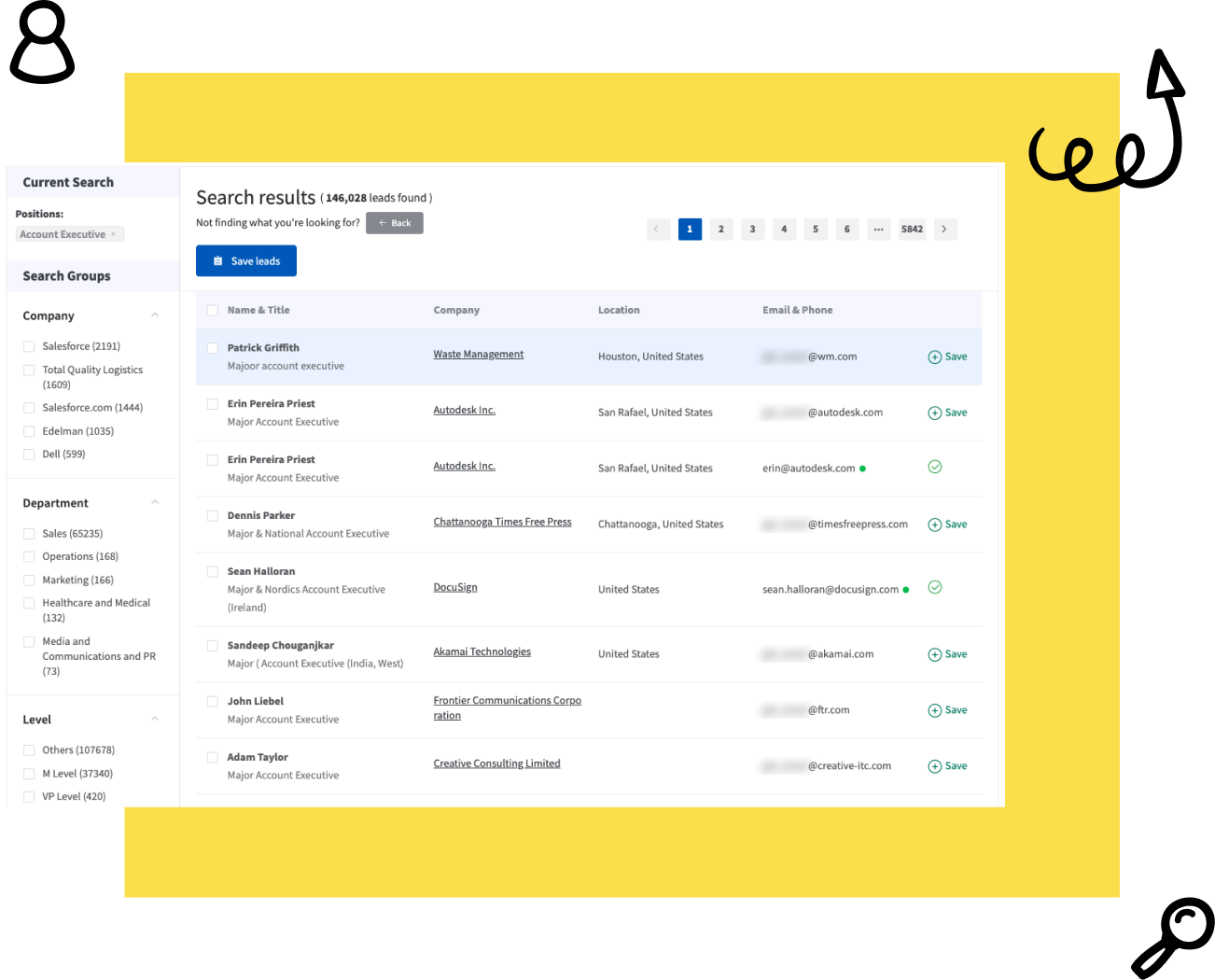 LeadMine is an extremely simple and handy application that can improve your marketing and sales processes. Its user-friendly interface, strong algorithms, real-time data, and email verification features save time that can be better spent on other tasks. The rich API solution can also check hundreds of email addresses in less than a minute. The powerful yet easy solution might be your ideal marketing and sales partner, helping your business grow.