The idea of marketing is an evolving and ever-lasting field where you need to come up with innovative ideas to stand-out from the B2B space. One of the best ideas in B2B marketing is Account-Based Marketing (ABM).
We will go over the following:
What is Account-Based Marketing?
Account-based marketing (ABM) is a strategic marketing approach for business based on account type in which an organization identifies and communicates with individual prospect or customer accounts. It is also known as key account marketing and typically employed in enterprise-level sales organizations.
It focused on driving long-term revenue by complementing the conventional, short-term marketing goal of generating leads with effort.
Business marketing is generally organized by industry through channels (email or social media) for the entire customer list, while account-based marketing brings all of these together to focus on individual accounts or high-value accounts.
Benefits of Account-Based Marketing
Account-based marketing is a popular approach for B2B companies that target larger accounts with long sales cycles and large deal sizes. It offers many benefits over other marketing approaches. They include:
Engage earlier and higher deals 📊
Instead of a generic marketing approach, marketers produce customized messages for target accounts, analyse what you recognize regarding your customer, and customize the creative assets of your campaign to the customer's specific attributes and desires to induce a lot of deals.
Get the best value of marketing 📈
Account-based marketing begins with creating the best user experience segments and then identifying marketing campaign programs that can be personalized to prospects on the channels, which are most impactful to them such as events, websites, and email. Every company can implement its own tactics.
Increase account relevance and revenue 🙋‍♂
It is precise and measurable, delivering relevant accounts for marketing than any other marketing approach. Also, 85% of marketers mentioned that it provides the highest ROI of all B2B marketing tactics.
Compelling content to inspire customers 🤝
Account-based marketing encourages you to write content that makes your audience to undeniable from reading it. The valuable content makes the business reach many audiences and get more customers.
Align marketing activity with account strategies 👍
It encourages marketing teams and sale organizations to work together, identifying target accounts, crafting customized campaigns for them, and works together to align and separate individual accounts through the pipeline, before and after the lead conversion.
Identify specific contacts from a specific company 👨‍
Time and resources are focused on a small number of accounts to close deals. That's why it is important to get customer's information such as email address, contact number in a much faster way. Account-based marketing makes the way easy and fast to get customer's details.
How to implement and optimize account-based marketing?
To lead the ABM program in a successful way, you need to carefully choose high-value accounts as a list. Once you define your targets, your marketing and sales teams can create and send personalized email campaigns or related campaigns through the right channels to produce the best results.
Step 1: Search and list the high-valued accounts
Using business intelligence and firmographic data exactor, you can identify and prioritize your high-value accounts. Also, consider revenue potential and other strategic factors such as market influence, continuous product purchaser, and customer potential to generate higher profit margins.
Step 2: Account Mapping and key internal players identifying
Map accounts to get a high-value account list. Identify how your targeted accounts are listed, how decisions are taken by, and who are the taking the decision. It is a must to know about decision-makers and the influence of targeted accounts.
Step 3: Creative content and customized marketing campaigns
Create valuable and creative content that addresses clearly your targeted customer's issue in the day-to-day business space. Plan how your messaging and content can address the target account's specific issue points and make them undeniable about your message.
Step 4: Decide convenient channel
Communication is the key feature for closing the deal. To communicate with your audience on the channel whichever they felt comfortable including web, mobile, and email. Identify which channels will be most effective for the specific roles or industry type you might be targeting and consider things such as rules, policies, and other restrictions in your region.
Step 5: Execute customized campaigns
Coordinate your campaigns across various channels and arrange the marketing and sales teams for maximum impact. Encourage marketers to use modern technologies to coordinate and execute the ABM campaigns with efficiency and a much greater scale.
Step 6: Measure and analyse the campaign affects
Make sure to analyse the test results of individual campaigns as well as trends at the account level and combined results to get a more accurate picture.
Conclusion
Account-based marketing isn't overwhelming at all. ABM allows you to tailor the creative and messaging on a website to each of your target accounts. Also, it encourages marketing efforts to be personalized for each account, the experience that visitors have once they communicate with your organization can be tailored through ABM personalization.
There are many components of a website such as messaging, images, call-to-action, and social media that can be tailored through account-based marketing. Once the company visitor has been identified, you can add them to your targeted account list to provide a personalized customer service experience.
---
LeadMine

: Find Your Next Customer without Wasting Time
LeadMine is a lead generation platform used by all types of businesses. From over 200 million contacts, you may identify your target b2b leads as well as their email addresses.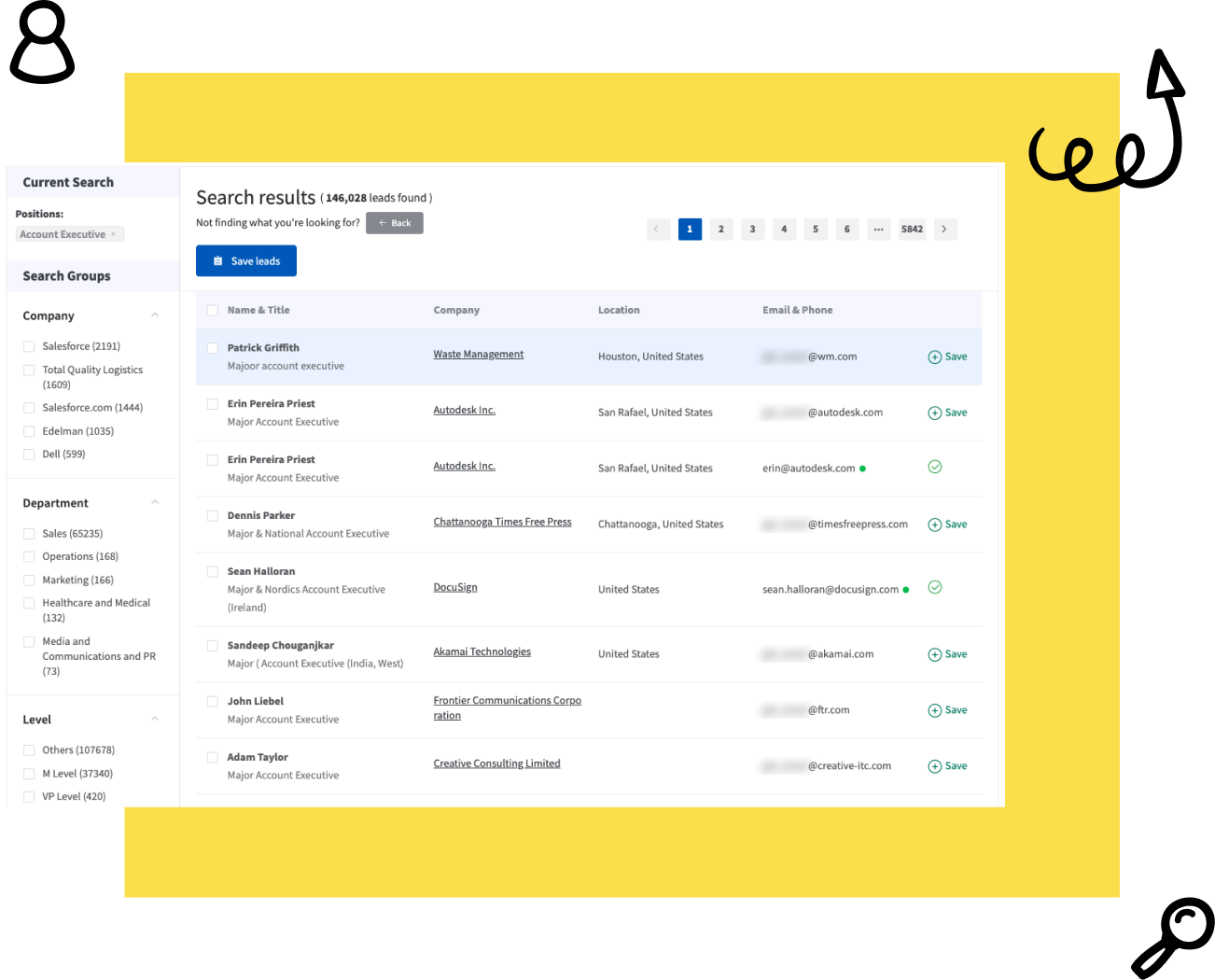 LeadMine is an extremely simple and handy application that can improve your marketing and sales processes. Its user-friendly interface, strong algorithms, real-time data, and email verification features save time that can be better spent on other tasks. The rich API solution can also check hundreds of email addresses in less than a minute. The powerful yet easy solution might be your ideal marketing and sales partner, helping your business grow.