Email marketing is a direct marketing strategy that uses electronic mail as a communicating tool for business from the day internet came to the world. Although, some campaigns that make it through to our inboxes are a waste of time that we don't take any notice of.
We now have the following:
What is Email Marketing?
How Email Marketing Works?
Why Email Marketing is Important?
Objectives of Email Marketing
Email Marketing Strategies
Conclusion
What is Email Marketing? 📧
Email marketing is the act of sending promotion content to a person or to a group of people using email. It involves sending emails for product or service advertisements, request business, or ask for sales. Every email sent to a potential customer or current client could be considered as email marketing as per marketers.
Email marketing strategies are used to achieve one or more of three primary objectives – to build trust, loyalty, and brand awareness. The term email marketing is referred to sending out a message with the purpose of increase a merchant's relationship with previous or current customers. It encourages customer loyalty and repeats business, acquiring new customers or convincing current customers to purchase your product or service immediately and sharing third-party ads.
It is one segment of internet marketing that includes online marketing such as via, websites, social media, blogs, and much more. It can include newsletters with updates on the business or promotions of sales and exclusive offers for subscribers.
Email marketing allows companies to keep their customers knowledgeable and tailor their marketing messages to their audience.
How Email Marketing Works? 🤔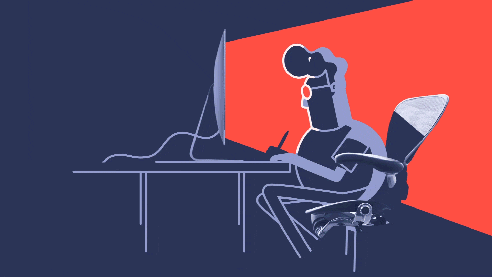 It is easy to set up and track an email marketing campaign for small businesses. You can include a newsletter sign-up option on your website. When people sign-up for your newsletter, you can send it to a growing audience. You can also direct customers to the newsletter from your social media channels.
A regular newsletter is an effective yet simple way to send updates about your business, upcoming events, and special offers. Email marketing tools also make it easy to schedule automated promotional emails for customers who haven't purchased your product or service recently.
It allows you to target particular groups of customers or even specific individuals to offer birthday deals on merchandise or services is one way to do. Personalized help a business develop and maintain a relationship with a customer and that can lead to increased sales and customer loyalty.
Why Email Marketing is Important? 🧐
Email is easy to access to all age groups and opens the door to a wide range of audiences. We may live in the digital age but not everyone is that comfortable using the internet. Although, most people know how to check their email. This makes email the most mainstream form of marketing.
Email marketing is extremely cost-effective. With the analytic tools available today it is easy to track responses to your emails exactly, to check what parts of your campaign are working and what parts aren't. You can then react instantly to change your campaign strategy if it needs.
Emails can be used to target ideal customers. Along with email cost-effectiveness, it is no wonder that email marketing's ROI blows other direct marketing strategies out of the crowd.
Objectives of Email Marketing 😇
A well-structured email marketing strategy allows you to reach lots of different long-term and short-term goals.
Increase Brand Awareness
An email campaign is an effective way to remind customers about your brand. The more they see relevant emails from your brand in their inbox, the more likely they will choose your company when looking for a product or service.
Boost Sales
This is probably the primary goal of every marketer. If your brand is trustworthy, it won't take too long for your customers to purchase right from your email. You can also inform subscribers about upcoming sales, offers, and even provide them with customized offers.
Build Trust
If you haven't earned trust from your customers yet. Be honest and straightforward, customers always appreciate that. Add reviews and testimonials to your campaigns so that subscribers have the proof in front of them to trust you. You can also provide a link to your website that contains customer feedback.
Drive traffic to your website
Every email campaign contains links to various websites so that you can manage to create an eye-catching subject line and relevant offer, customers will follow the links. By doing this, you can either boost traffic to your popular pages or promote those pages which lack user engagement.
Reduce sales cycles length
If you sell products or services, it takes much more time to make a buying decision. Email campaigns can explain step-by-step guides, useful checklists, and video instructions to help customers see the benefits of using your product or service.
Automate Tasks
You can send campaigns automatically in response to your customer's actions. Such emails include trigger and transactional emails.
Email Marketing Strategies 😈
Effective email marketing takes a lot of effort and plans. Here are a few strategies to make your email marketing campaigns better.
Build Your Own Campaign List
By sending an unsolicited email, all you are going is turning off most of the people from becoming your customers. Whether through your website, store or at an event, make it clear when customers are opting into receiving your emails.
Follow the Law
Marketers should follow the CAN-SPAM Act. The law includes having a non-deceptive subject line, a clear explanation to unsubscribe, and including your name and address at the end of the emails.
Mix Up Your Message
Use your emails to build rapport with customers by sharing your expertise or giving them tips and insights, they can value. Share information to know more about you and your company.
Respect Your Subscribers
Remember that the people you are communicating with have trust in you with their information. They deserve your respect. If you want a chance to convert customers to fans and even evangelists for your brand, then make them feel special.
Follow a Schedule
Follow the schedule if you are doing a newsletter. Sending out an email on the same day every week will help your subscribers know what and when to expect from you.
Conclusion
Email marketing is a vital component in many types of industries, especially when creating customer relationships. Learn to use it well, it will definitely bump up your company's success. Try not to send out another email that goes straight to the spam folder. If the email does manage to make it through the inbox, make it worth reading.
Also, share your email marketing campaign strategy which helps you and your brand to reach success with us at LeadMine.