The process of bringing your product of the market need a lot of  procedures. all these procedures are stacked into methods within them.
Proof of concept is one the method you will be over coming in releasing your finished, flawless product to the market, just like the a new born baby.
You can learn many things like will the product will be accepted in the market, does the recourses and time spent the product worth the investment, what can be the next step to take it to the market and many more.            
Know more on the proof of concept to make your product a success.
Here are the topic will be covered in this blog:
What does Proof of Concept mean?
Proof of concept (POC) is proof produced from a test program that is carried out to verify the potential or its probability of succeeding in any product idea, company plan, or project plan.
A proof of concept captures user comments and insights from your team members, even those who would not have participated otherwise, reducing unplanned risk.
A "proof of value" (POV) differs from a "proof of concept" in that it focuses more on establishing the potential customer's use case and value, and it is typically less in-depth than a "proof of concept."
Proof of Concept - Definition
A Proof of concept (POC) is a realization of a certain method or idea in order to demonstrate its feasibility or a demonstration in principle with the aim of verifying that some concept or theory has practical potential.
The Benefits of Using Proof of Concept
In addition to features and capabilities, the entire cultural fit can be examined.
It provides essential data to analyze whether a project or product idea is feasible and how beneficial it will be to investors and decision-makers.
They provide vital user input and information about market demand, target audience, and significant pain points to development teams.
It demonstrates how the two organizations will collaborate in practice.
It acts as the basis for your product prototype as well as the minimal feasible product in the product development process.
Enterprises have more recourse to vendor resources.
What is a Prototype?
Prototypes are an important aspect of the design process and are used across all design disciplines.
Prototypes are created by architects, engineers, industrial designers, and even service designers to test their designs before investing in mass manufacturing.
The goal of a prototype is to have a concrete model of the answers to the challenges that the designers have previously specified and debated during the concept/idea stage.
Prototypes allow designers to test their concepts by putting an early version of the solution in front of real users and receiving input as rapidly as feasible, as opposed to going through the entire design cycle based on a supposition.
When prototypes fail during testing, it reveals where the flaws are and sends the team "back to the drawing board" to revise or repeat the proposed solutions based on real user feedback.
Prototypes can save lives by minimizing the waste of energy, time, and money on adopting ineffective or inappropriate solutions.
What is Minimum Viable Product (MVP)?
A minimum viable product (MVP) is a product version that has only enough features to be usable by early customers, who can then provide input for future product development.
An emphasis on providing an MVP allows developers to avoid lengthy and (in the end) useless labor.
Instead, they iterate on functioning versions and respond to input, challenging and validating assumptions about the requirements of a product.
The MVP is similar to scientific testing in the context of verifying business assumptions.
It is used by prospective entrepreneurs to determine whether a given company idea is viable and profitable by testing the assumptions underlying a product or business idea.
The notion can be used to validate a product's market requirements as well as to make incremental improvements to an existing product.
It is especially effective for startup organizations that are more concerned with discovering where prospective business opportunities exist than executing a prepackaged, isolated business model since it tests a potential business model on customers to see how the market reacts.
The Difference between a Prototype, an MVP, and a Proof of Concept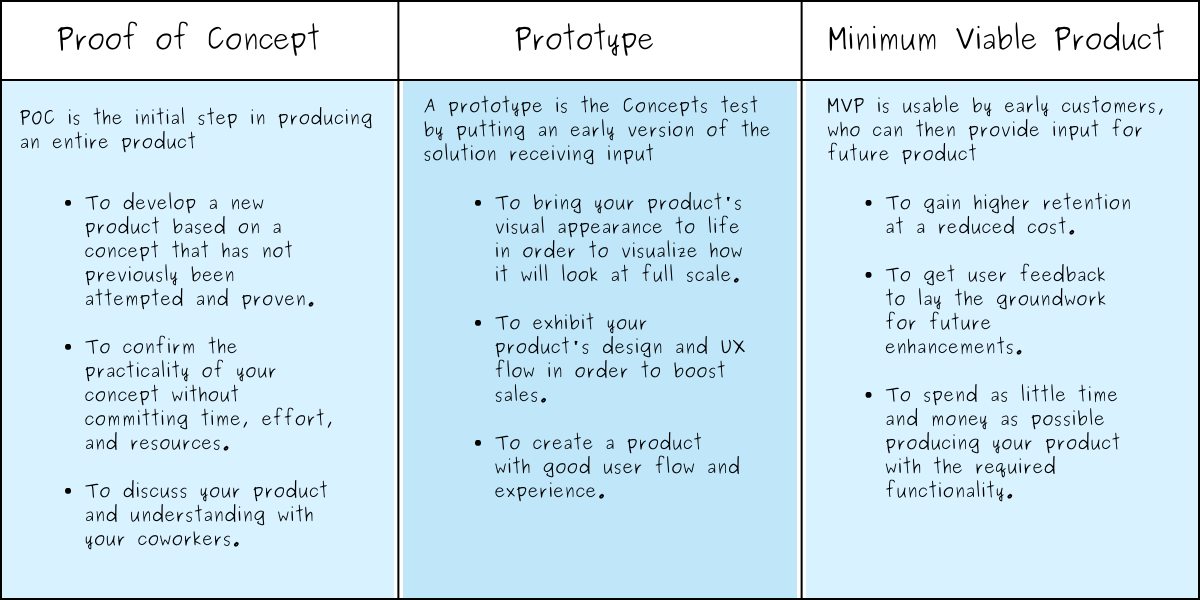 All three are individual approaches that are different in cost, style, process, and even products.
But in a cost-effective approach to execution, a disruptive or complex business idea may need to go through all three stages of development.
Going from a proof of concept (POC) to a prototype and MVP may also be necessary to properly validate your idea and invest resources only once you've proved your product is likely to achieve traction in the market.
The precise strategy for software development is determined by the quantity of data and resources available when you begin constructing it.
---
LeadMine : Find Your Next Customer without Wasting Time
LeadMine is a lead generation platform used by all types of businesses. From over 200 million contacts, you may identify your target b2b leads as well as their email addresses.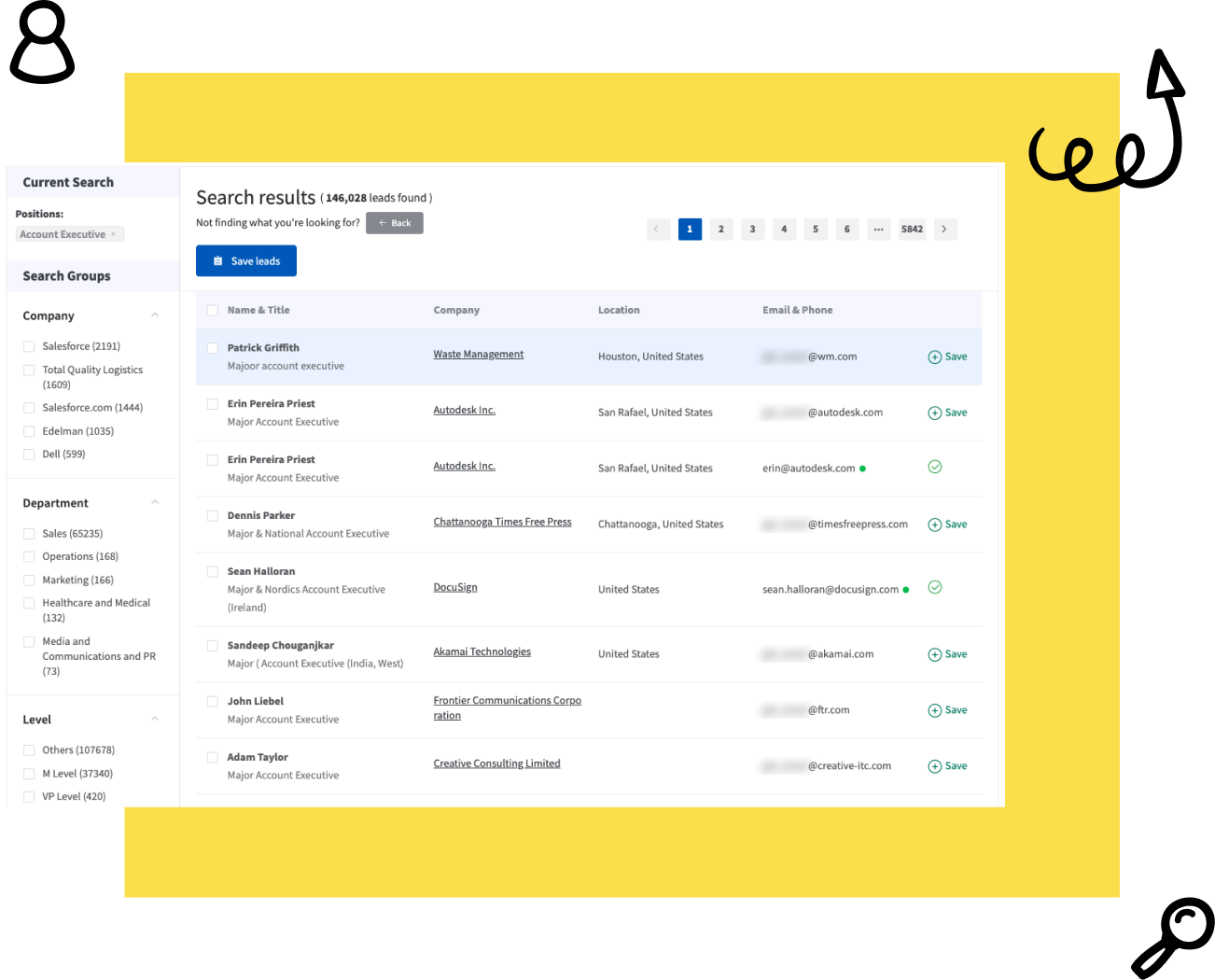 LeadMine is an extremely simple and handy application that can improve your marketing and sales processes. Its user-friendly interface, strong algorithms, real-time data, and email verification features save time that can be better spent on other tasks. The rich API solution can also check hundreds of email addresses in less than a minute. The powerful yet easy solution might be your ideal marketing and sales partner, helping your business grow.