The person's life in the sales team is a rollercoaster. Some days, rain in your land and drown you with new leads, good prospects, and more new deals. On other days, just empty land, no luck of rain. You even couldn't see crows in your land.
Without motivation, sales can be difficult. Although, with the right spirit and goal, it's possible to turn "No" into "Yes".
No matter where you are in the sales process, there are quotes for you. Let quotes help you to inspire others and learn from the best of the best in sales.
Before that let me start with our quote, "More Lead, More Sale" – LeadMine
Sales Team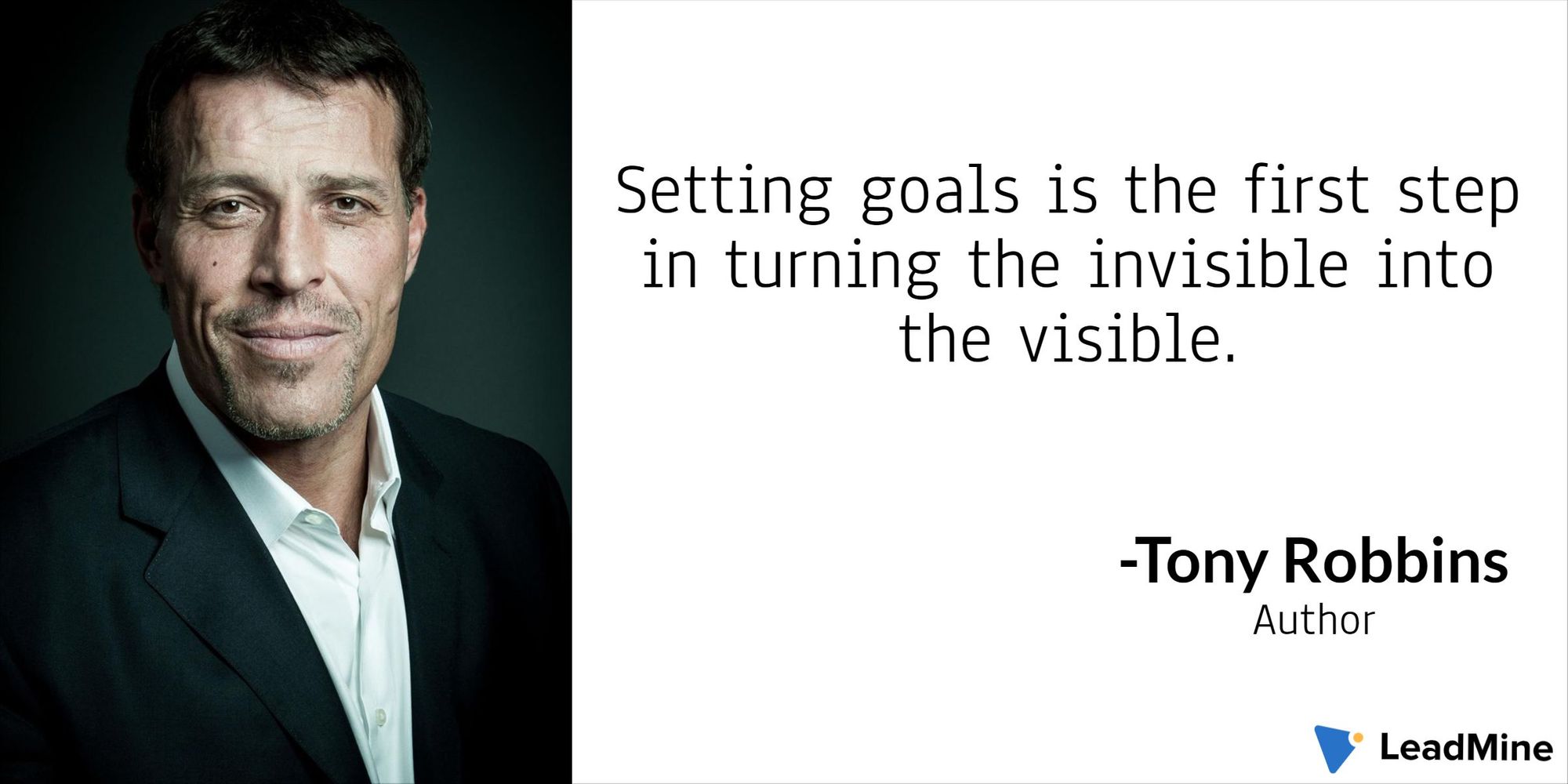 1.  Setting goals is the first step in turning the invisible into the visible. – Tony Robbins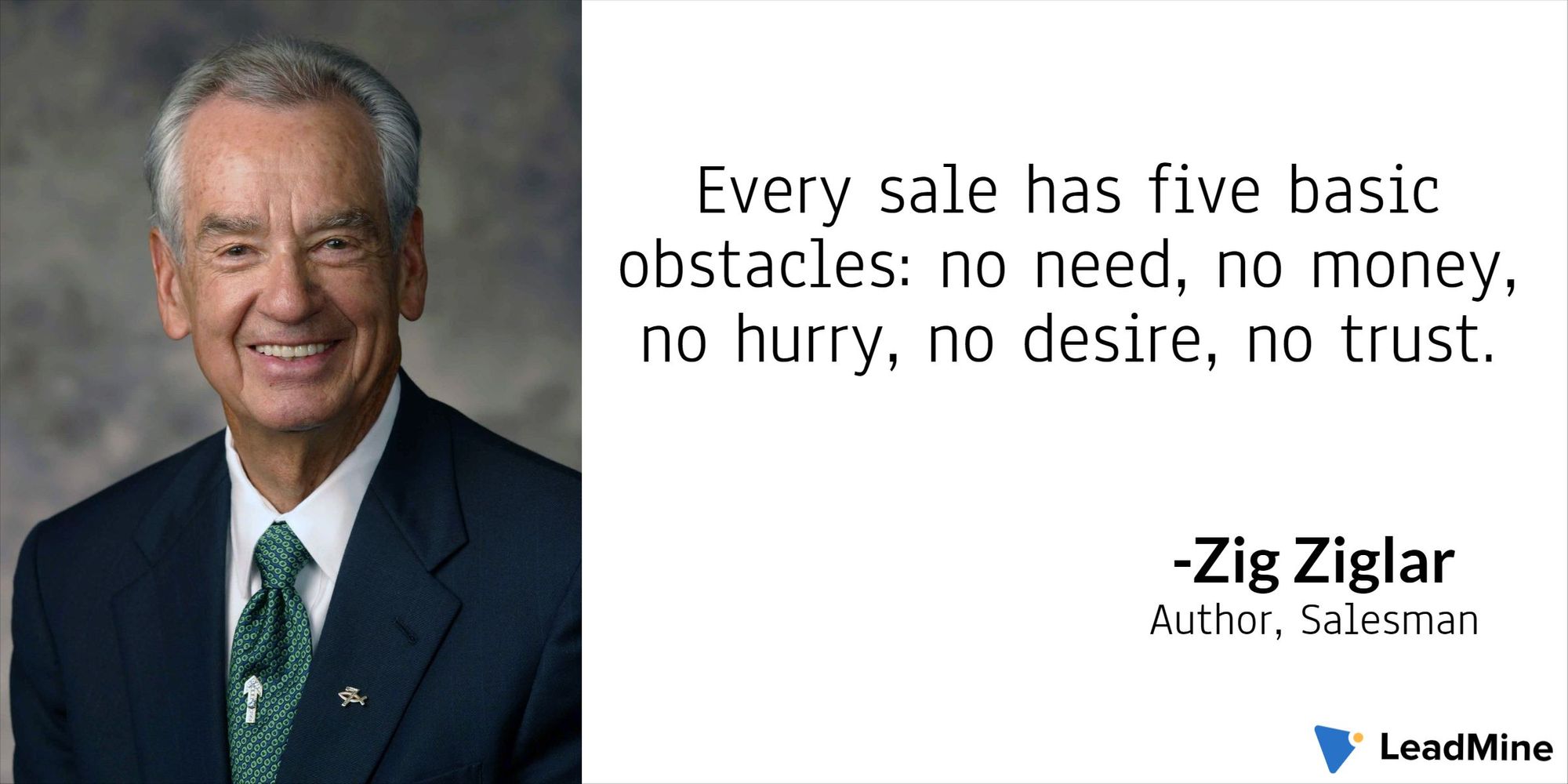 2.  Every sale has five basic obstacles: no need, no money, no hurry, no desire, no trust. - Zig Ziglar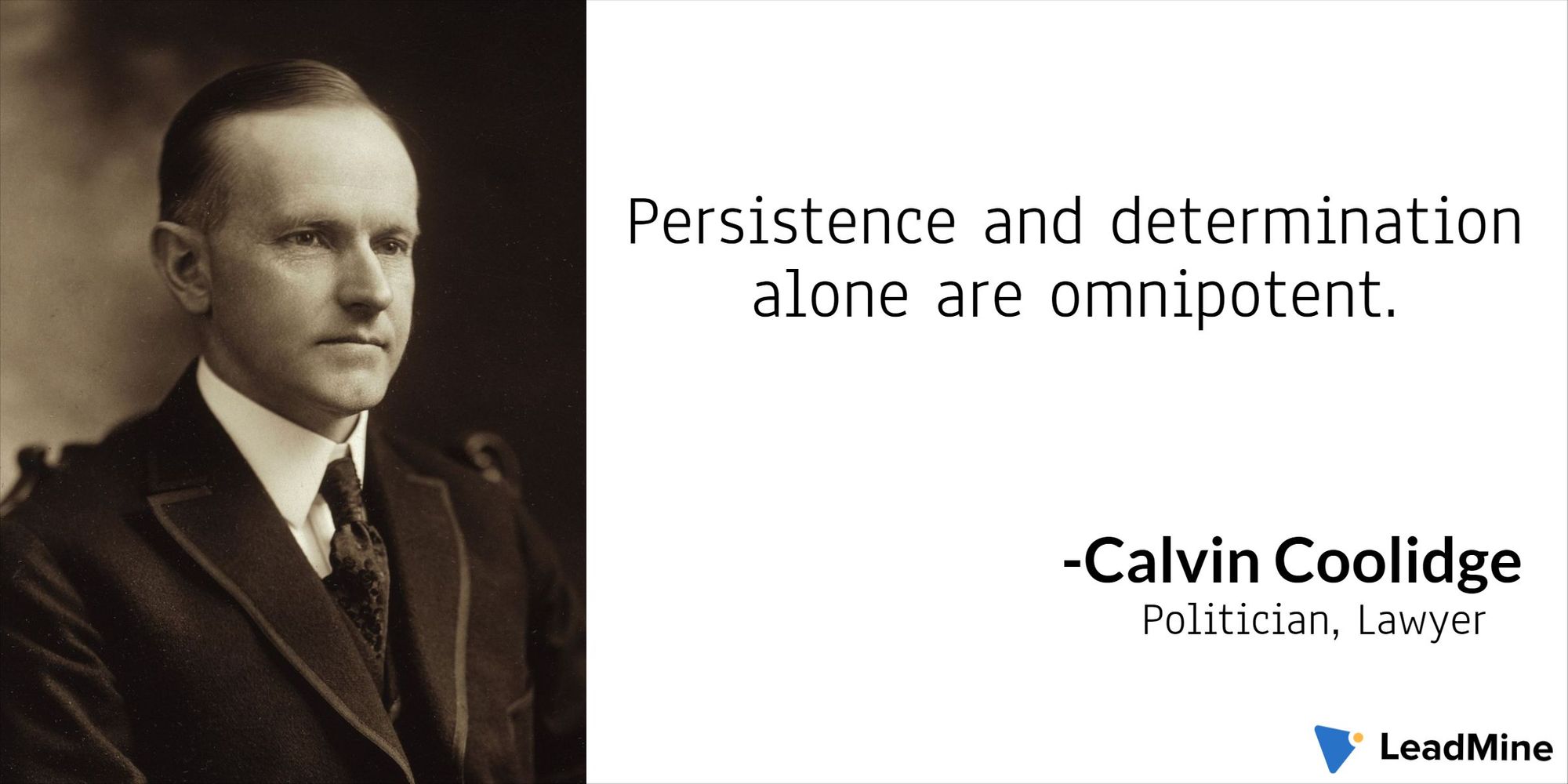 3.  Persistence and determination alone are omnipotent. - Calvin Coolidge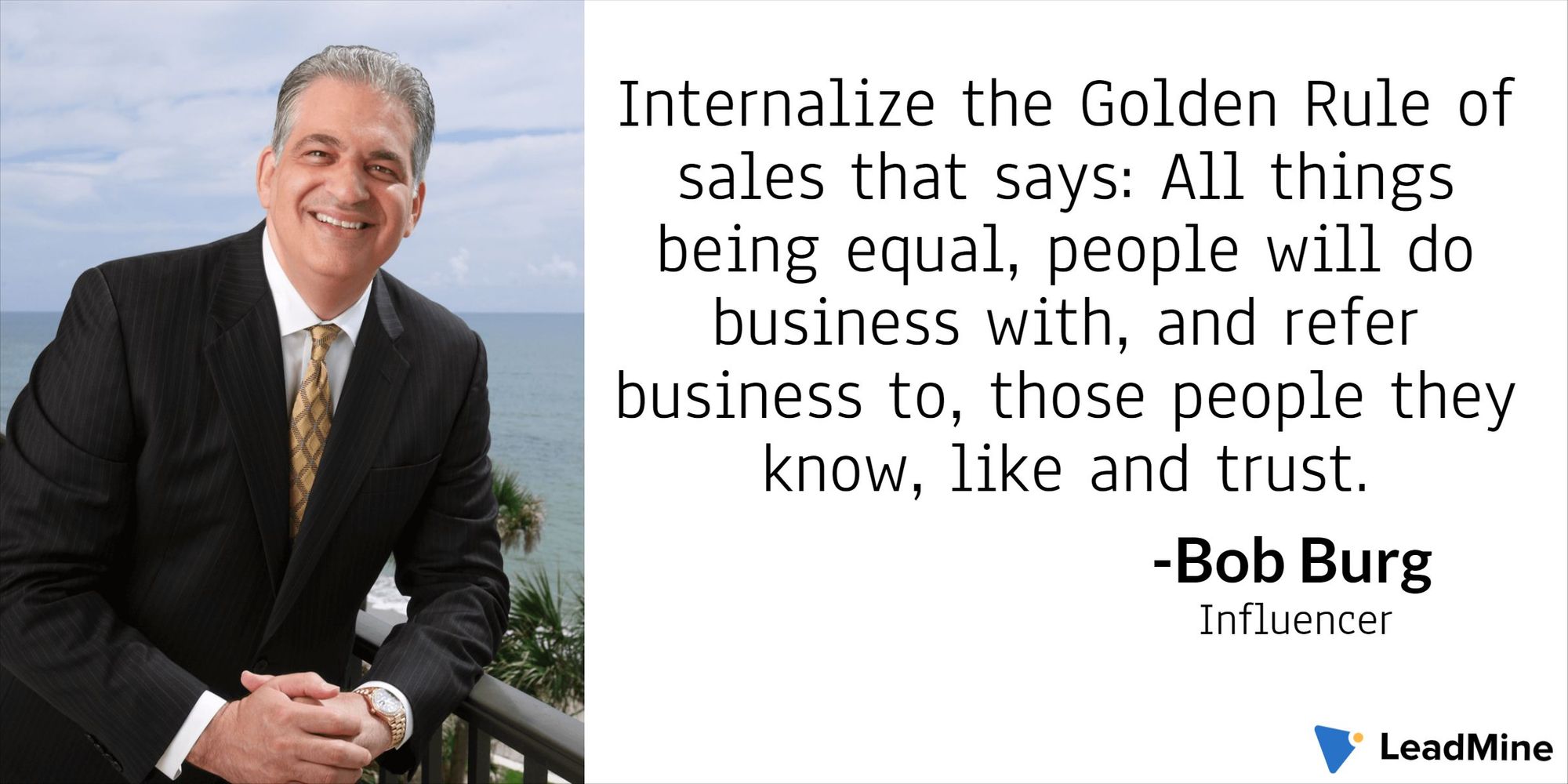 4.  Internalize the Golden Rule of sales that says: All things being equal, people will do business with, and refer business to, those people they know, like and trust. - Bob Burg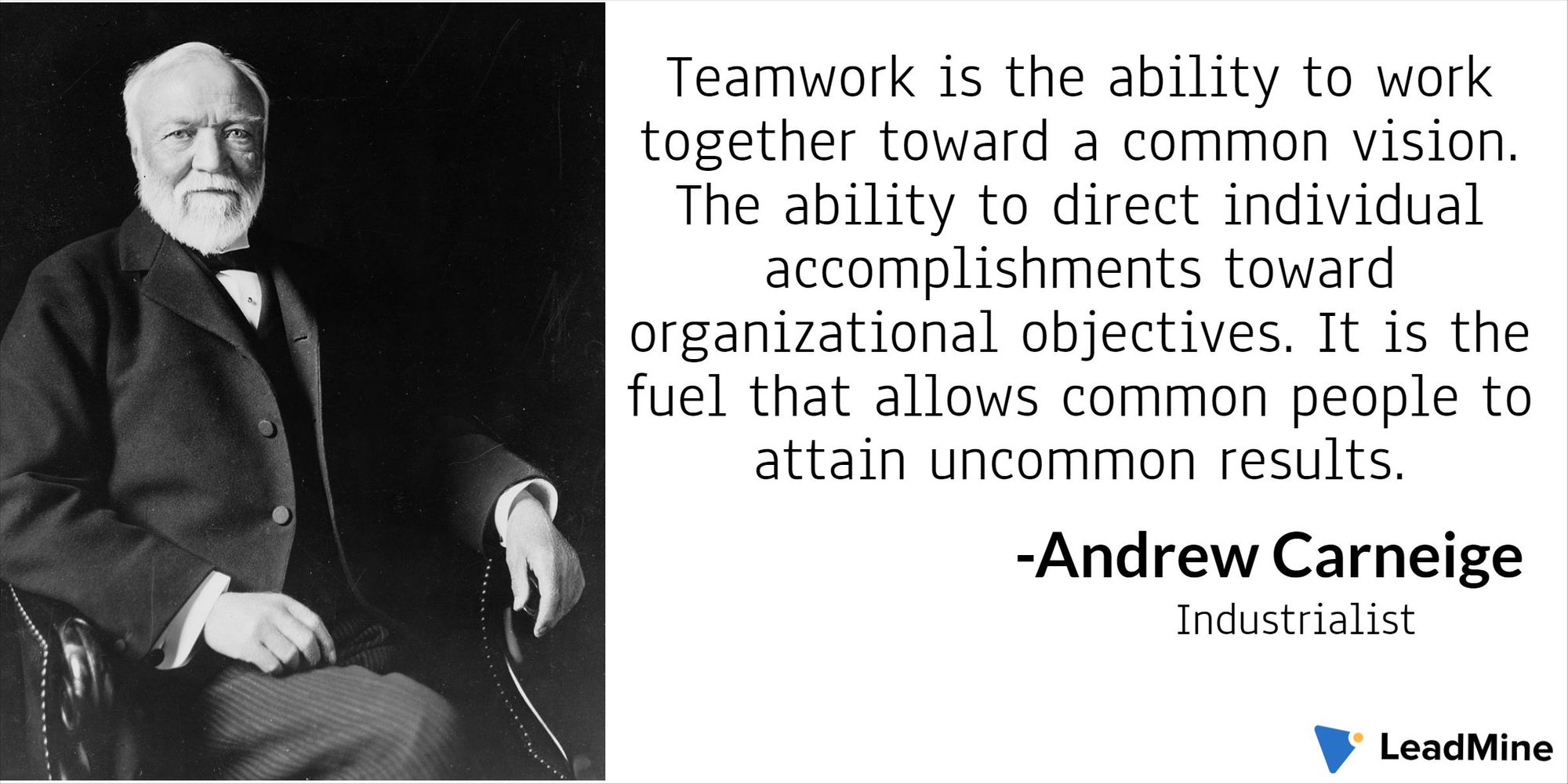 5.  Teamwork is the ability to work together toward a common vision. The ability to direct individual accomplishments toward organizational objectives. It is the fuel that allows common people to attain uncommon results. - Andrew Carneige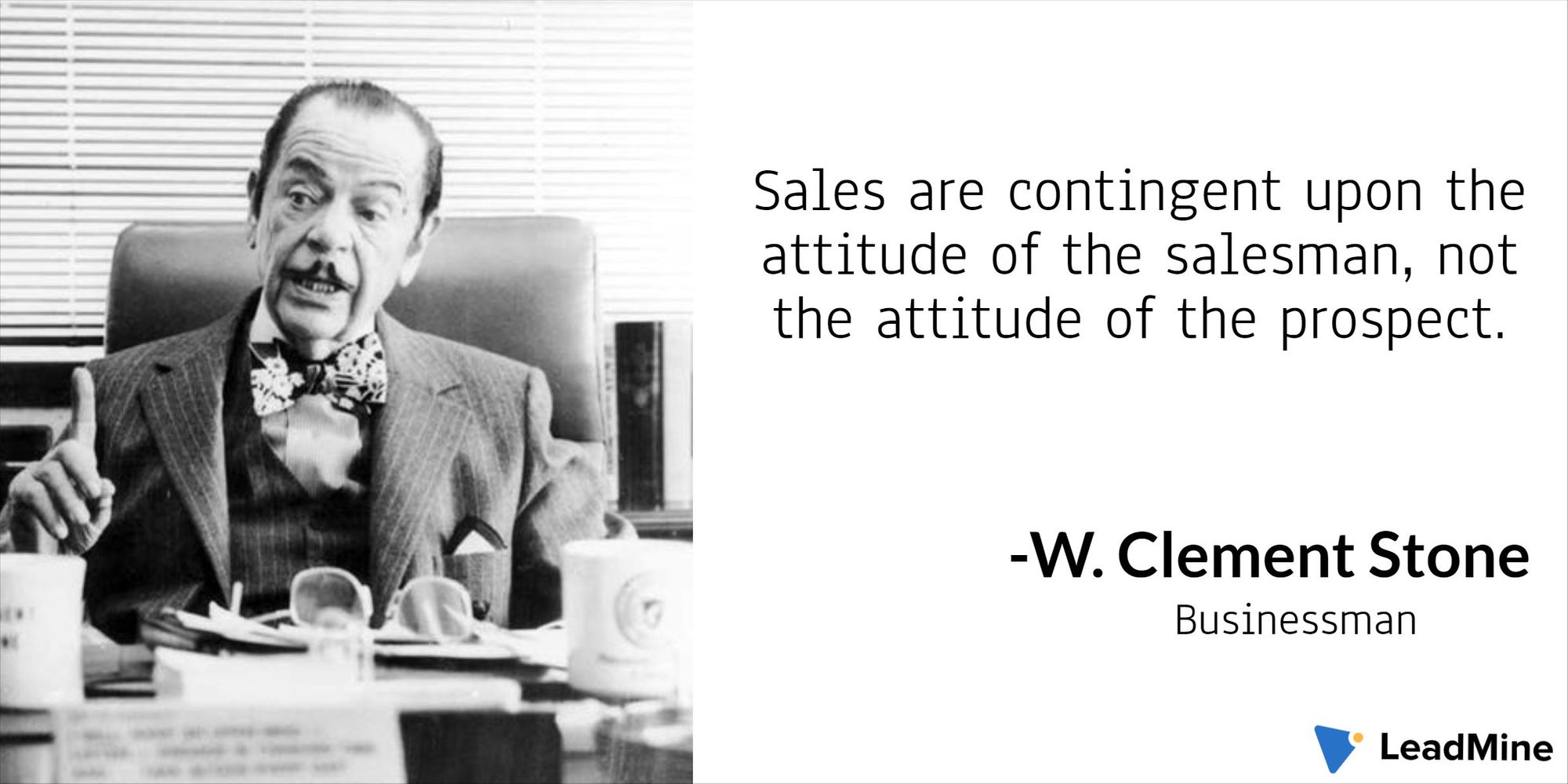 6.  Sales are contingent upon the attitude of the salesman, not the attitude of the prospect. - W. Clement Stone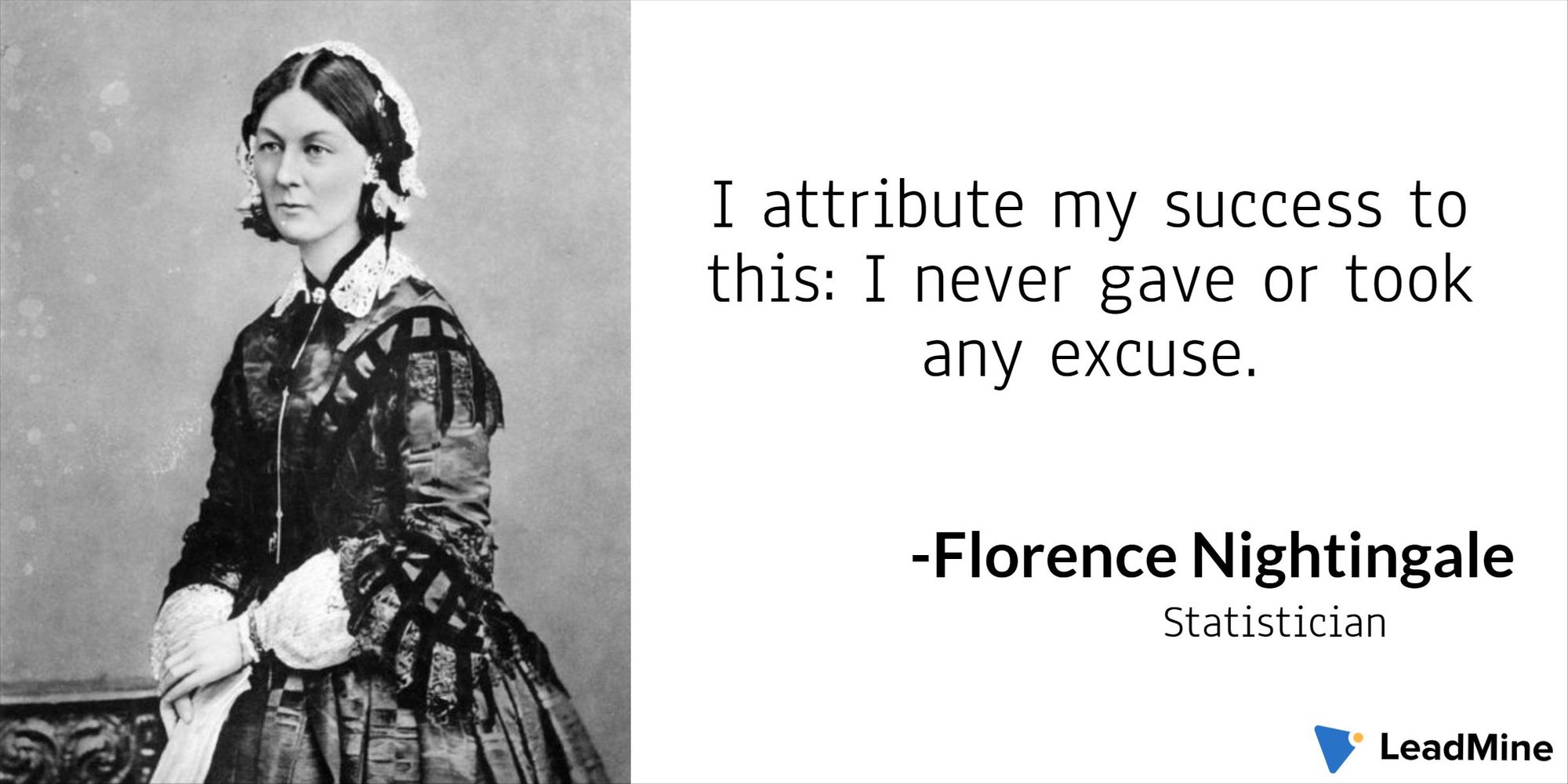 7.  I attribute my success to this: I never gave or took any excuse. - Florence Nightingale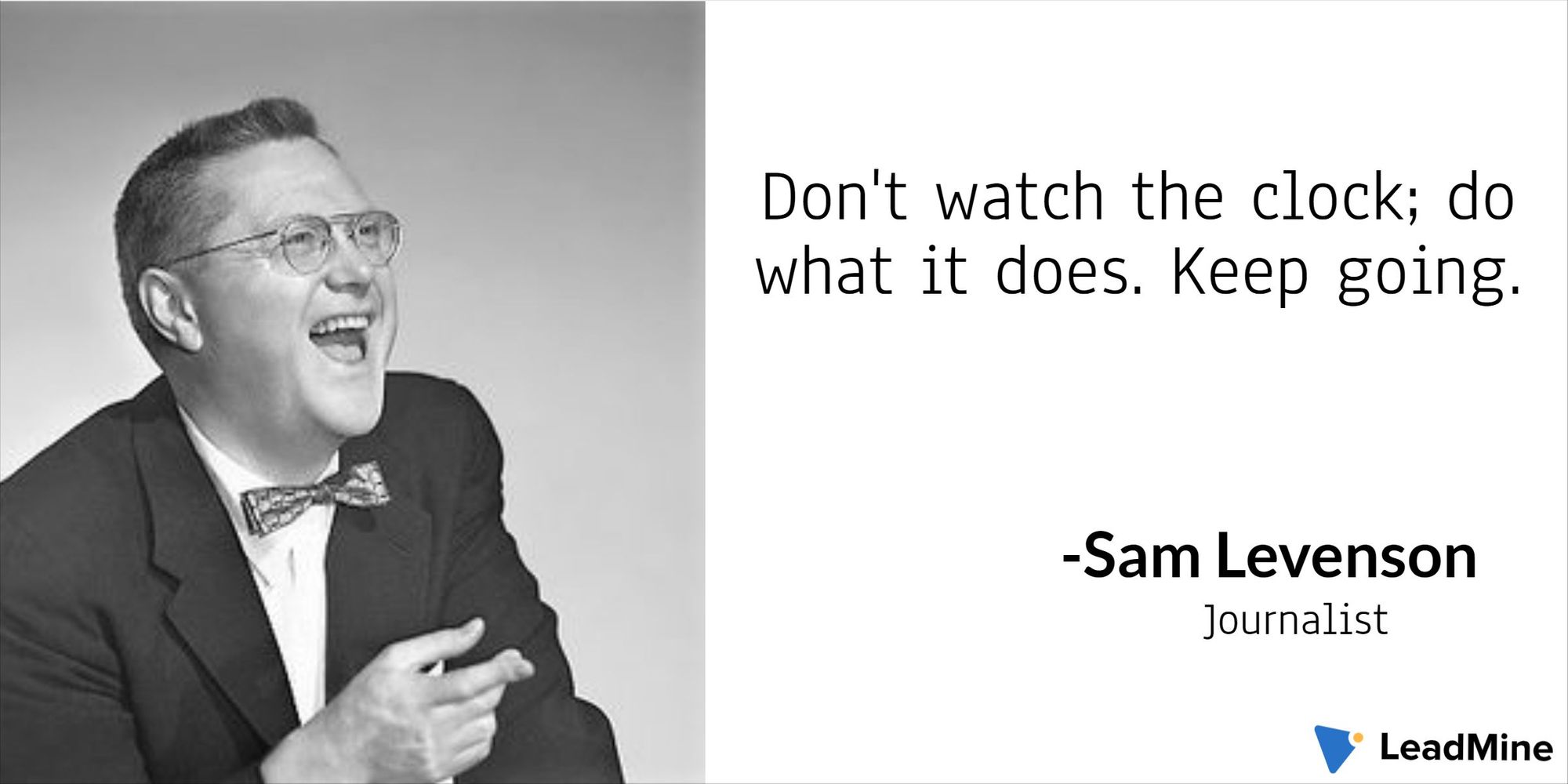 8.  Don't watch the clock; do what it does. Keep going. - Sam Levenson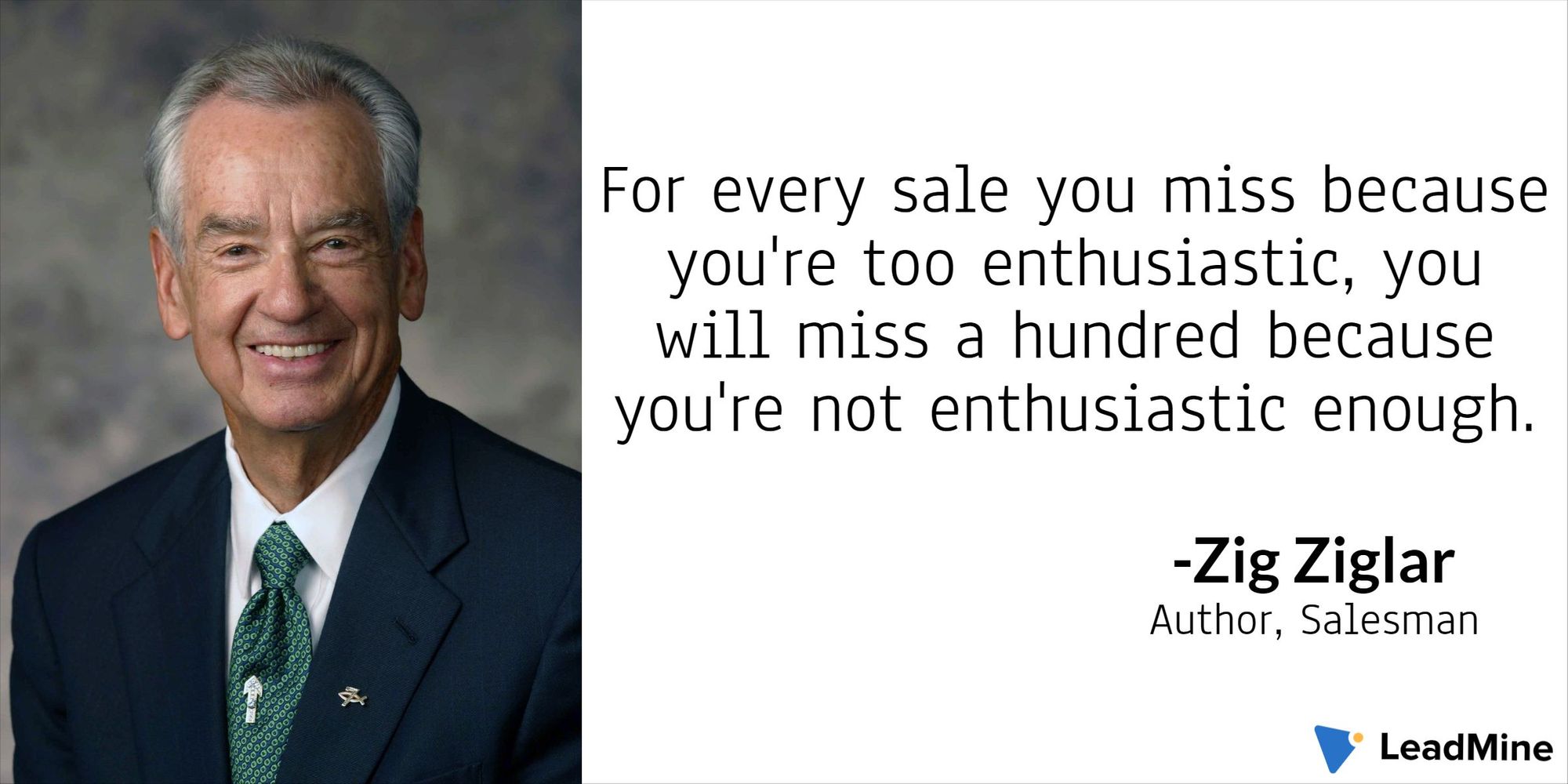 9. For every sale you miss because you're too enthusiastic, you will miss a hundred because you're not enthusiastic enough. - Zig Ziglar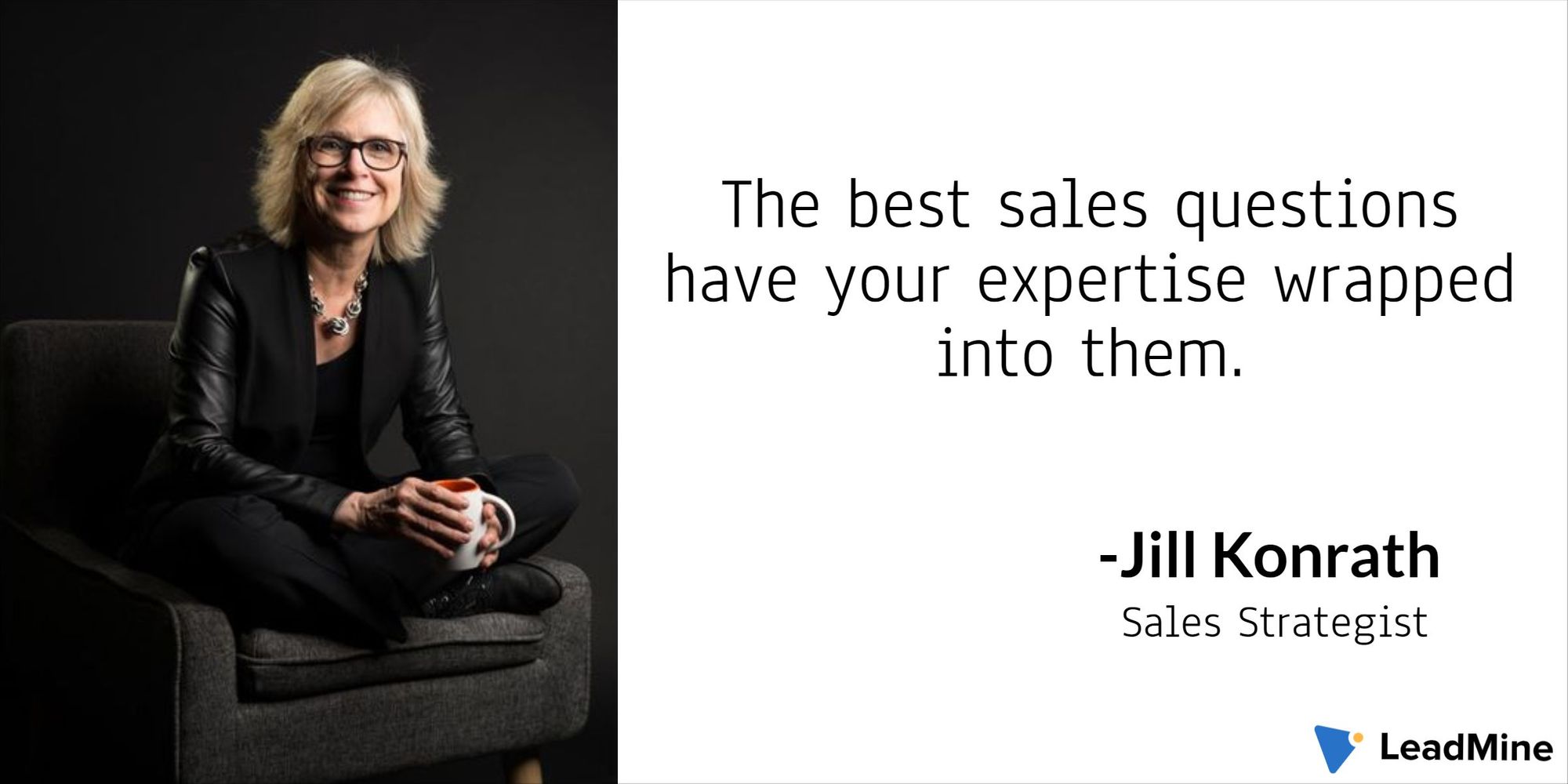 10.  The best sales questions have your expertise wrapped into them. - Jill Konrath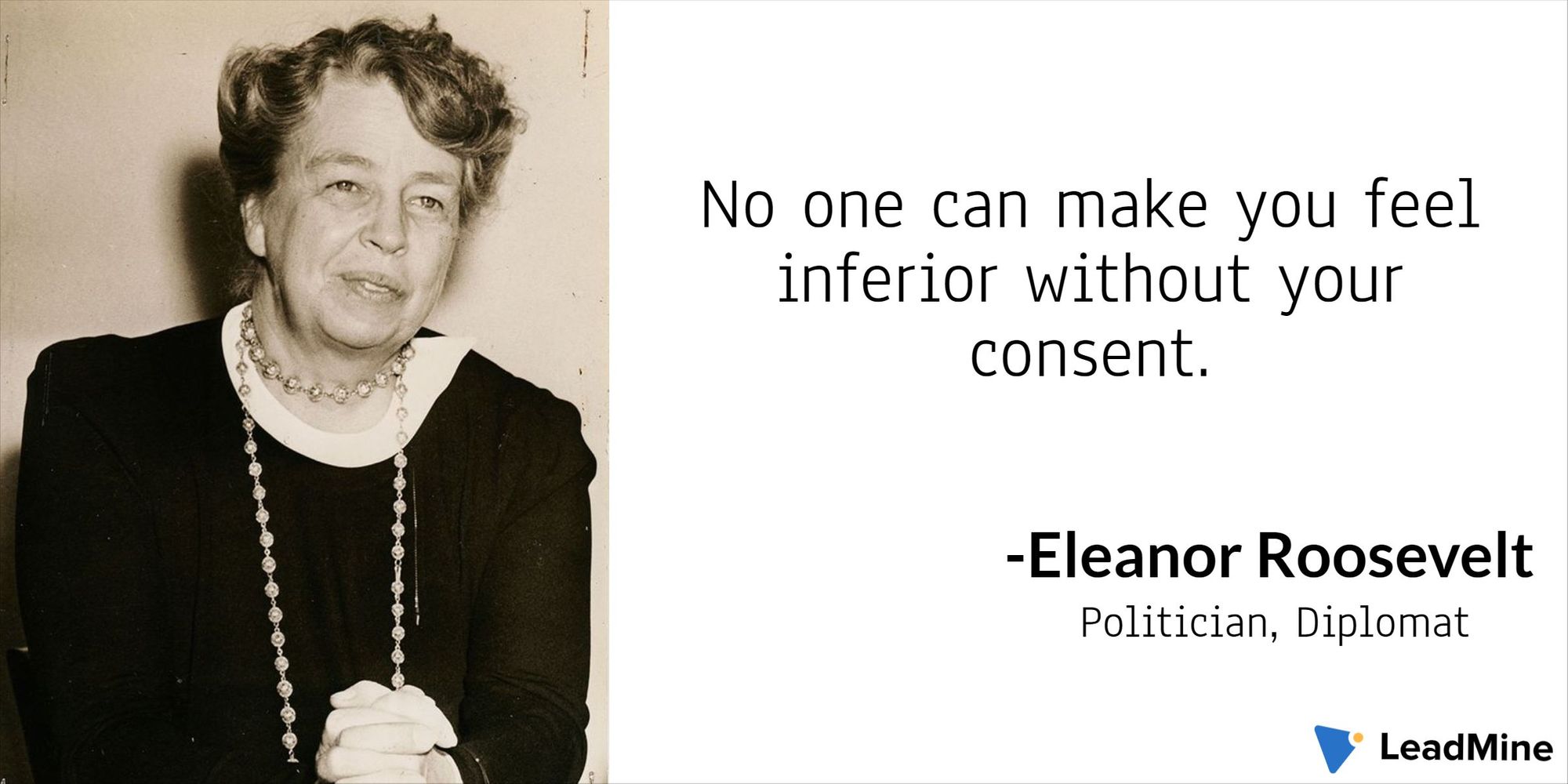 11.  No one can make you feel inferior without your consent. - Eleanor Roosevelt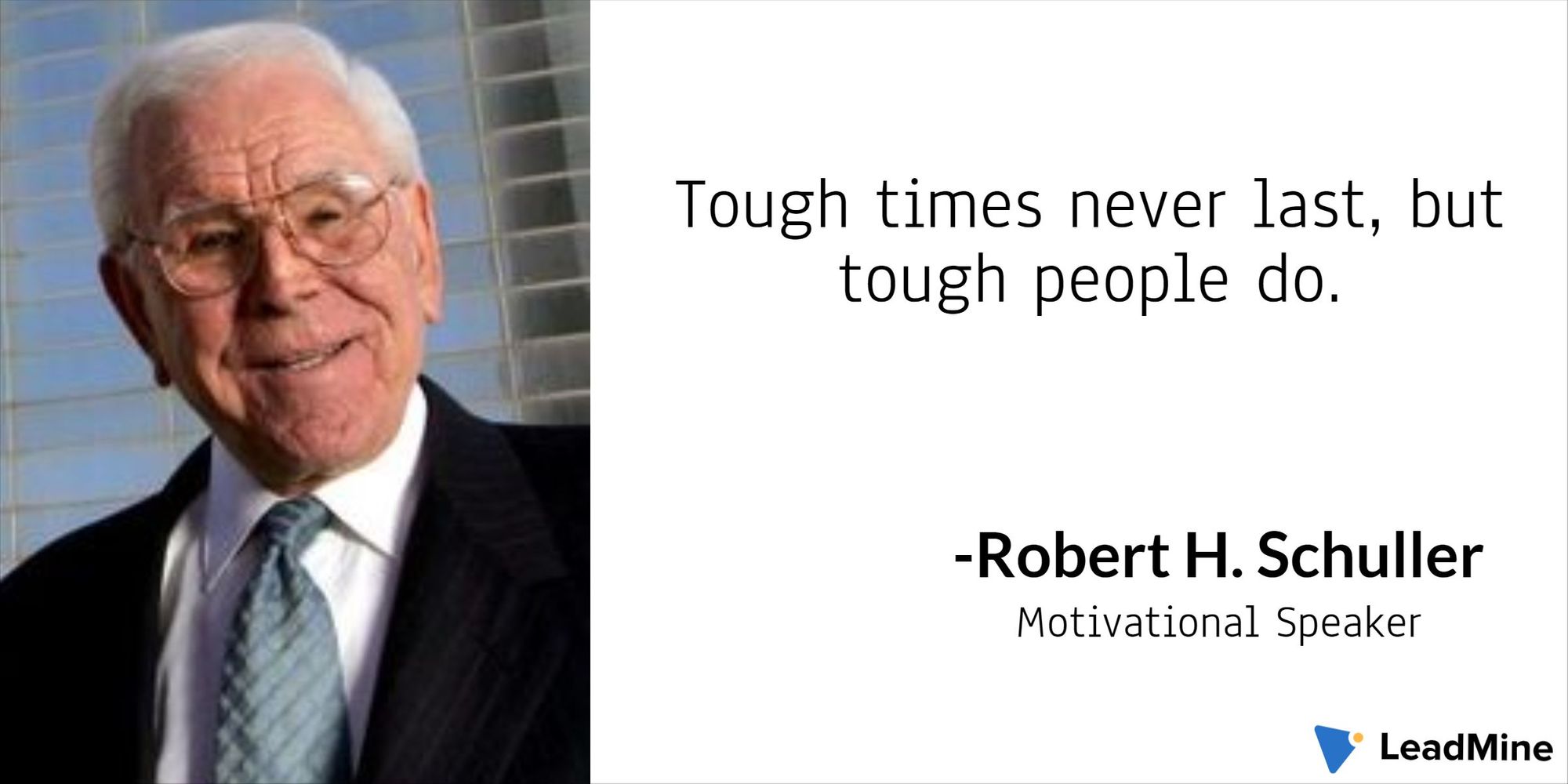 12.  Tough times never last, but tough people do. - Robert H. Schuller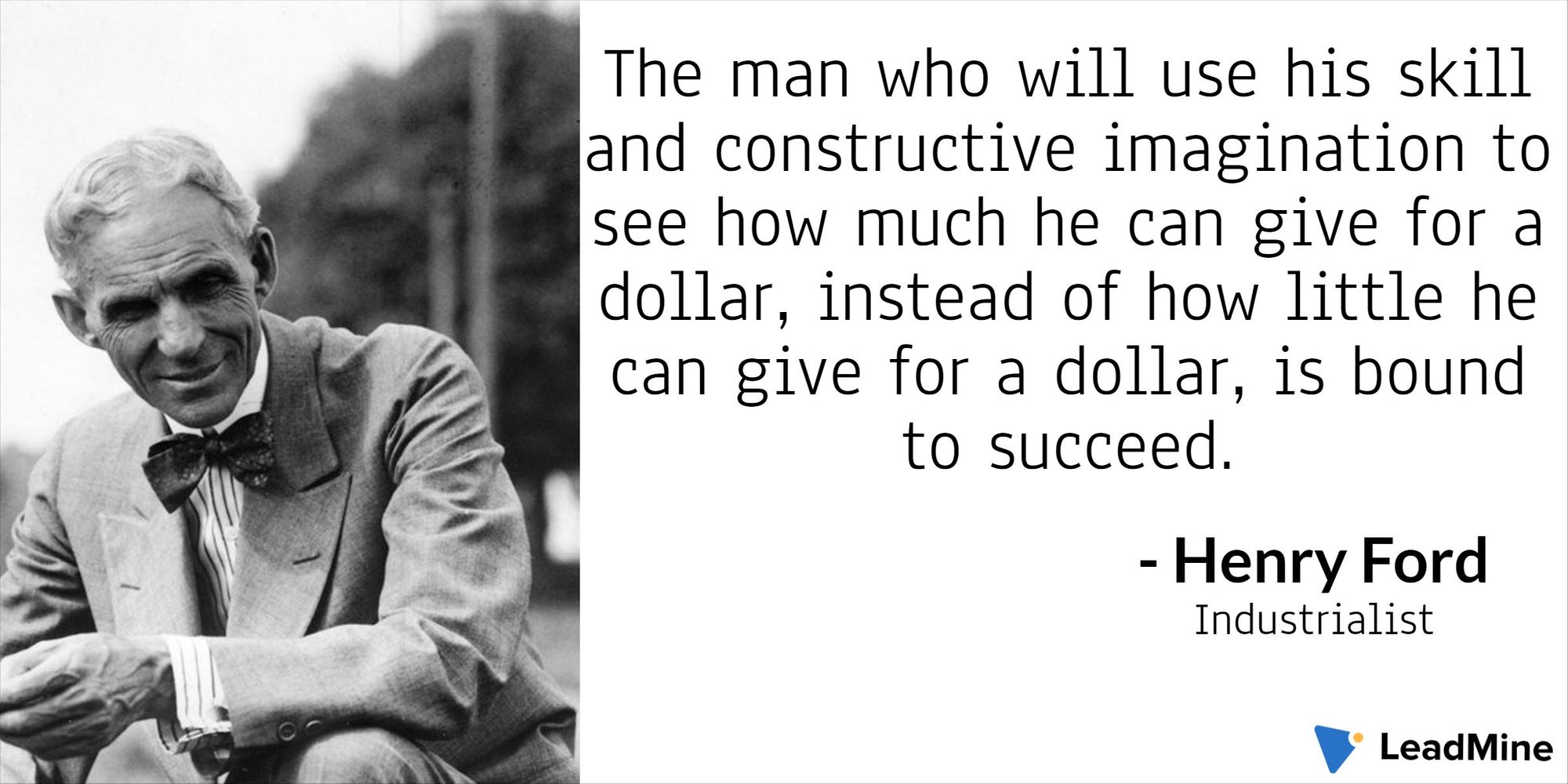 13.  The man who will use his skill and constructive imagination to see how much he can give for a dollar, instead of how little he can give for a dollar, is bound to succeed. - Henry Ford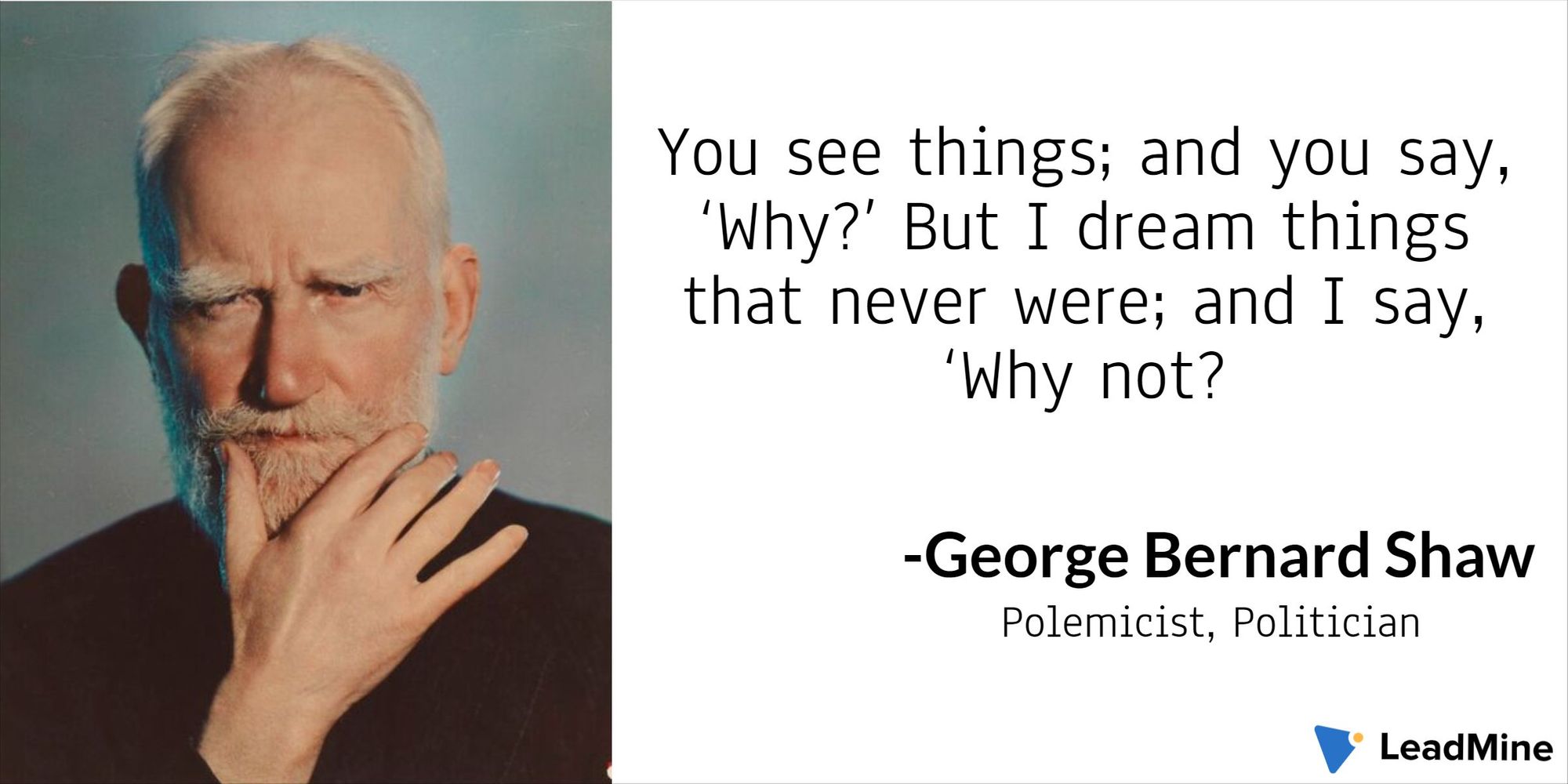 14.  You see things; and you say, 'Why?' But I dream things that never were; and I say, 'Why not? - George Bernard Shaw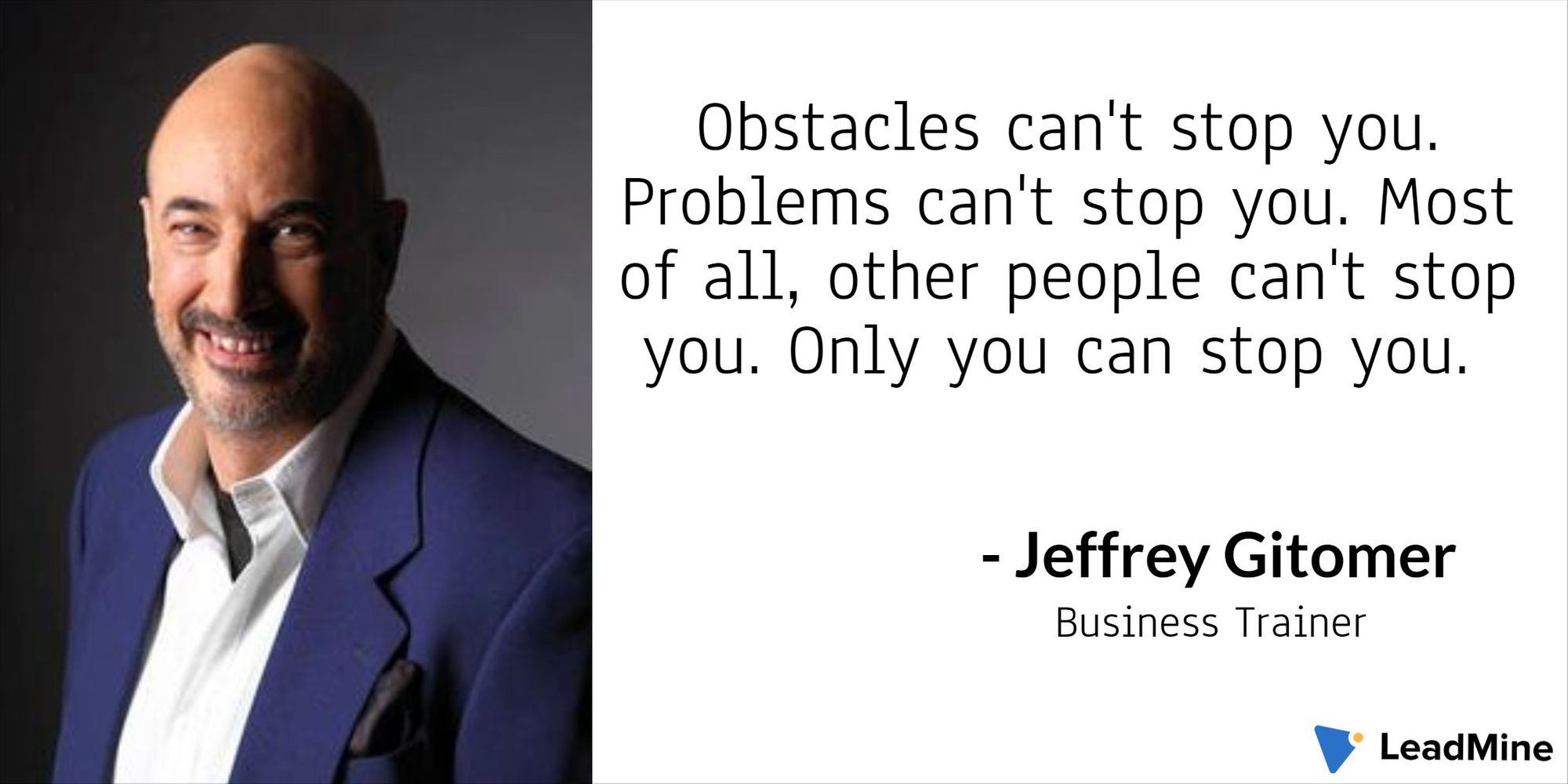 15.  Obstacles can't stop you. Problems can't stop you. Most of all, other people can't stop you. Only you can stop you. - Jeffrey Gitomer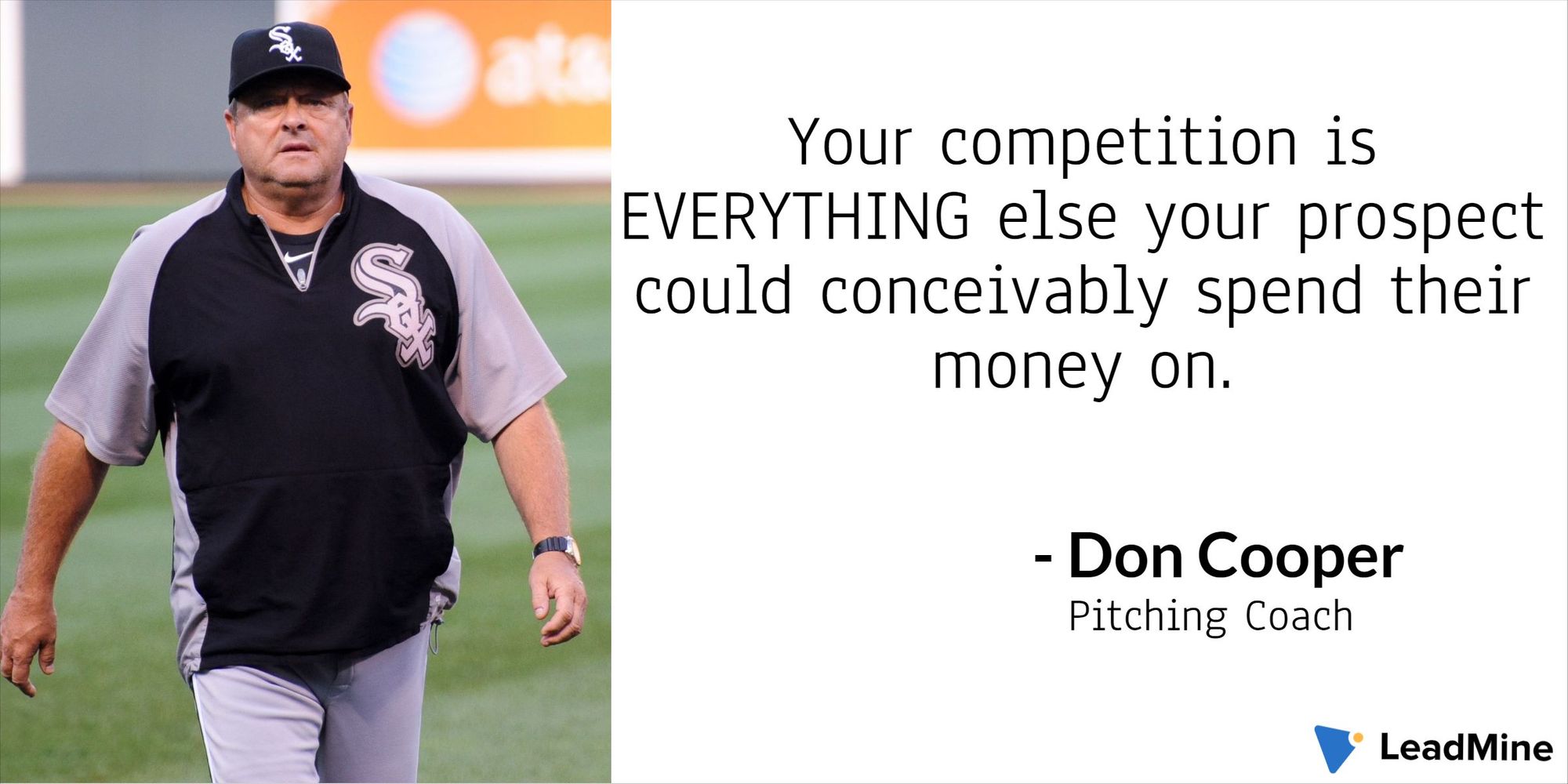 16.  Your competition is EVERYTHING else your prospect could conceivably spend their money on. - Don Cooper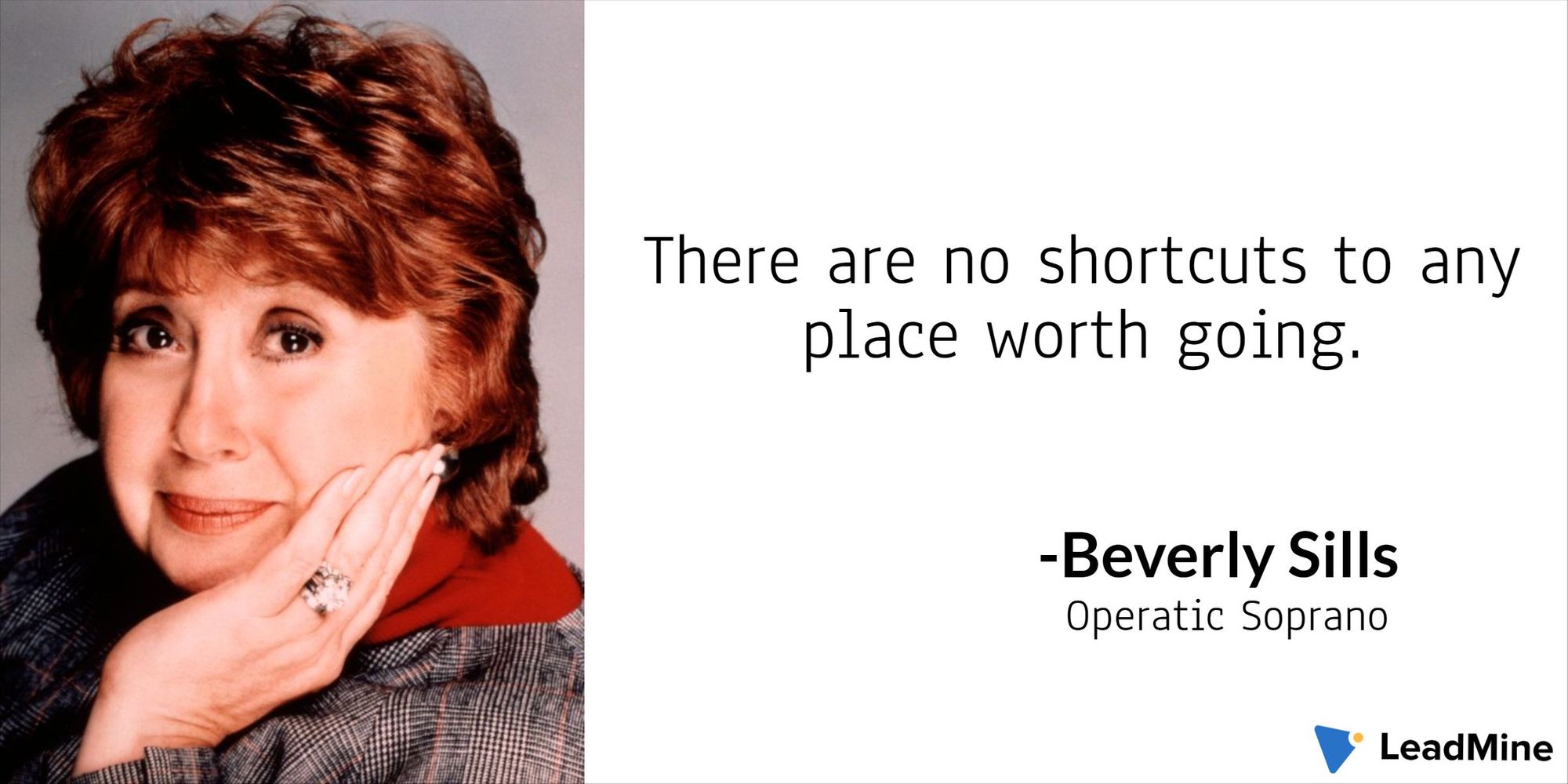 17.  There are no shortcuts to any place worth going. - Beverly Sills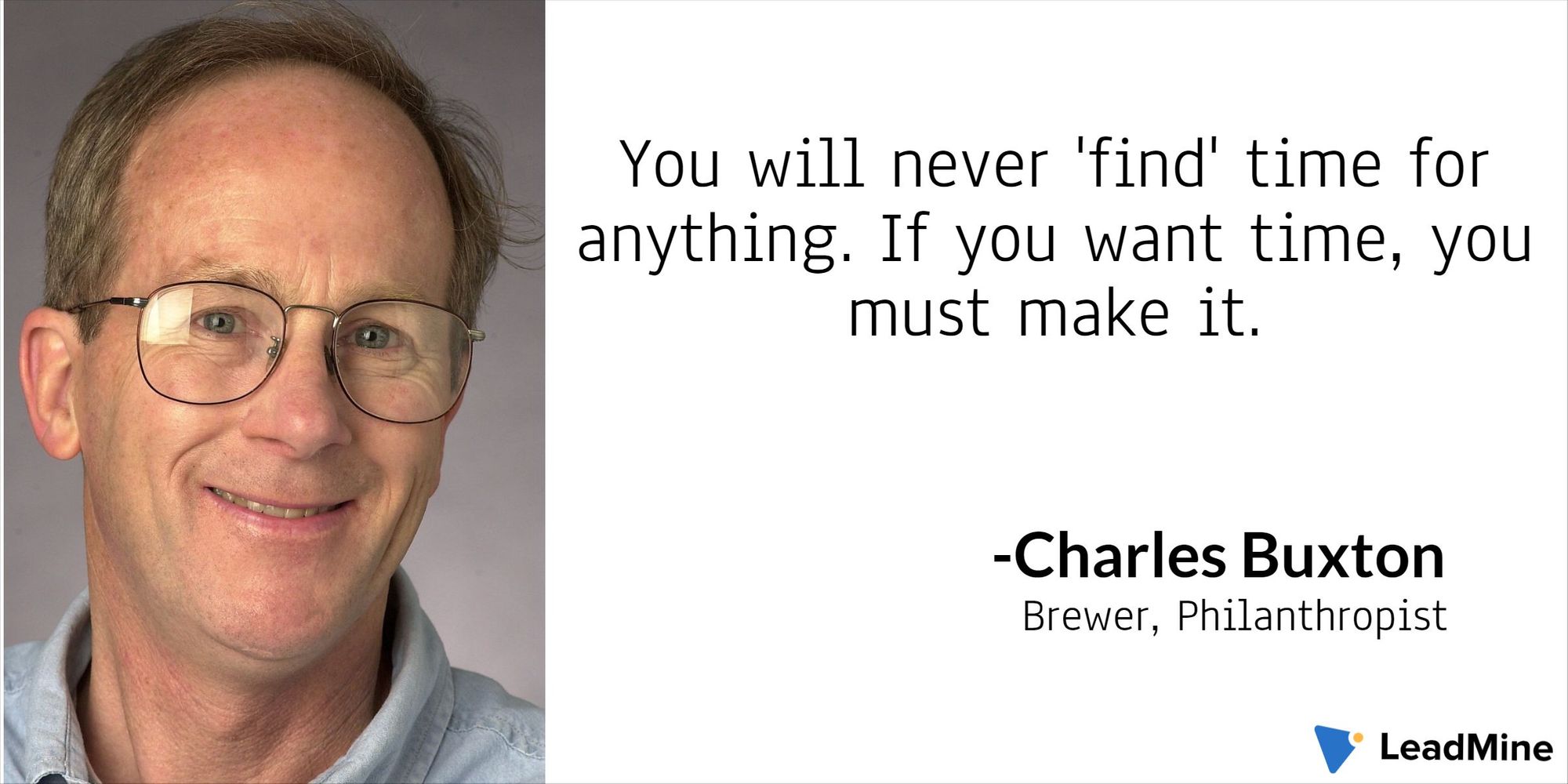 18.  You will never 'find' time for anything. If you want time, you must make it. - Charles Buxton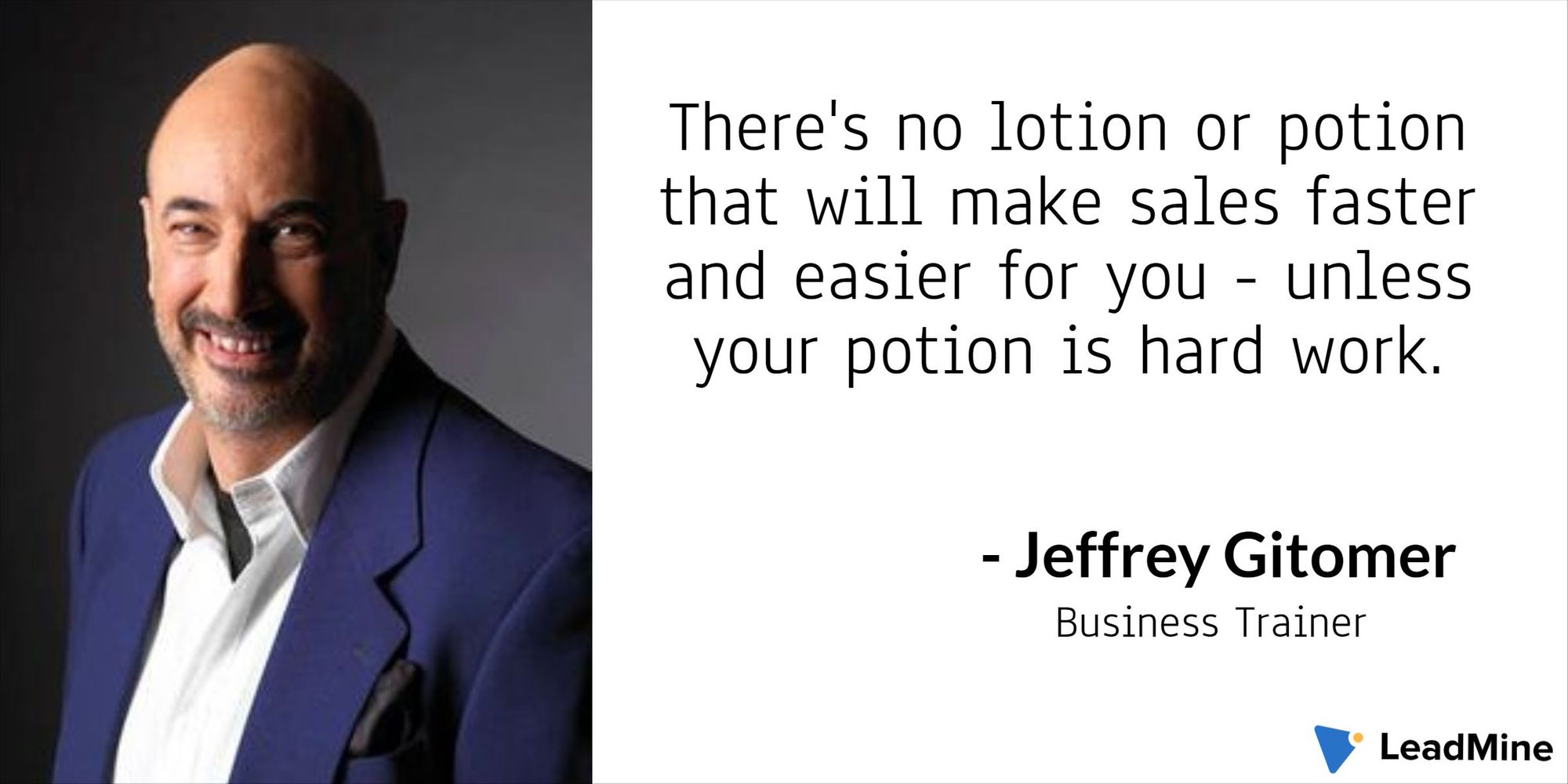 19.  There's no lotion or potion that will make sales faster and easier for you - unless your potion is hard work. - Jeffrey Gitomer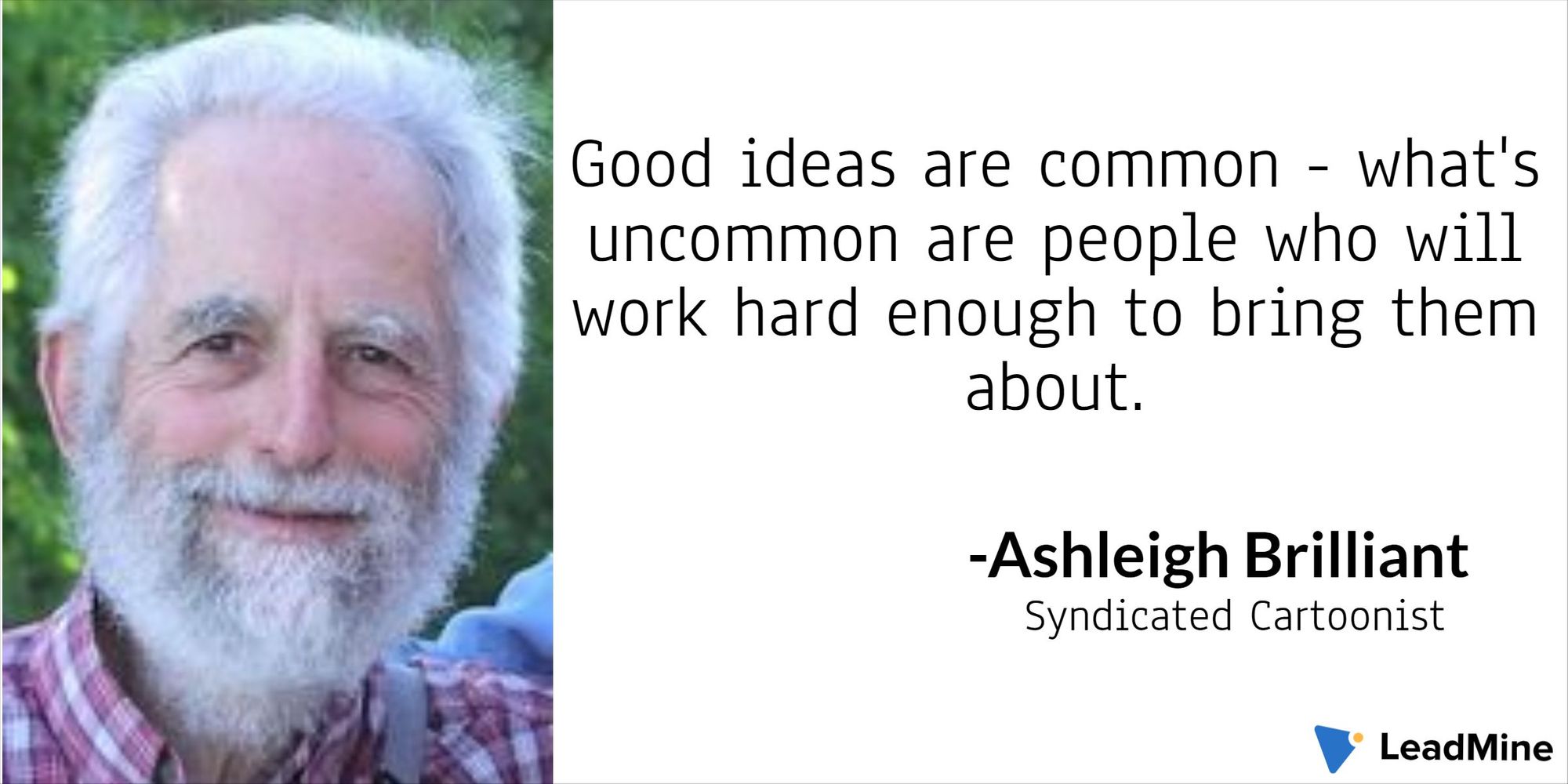 20.  Good ideas are common - what's uncommon are people who will work hard enough to bring them about. - Ashleigh Brilliant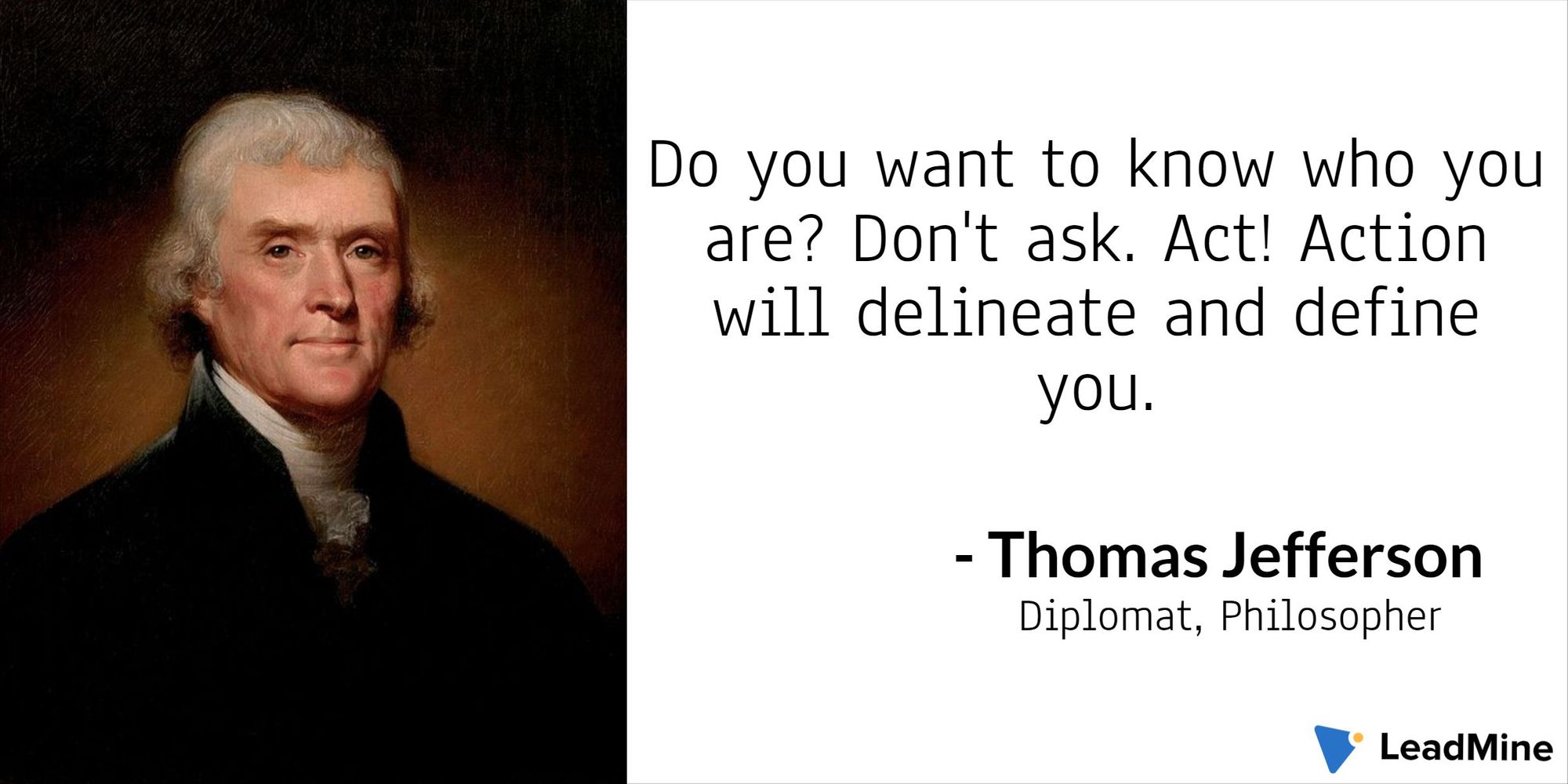 21.  Do you want to know who you are? Don't ask. Act! Action will delineate and define you. - Thomas Jefferson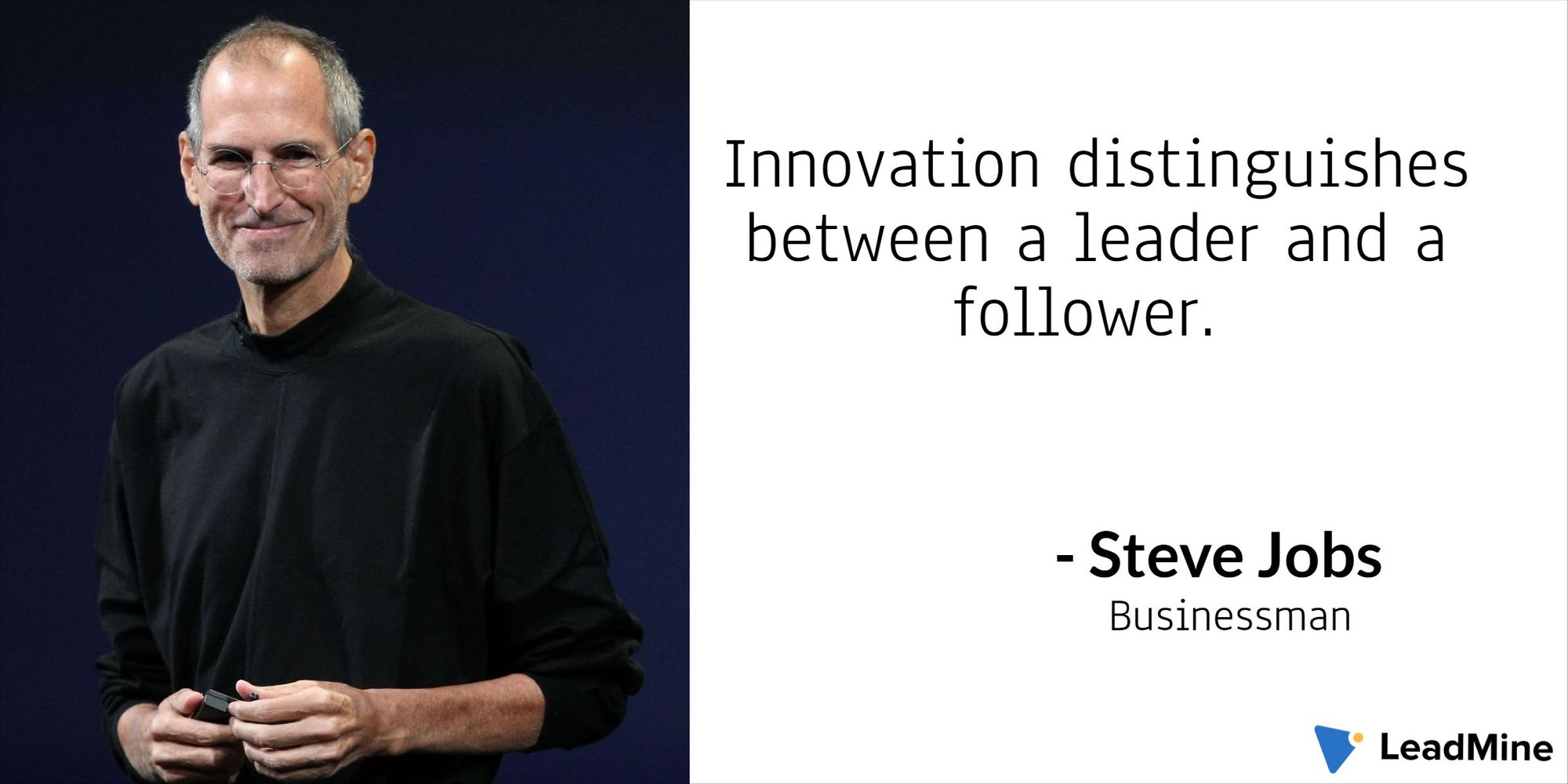 22.  Innovation distinguishes between a leader and a follower. - Steve Jobs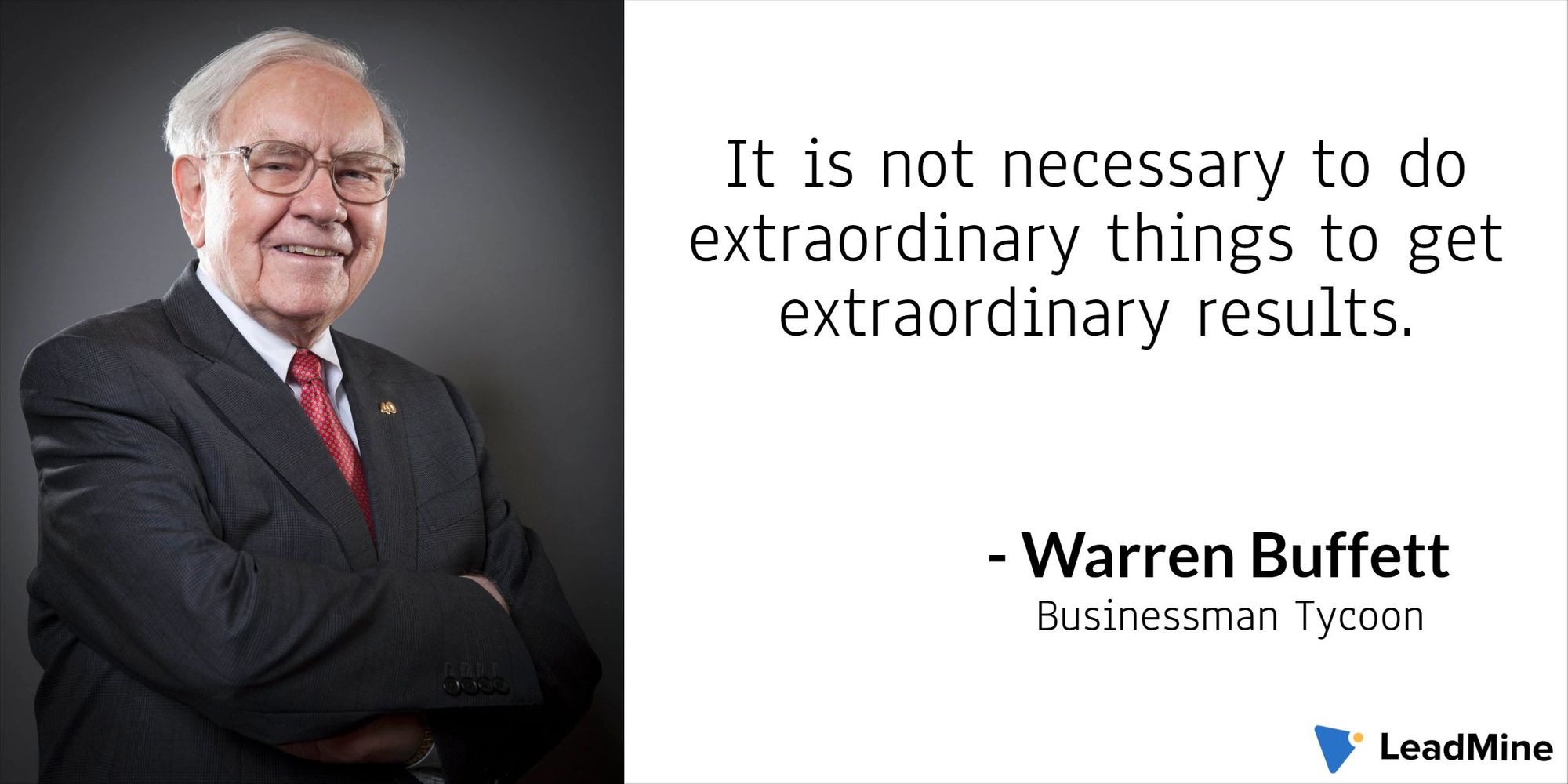 23.  It is not necessary to do extraordinary things to get extraordinary results. - Warren Buffett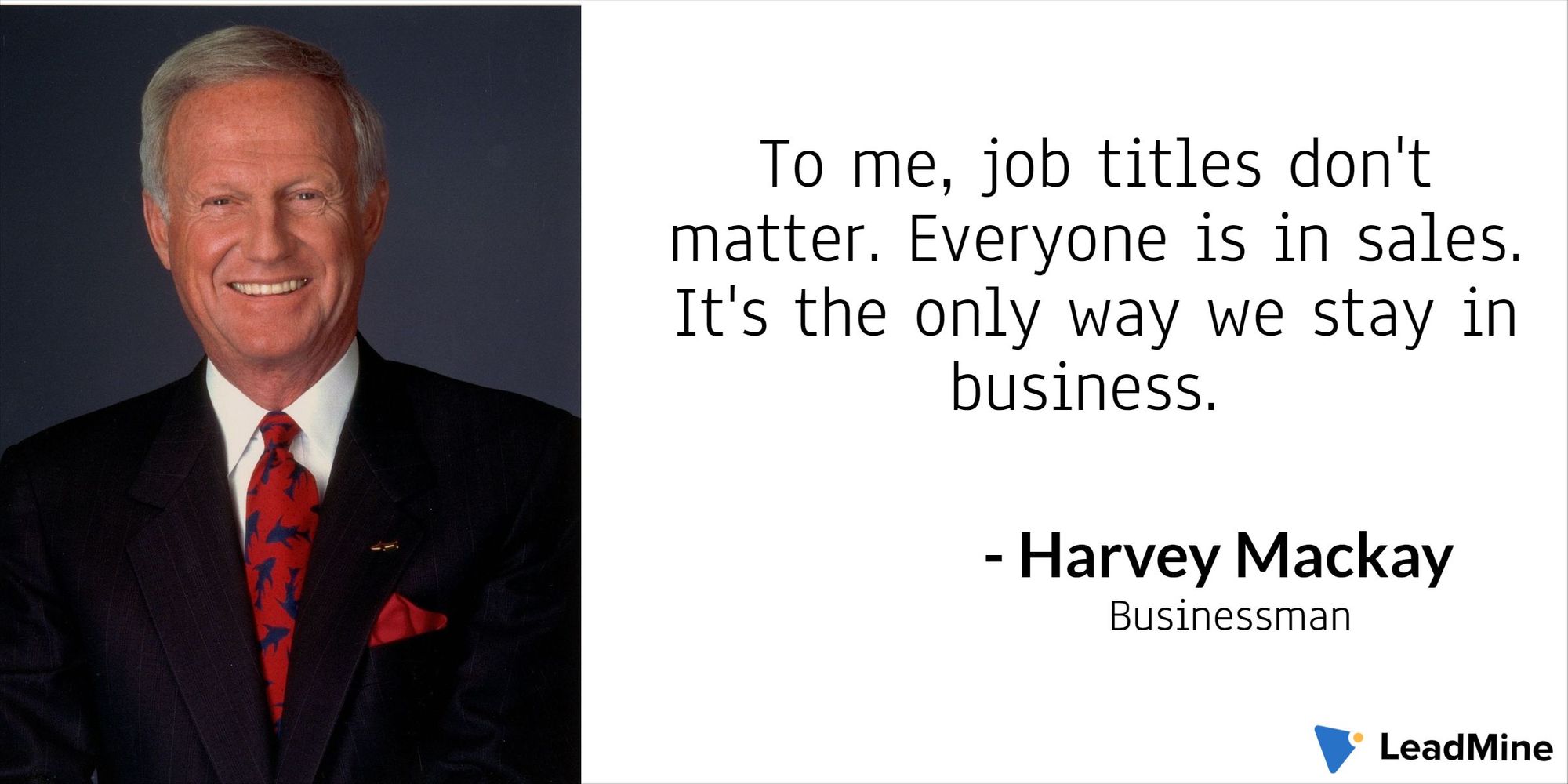 24.  To me, job titles don't matter. Everyone is in sales. It's the only way we stay in business. - Harvey Mackay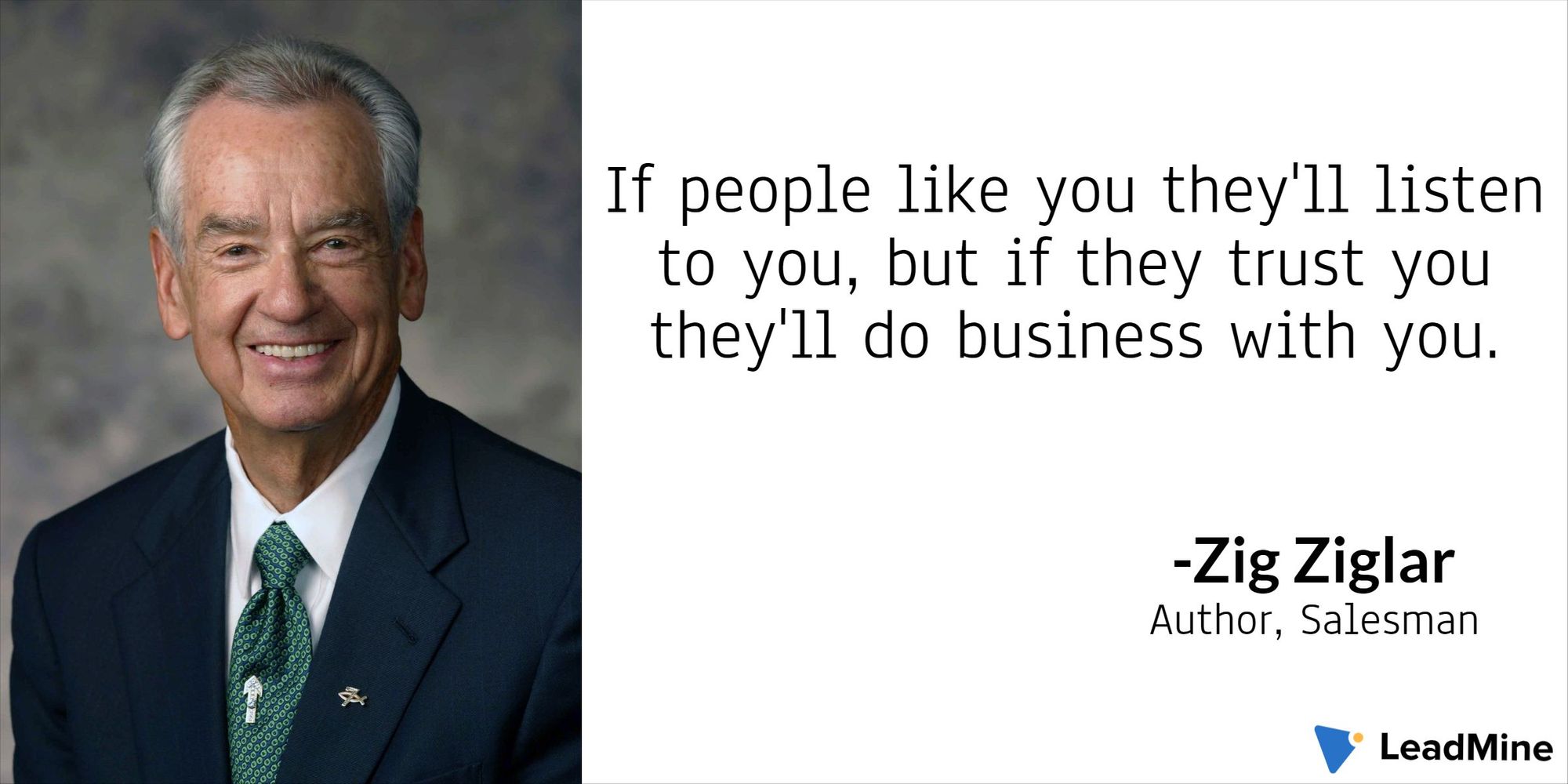 25.  If people like you they'll listen to you, but if they trust you they'll do business with you. - Zig Ziglar
Sales Executive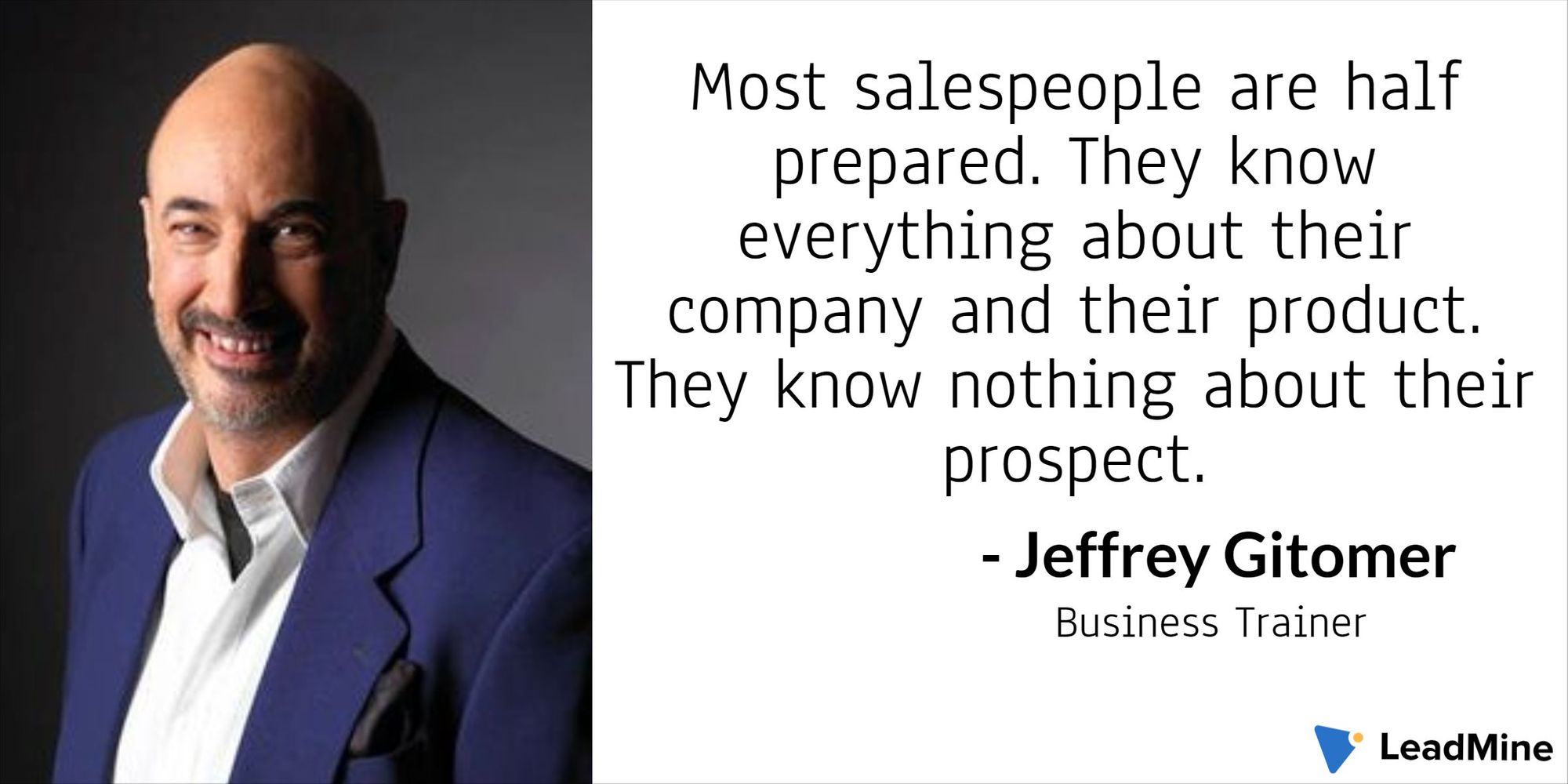 26.  Most salespeople are half prepared. They know everything about their company and their product. They know nothing about their prospect. - Jeffrey Gitomer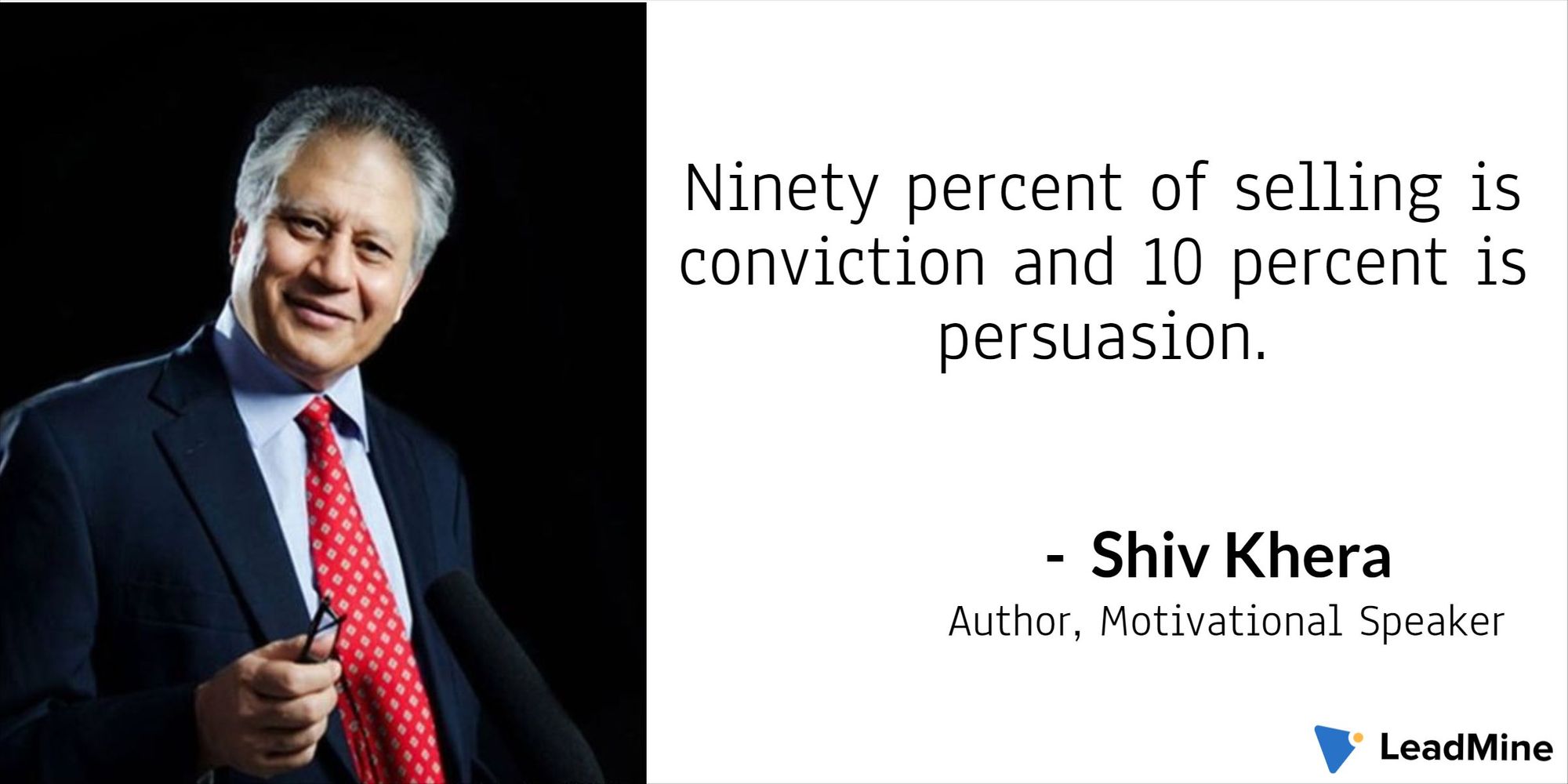 27.  Ninety percent of selling is conviction and 10 percent is persuasion. - Shiv Khera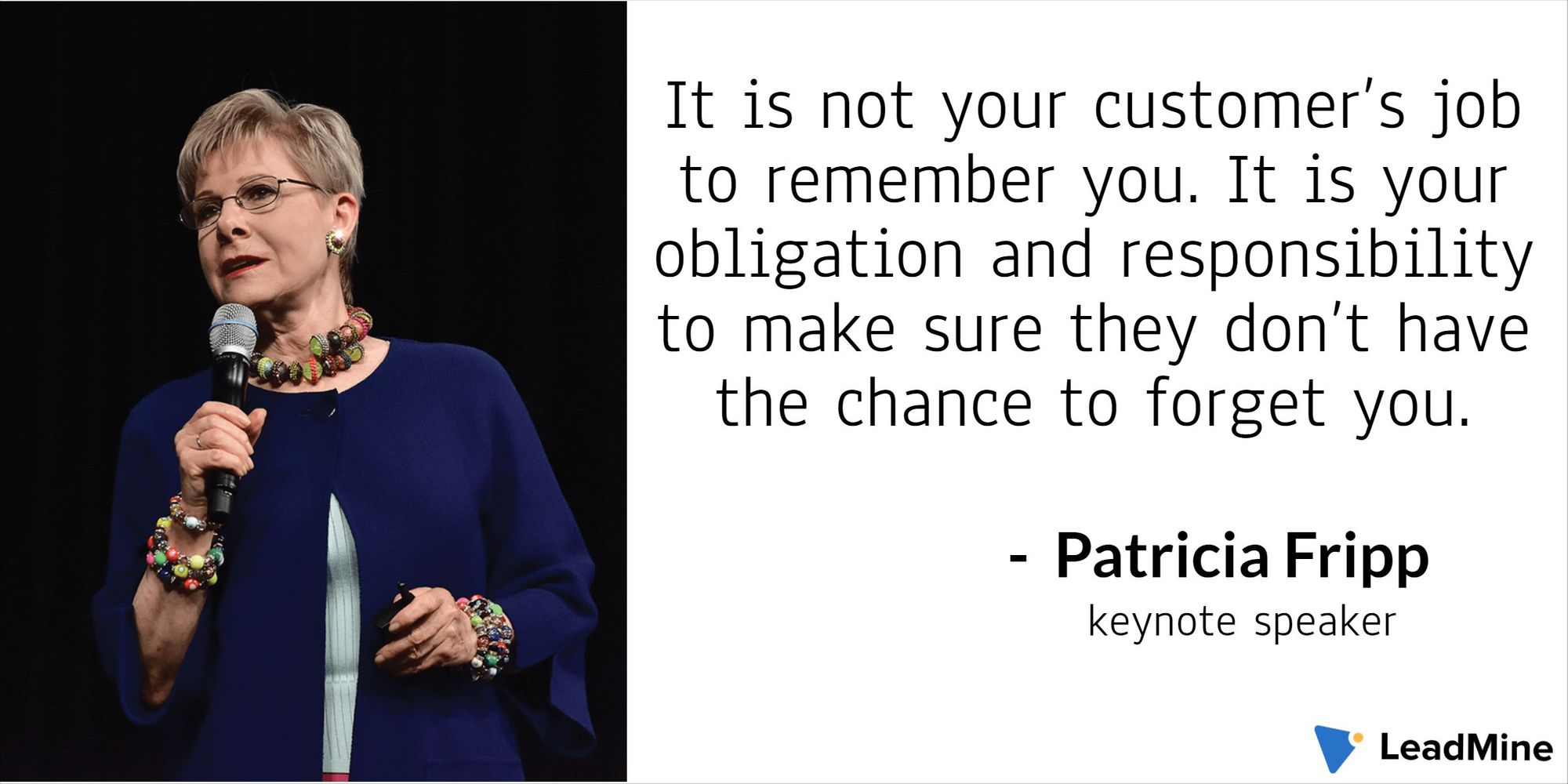 28.  It is not your customer's job to remember you. It is your obligation and responsibility to make sure they don't have the chance to forget you. – Patricia Fripp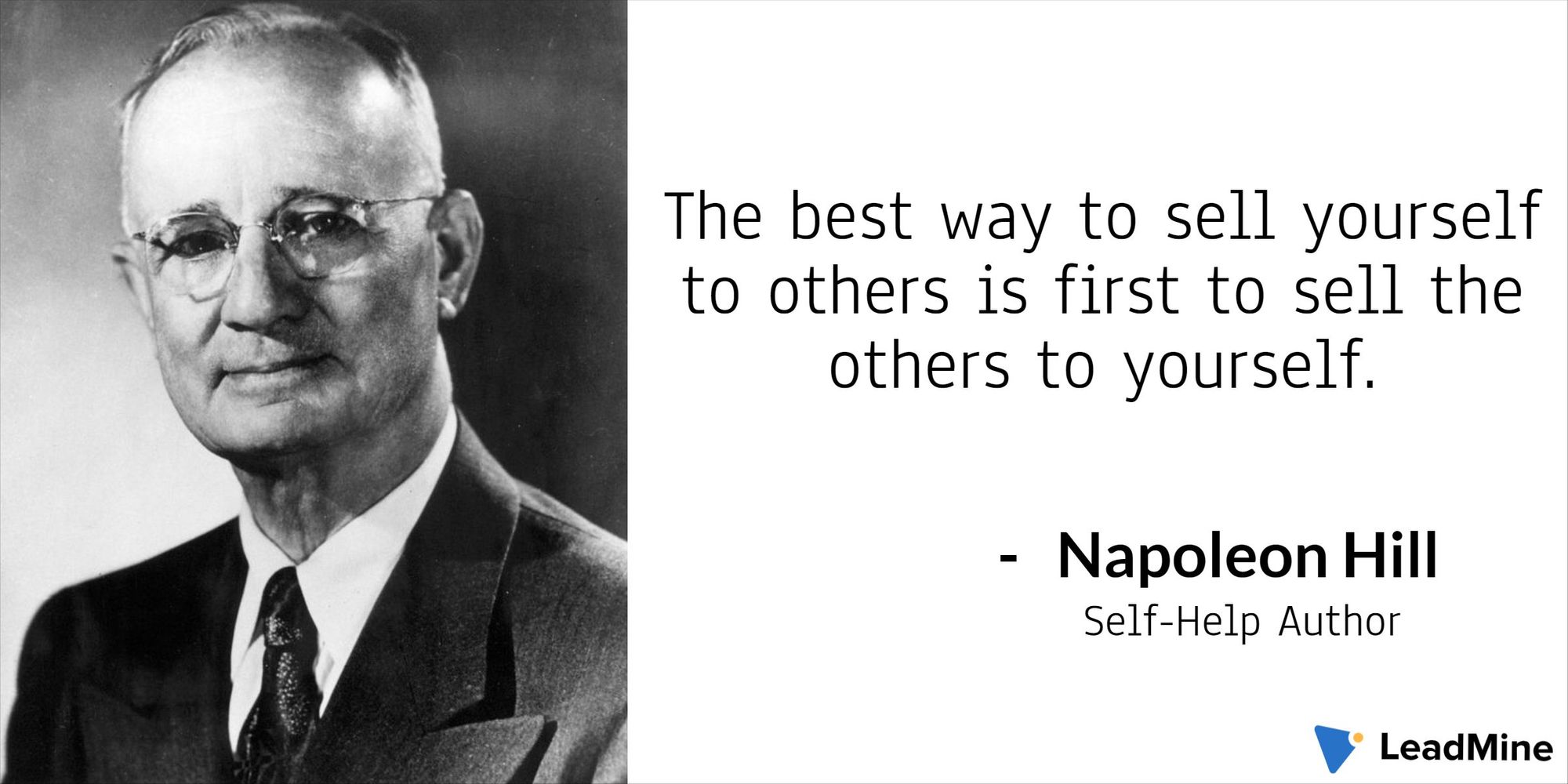 29.  The best way to sell yourself to others is first to sell the others to yourself. - Napoleon Hill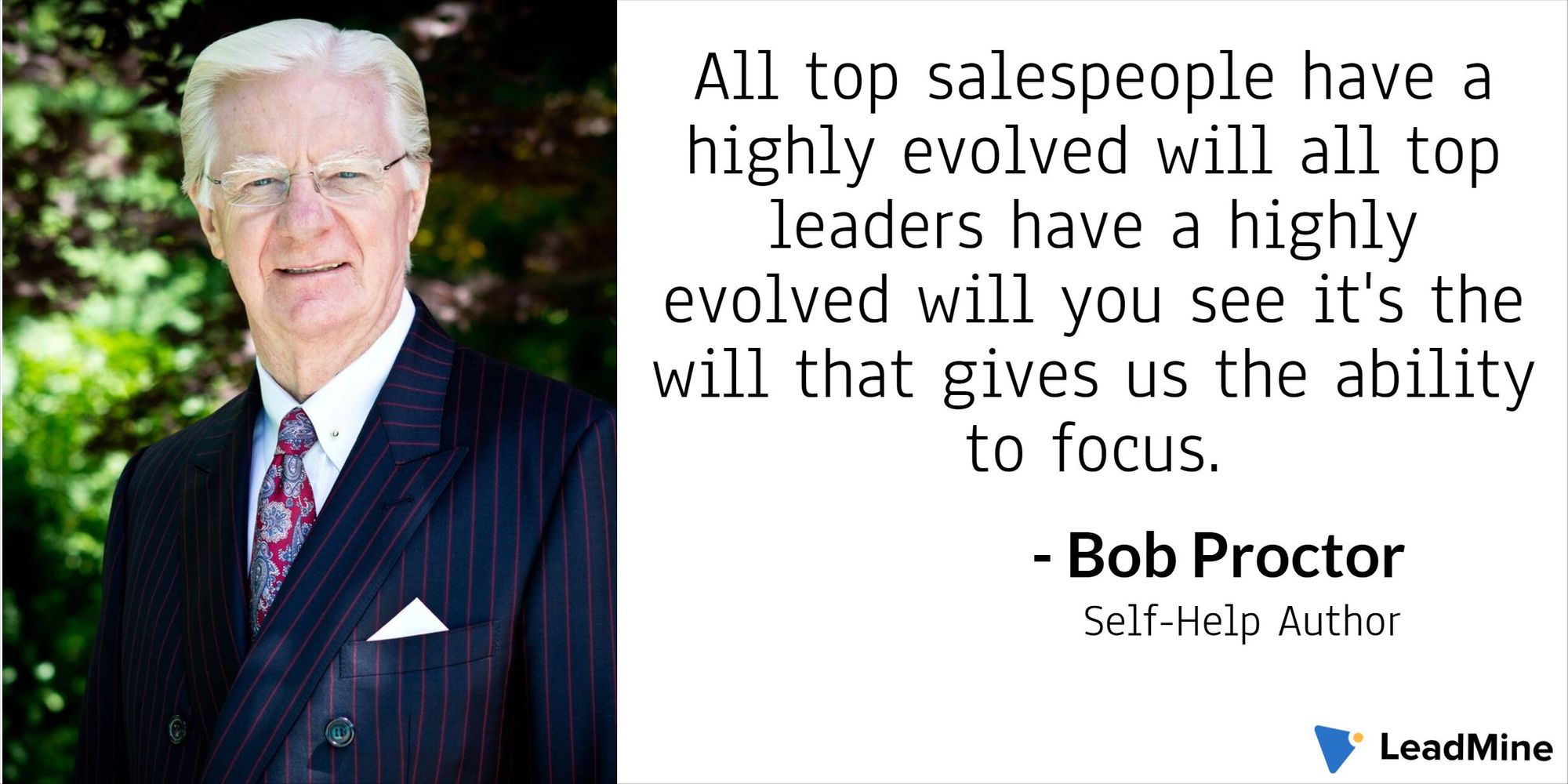 30.  All top salespeople have a highly evolved will all top leaders have a highly evolved will you see it's the will that gives us the ability to focus. - Bob Proctor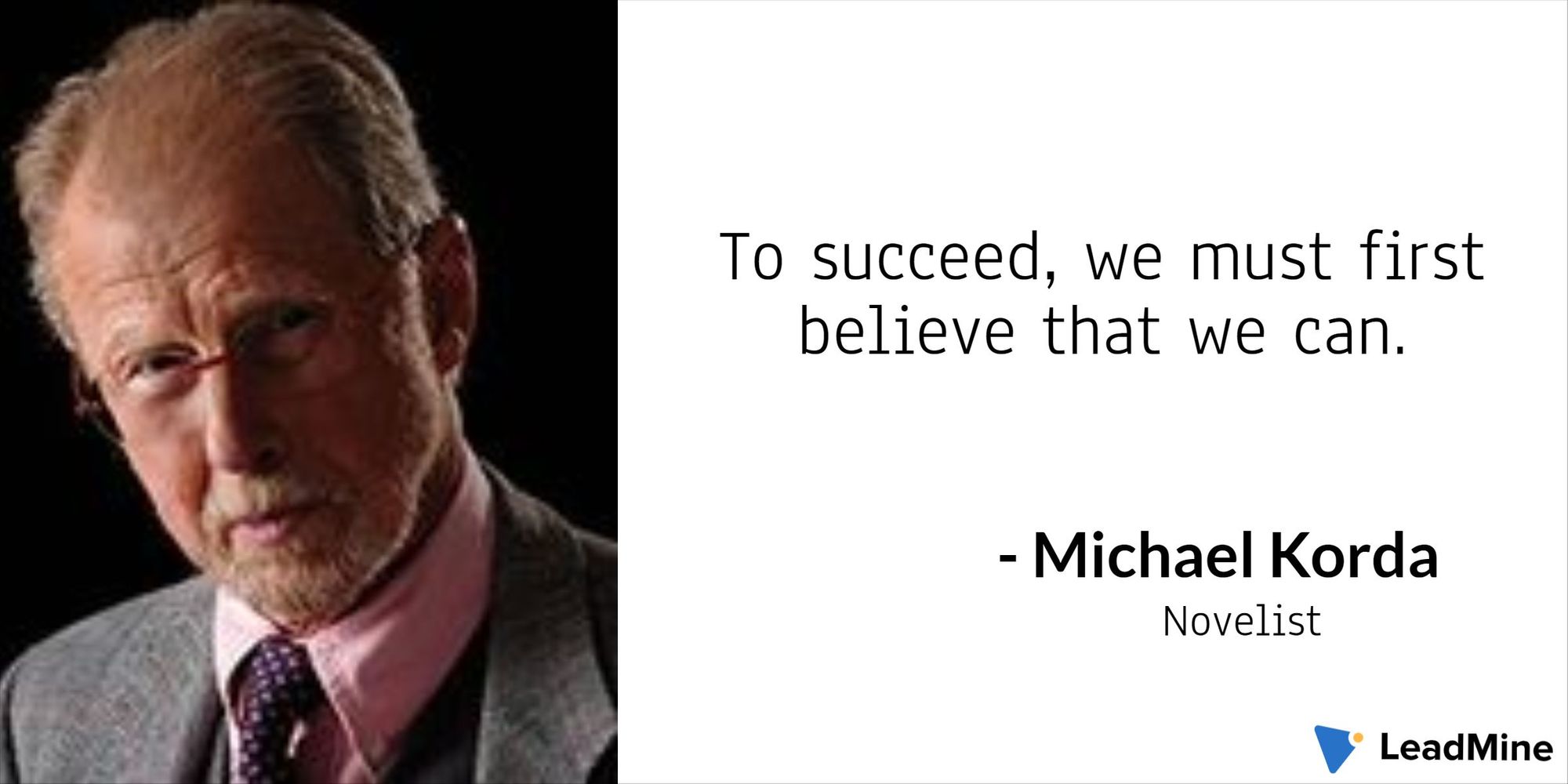 31.  To succeed, we must first believe that we can. - Michael Korda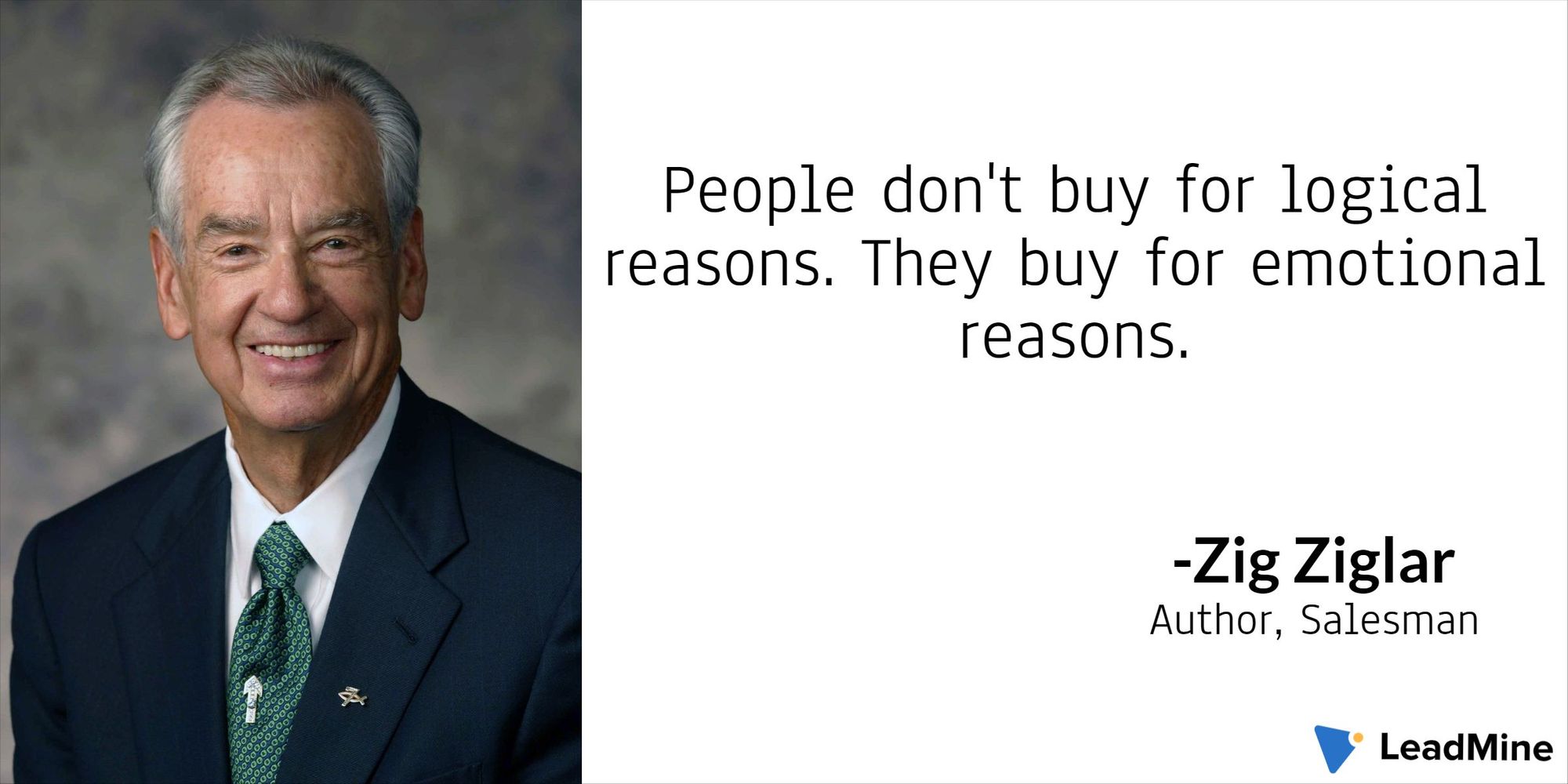 32.  People don't buy for logical reasons. They buy for emotional reasons. - Zig Ziglar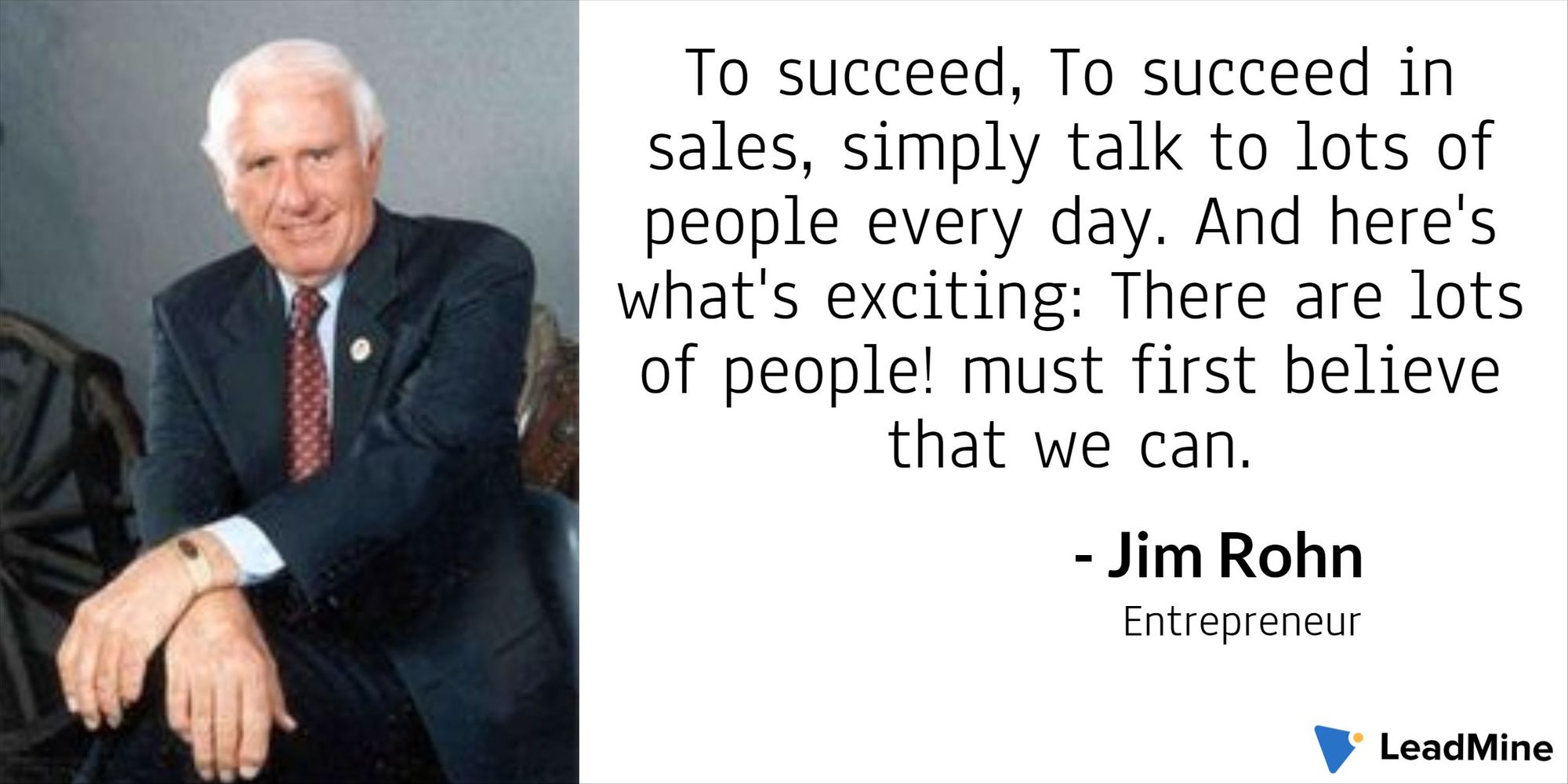 33.  To succeed in sales, simply talk to lots of people every day. And here's what's exciting: There are lots of people! - Jim Rohn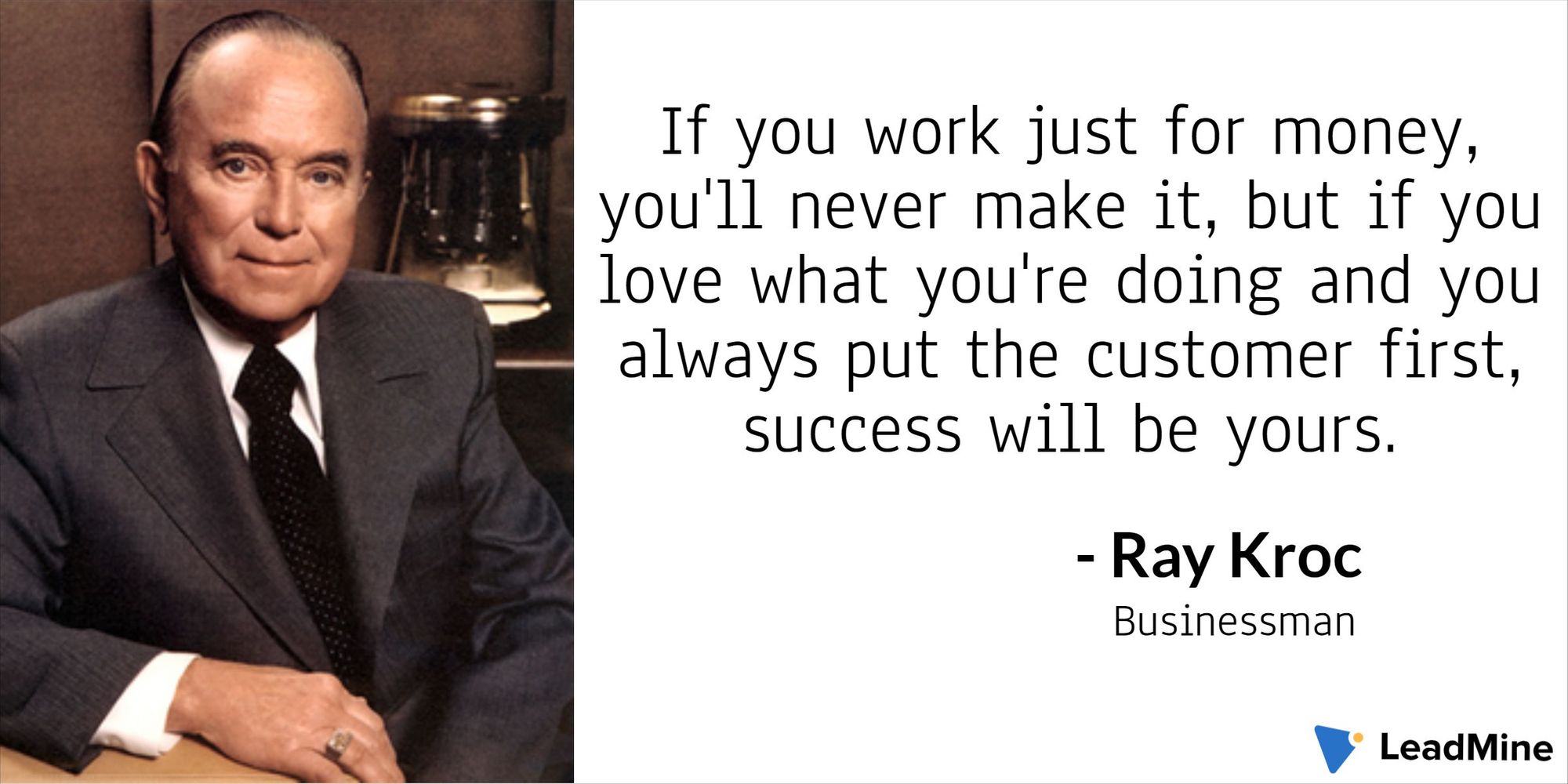 34. If you work just for money, you'll never make it, but if you love what you're doing and you always put the customer first, success will be yours. - Ray Kroc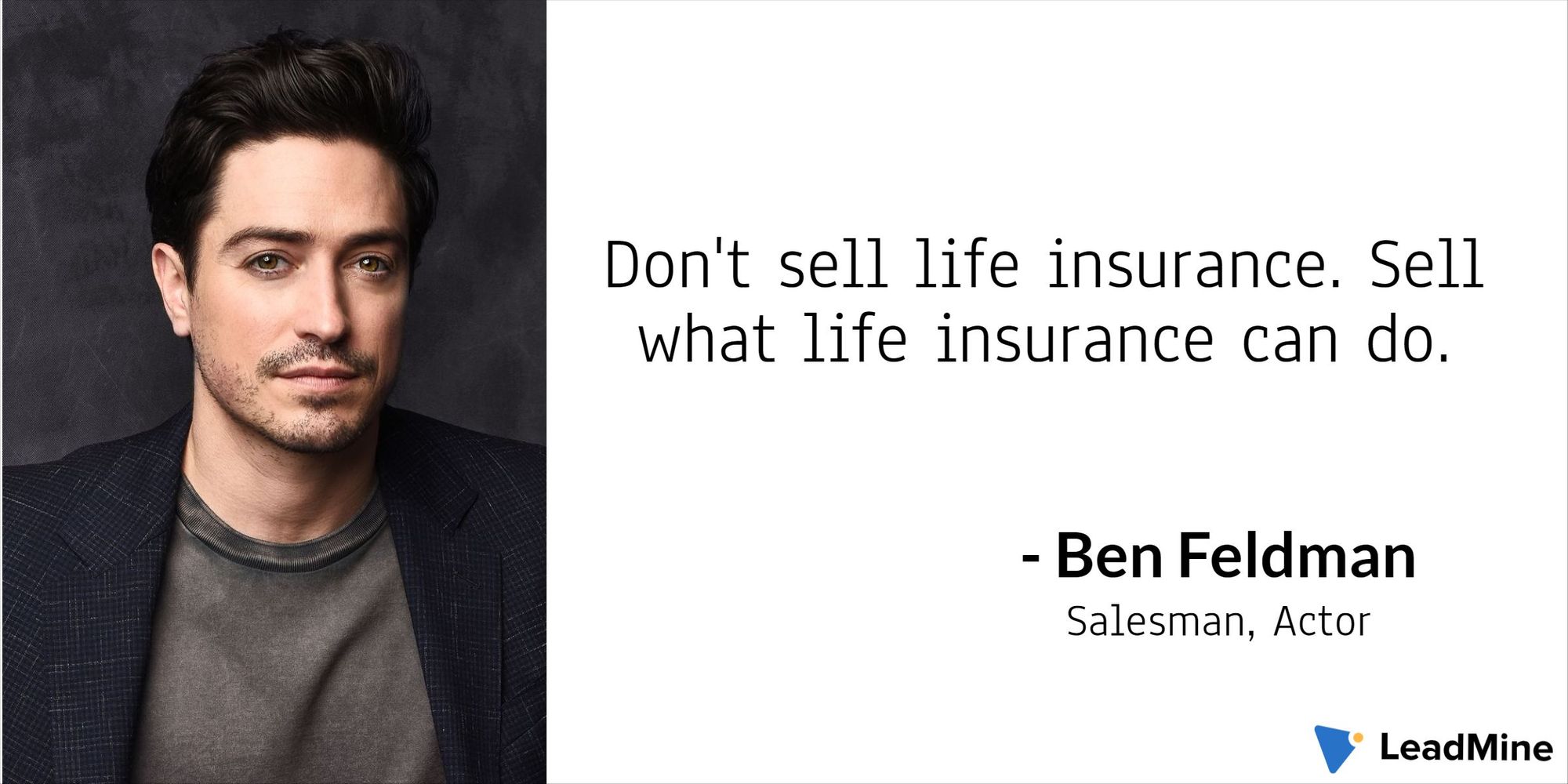 35.  Don't sell life insurance. Sell what life insurance can do. - Ben Feldman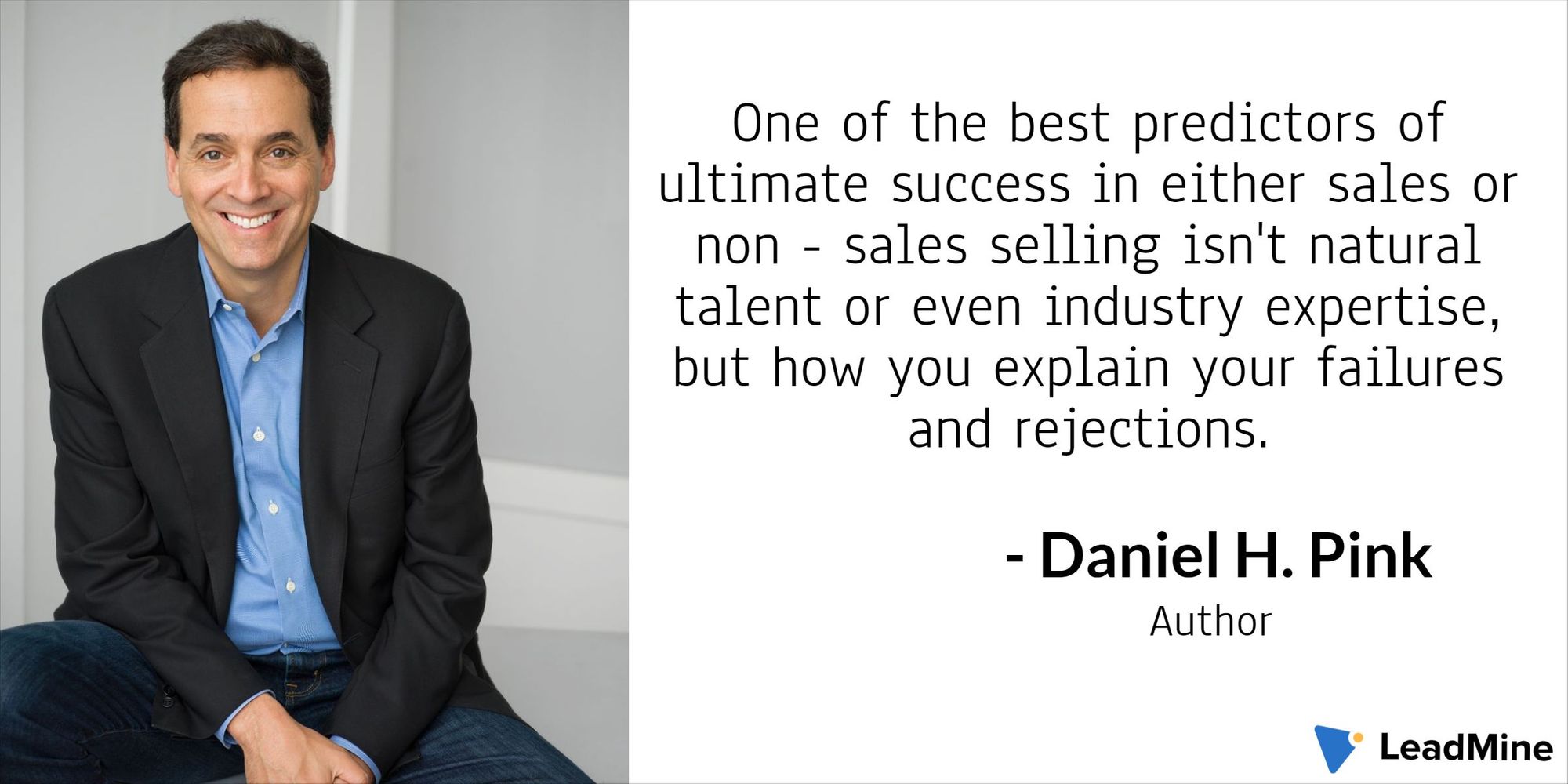 36.  One of the best predictors of ultimate success in either sales or non - sales selling isn't natural talent or even industry expertise, but how you explain your failures and rejections. - Daniel H. Pink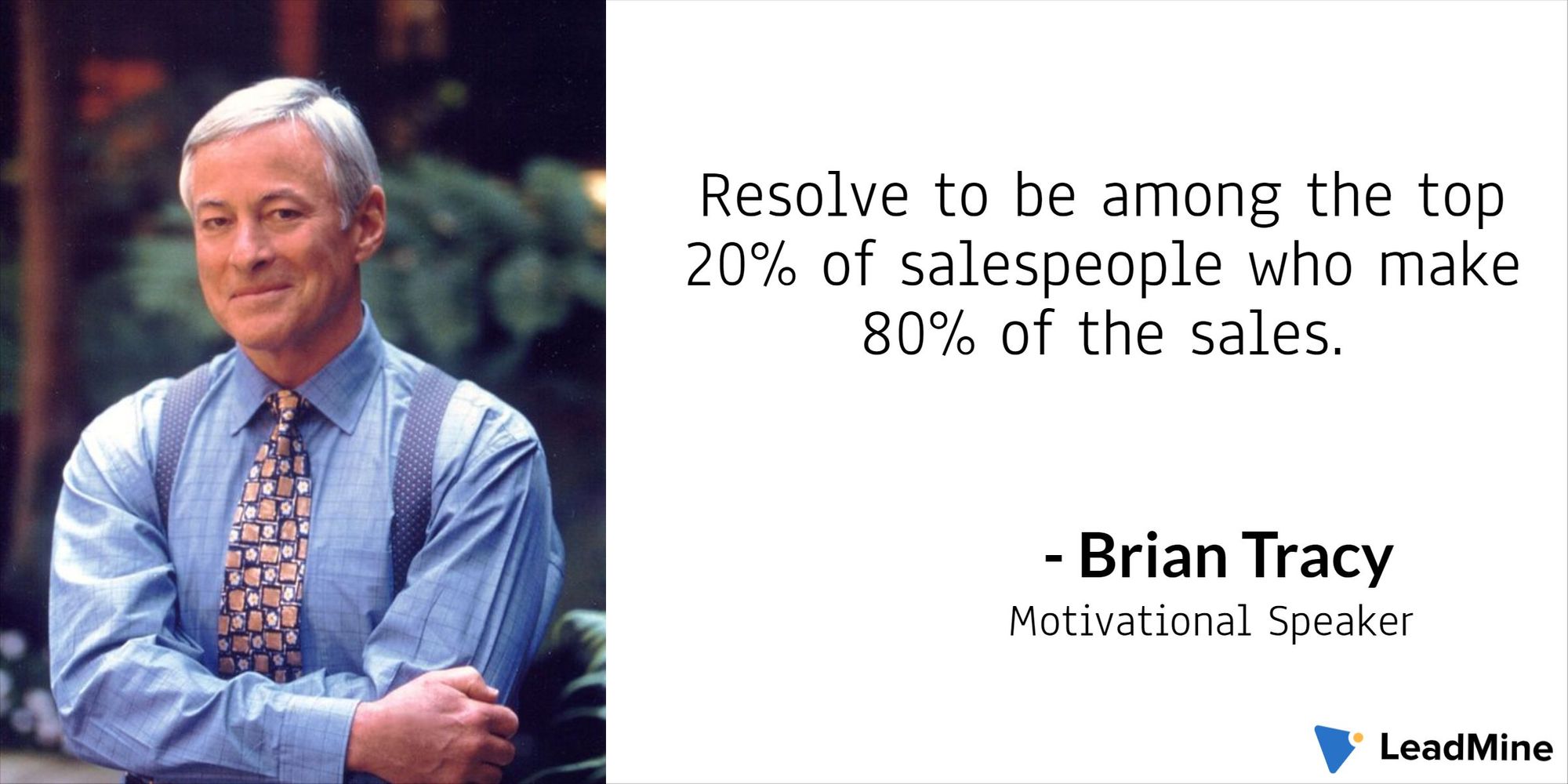 37.  Resolve to be among the top 20% of salespeople who make 80% of the sales. - Brian Tracy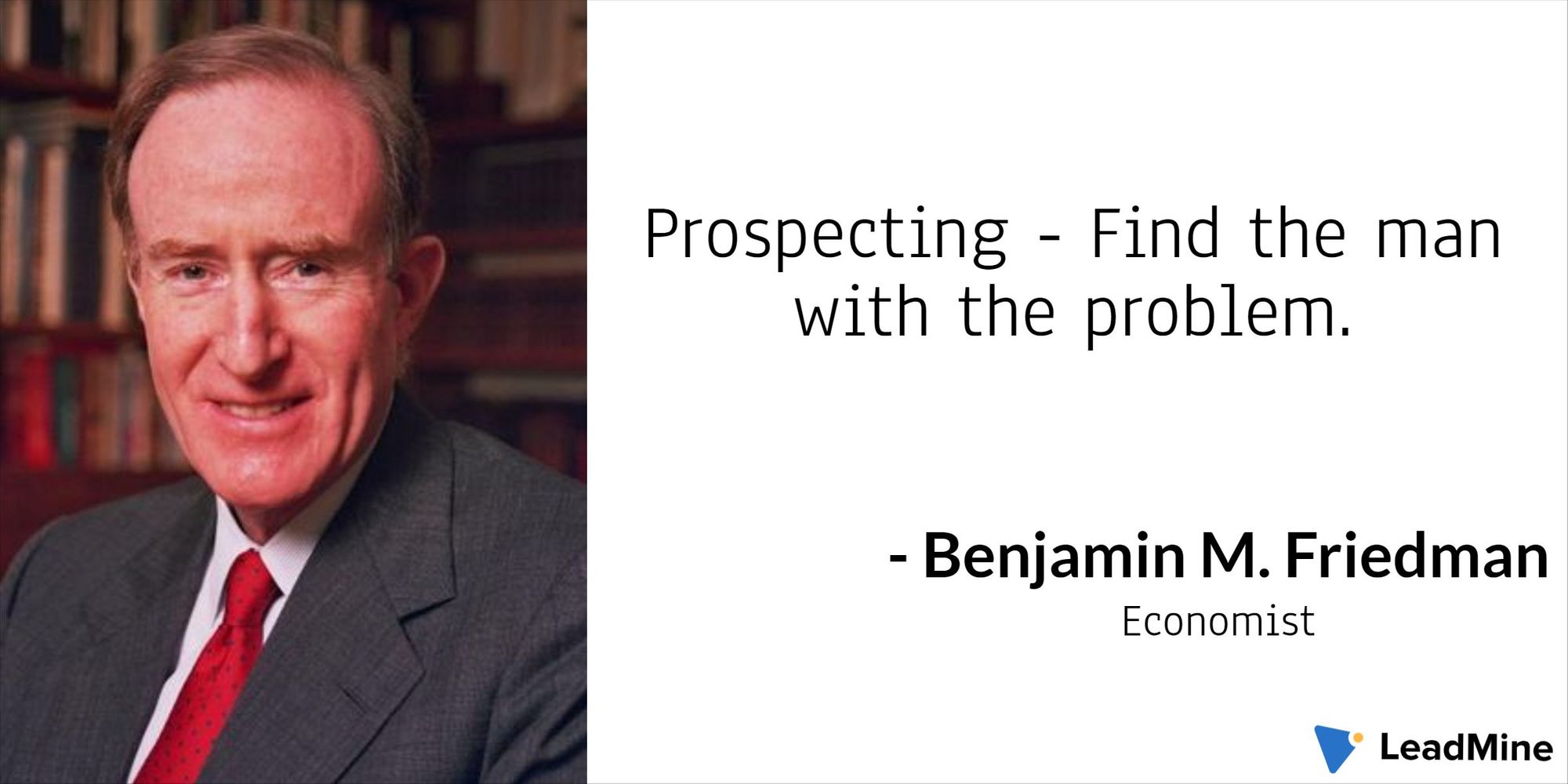 38.  Prospecting - Find the man with the problem. - Benjamin M. Friedman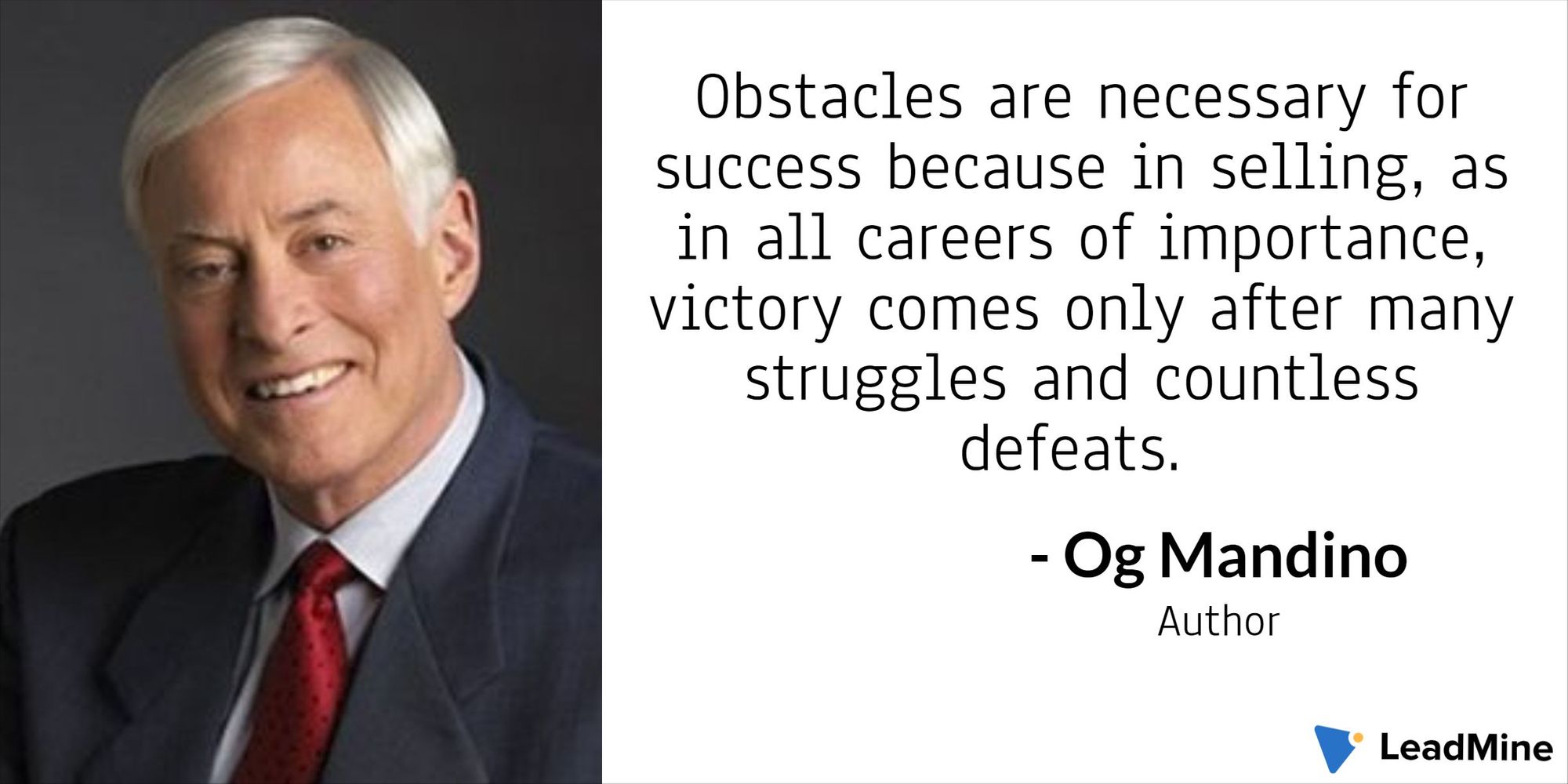 39.  Obstacles are necessary for success because in selling, as in all careers of importance, victory comes only after many struggles and countless defeats. - Og Mandino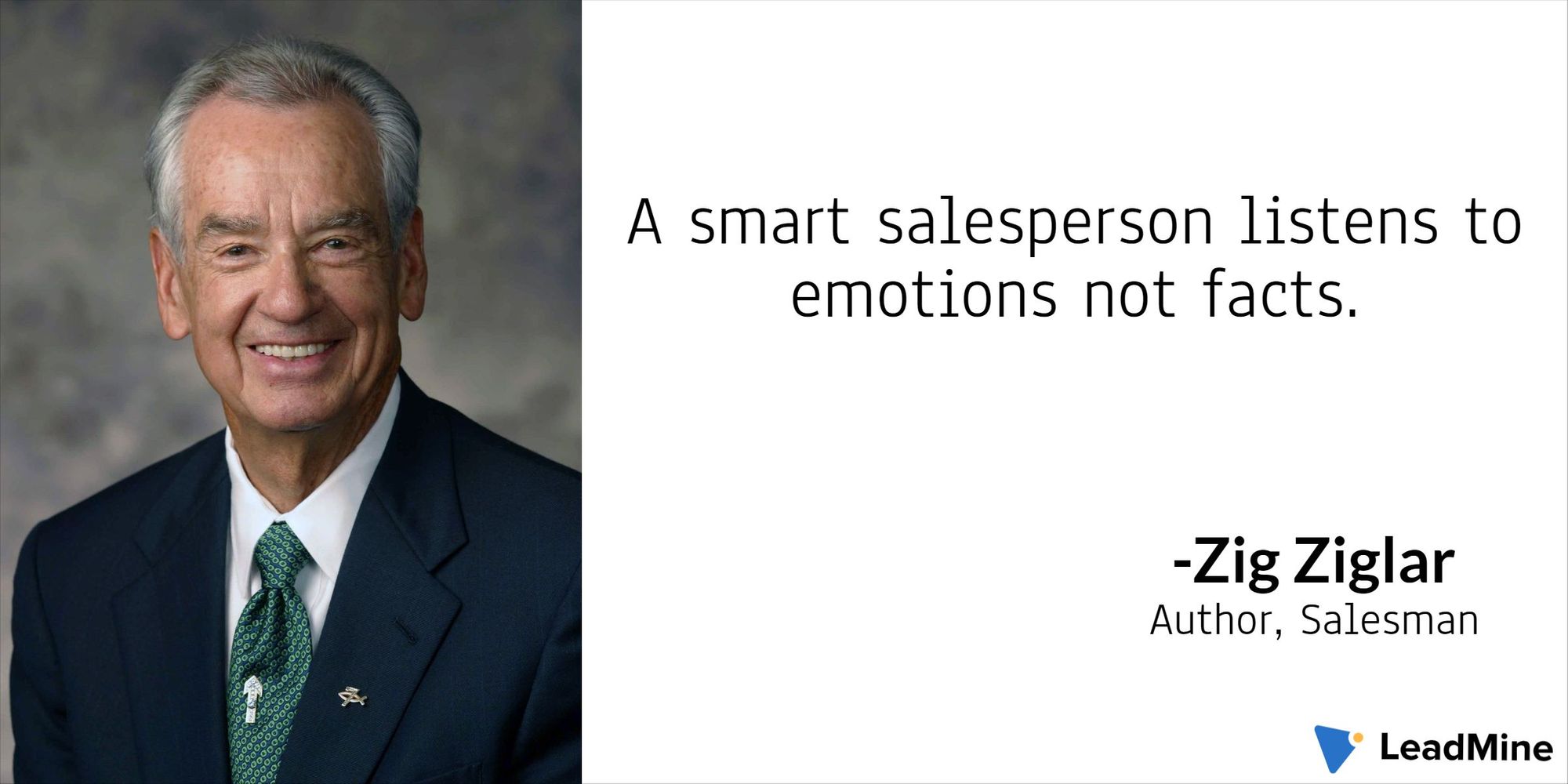 40.  A smart salesperson listens to emotions not facts. - Zig Ziglar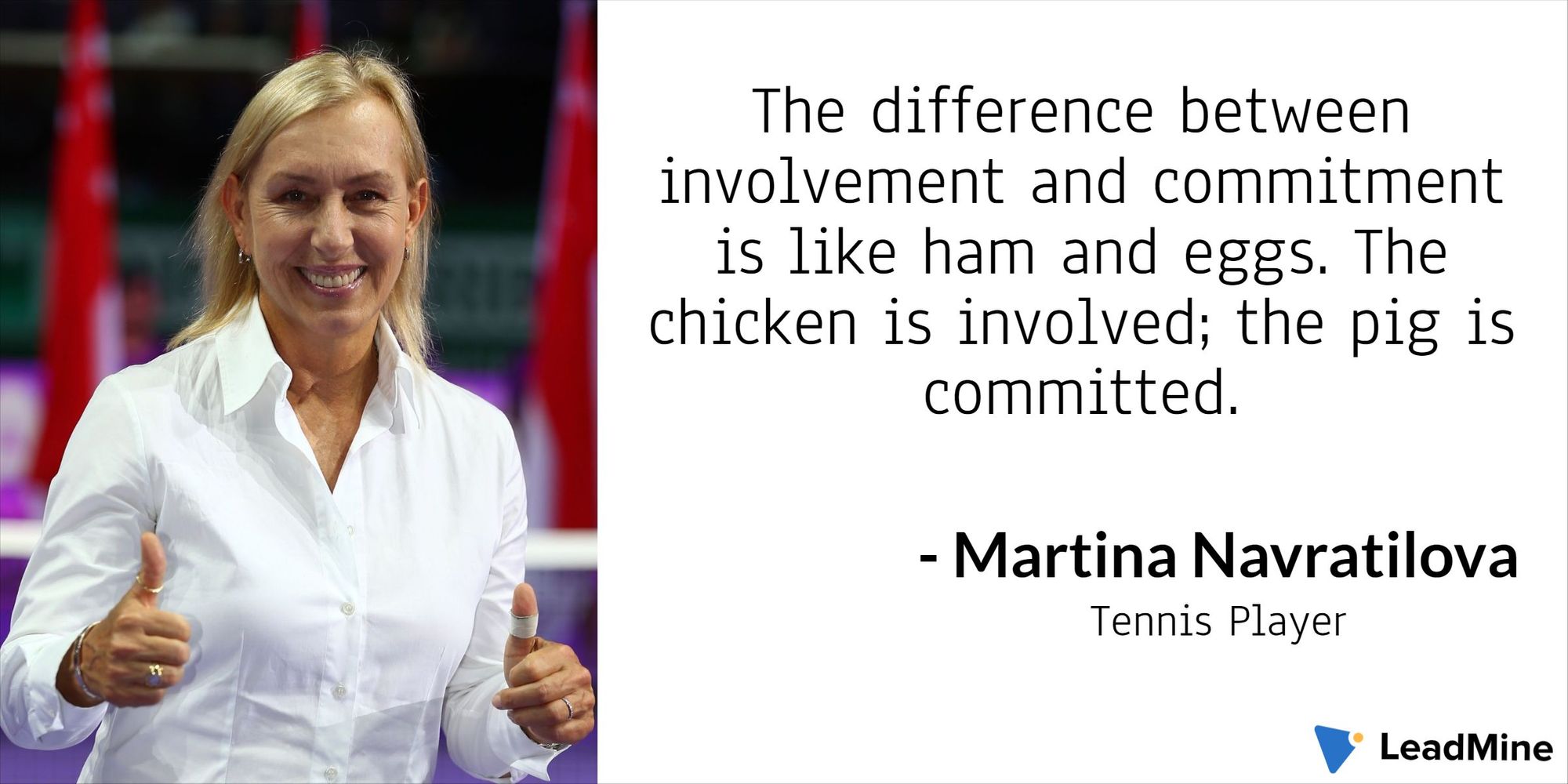 41.  The difference between involvement and commitment is like ham and eggs. The chicken is involved; the pig is committed. - Martina Navratilova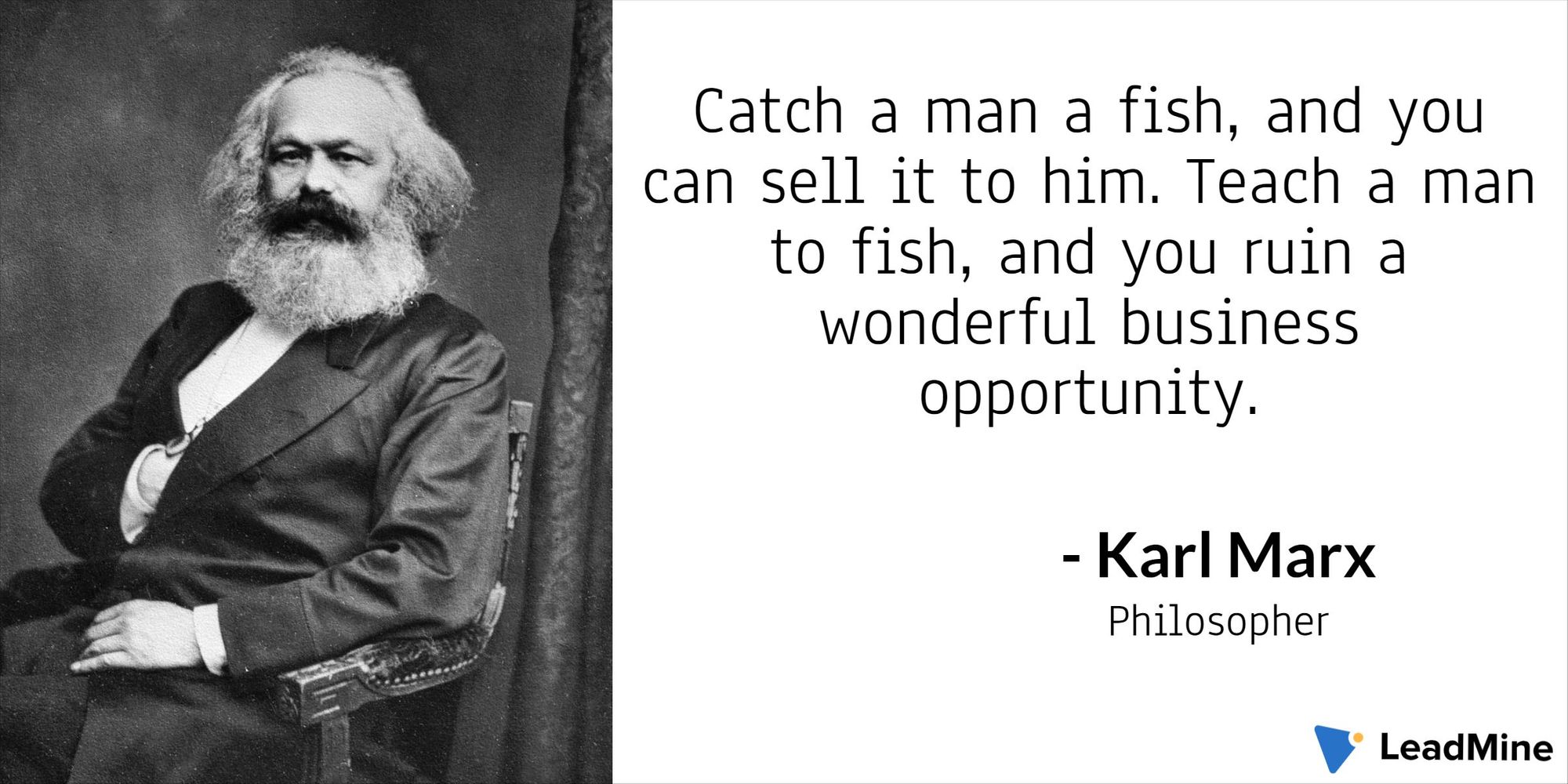 42.  Catch a man a fish, and you can sell it to him. Teach a man to fish, and you ruin a wonderful business opportunity. - Karl Marx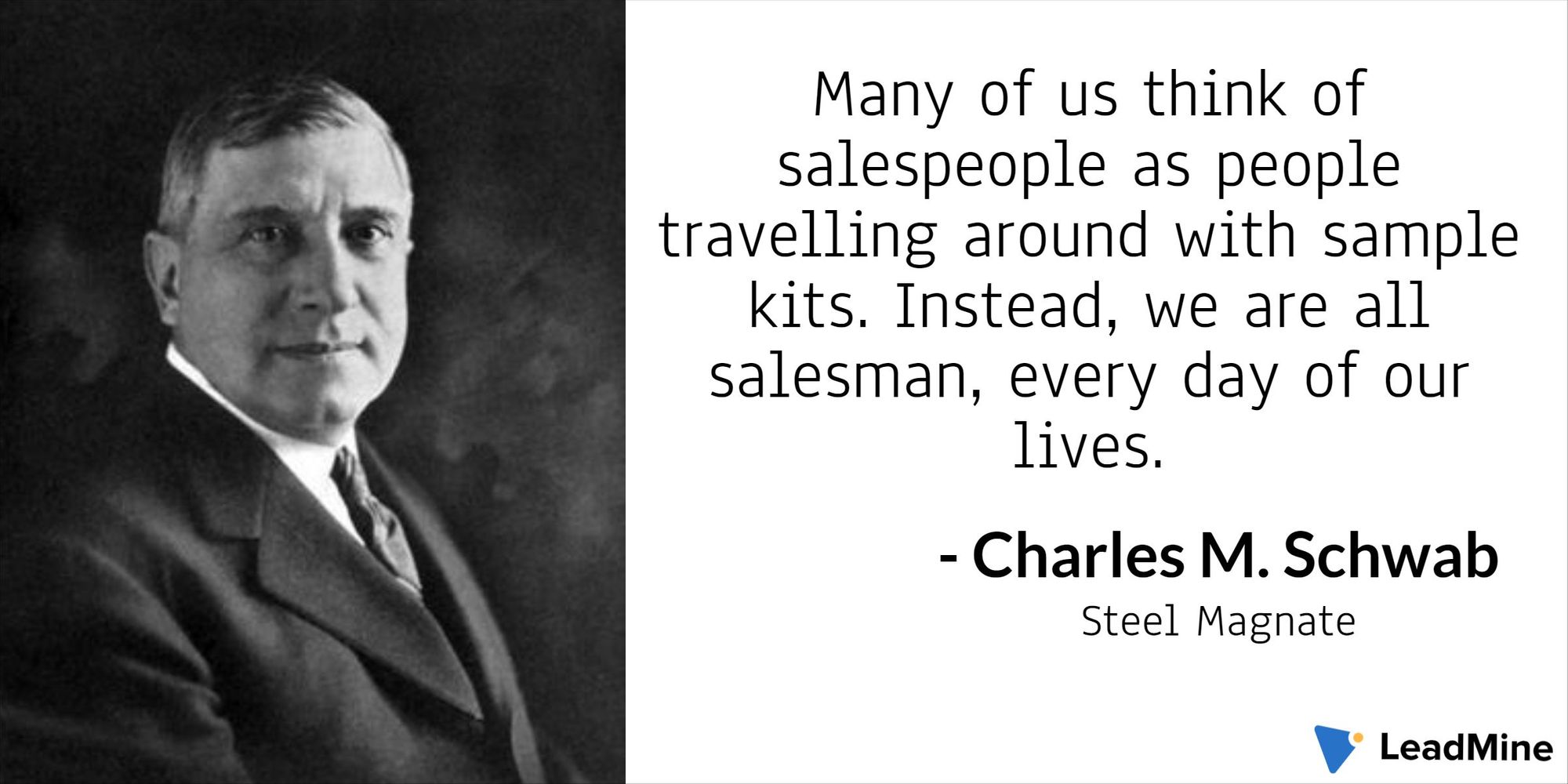 43. Many of us think of salespeople as people travelling around with sample kits. Instead, we are all salesman, every day of our lives. - Charles M. Schwab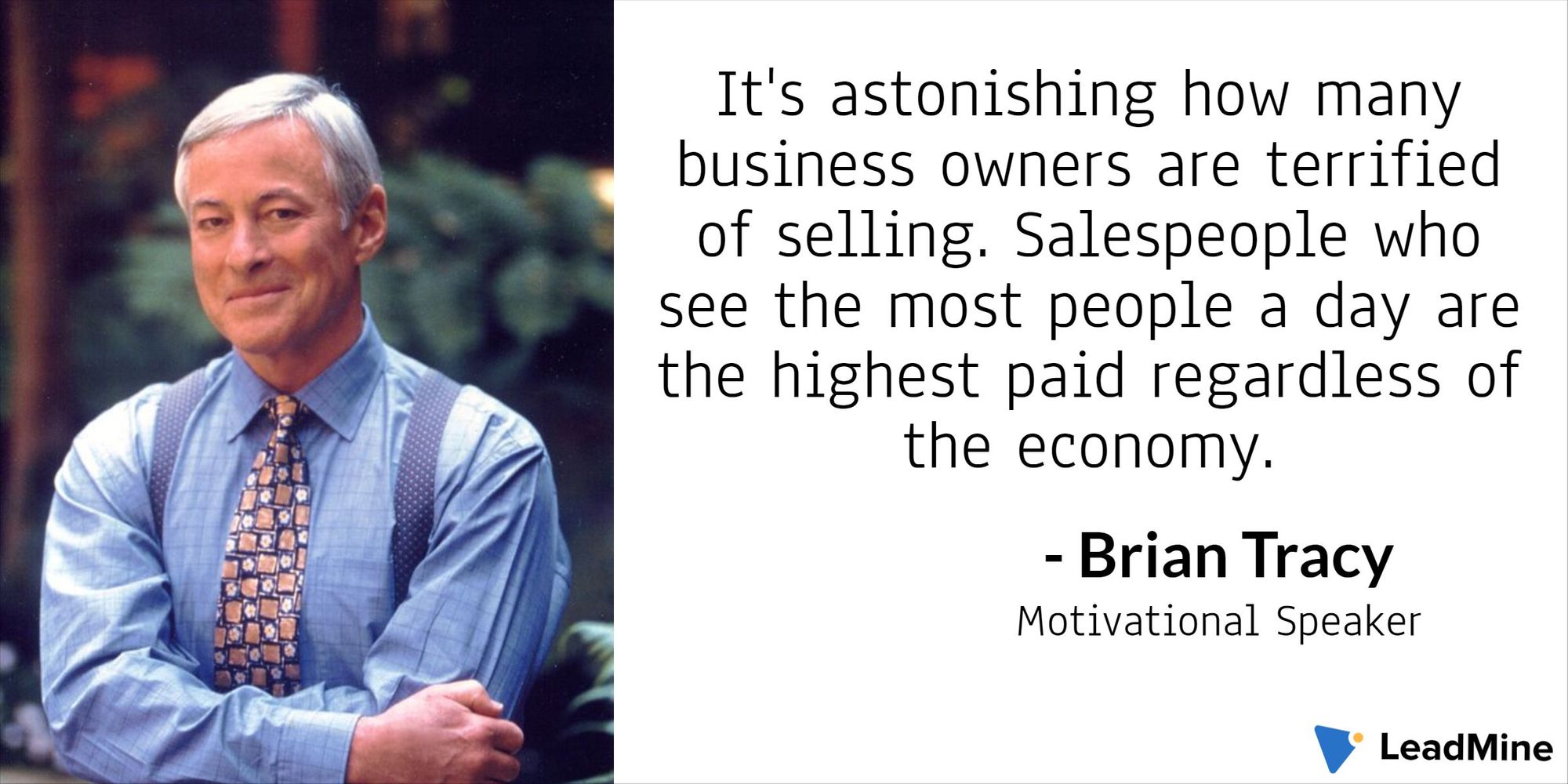 44.  It's astonishing how many business owners are terrified of selling. Salespeople who see the most people a day are the highest paid regardless of the economy. - Brian Tracy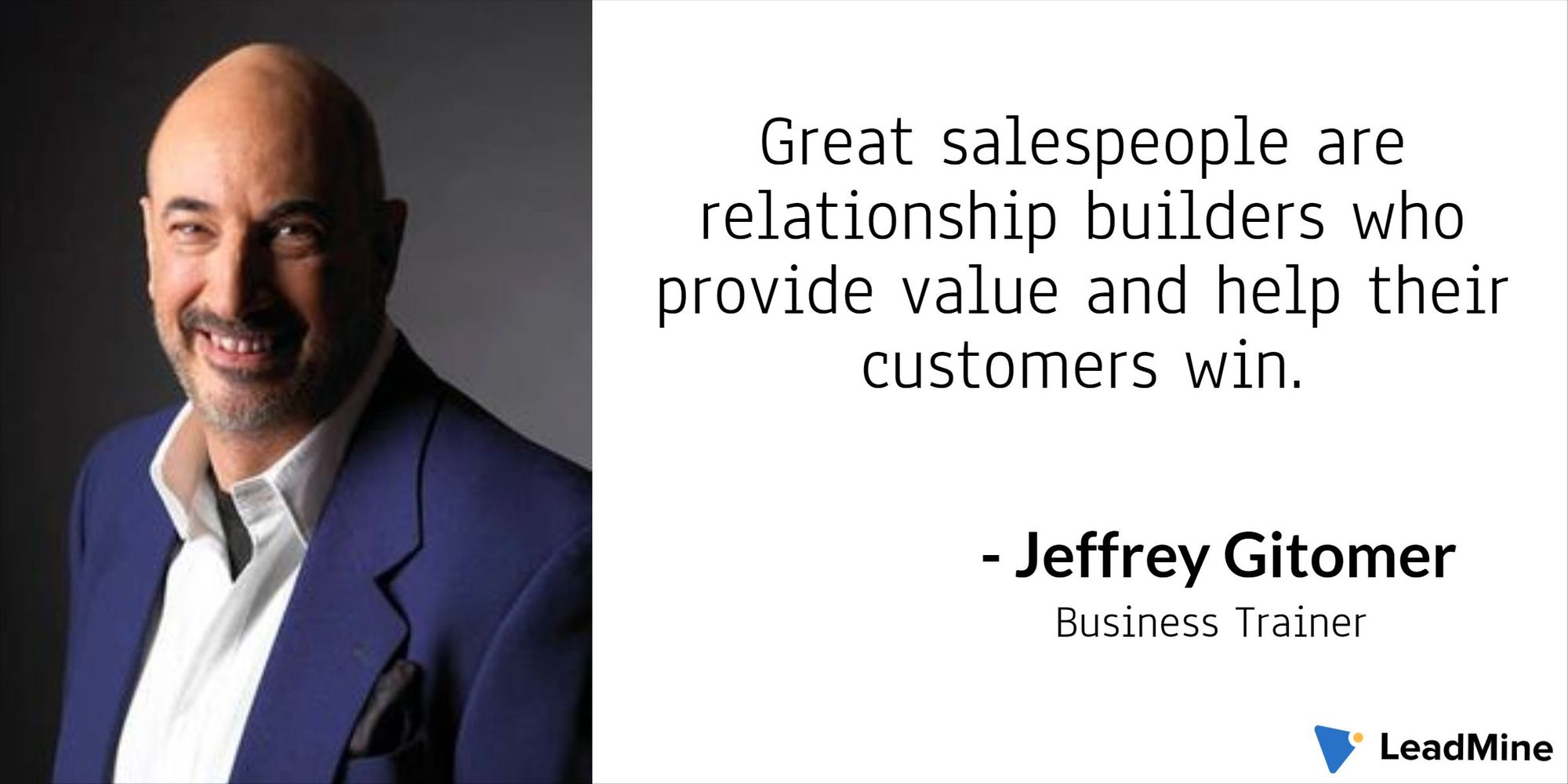 45.  Great salespeople are relationship builders who provide value and help their customers win. - Jeffrey Gitomer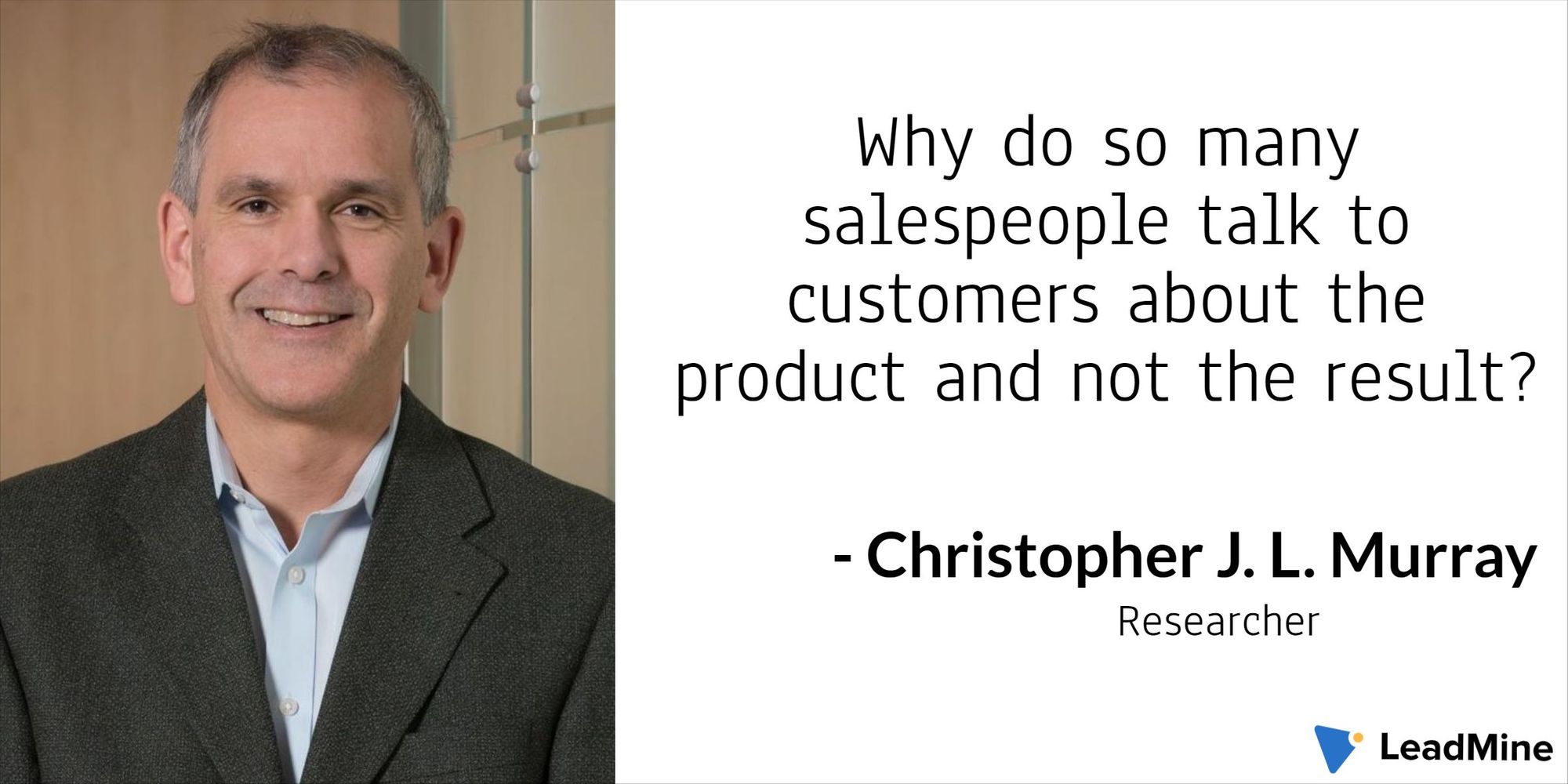 46.  Why do so many salespeople talk to customers about the product and not the result? - Christopher J. L. Murray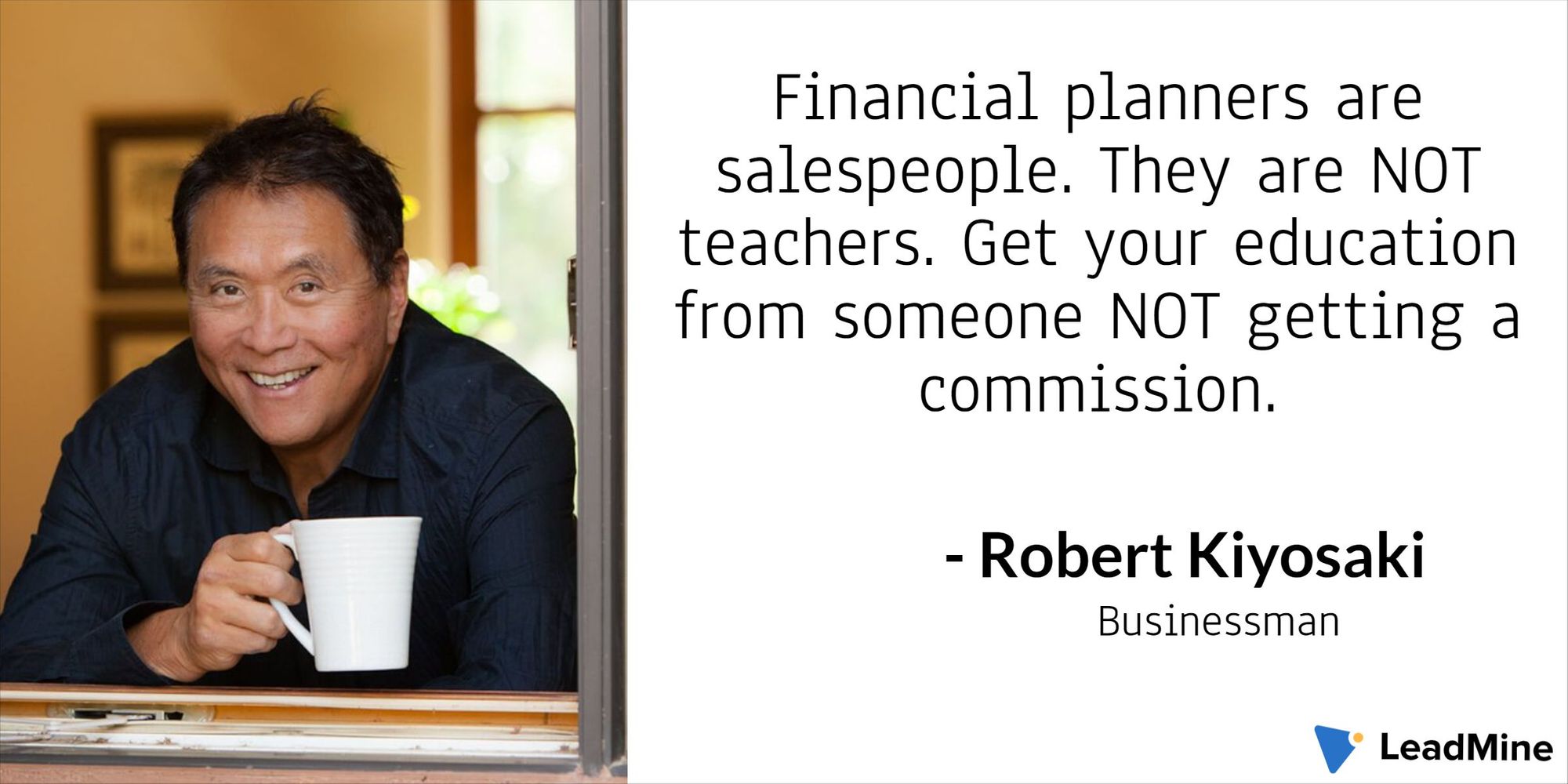 47.  Financial planners are salespeople. They are NOT teachers. Get your education from someone NOT getting a commission. - Robert Kiyosaki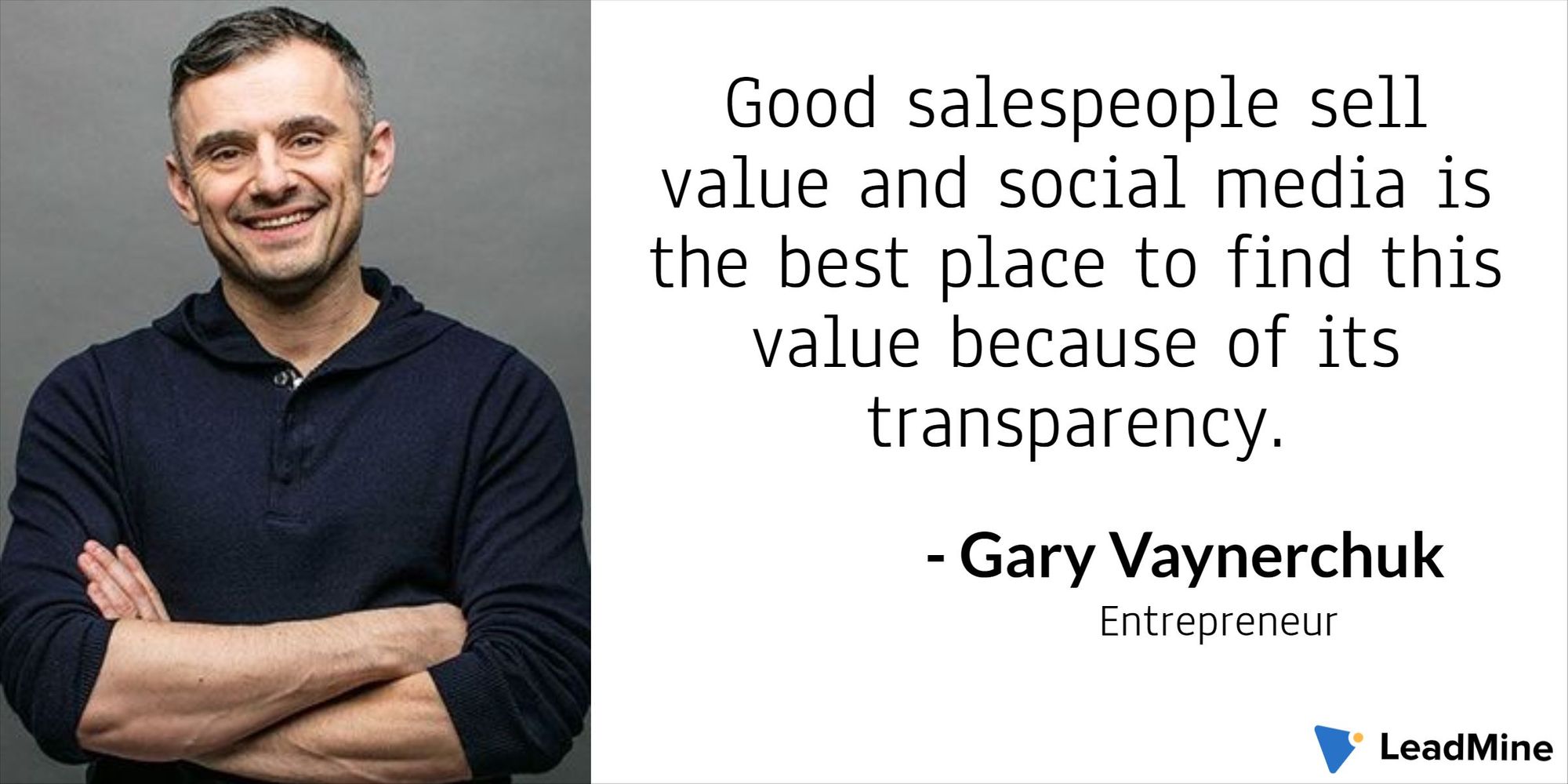 48.  Good salespeople sell value and social media is the best place to find this value because of its transparency. - Gary Vaynerchuk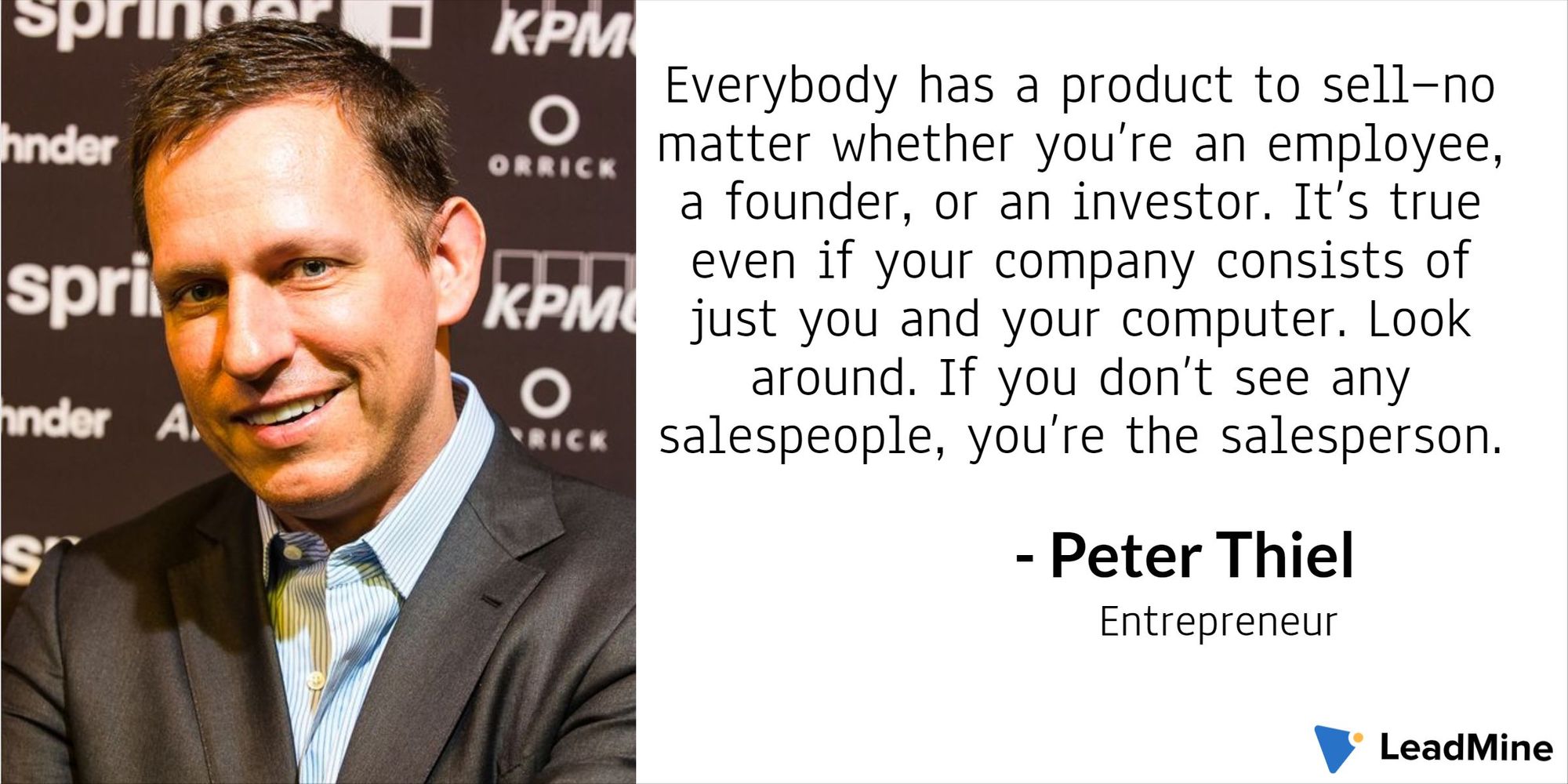 49.  Everybody has a product to sell—no matter whether you're an employee, a founder, or an investor. It's true even if your company consists of just you and your computer. Look around. If you don't see any salespeople, you're the salesperson. - Peter Thiel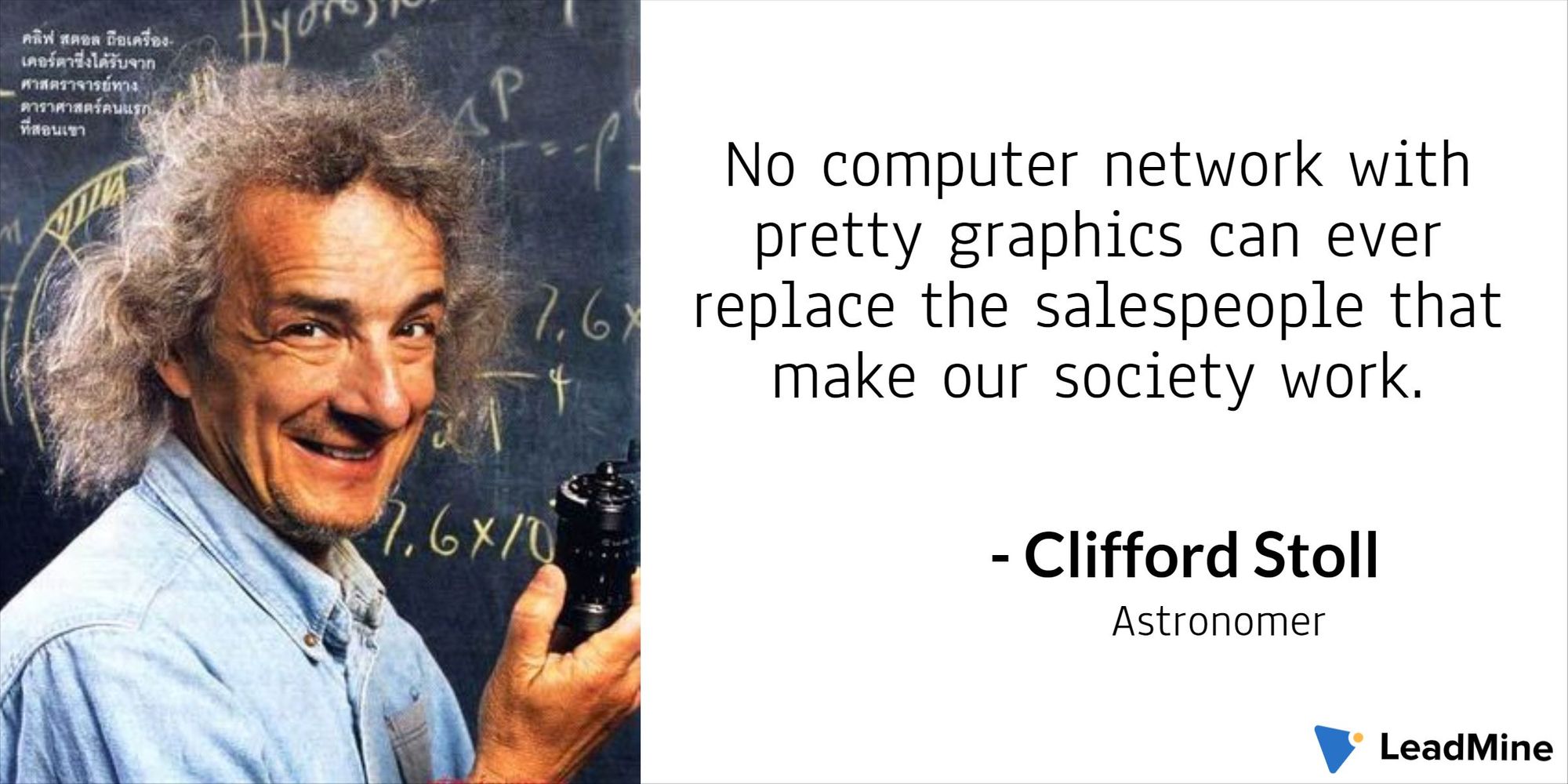 50.  No computer network with pretty graphics can ever replace the salespeople that make our society work. - Clifford Stoll
Customer Relationship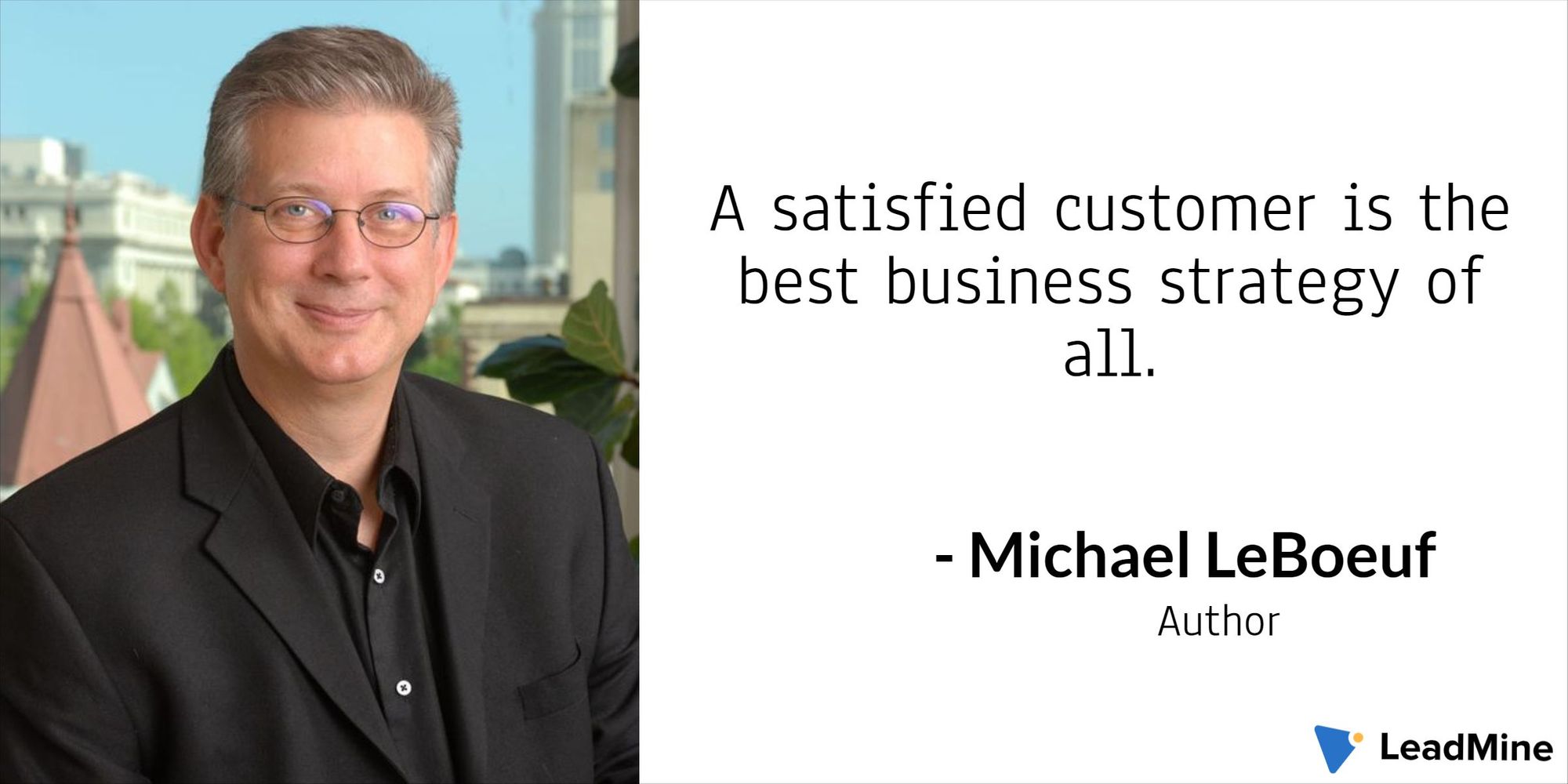 51.  A satisfied customer is the best business strategy of all. - Michael LeBoeuf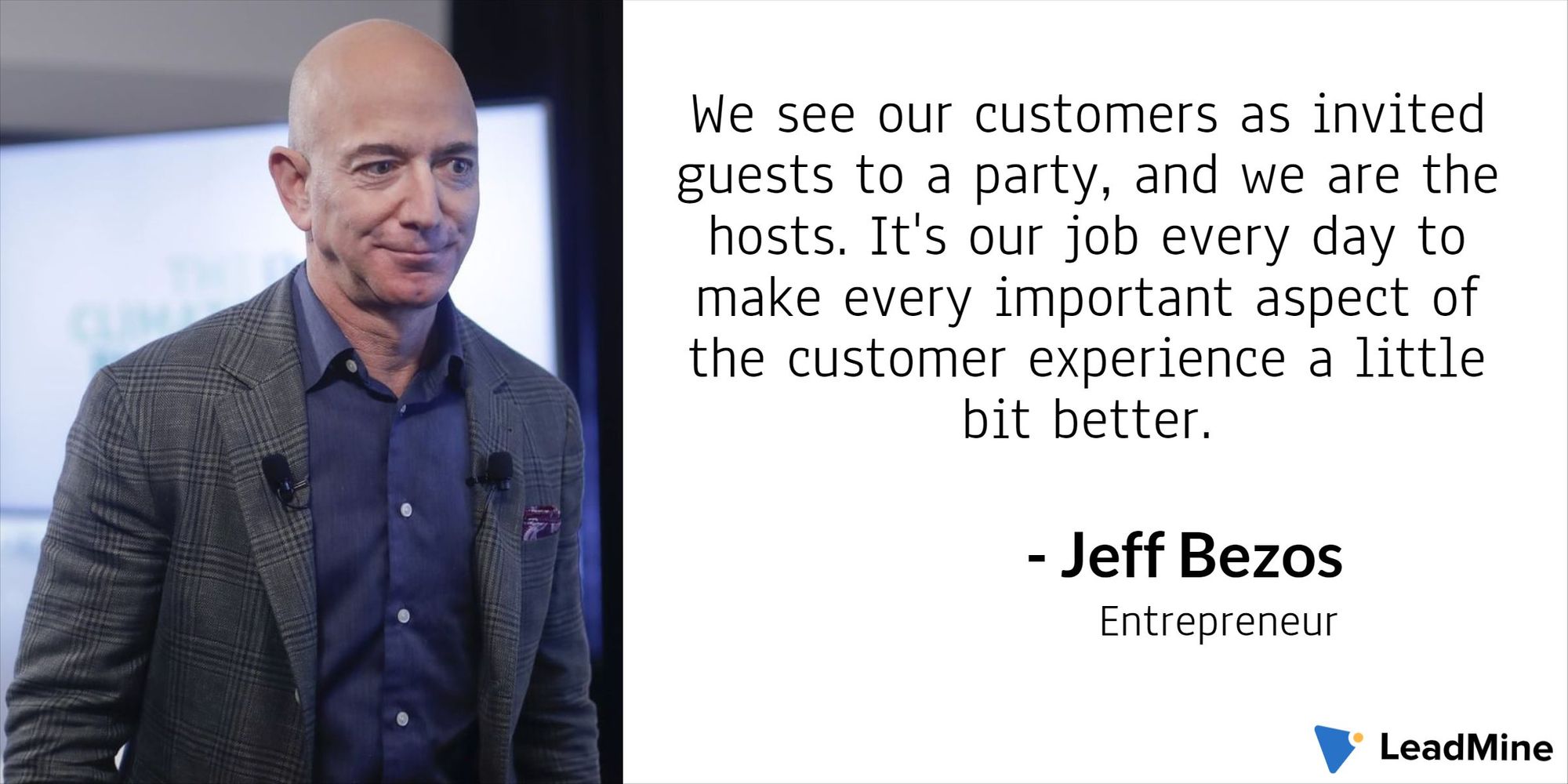 52.  We see our customers as invited guests to a party, and we are the hosts. It's our job every day to make every important aspect of the customer experience a little bit better. - Jeff Bezos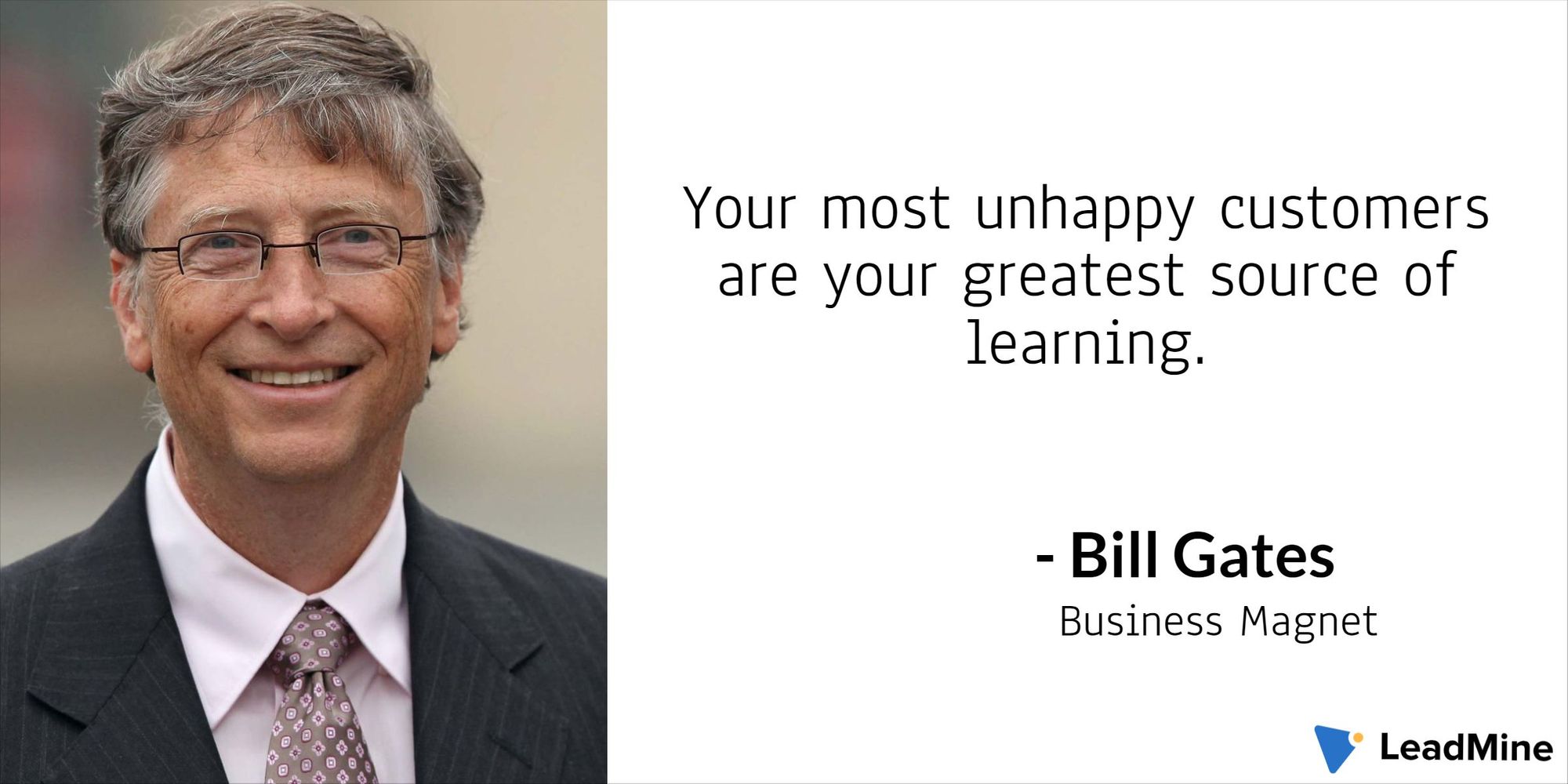 53.  Your most unhappy customers are your greatest source of learning. - Bill Gates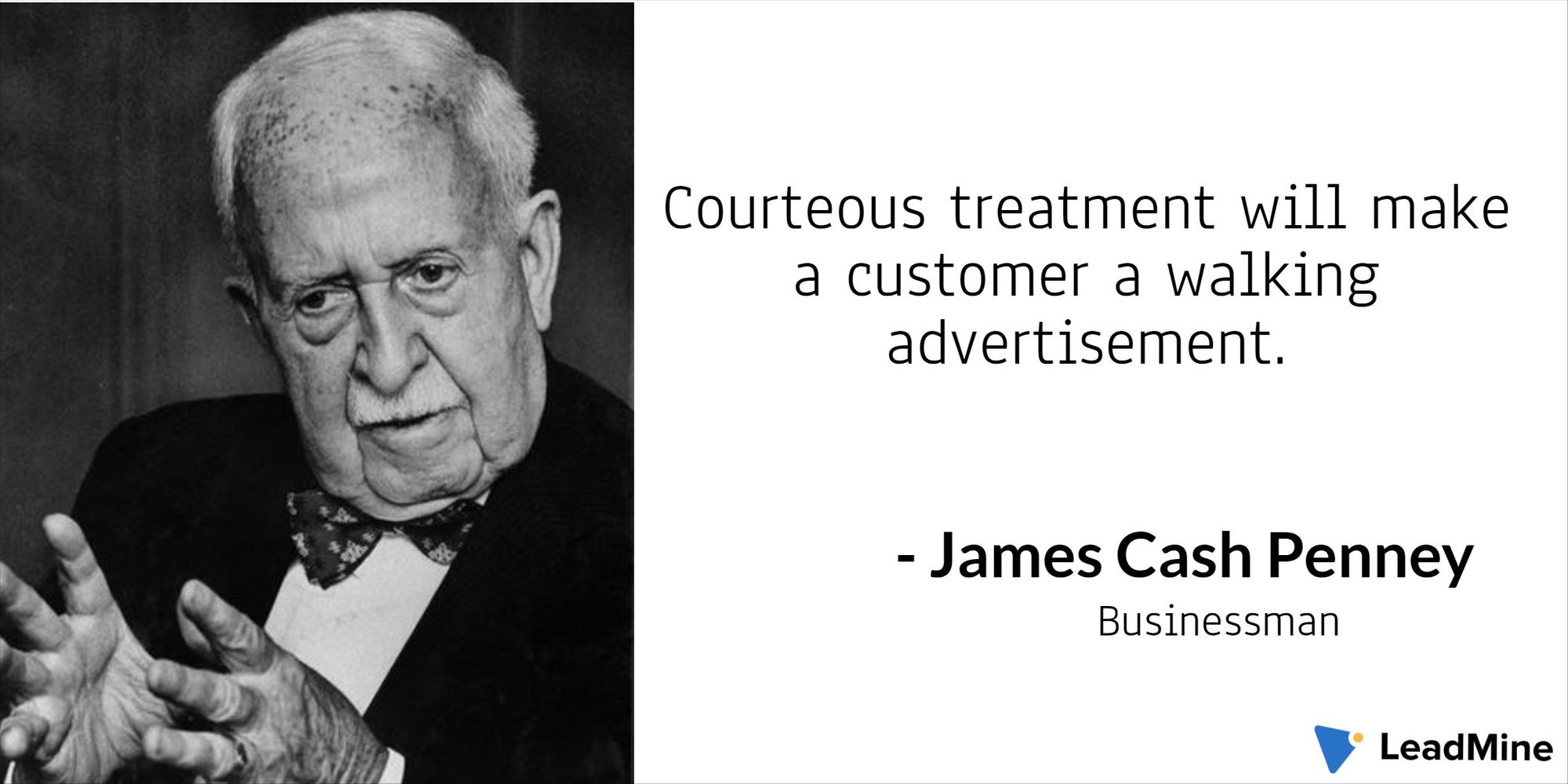 54.  Courteous treatment will make a customer a walking advertisement. - James Cash Penney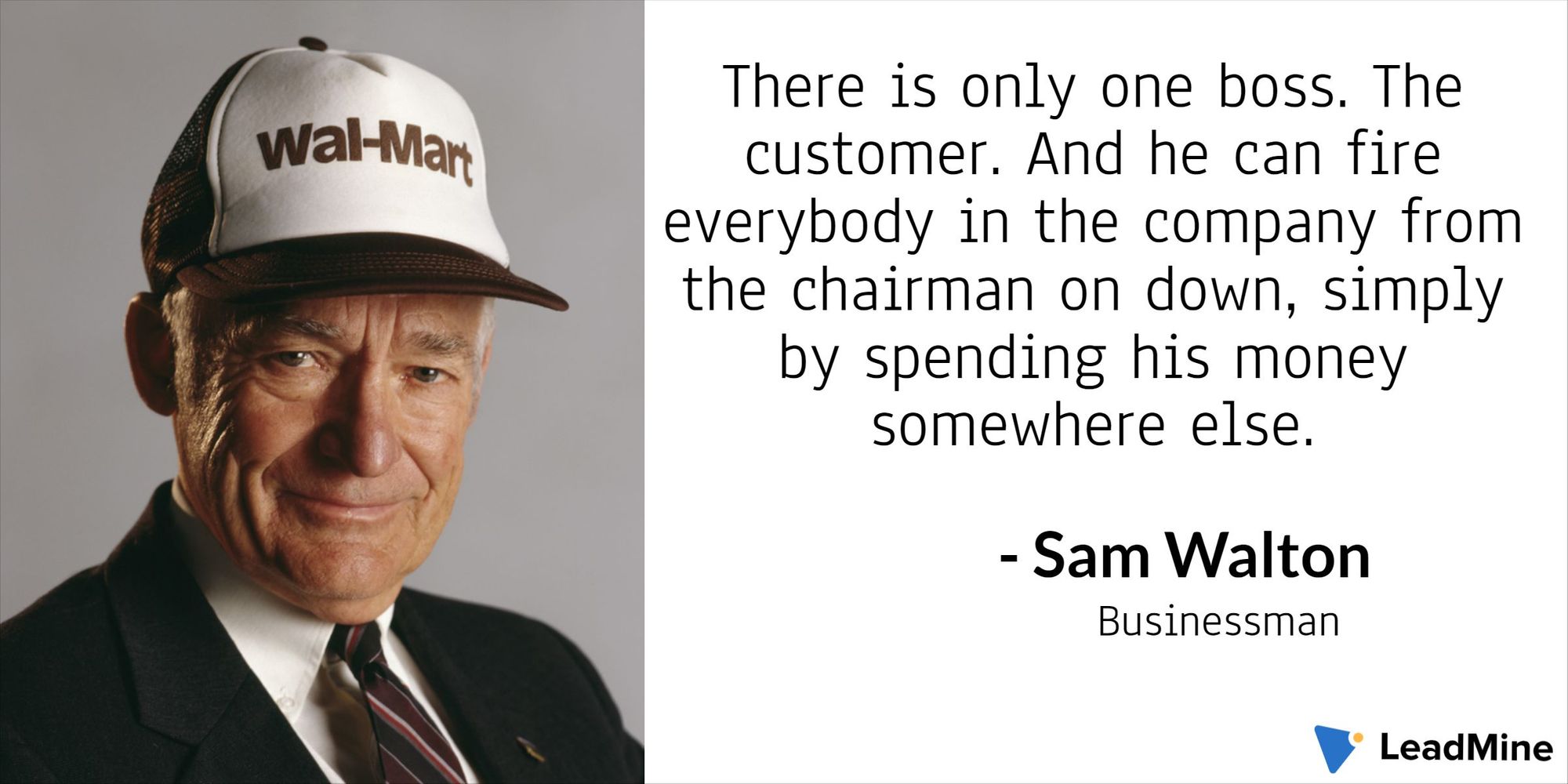 55.  There is only one boss. The customer. And he can fire everybody in the company from the chairman on down, simply by spending his money somewhere else. - Sam Walton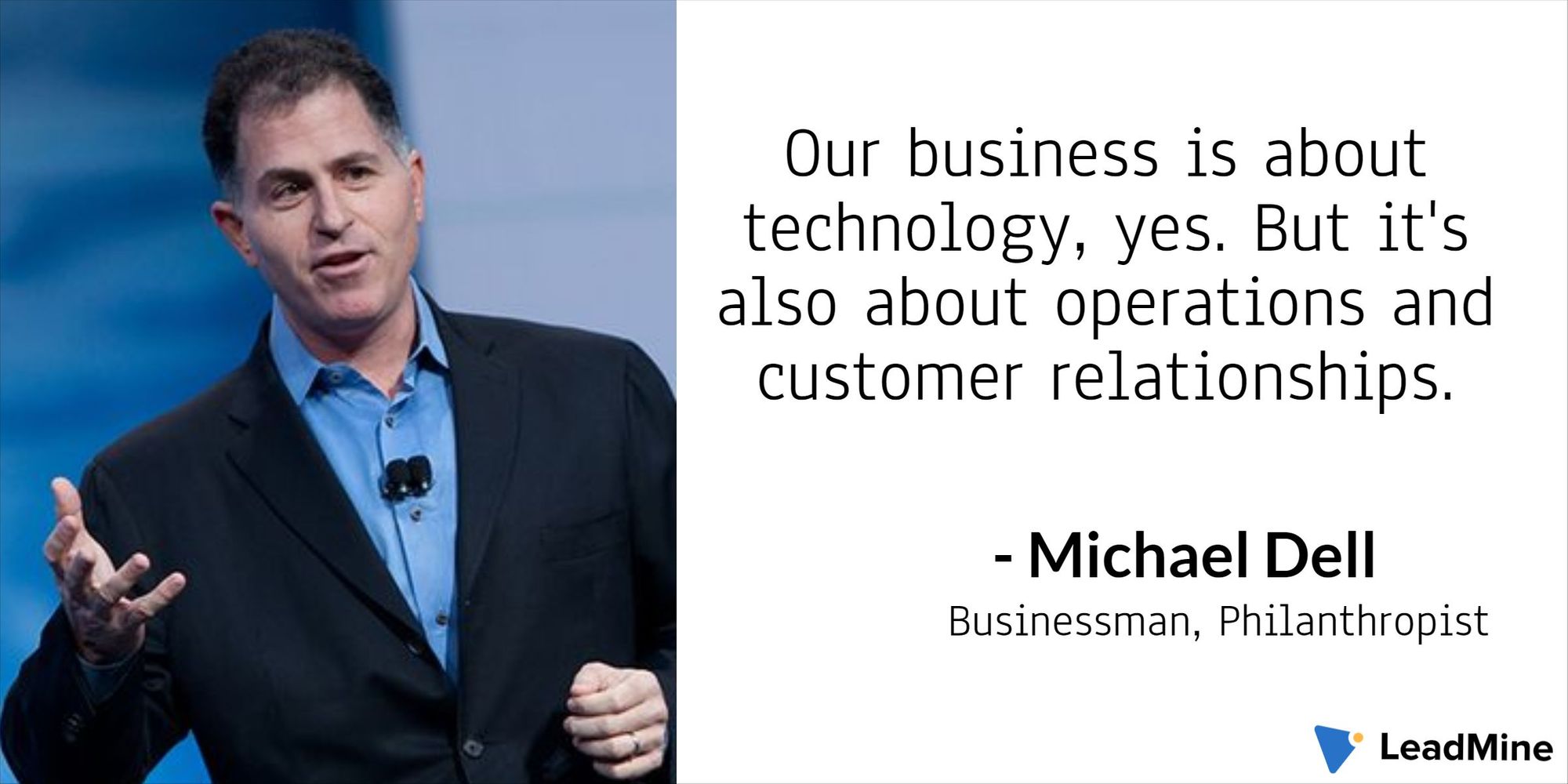 56.  Our business is about technology, yes. But it's also about operations and customer relationships. - Michael Dell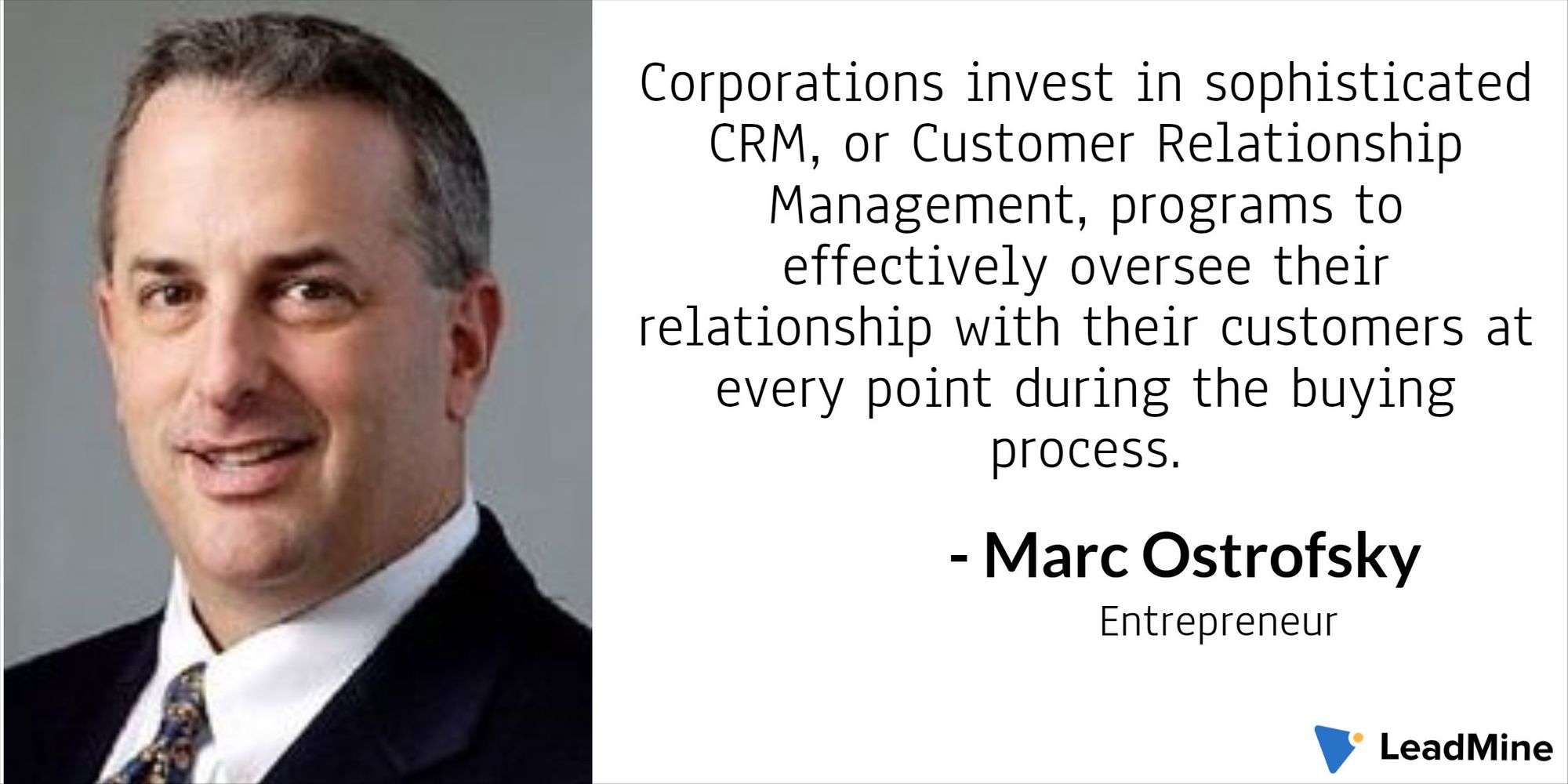 57.  Corporations invest in sophisticated CRM, or Customer Relationship Management, programs to effectively oversee their relationship with their customers at every point during the buying process. - Marc Ostrofsky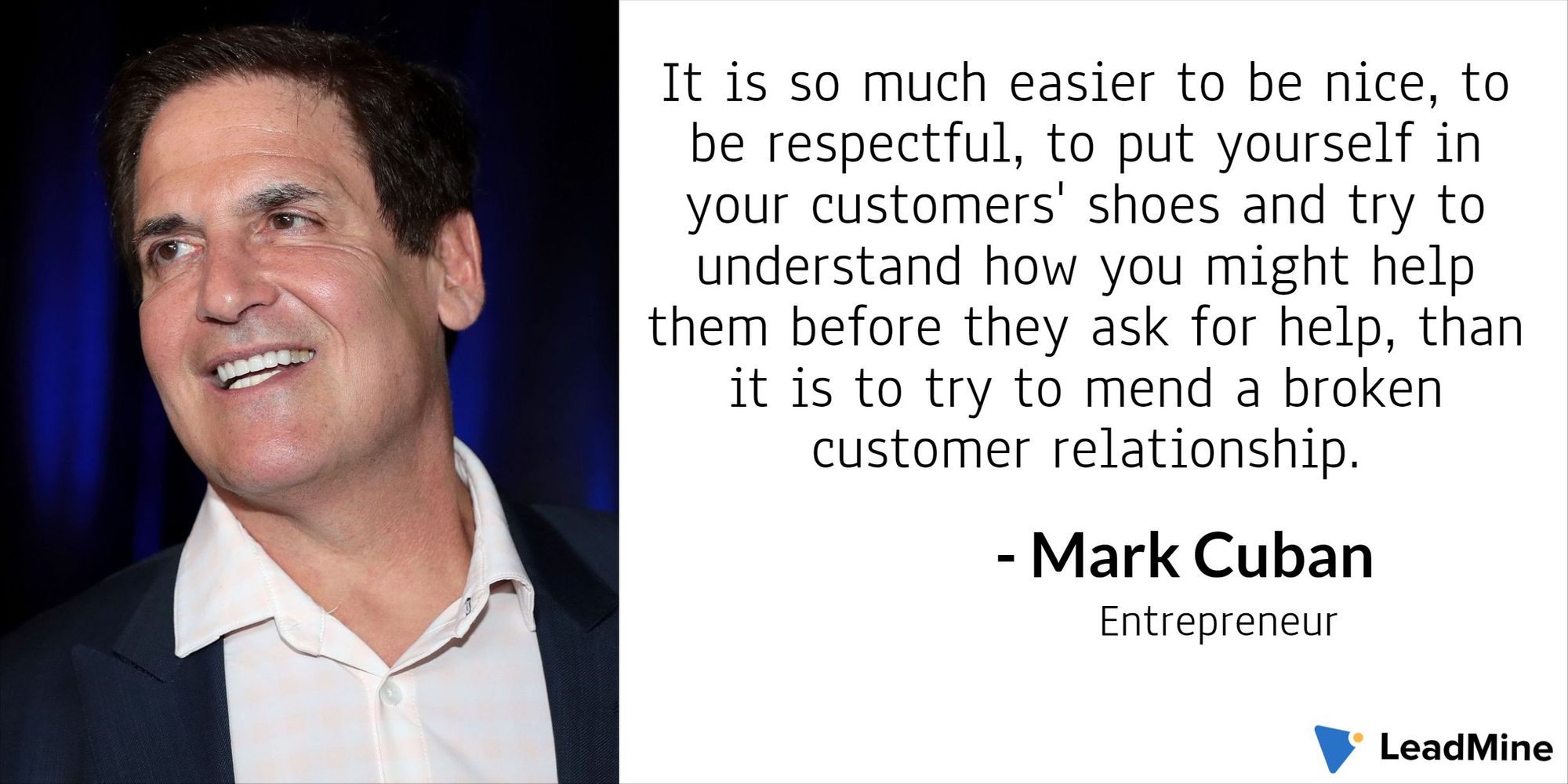 58. It is so much easier to be nice, to be respectful, to put yourself in your customers' shoes and try to understand how you might help them before they ask for help, than it is to try to mend a broken customer relationship. - Mark Cuban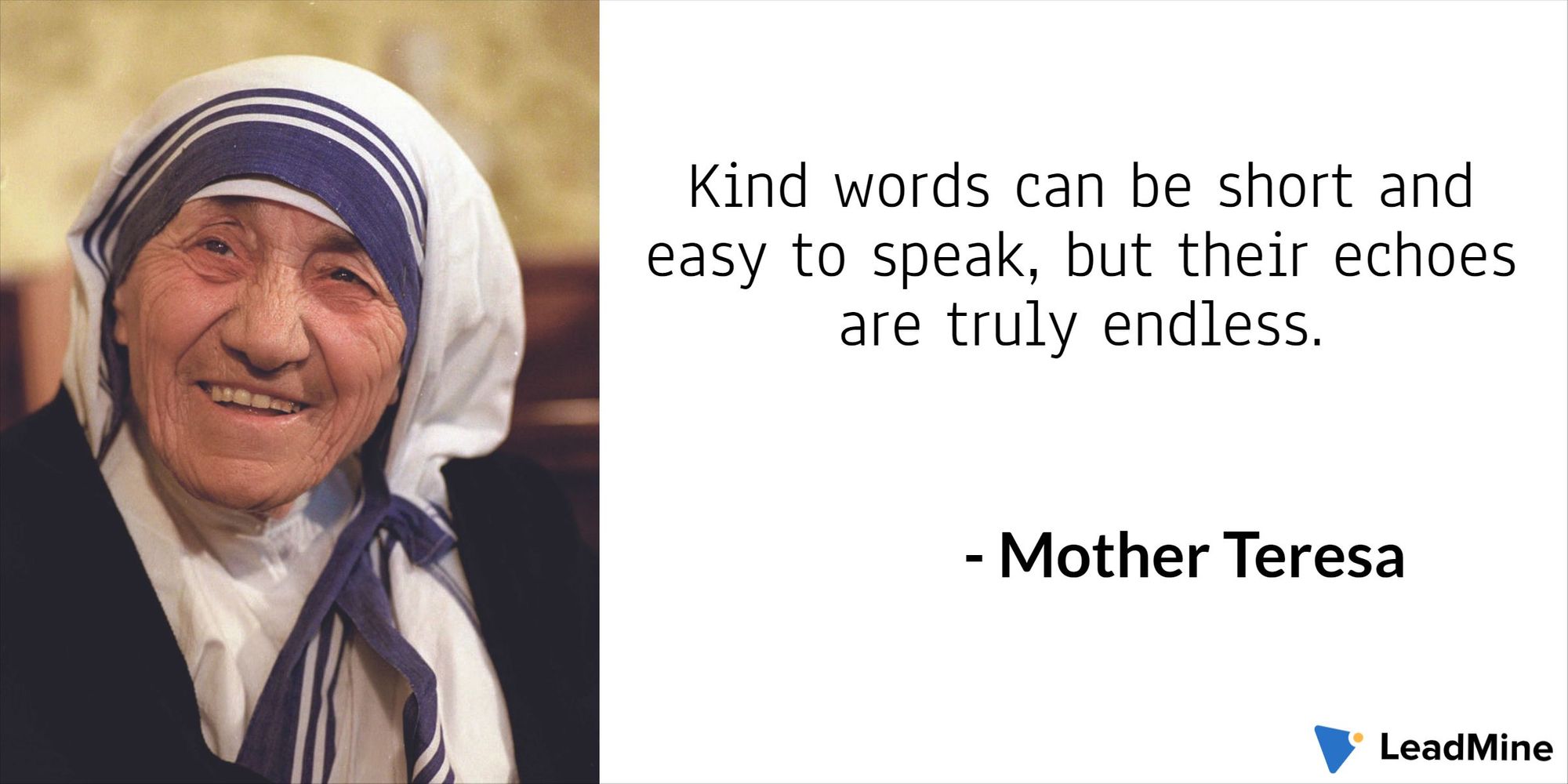 59.  Kind words can be short and easy to speak, but their echoes are truly endless. - Mother Teresa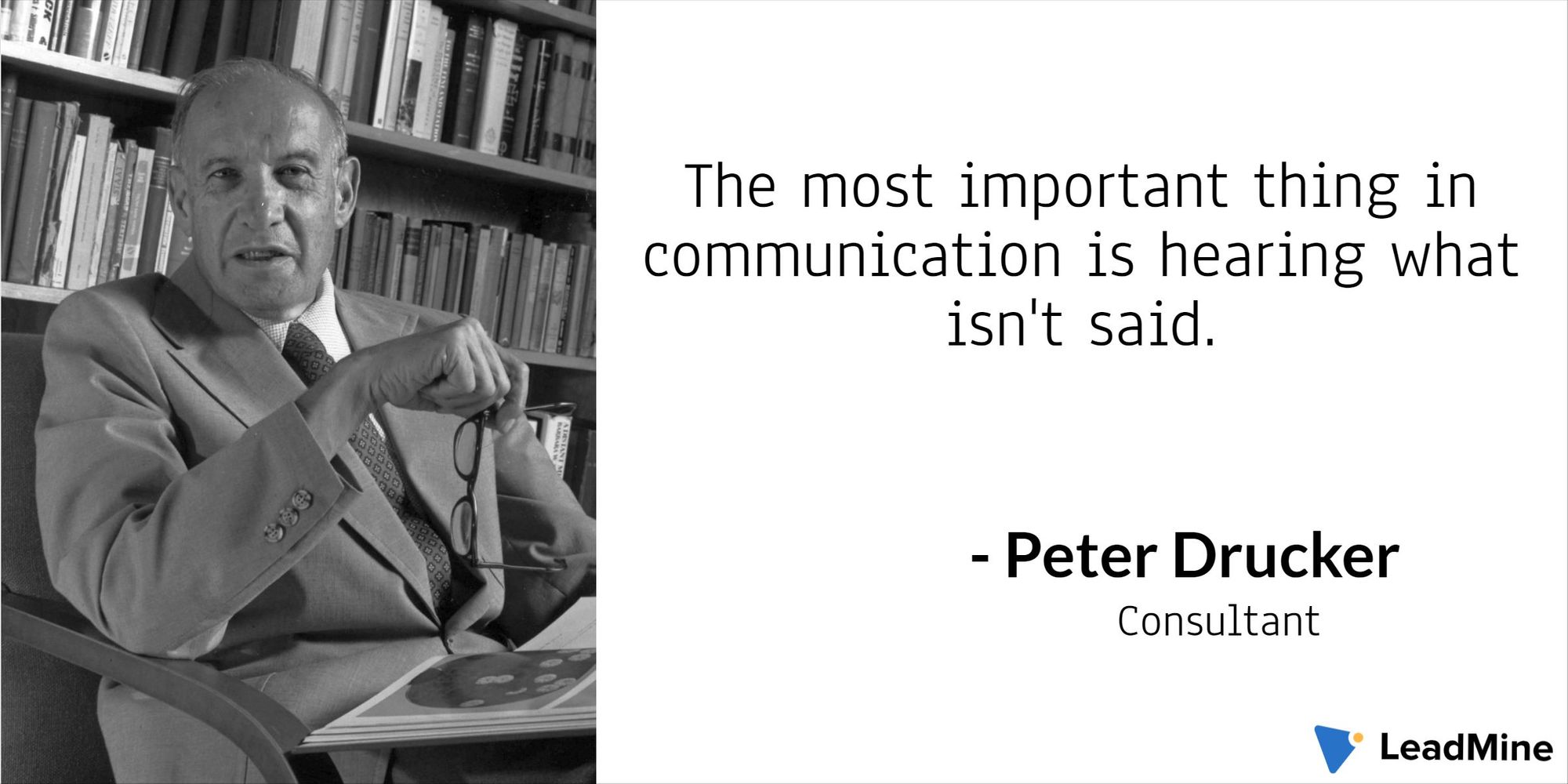 60.  The most important thing in communication is hearing what isn't said. - Peter Drucker
Marketing
61.  Marketing is not selling. Marketing is building a brand in the mind of the prospect. - AI Ries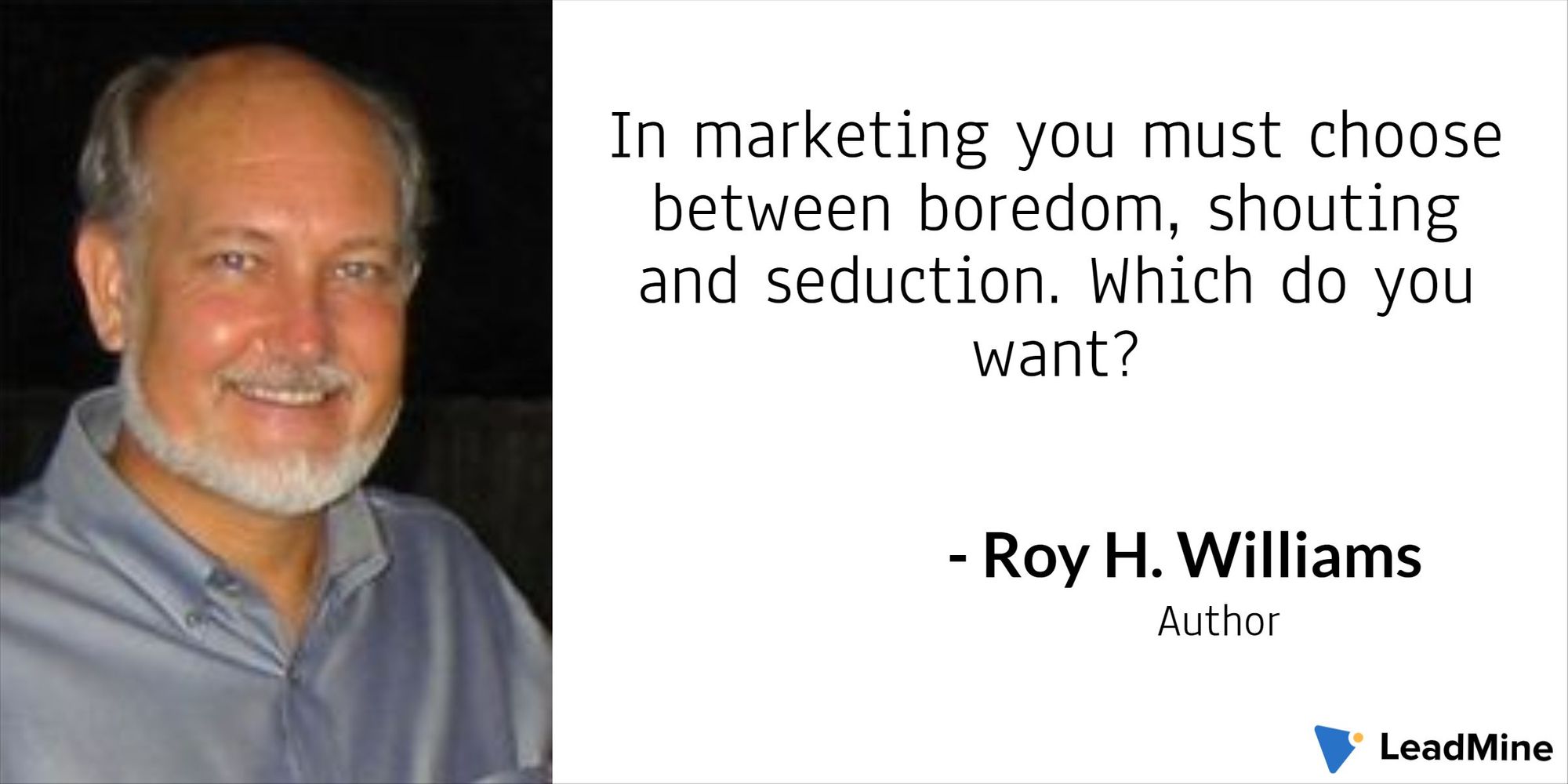 62.  In marketing you must choose between boredom, shouting and seduction. Which do you want? - Roy H. Williams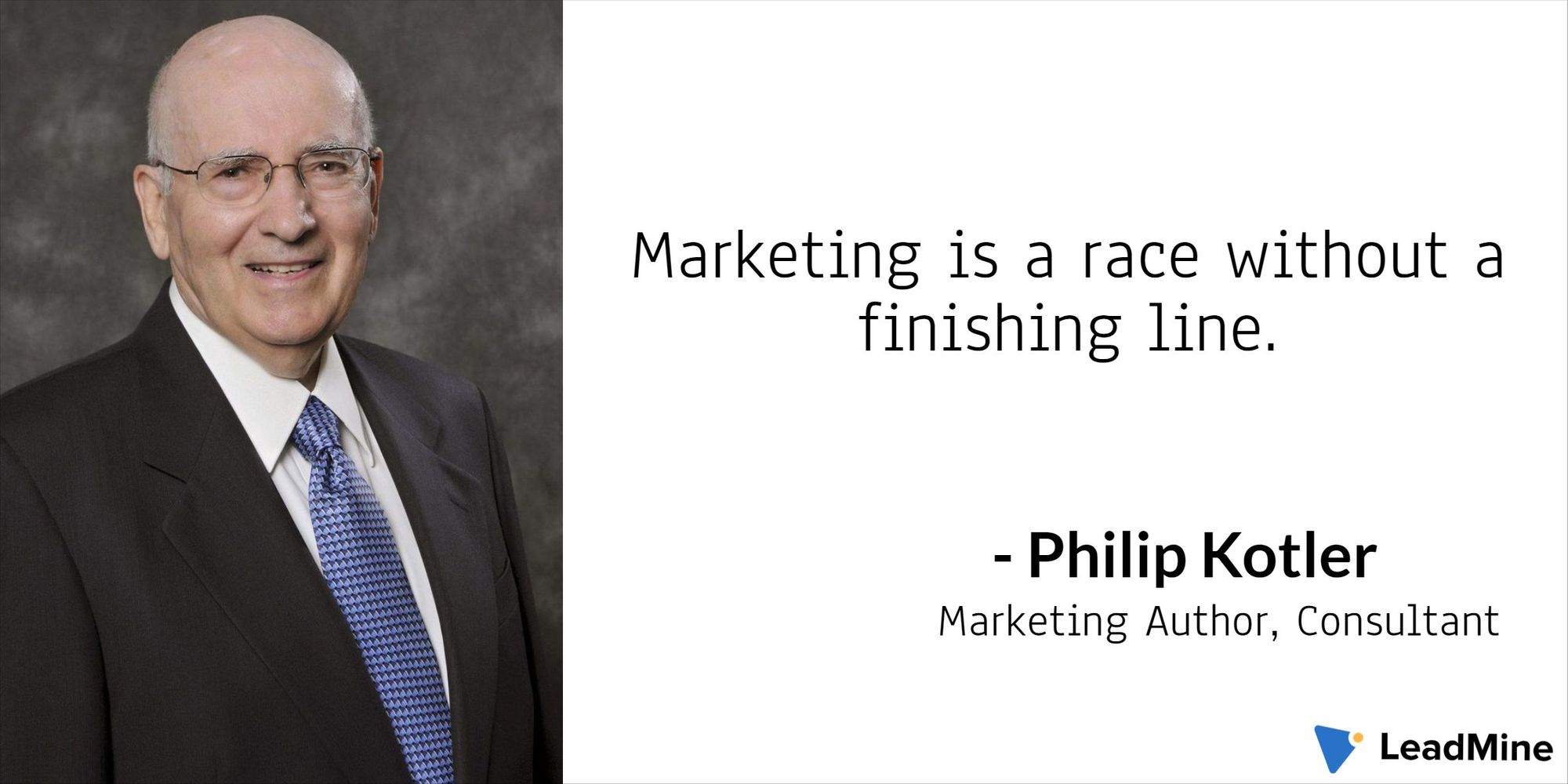 63.  Marketing is a race without a finishing line. - Philip Kotler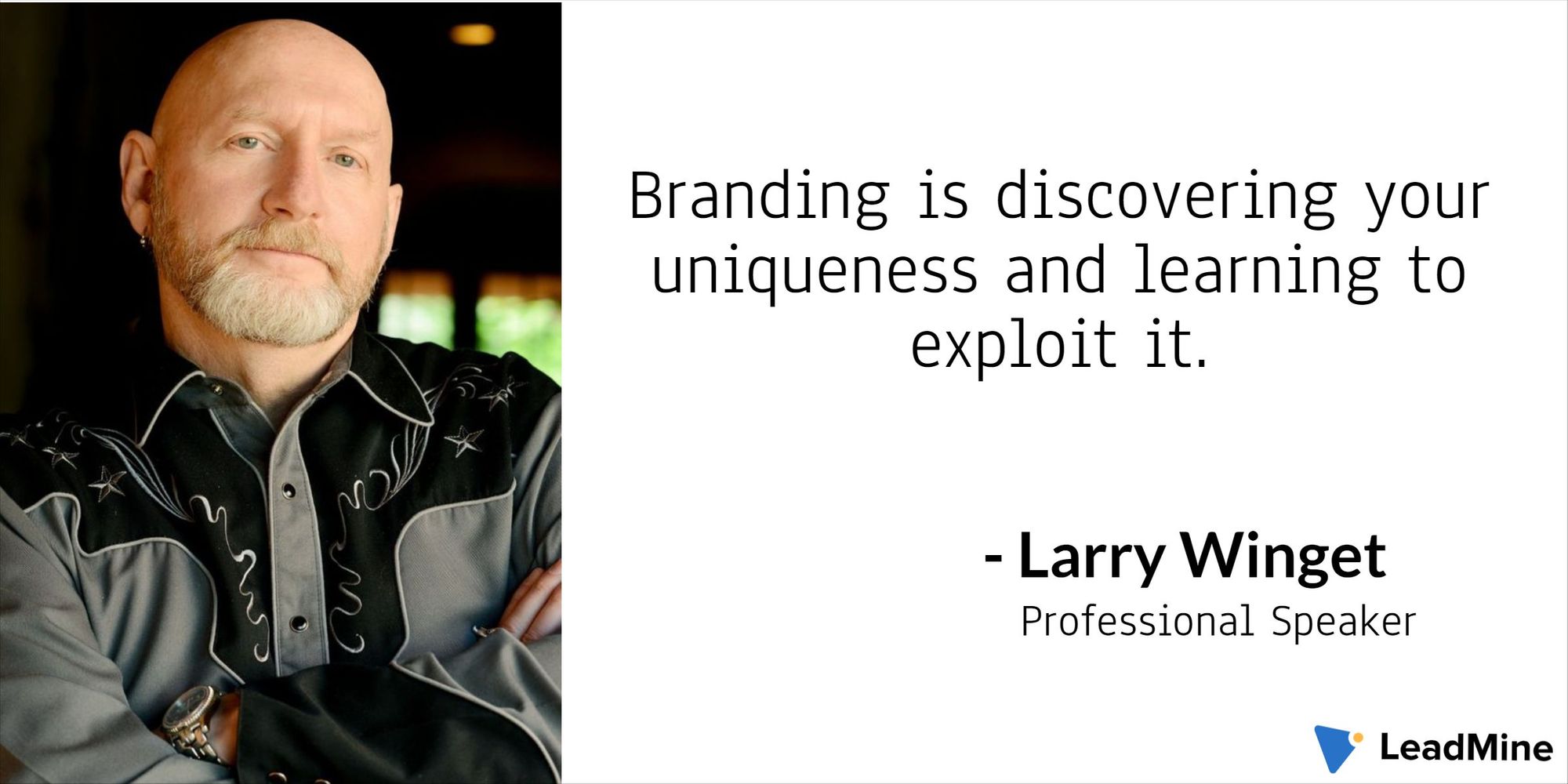 64.  Branding is discovering your uniqueness and learning to exploit it. - Larry Winget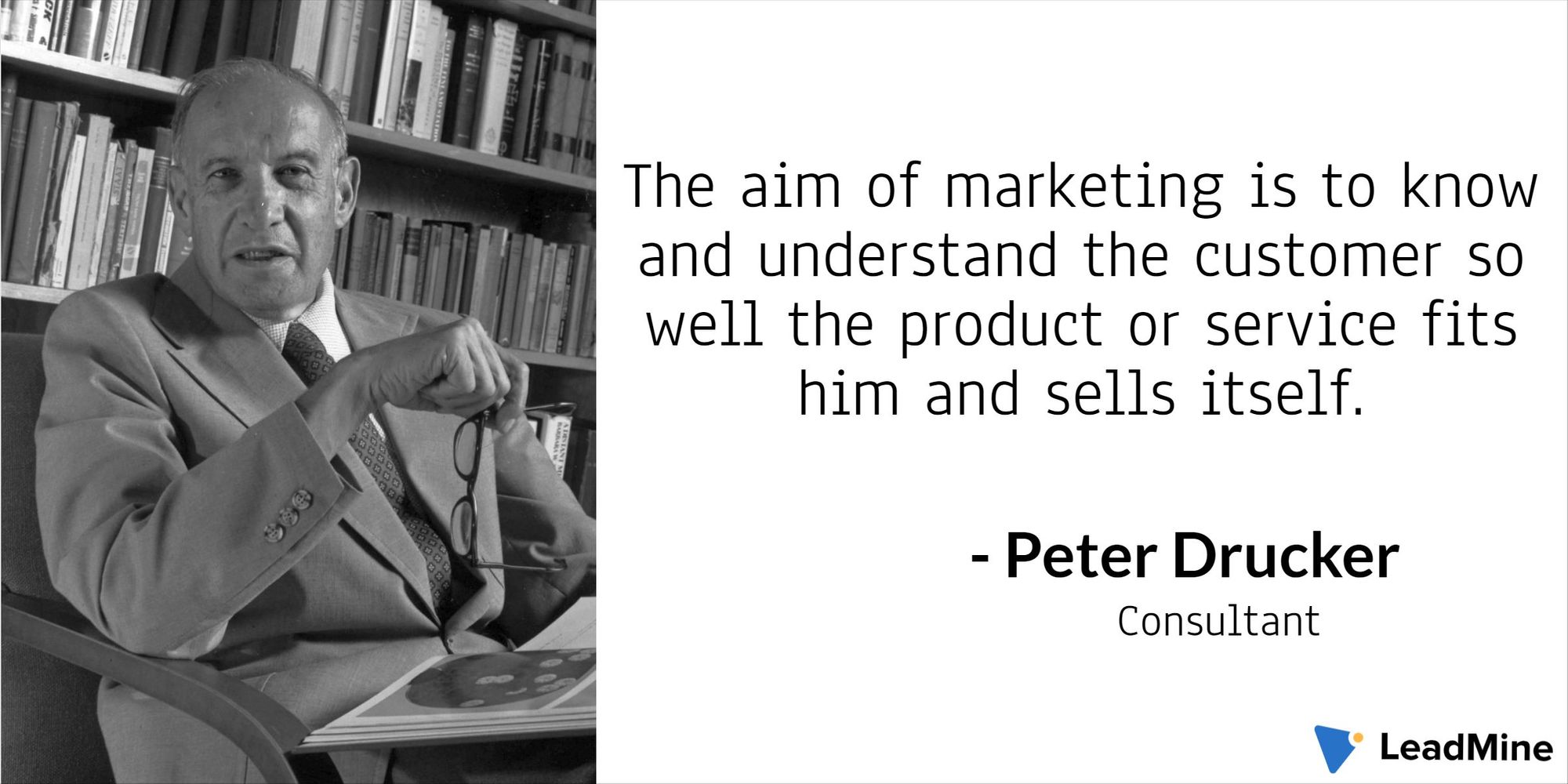 65.  The aim of marketing is to know and understand the customer so well the product or service fits him and sells itself. - Peter Drucker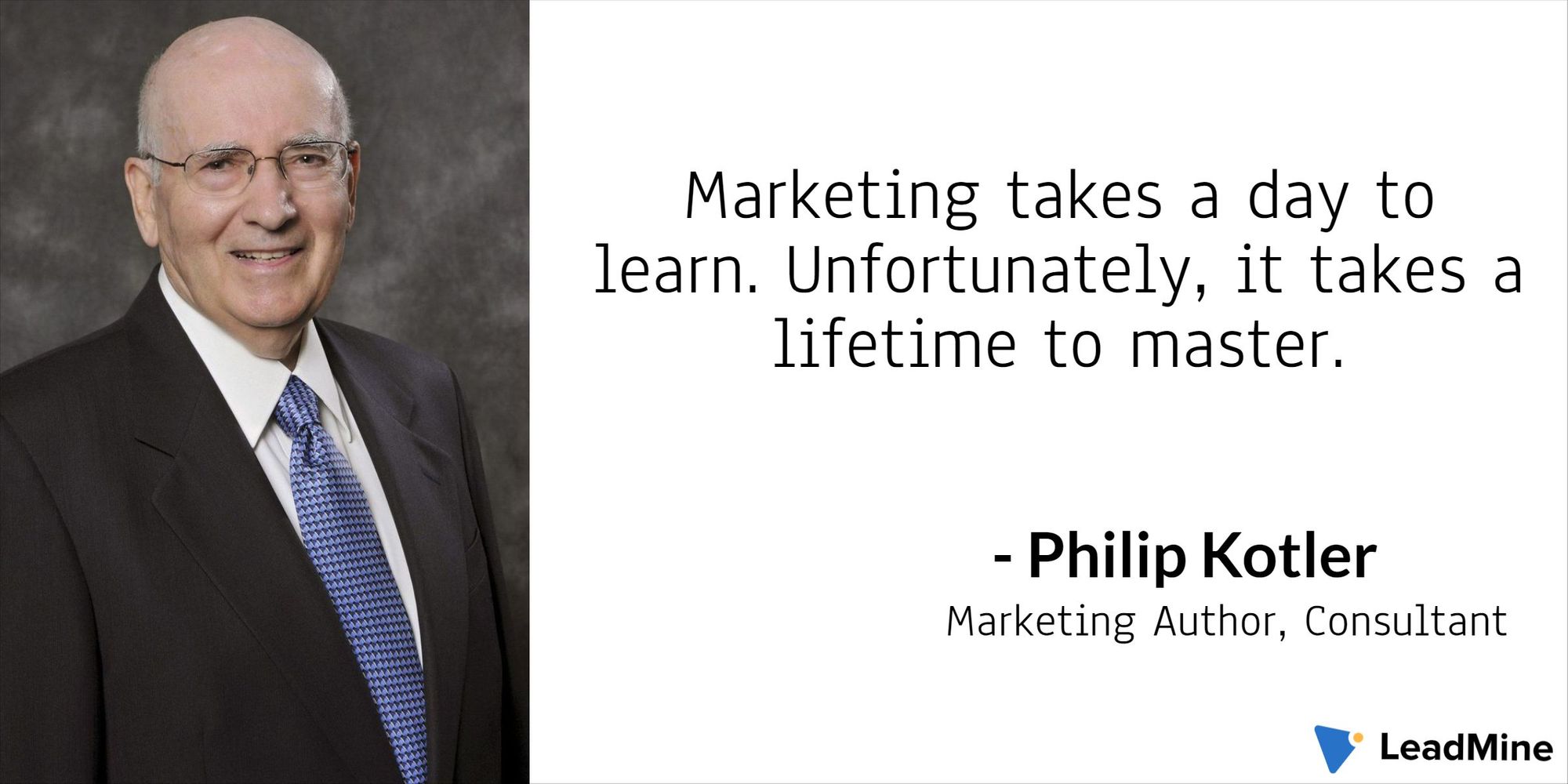 66.  Marketing takes a day to learn. Unfortunately, it takes a lifetime to master. - Philip Kotler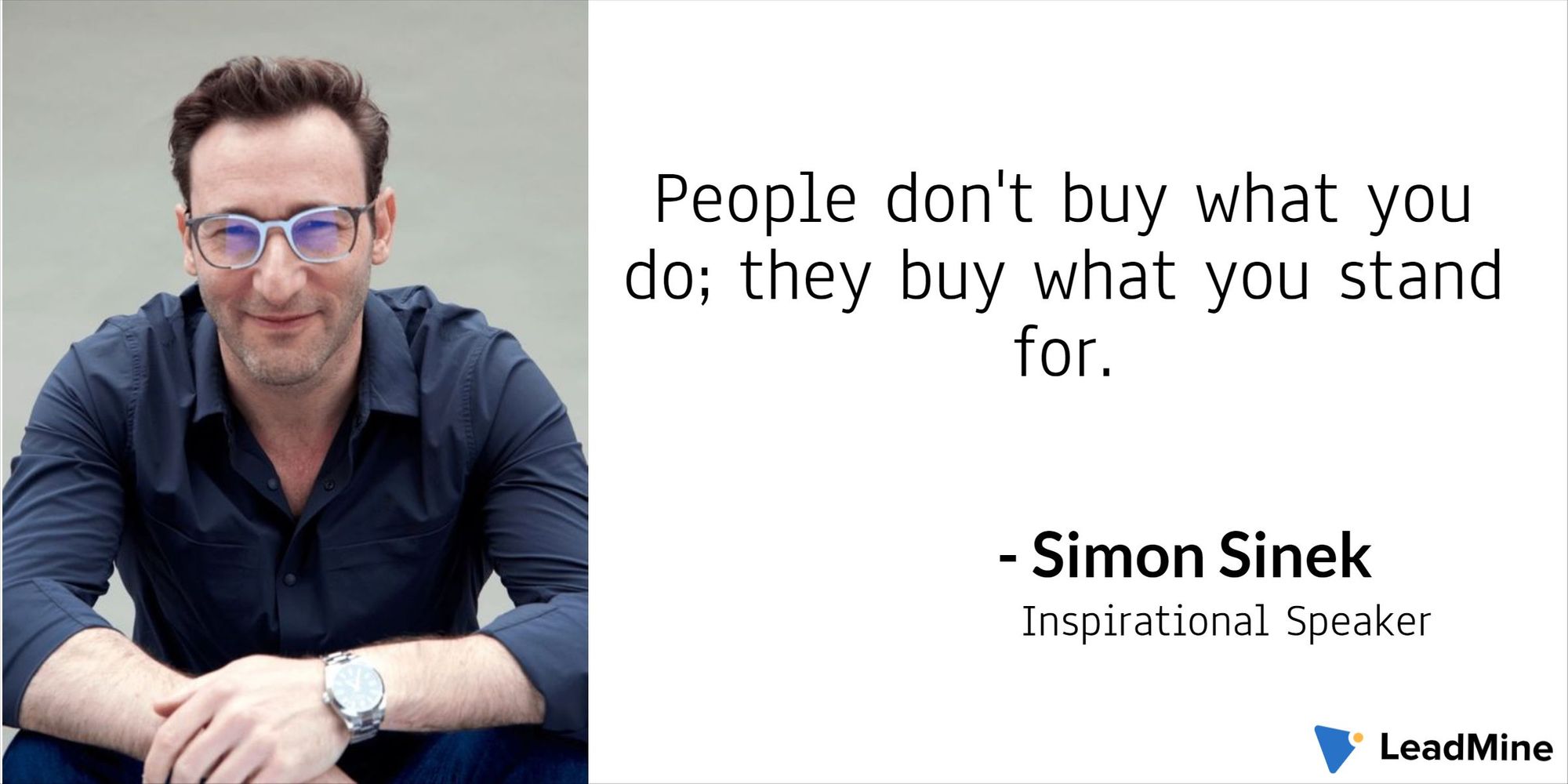 67.  People don't buy what you do; they buy what you stand for. - Simon Sinek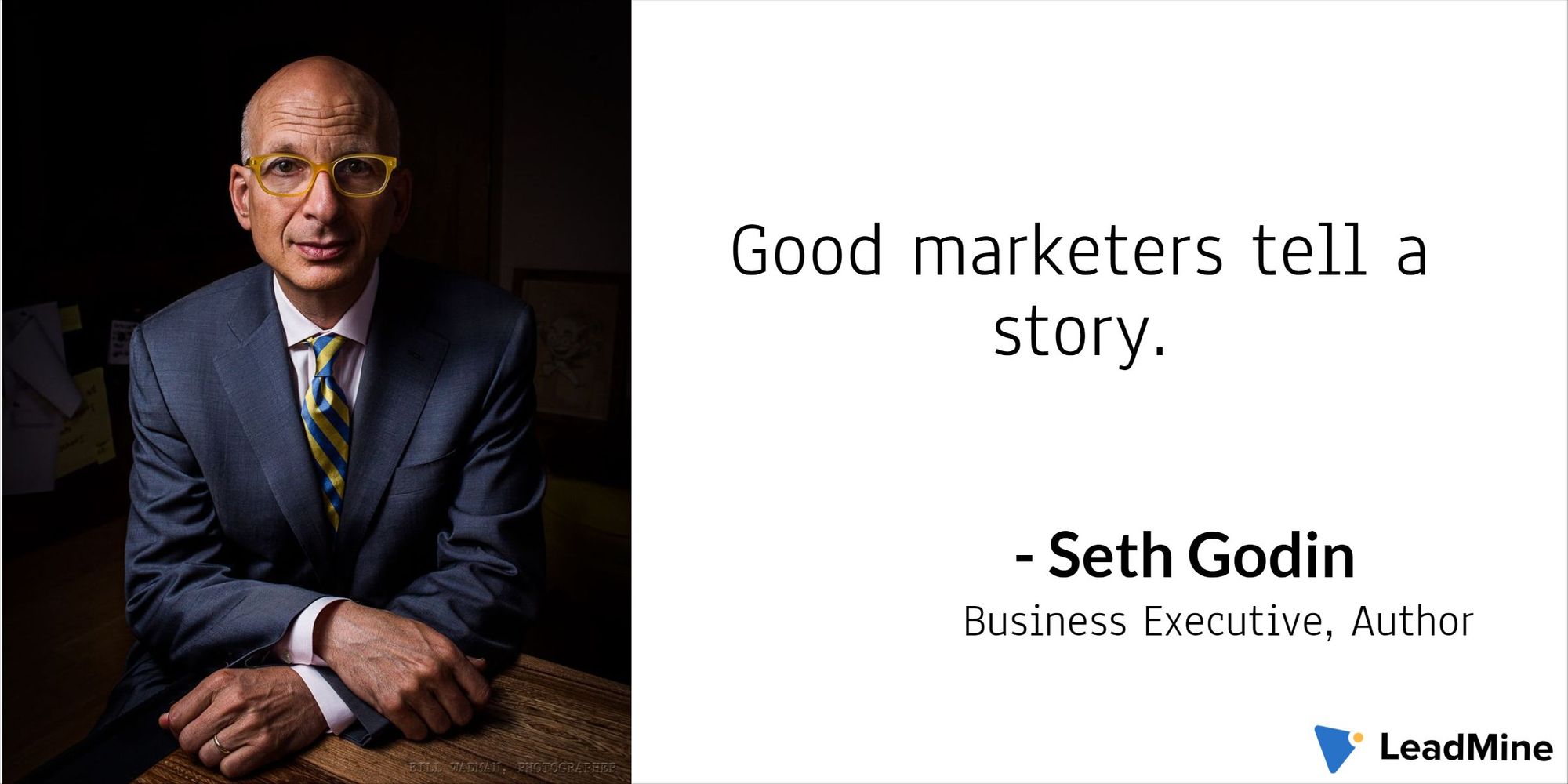 68. Good marketers tell a story. - Seth Godin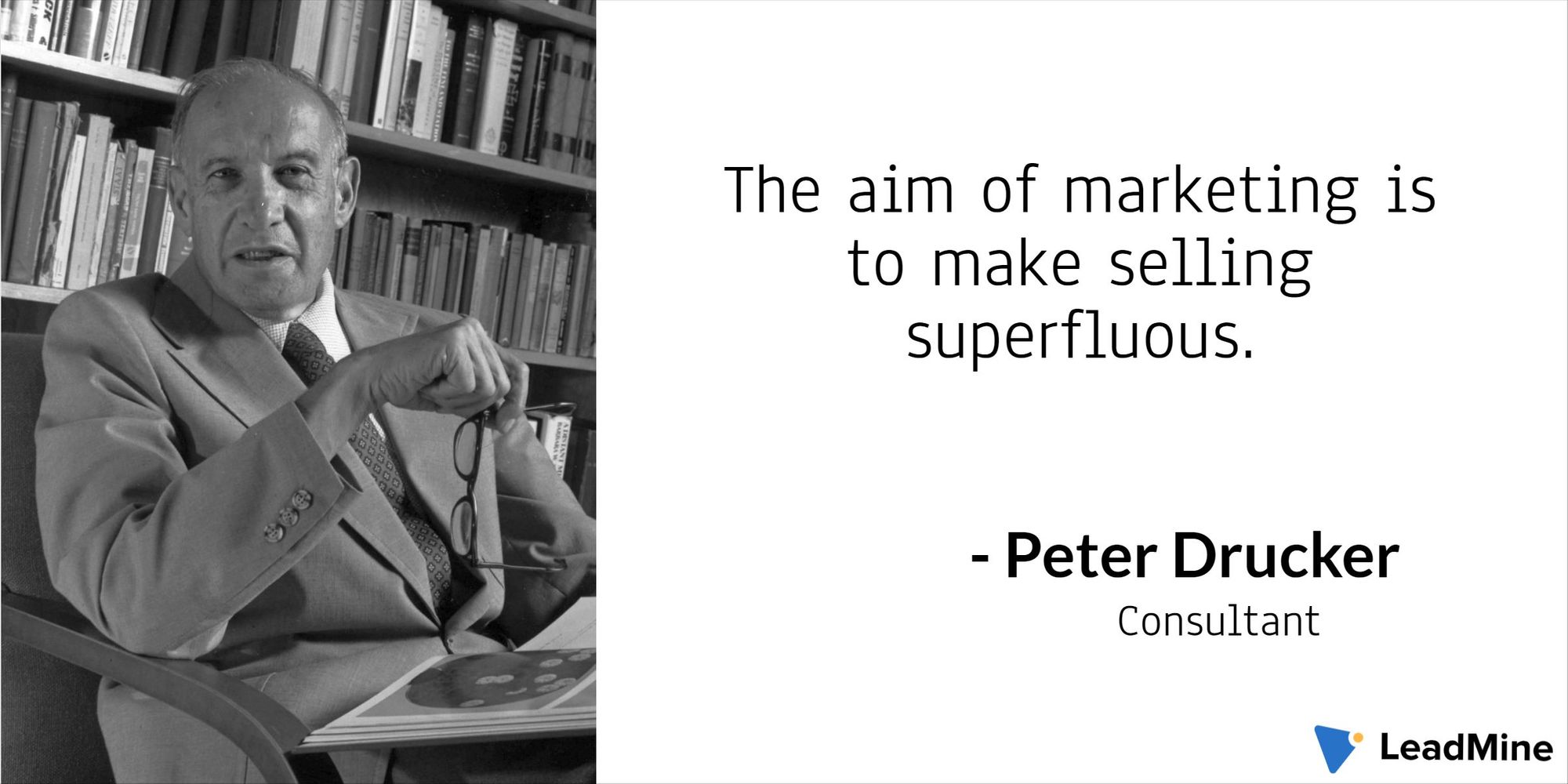 69.  The aim of marketing is to make selling superfluous. - Peter Drucker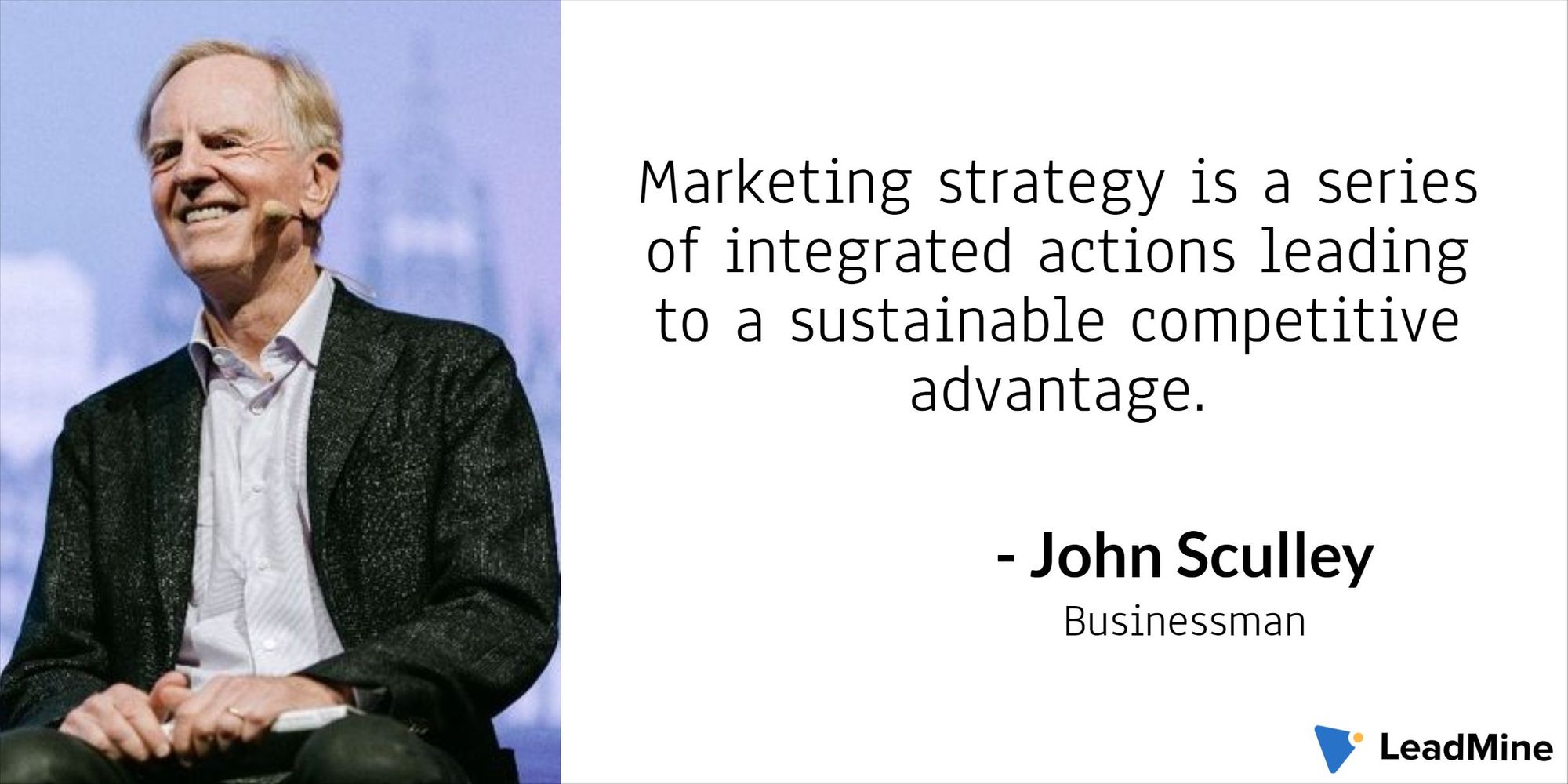 70.  Marketing strategy is a series of integrated actions leading to a sustainable competitive advantage. - John Sculley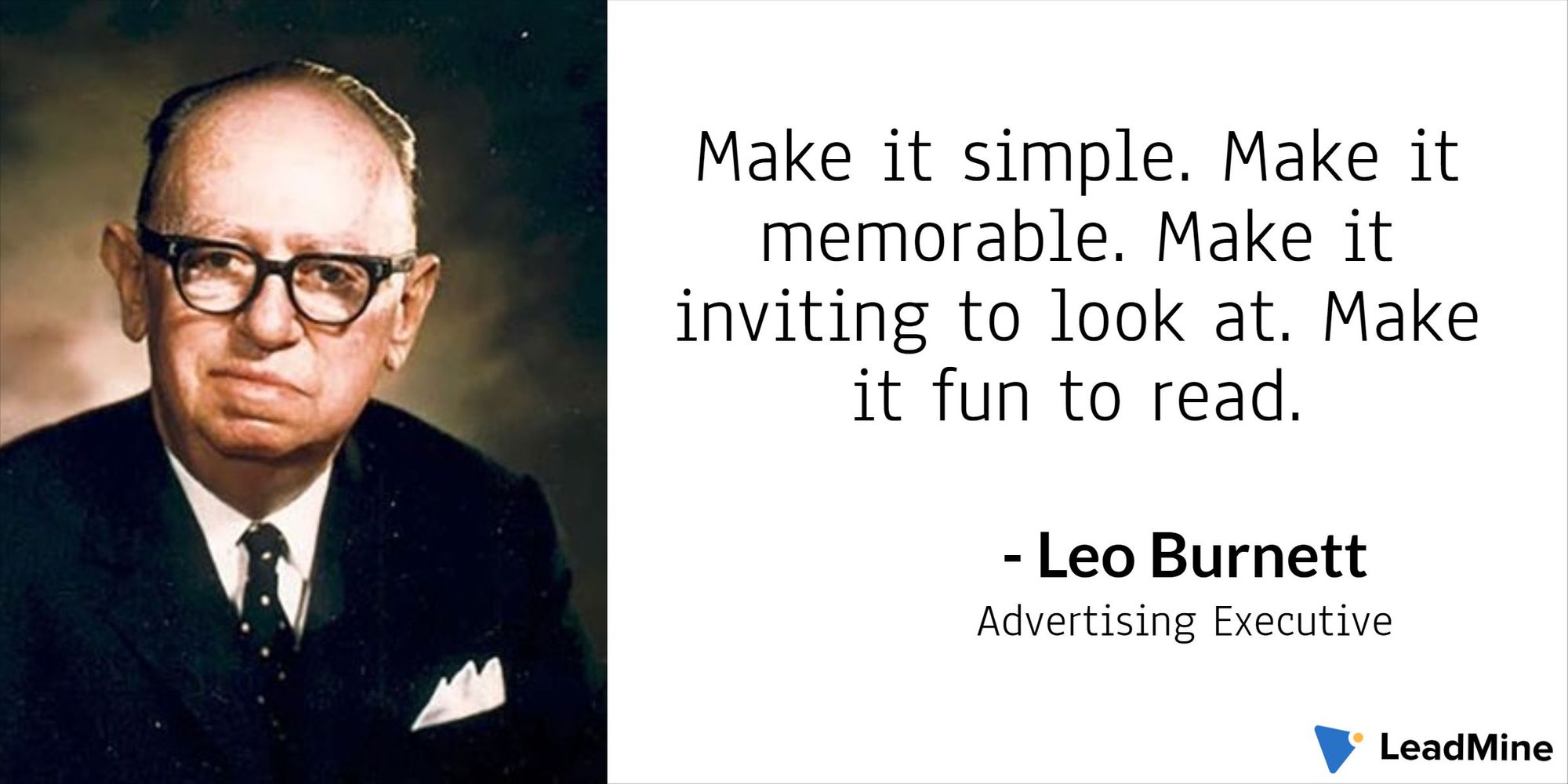 71.  Make it simple. Make it memorable. Make it inviting to look at. Make it fun to read. - Leo Burnett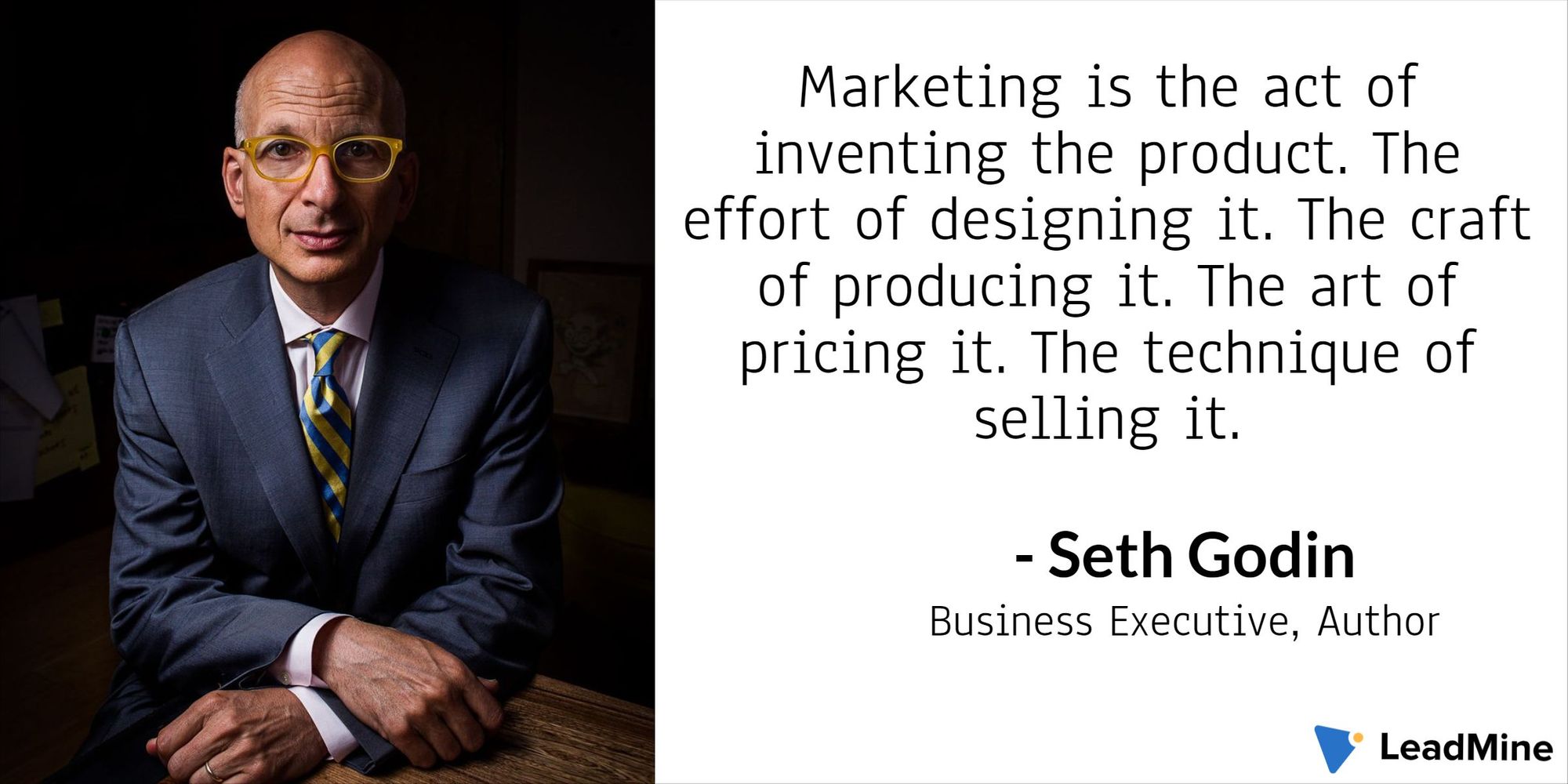 72.  Marketing is the act of inventing the product. The effort of designing it. The craft of producing it. The art of pricing it. The technique of selling it. - Seth Godin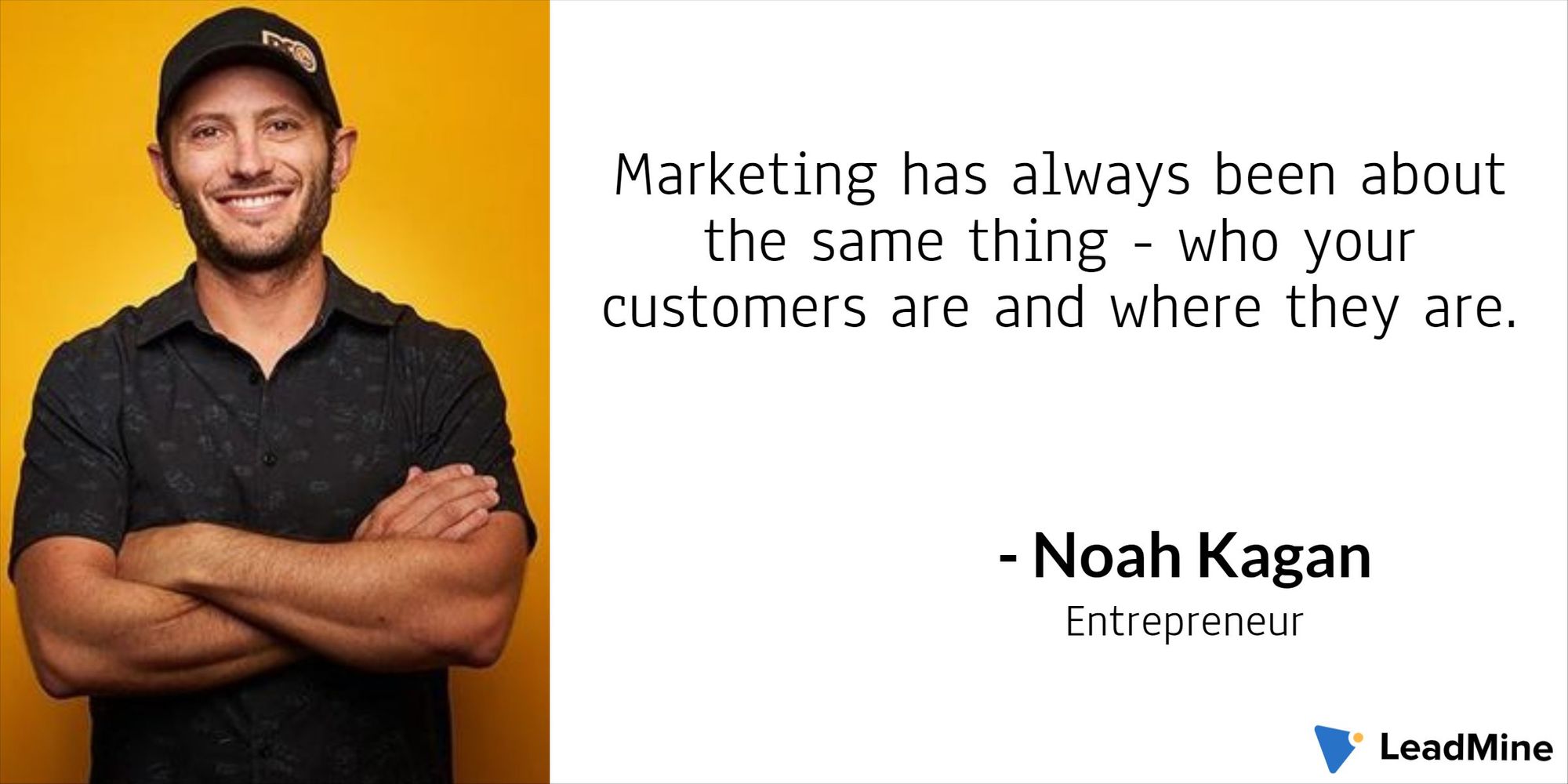 73.  Marketing has always been about the same thing - who your customers are and where they are. - Noah Kagan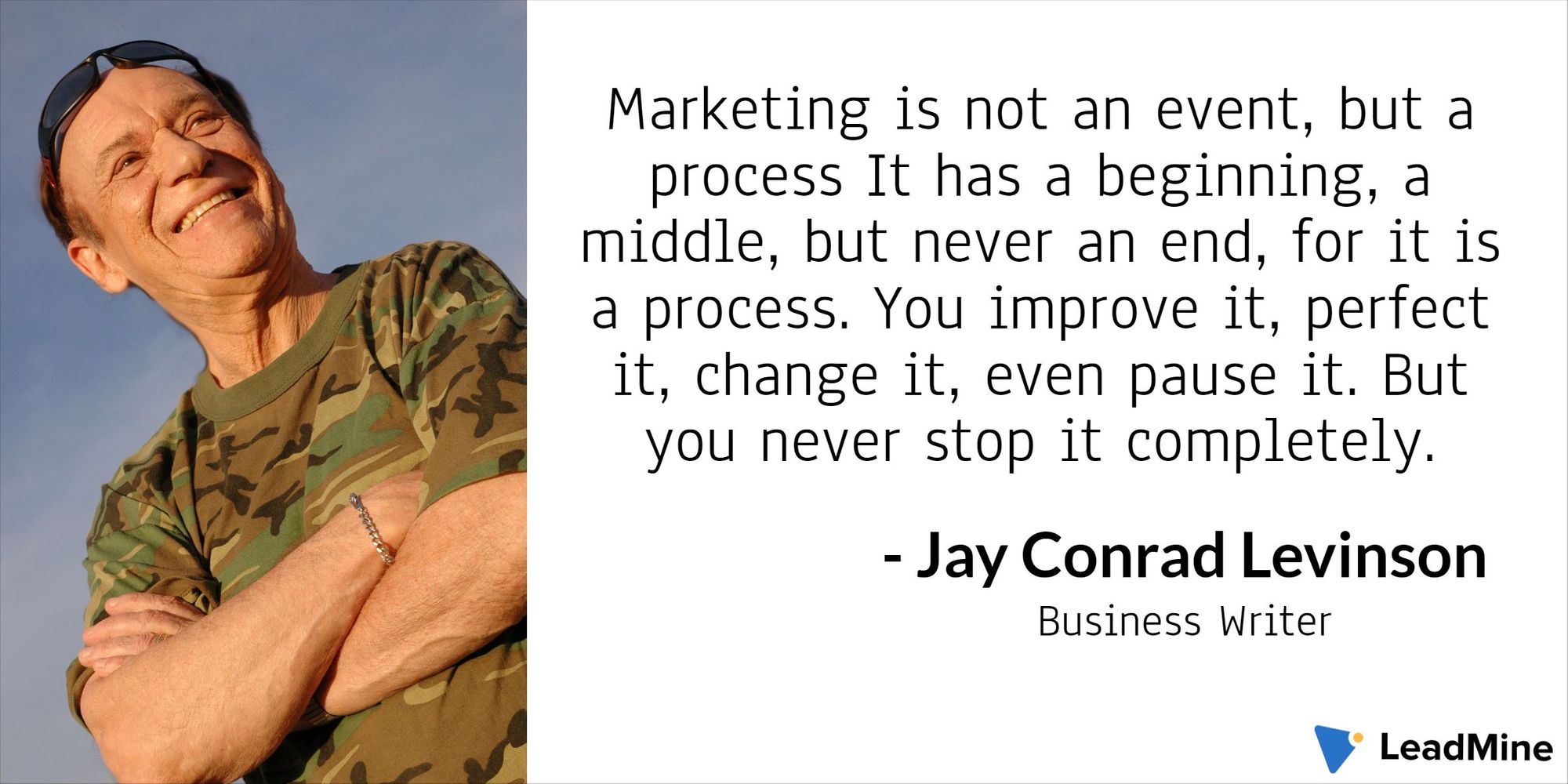 74.  Marketing is not an event, but a process It has a beginning, a middle, but never an end, for it is a process. You improve it, perfect it, change it, even pause it. But you never stop it completely. - Jay Conrad Levinson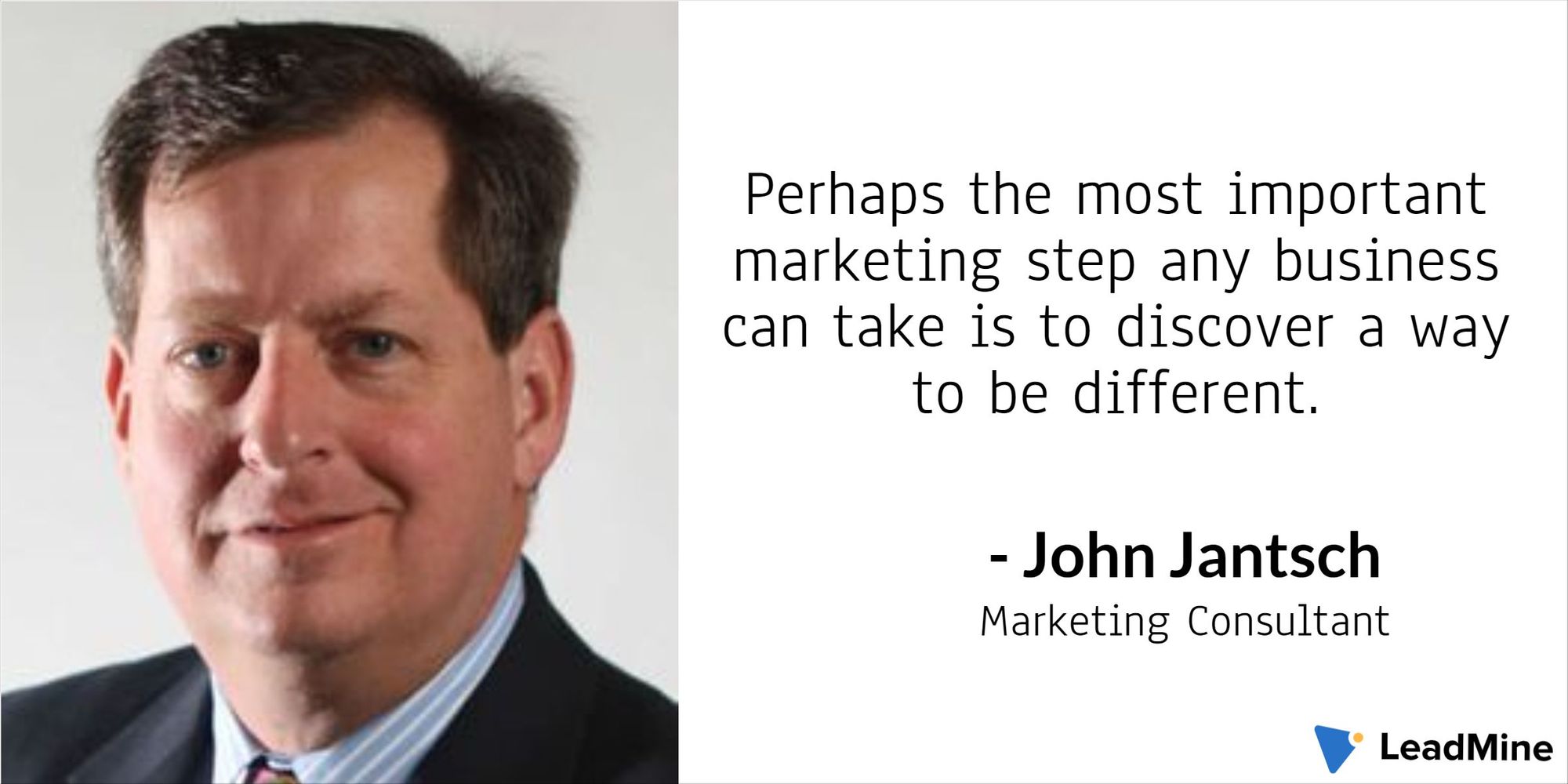 75.  Perhaps the most important marketing step any business can take is to discover a way to be different. - John Jantsch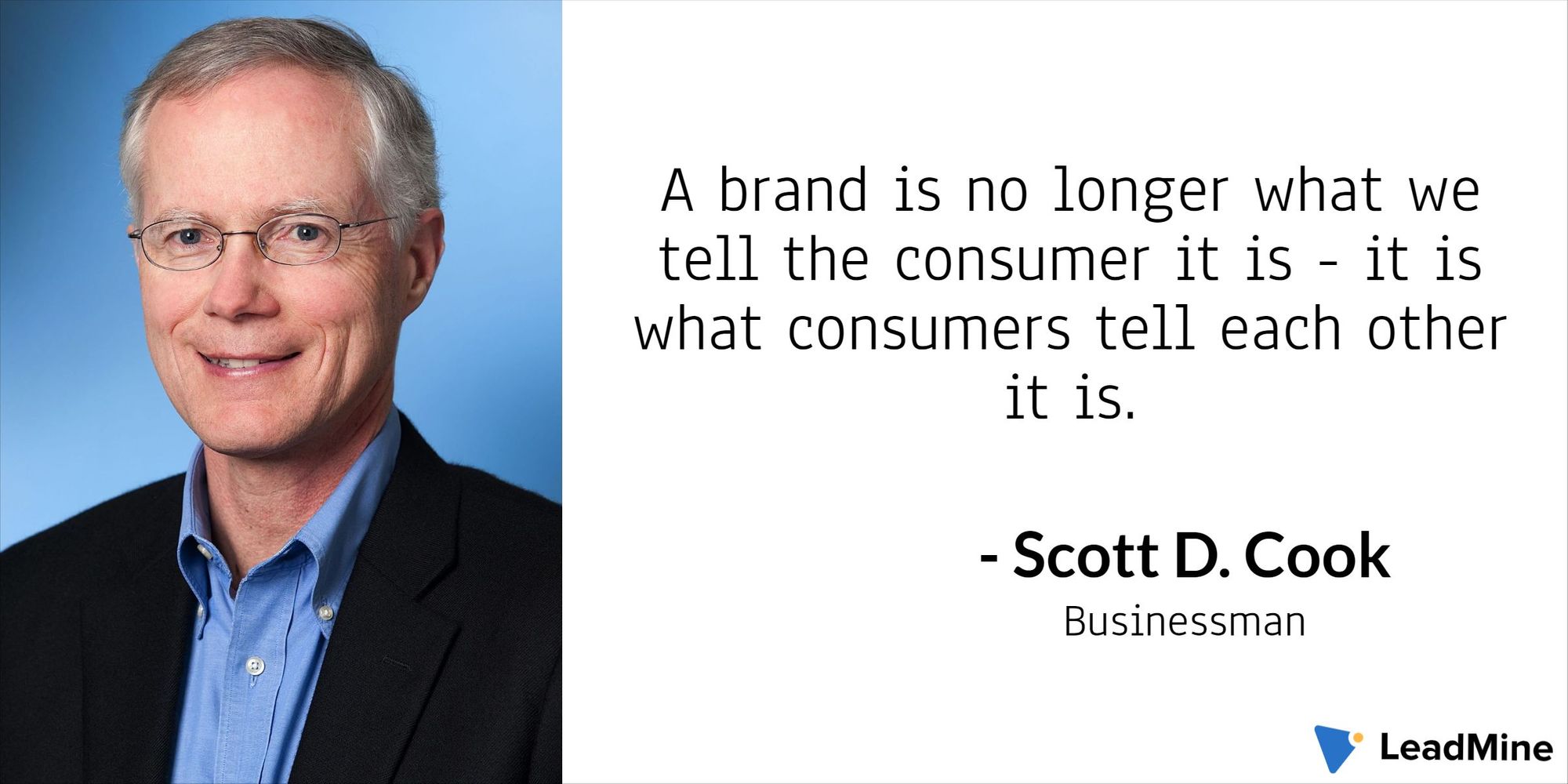 76.  A brand is no longer what we tell the consumer it is - it is what consumers tell each other it is. - Scott D. Cook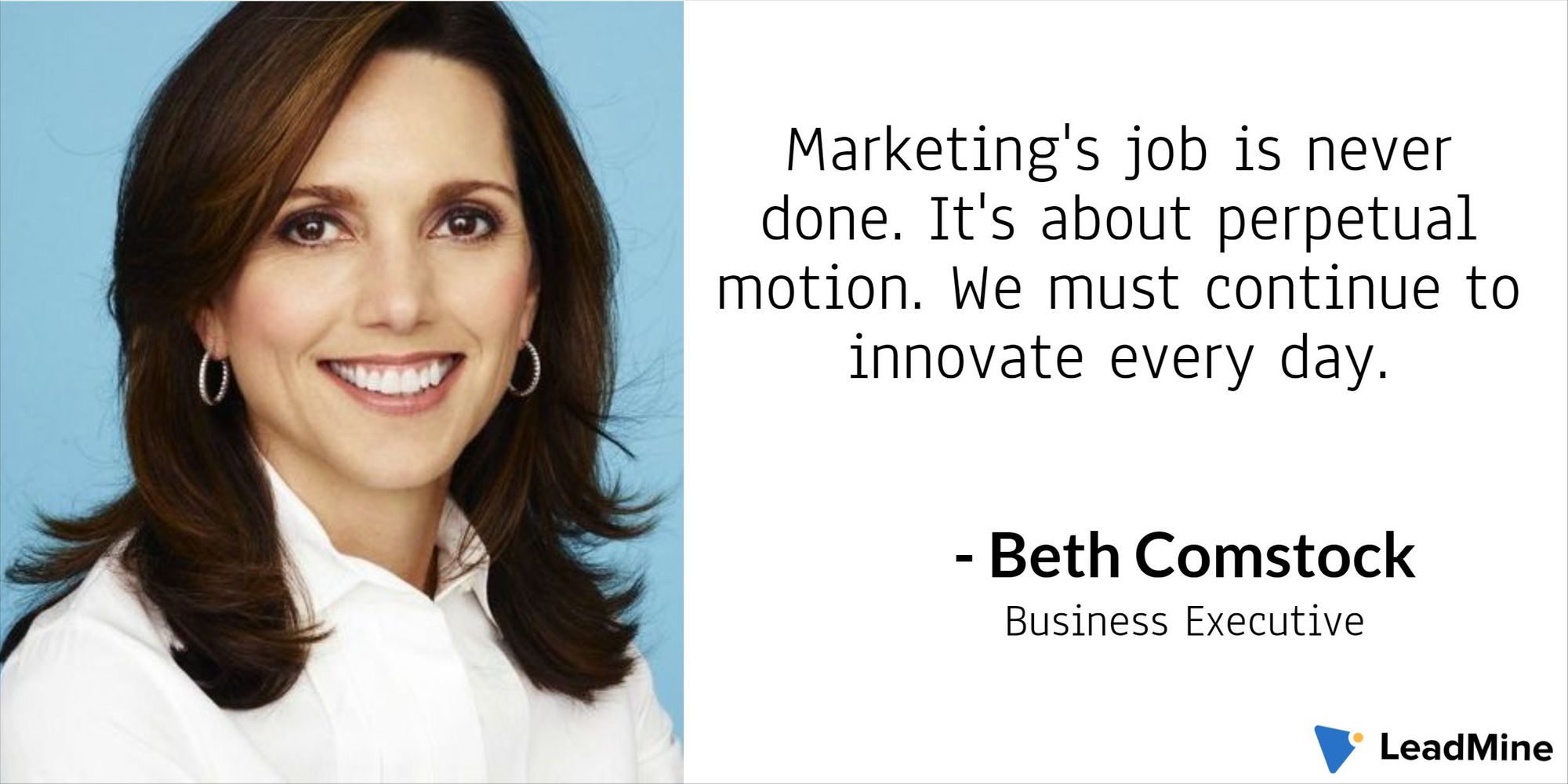 77.  Marketing's job is never done. It's about perpetual motion. We must continue to innovate every day. - Beth Comstock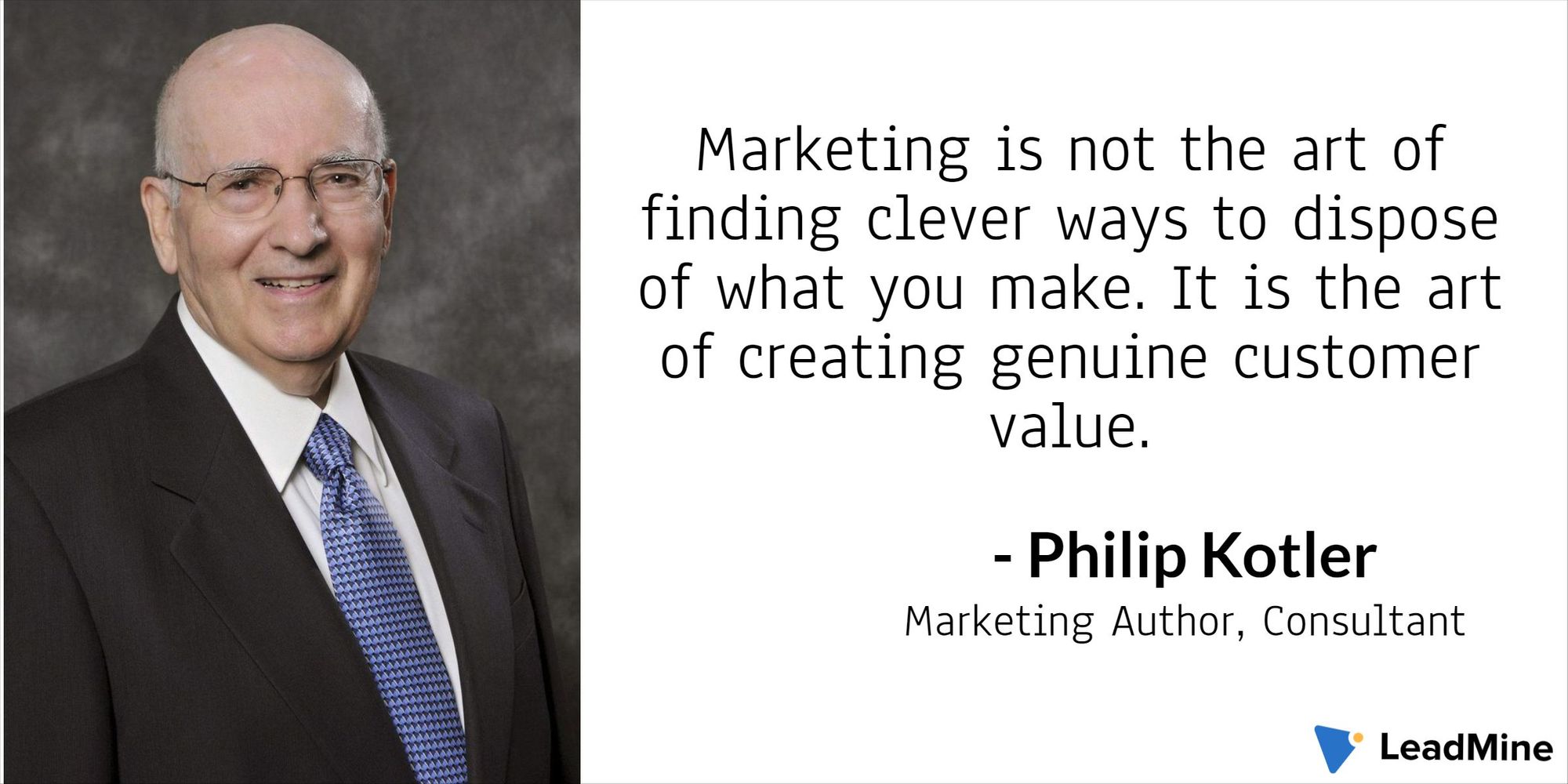 78. Marketing is not the art of finding clever ways to dispose of what you make. It is the art of creating genuine customer value. - Philip Kotler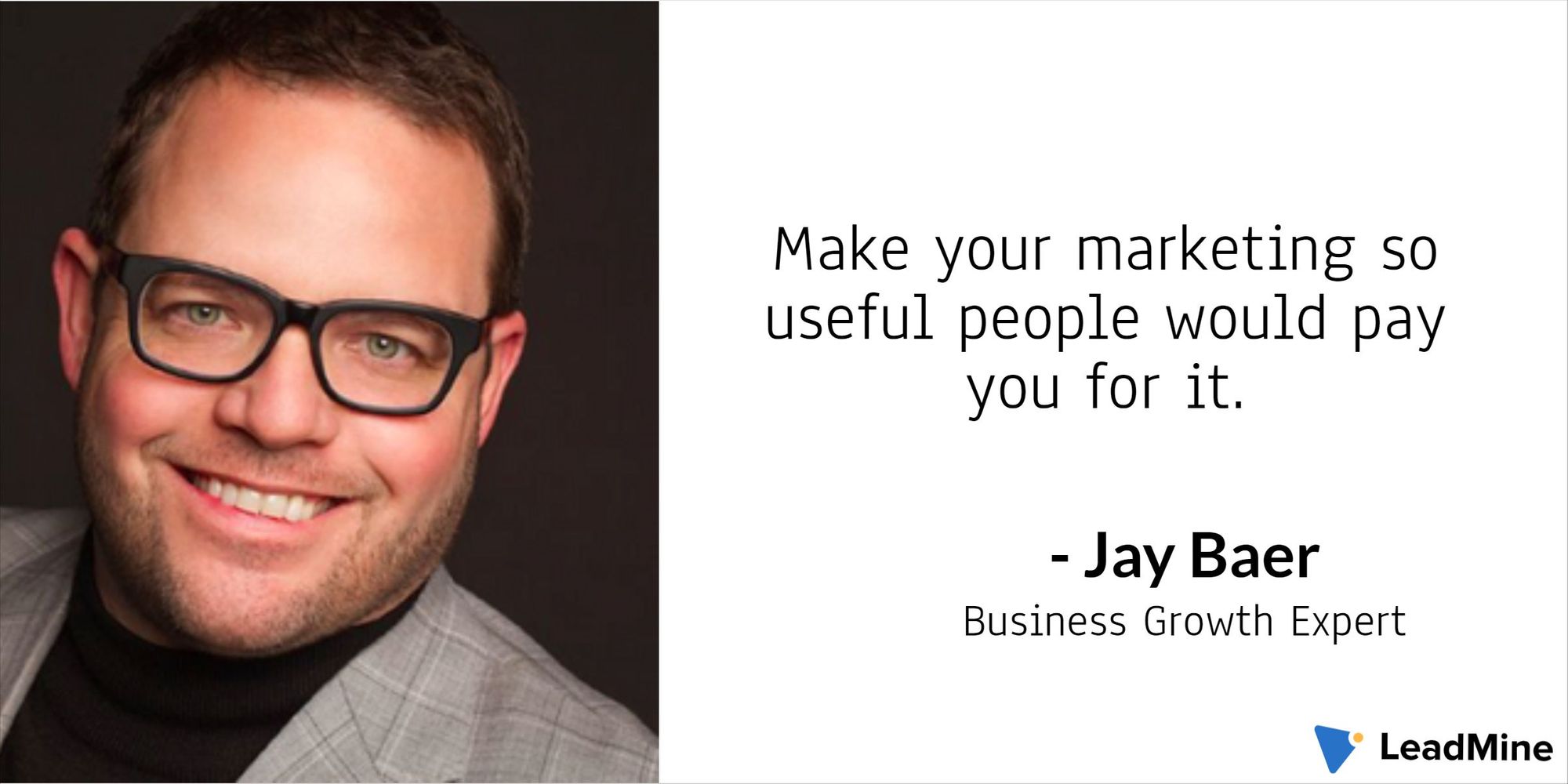 79.  Make your marketing so useful people would pay you for it. - Jay Baer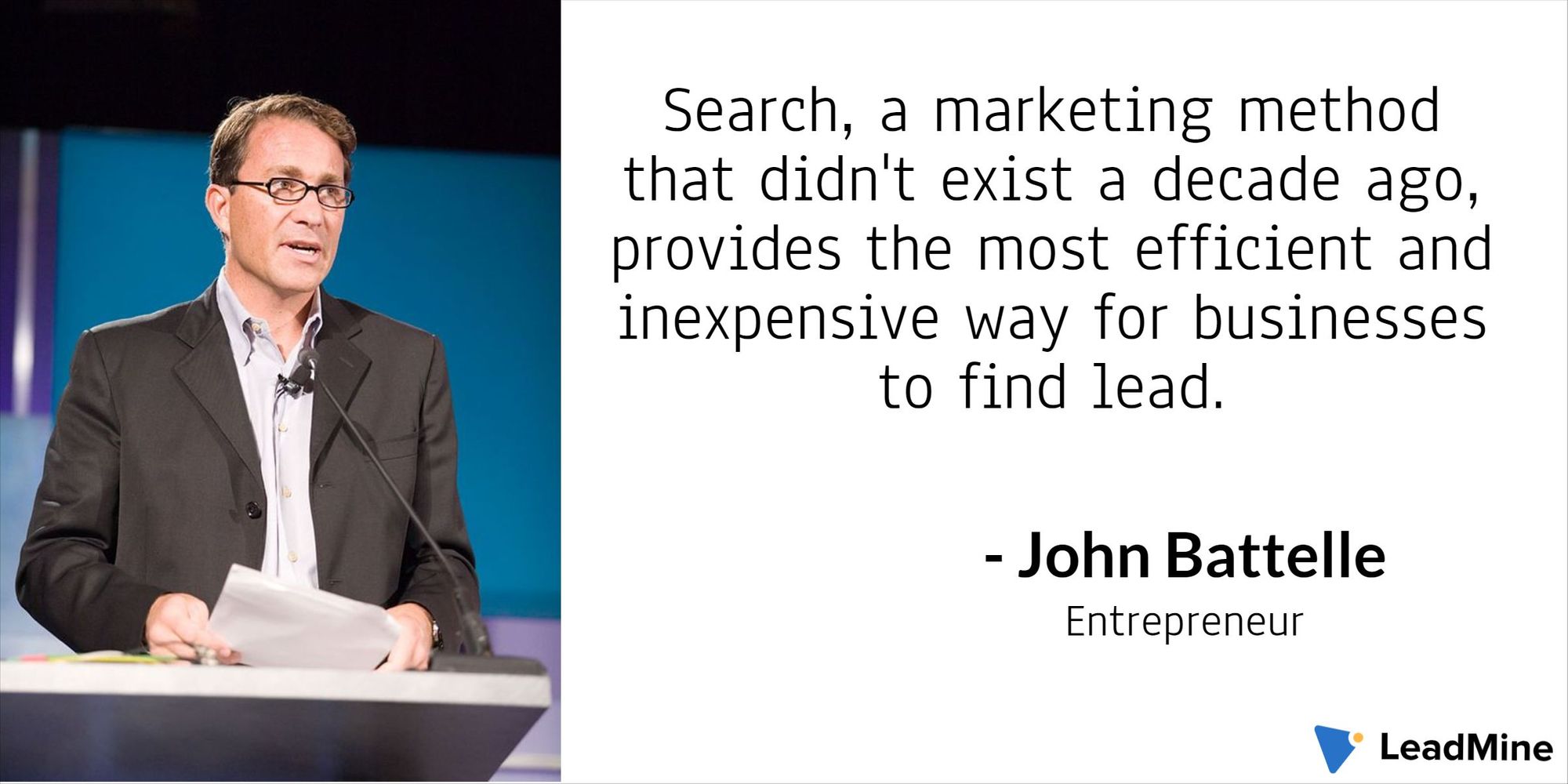 80.  Search, a marketing method that didn't exist a decade ago, provides the most efficient and inexpensive way for businesses to find lead. - John Battelle
Marketing Strategy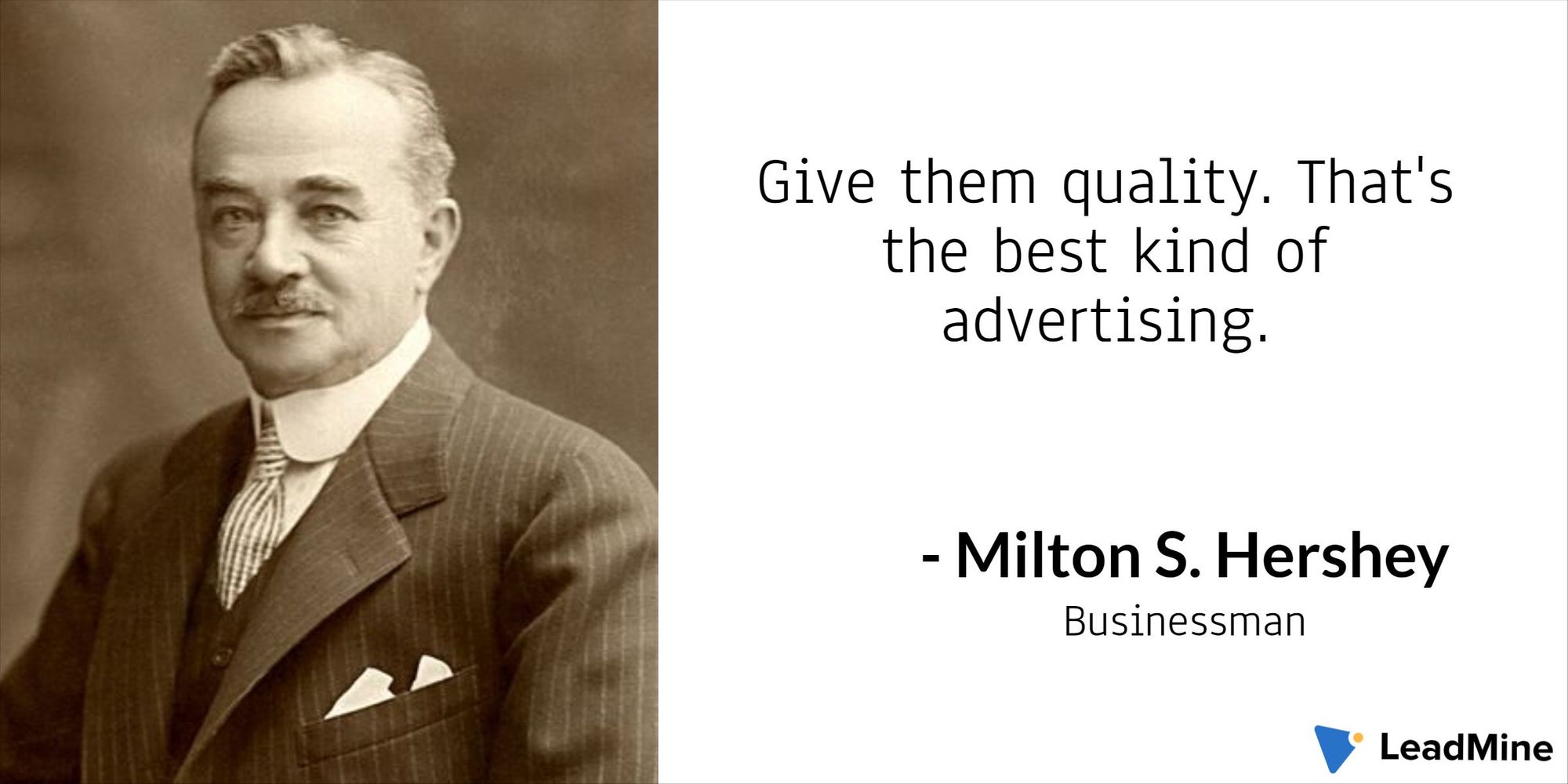 81.  Give them quality. That's the best kind of advertising. - Milton S. Hershey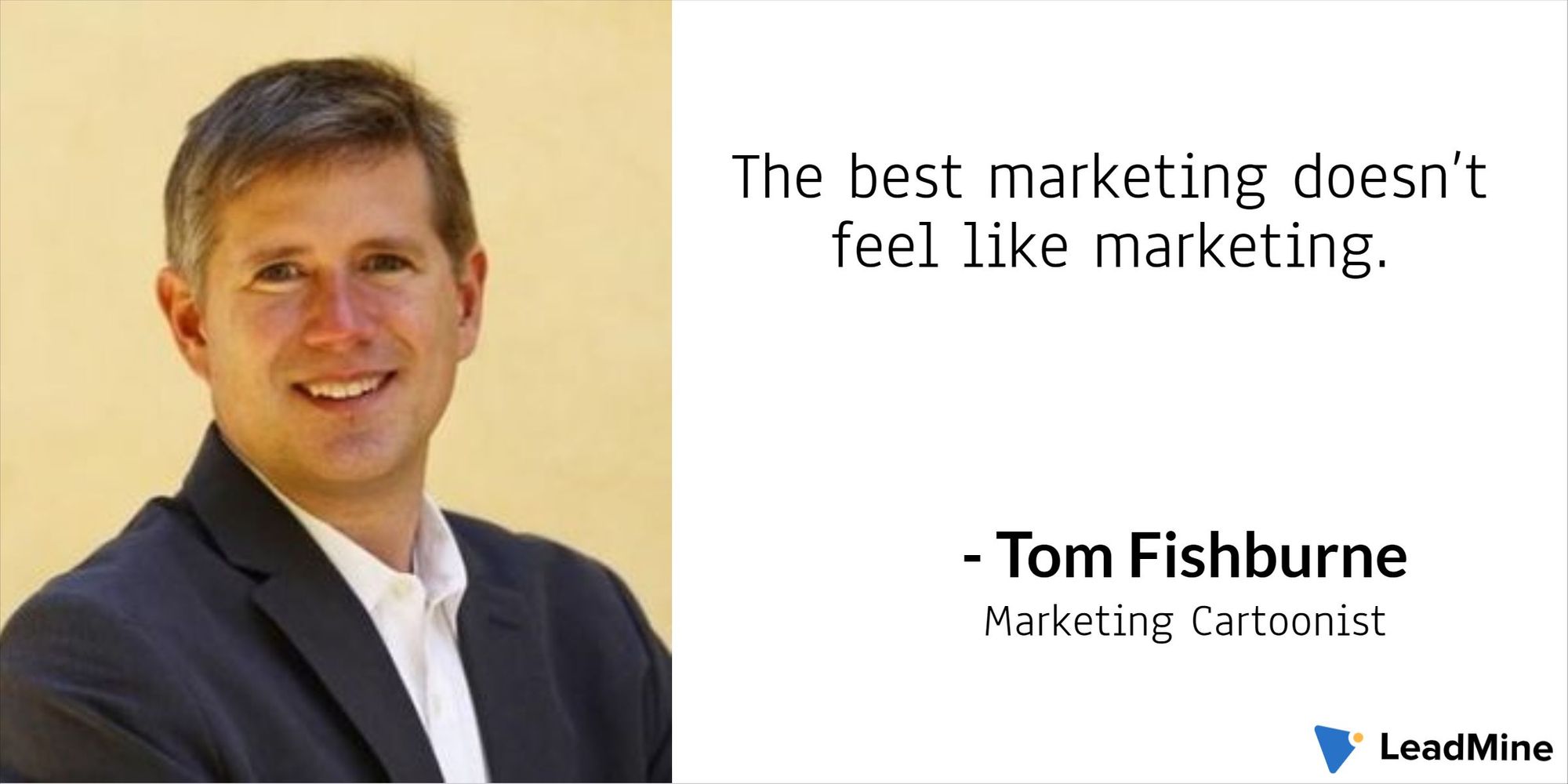 82.  The best marketing doesn't feel like marketing. - Tom Fishburne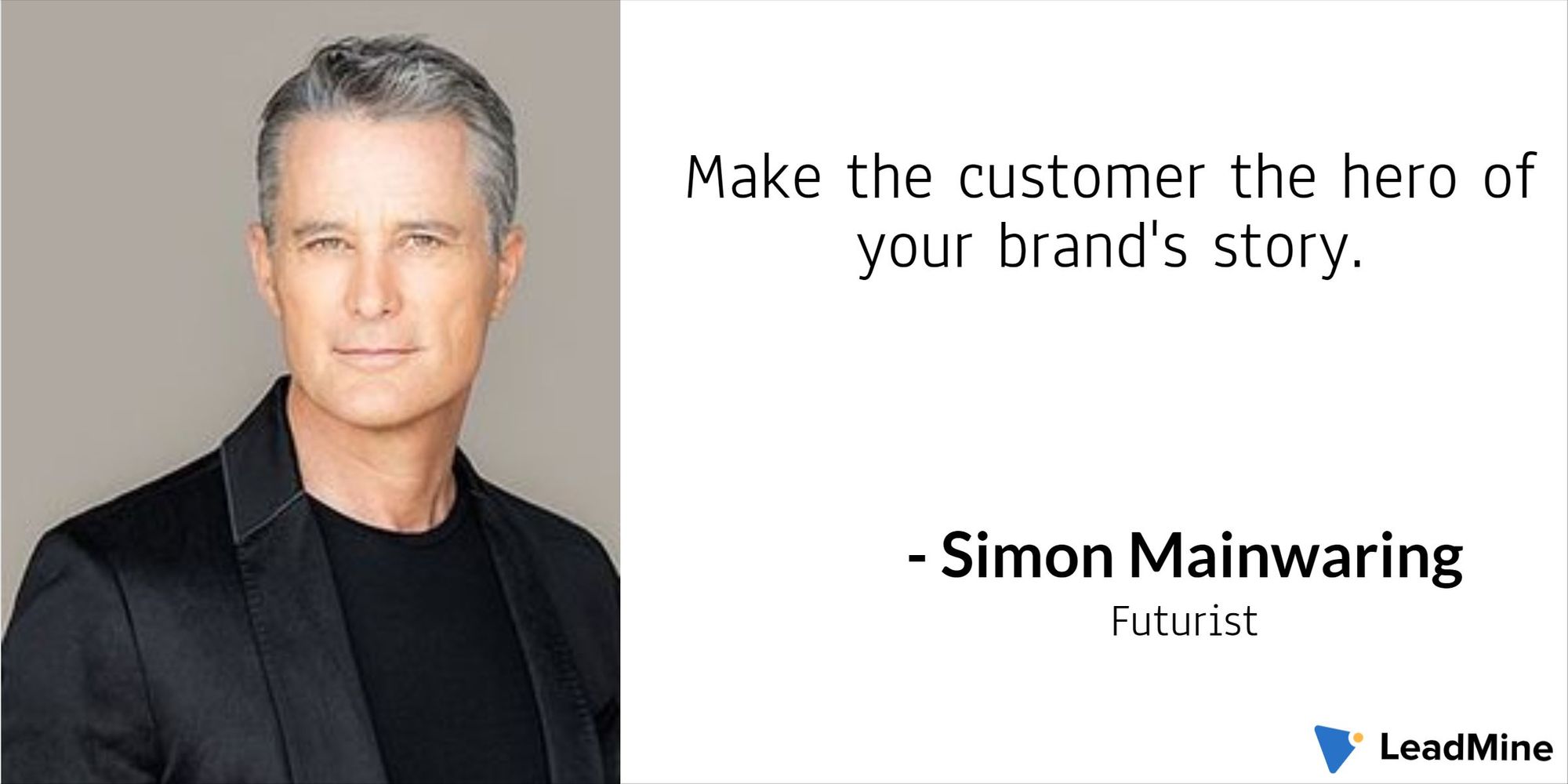 83.  Make the customer the hero of your brand's story. - Simon Mainwaring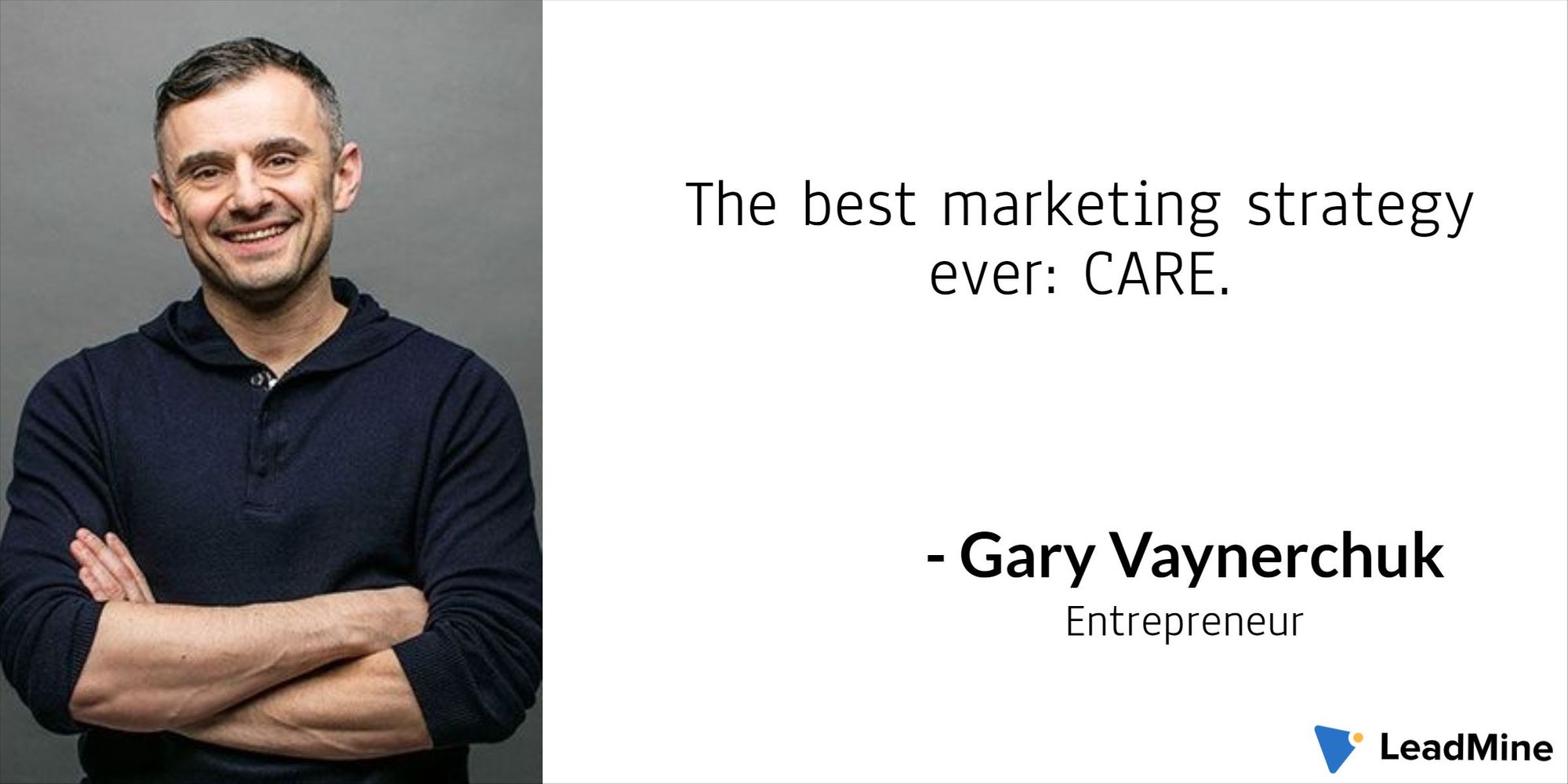 84.  The best marketing strategy ever: CARE. - Gary Vaynerchuk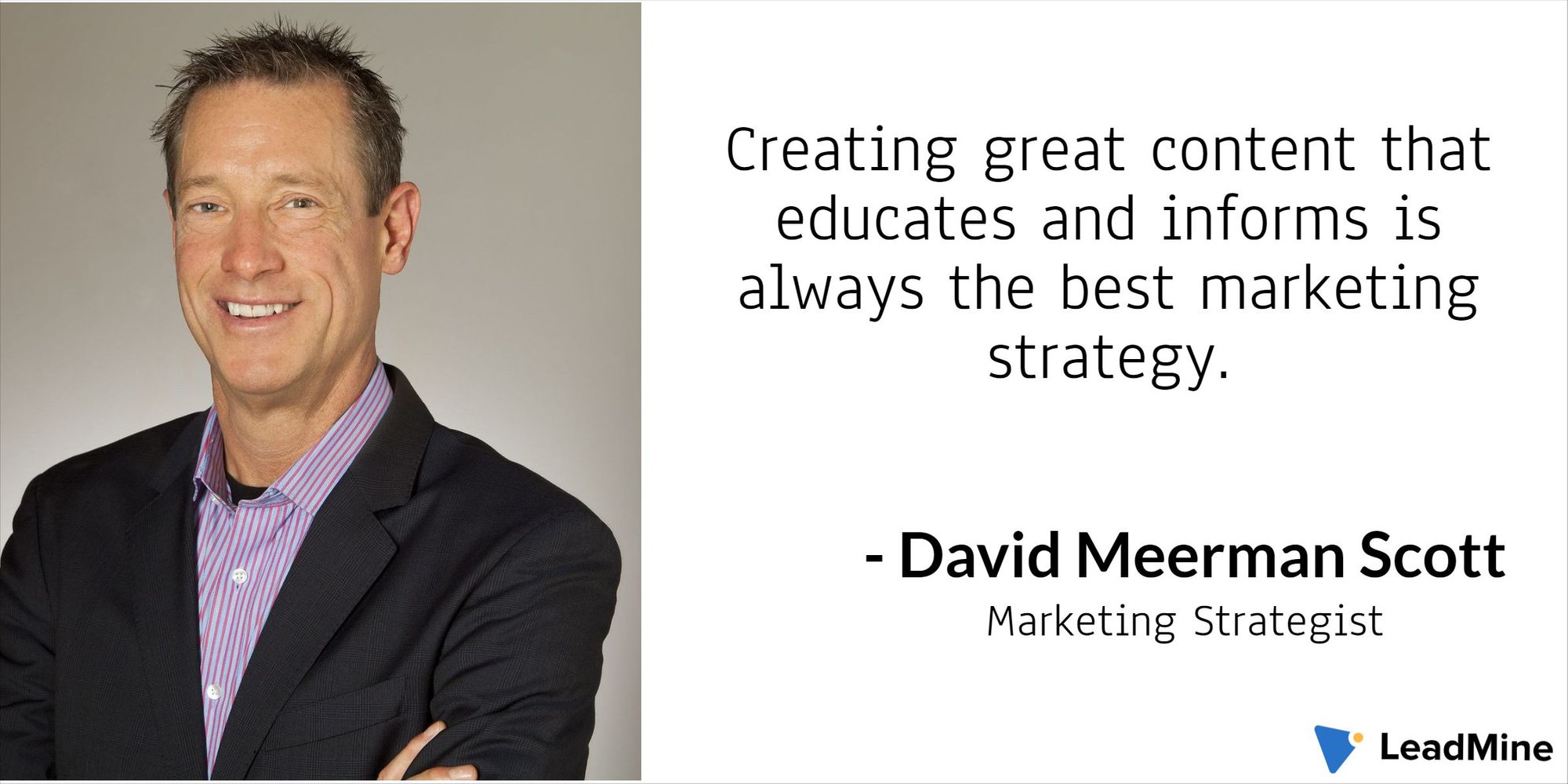 85.  Creating great content that educates and informs is always the best marketing strategy. - David Meerman Scott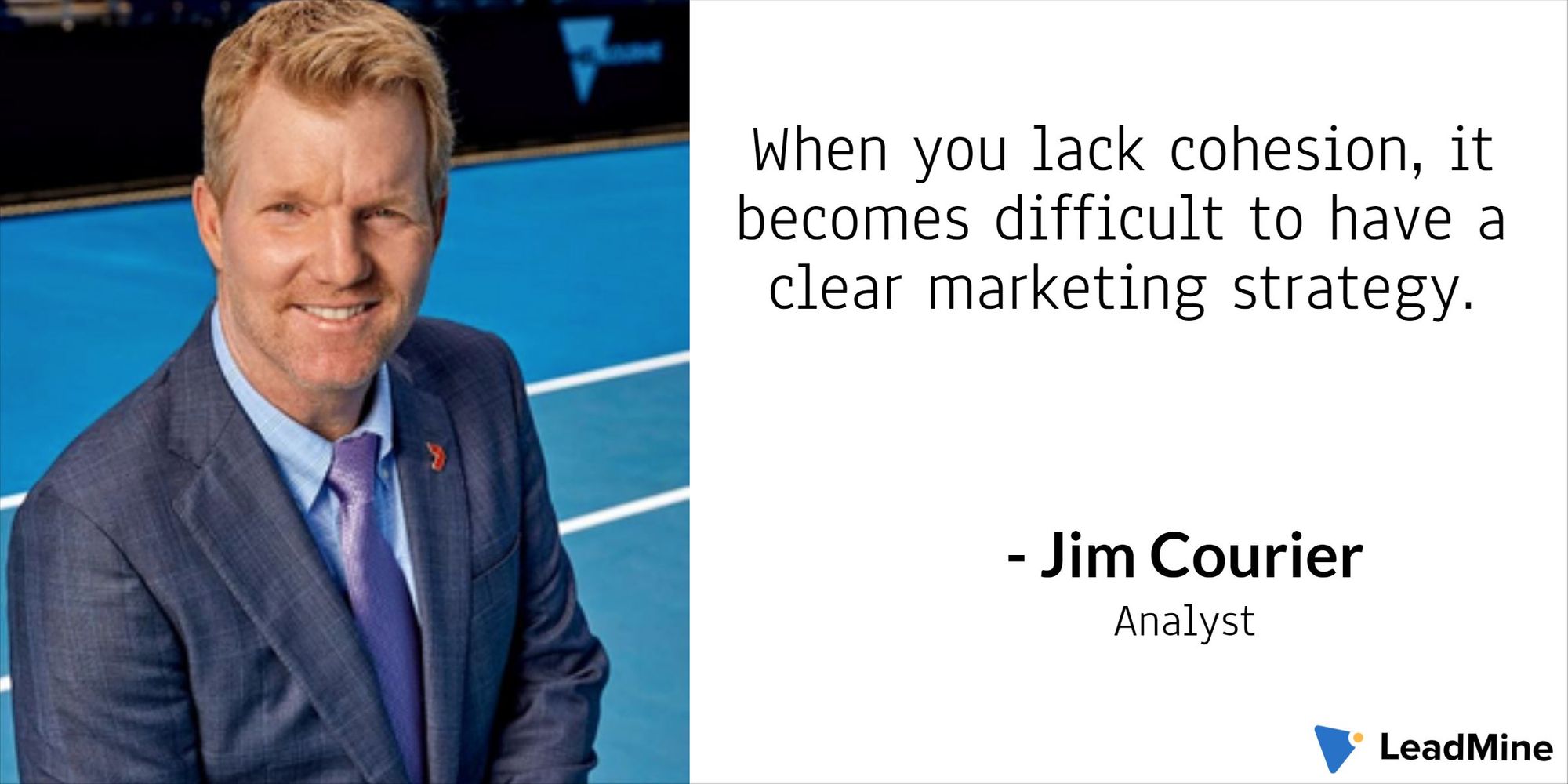 86.  When you lack cohesion, it becomes difficult to have a clear marketing strategy. - Jim Courier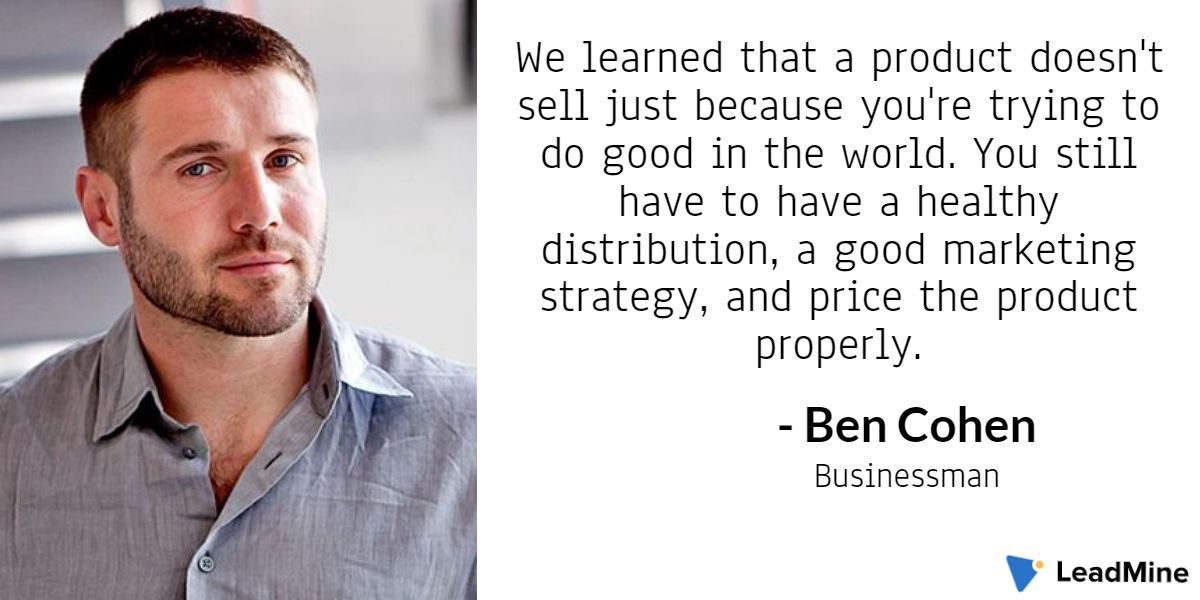 87.  We learned that a product doesn't sell just because you're trying to do good in the world. You still have to have a healthy distribution, a good marketing strategy, and price the product properly. - Ben Cohen
88.  Even the most careful and expensive marketing plans cannot sell people a book they don't want to read. - Michael Korda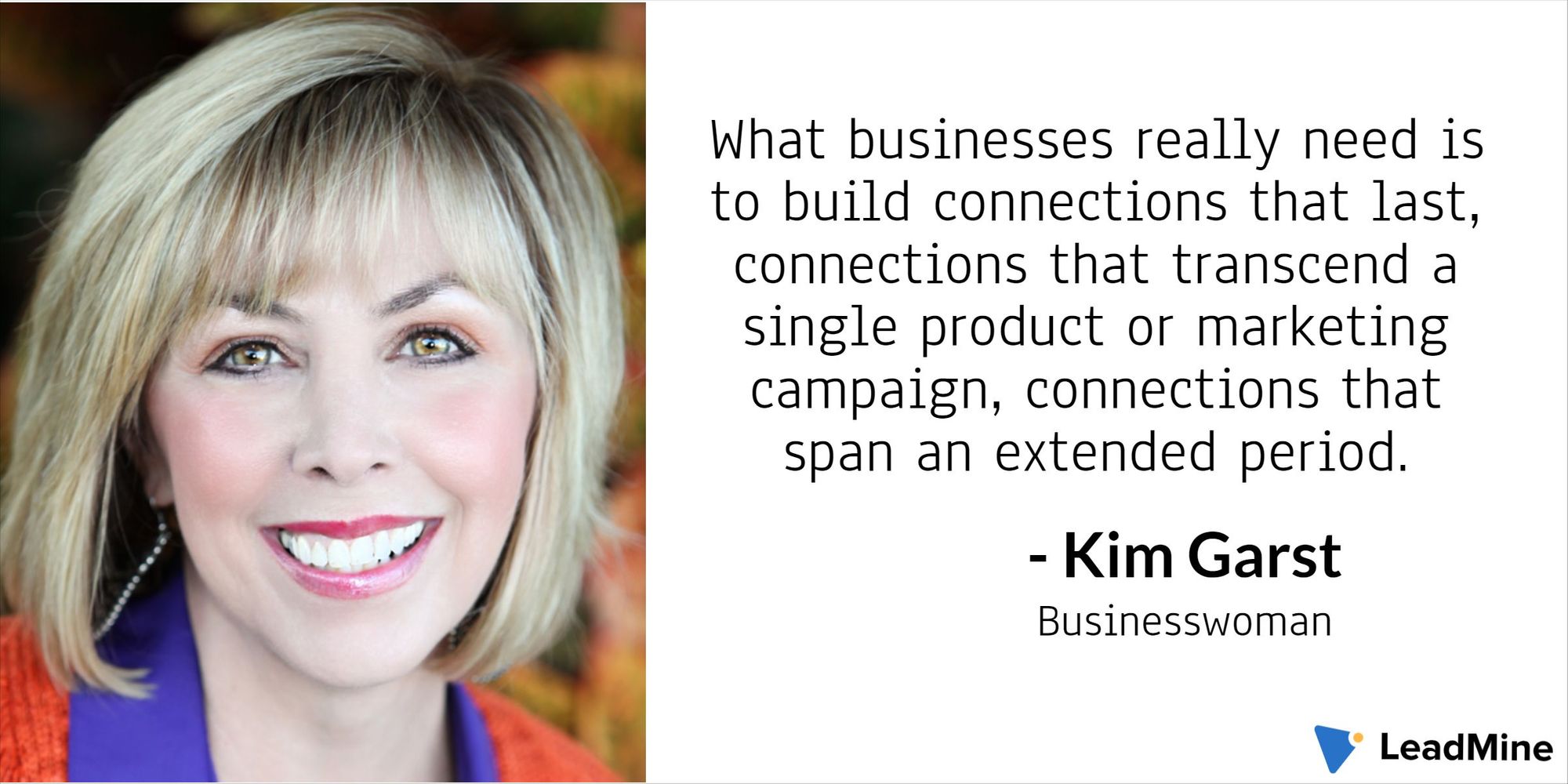 89.  What businesses really need is to build connections that last, connections that transcend a single product or marketing campaign, connections that span an extended period. - Kim Garst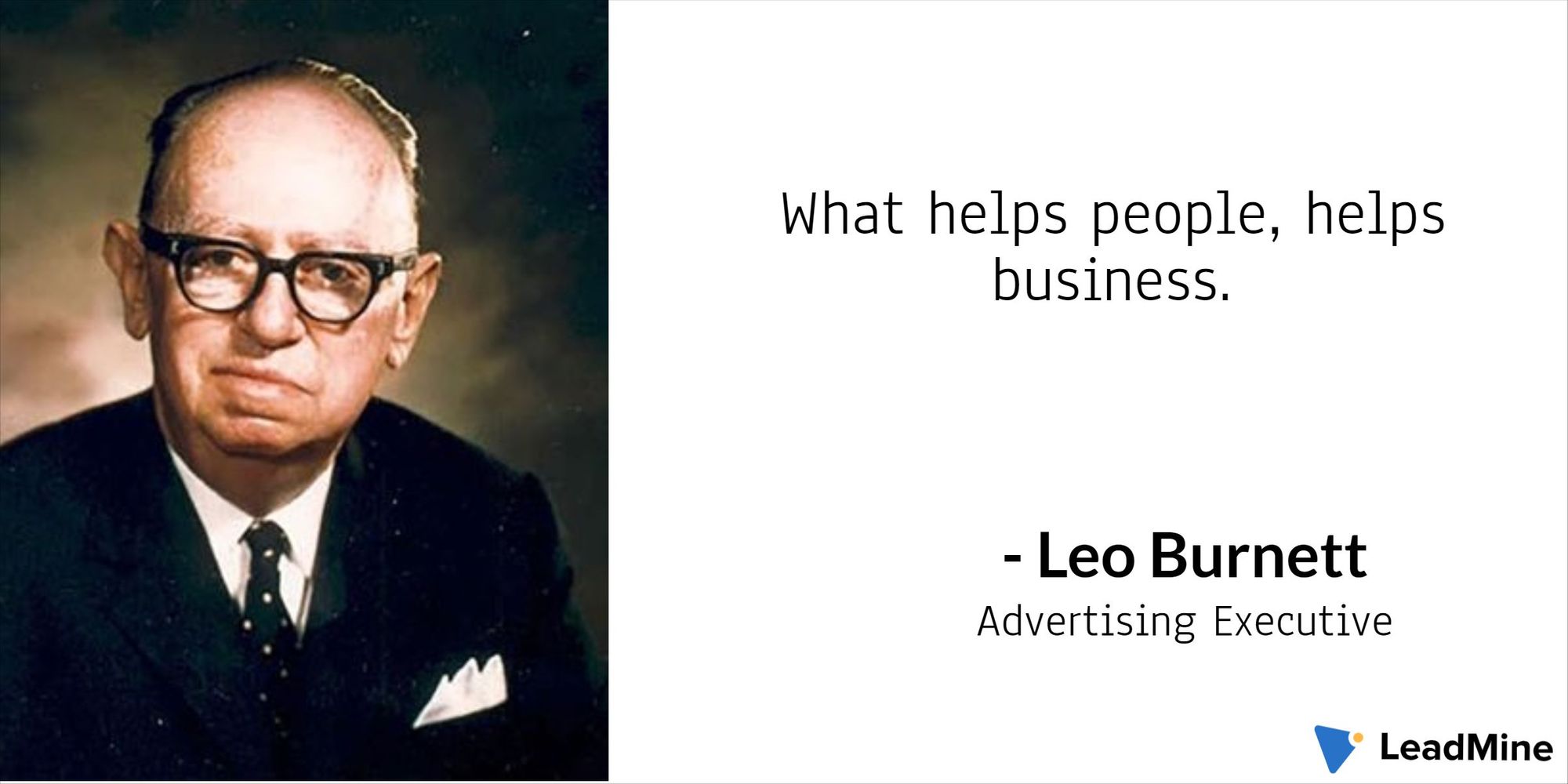 90.  What helps people, helps business. - Leo Burnett
Inspirational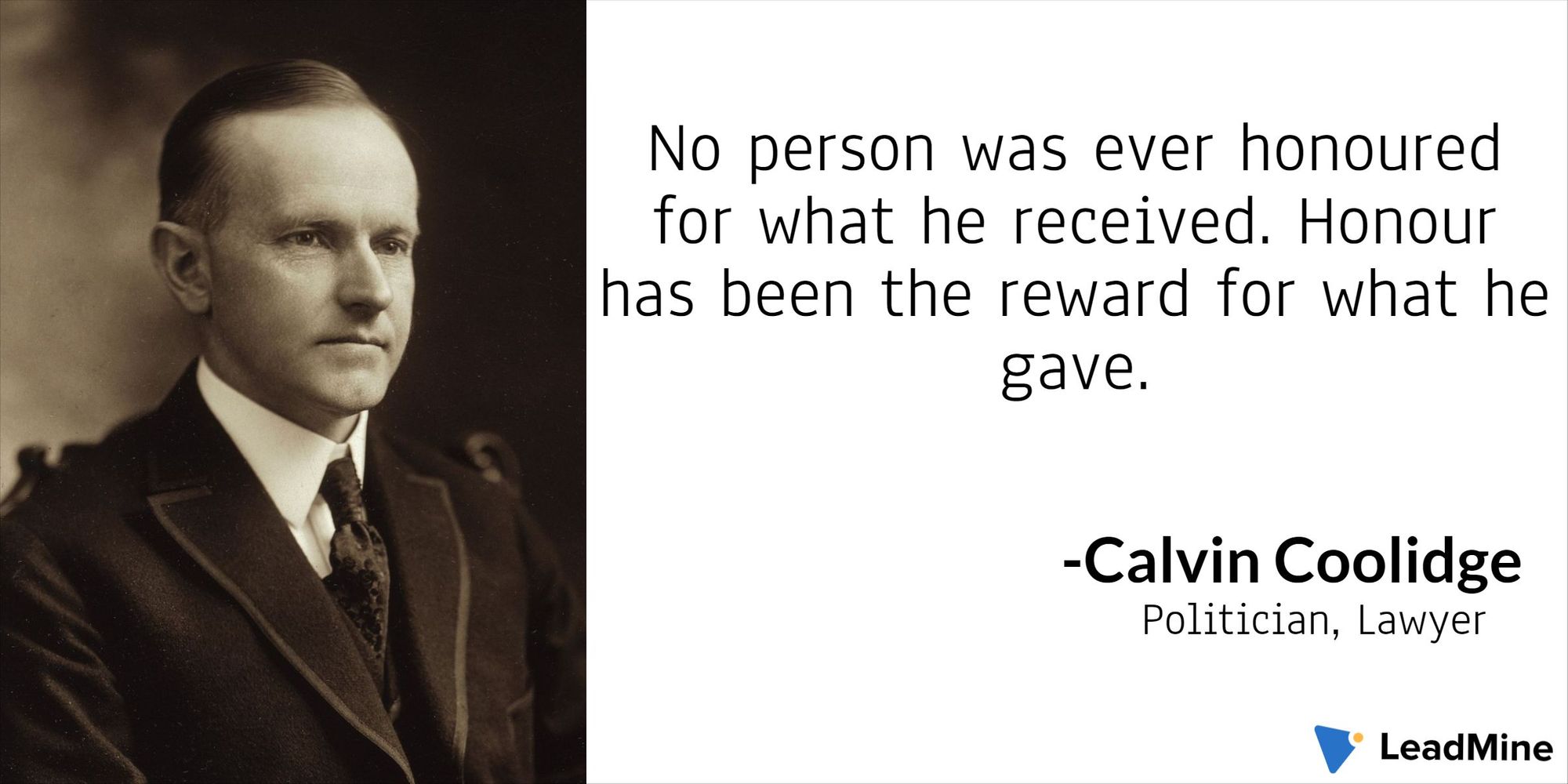 91. No person was ever honoured for what he received. Honour has been the reward for what he gave. - Calvin Coolidge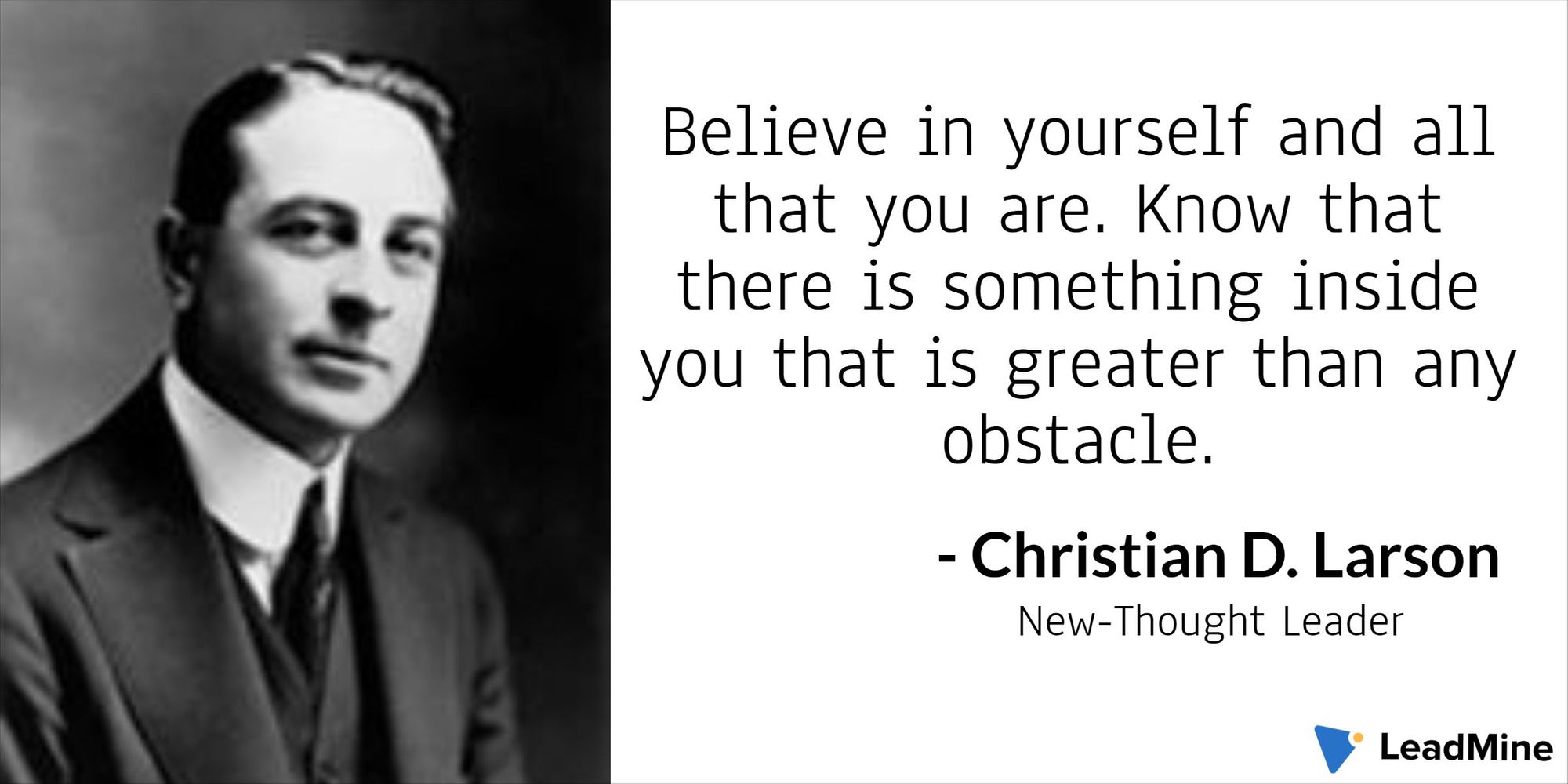 92.  Believe in yourself and all that you are. Know that there is something inside you that is greater than any obstacle. - Christian D. Larson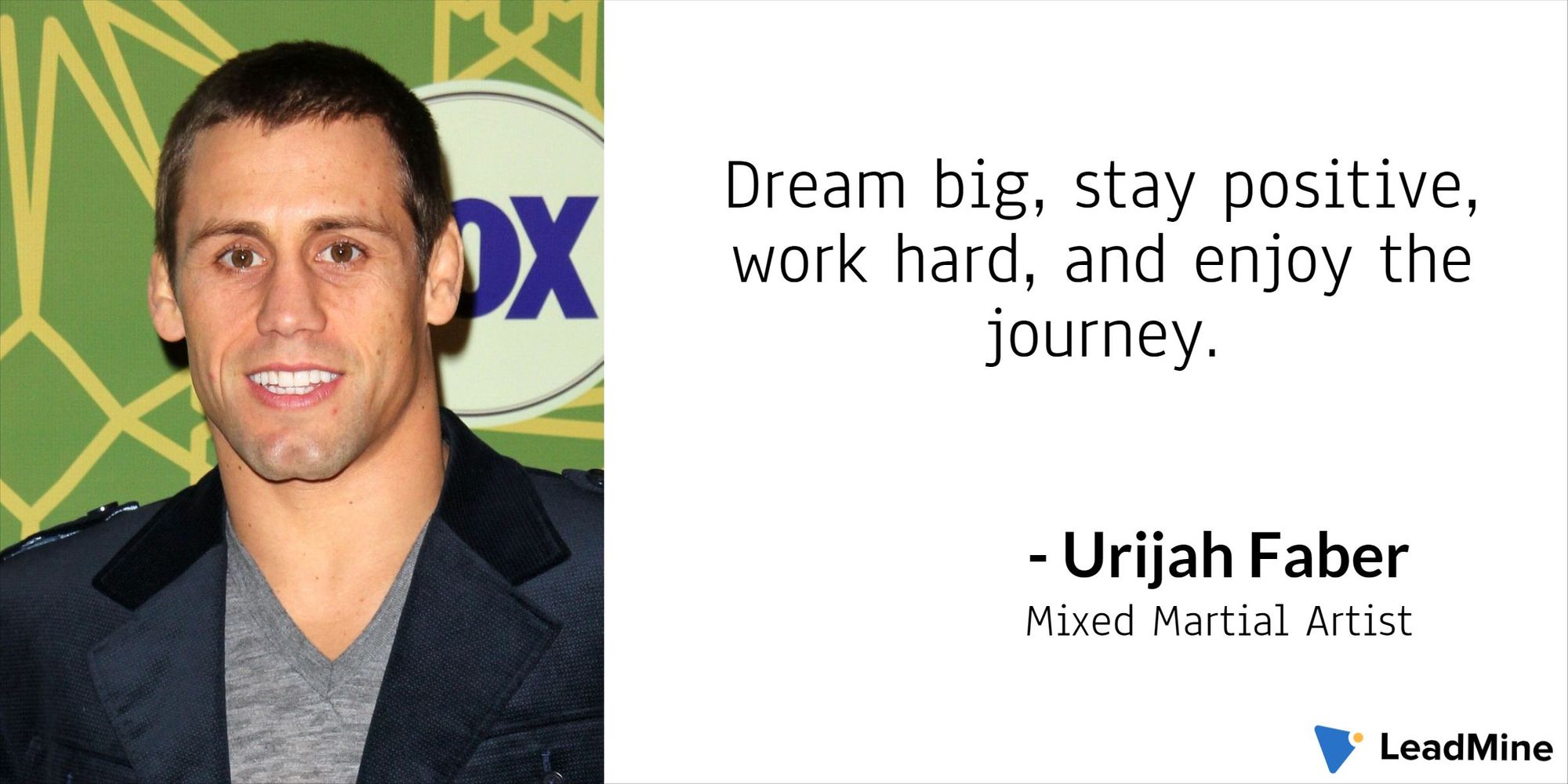 93.  Dream big, stay positive, work hard, and enjoy the journey. - Urijah Faber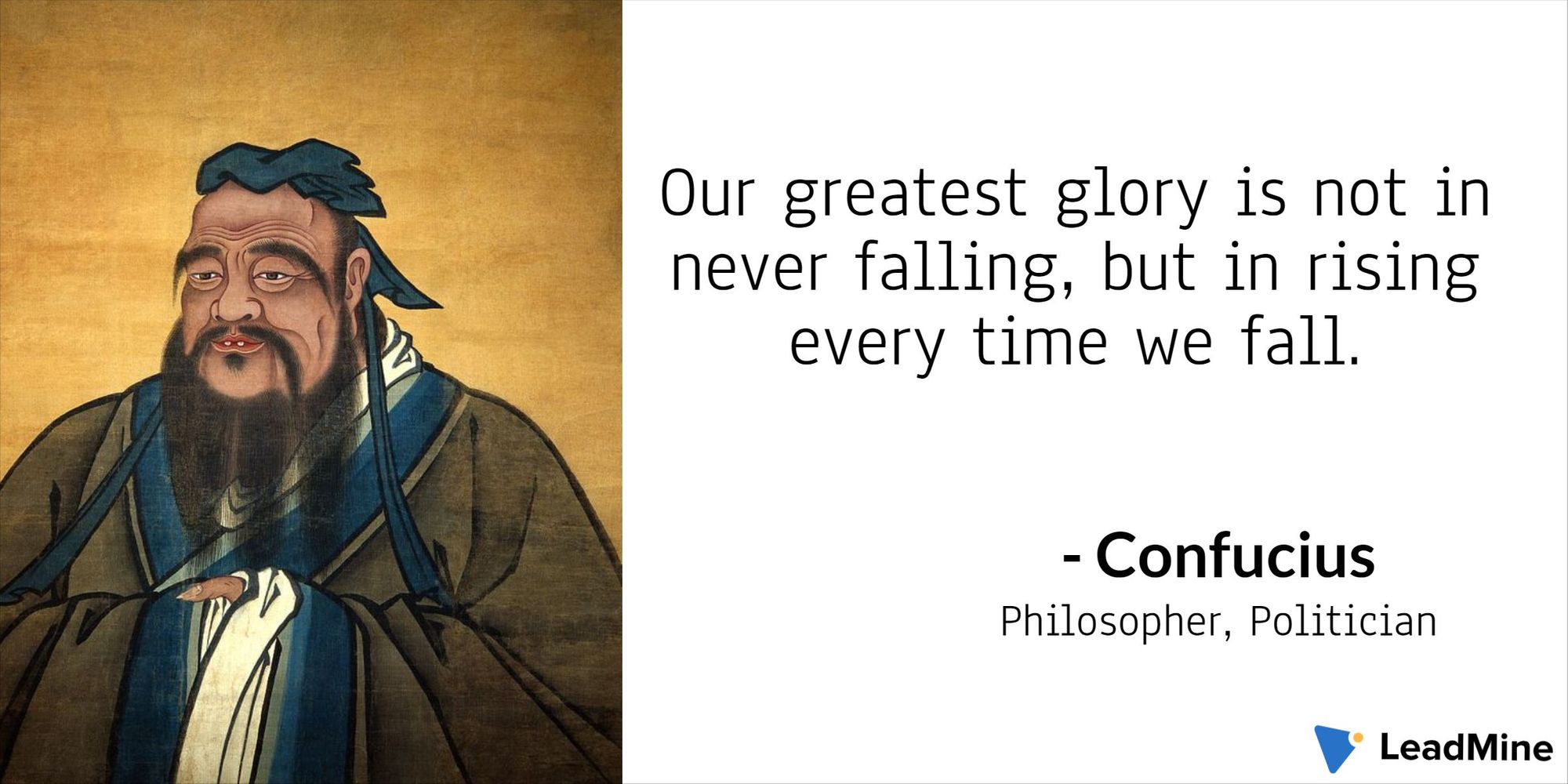 94.  Our greatest glory is not in never falling, but in rising every time we fall. - Confucius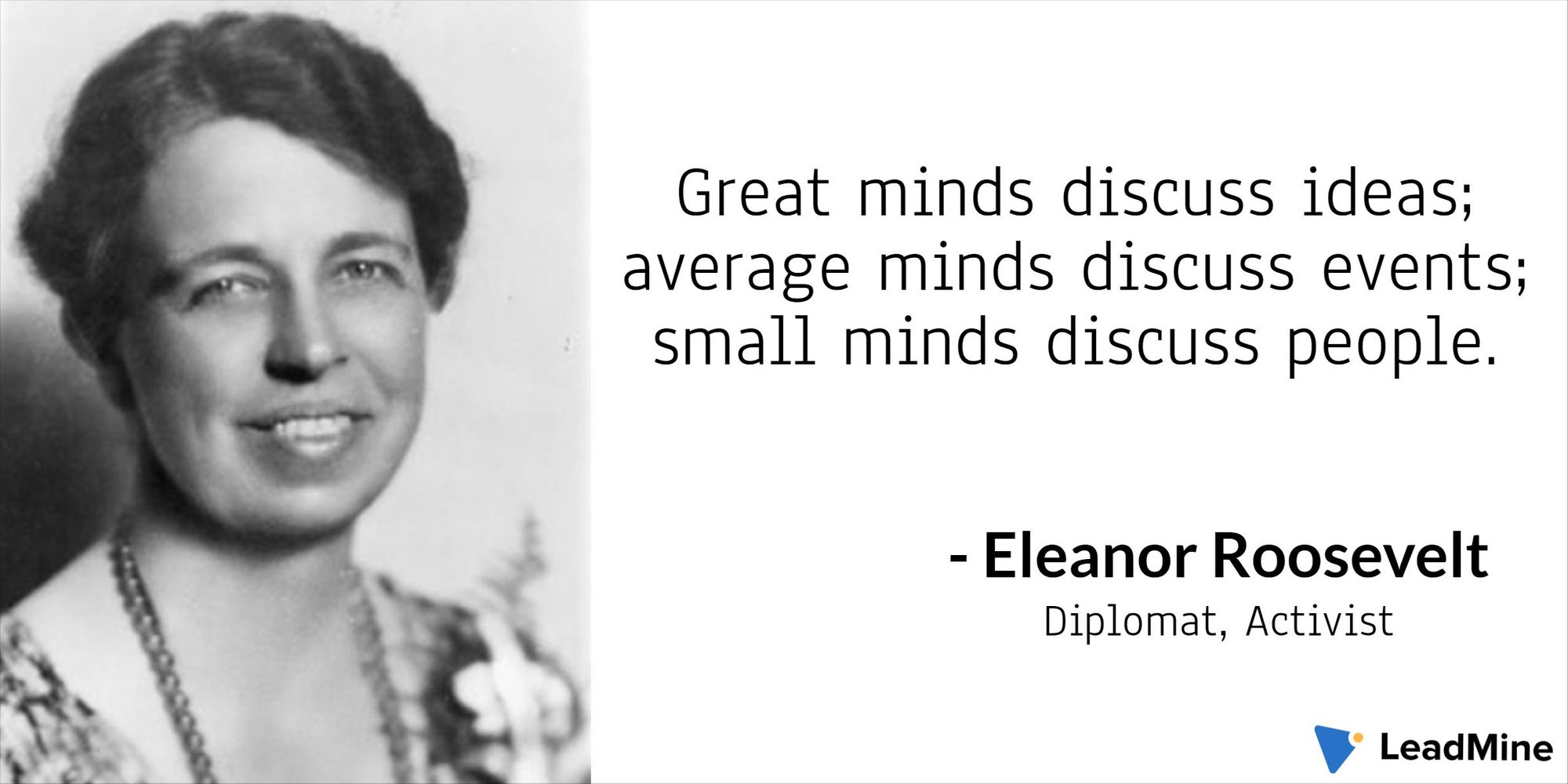 95.  Great minds discuss ideas; average minds discuss events; small minds discuss people. - Eleanor Roosevelt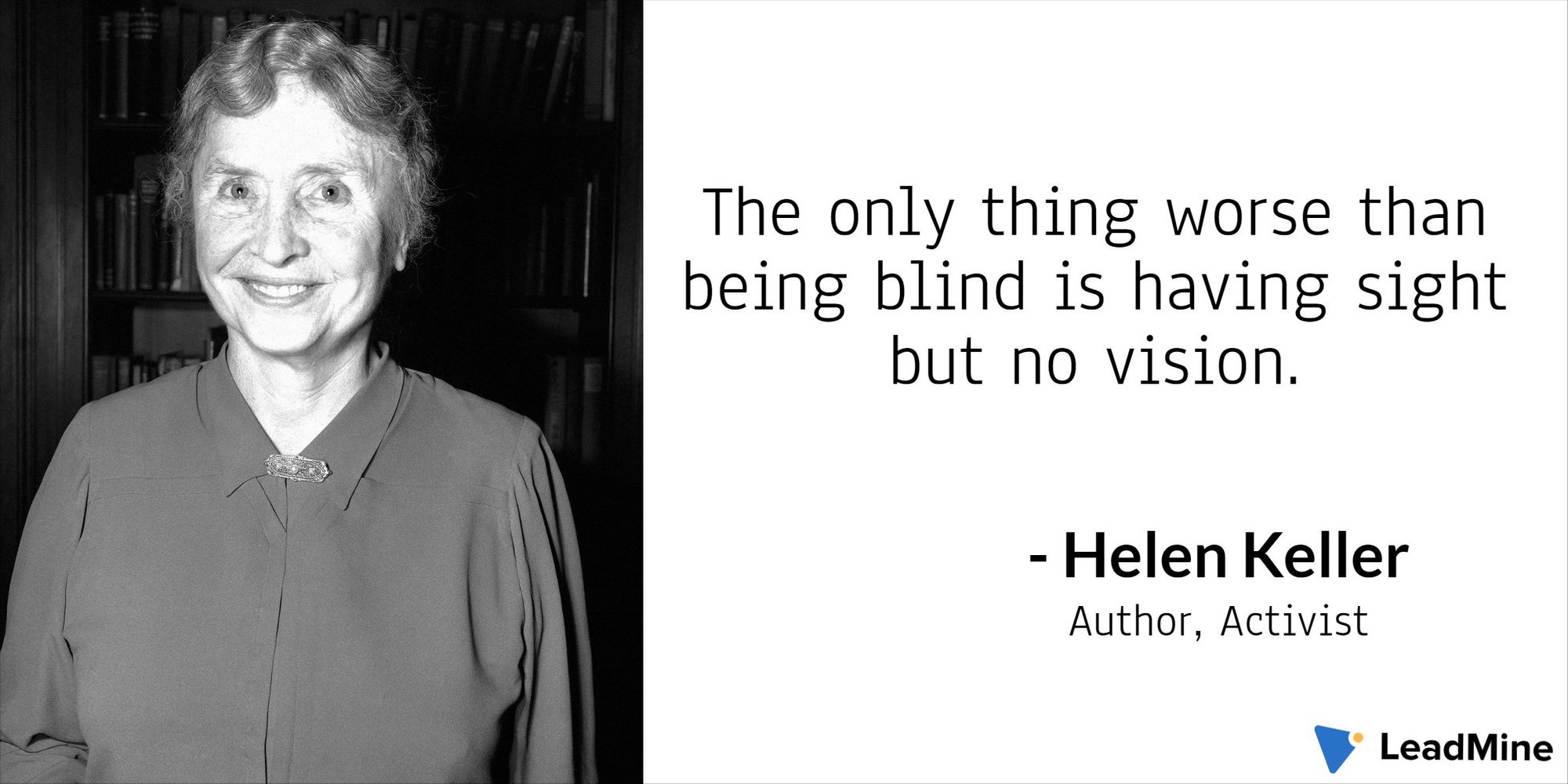 96.  The only thing worse than being blind is having sight but no vision. - Helen Keller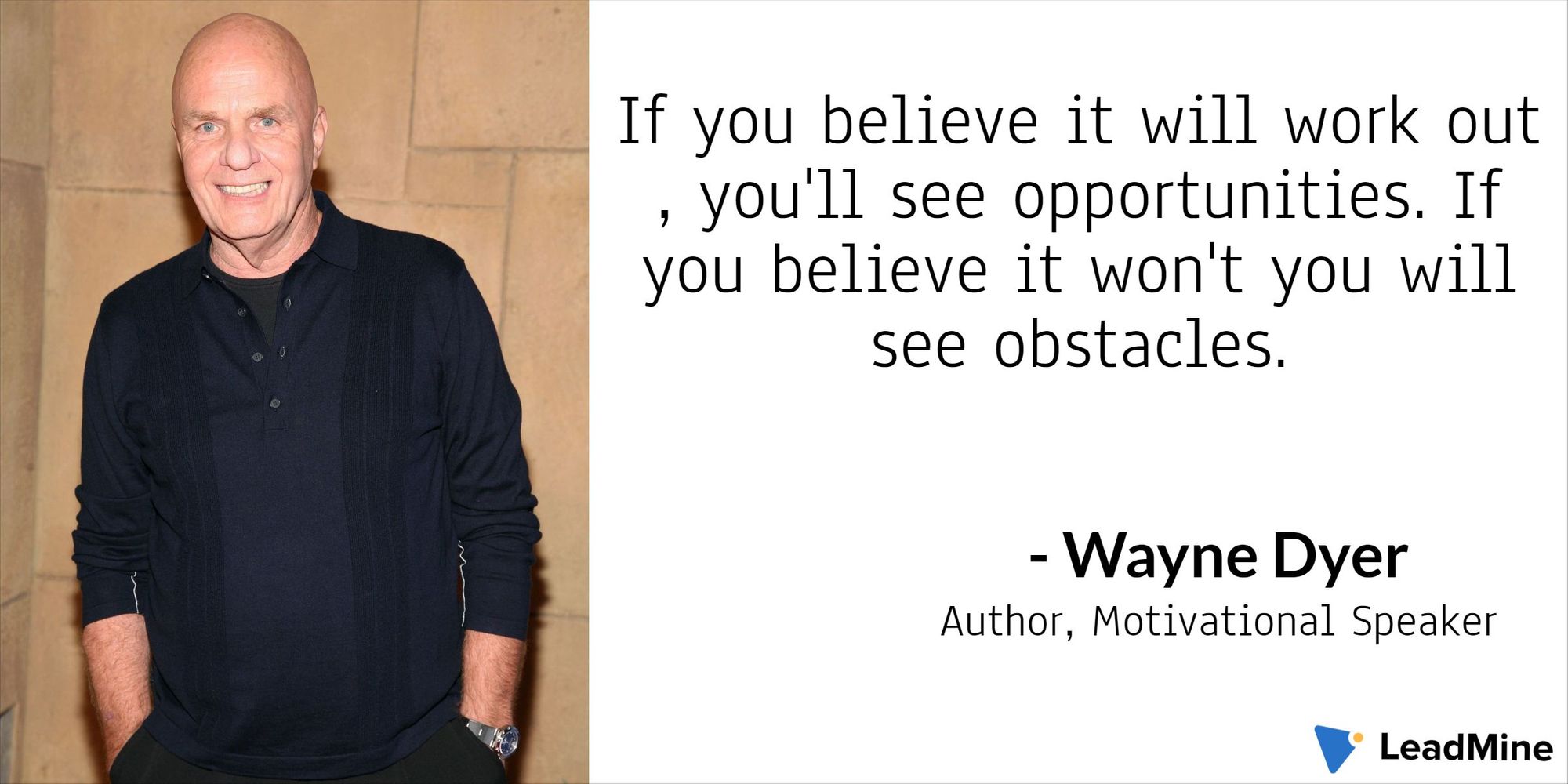 97.  If you believe it will work out , you'll see opportunities. If you believe it won't you will see obstacles. - Wayne Dyer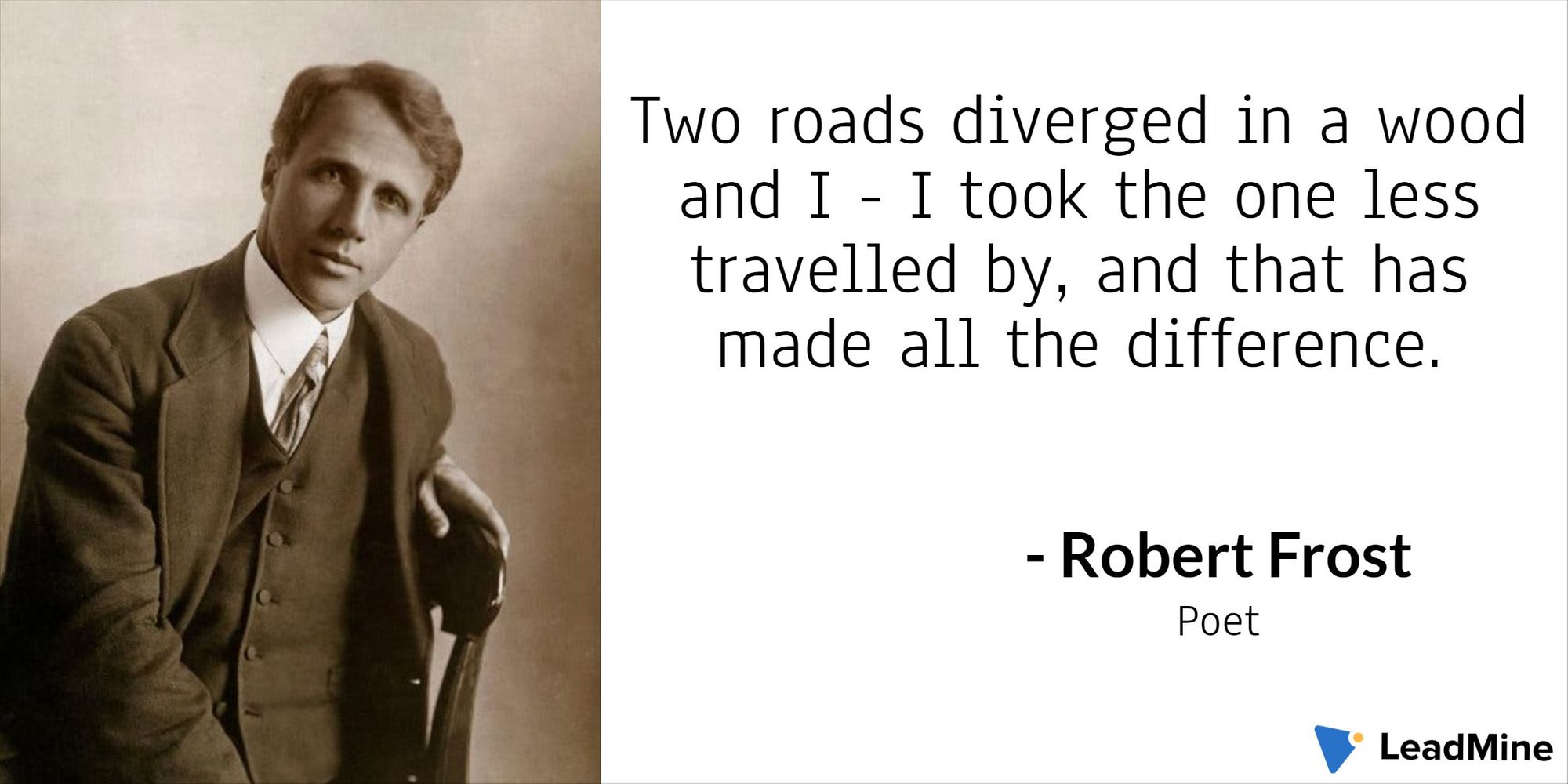 98.  Two roads diverged in a wood and I - I took the one less travelled by, and that has made all the difference. - Robert Frost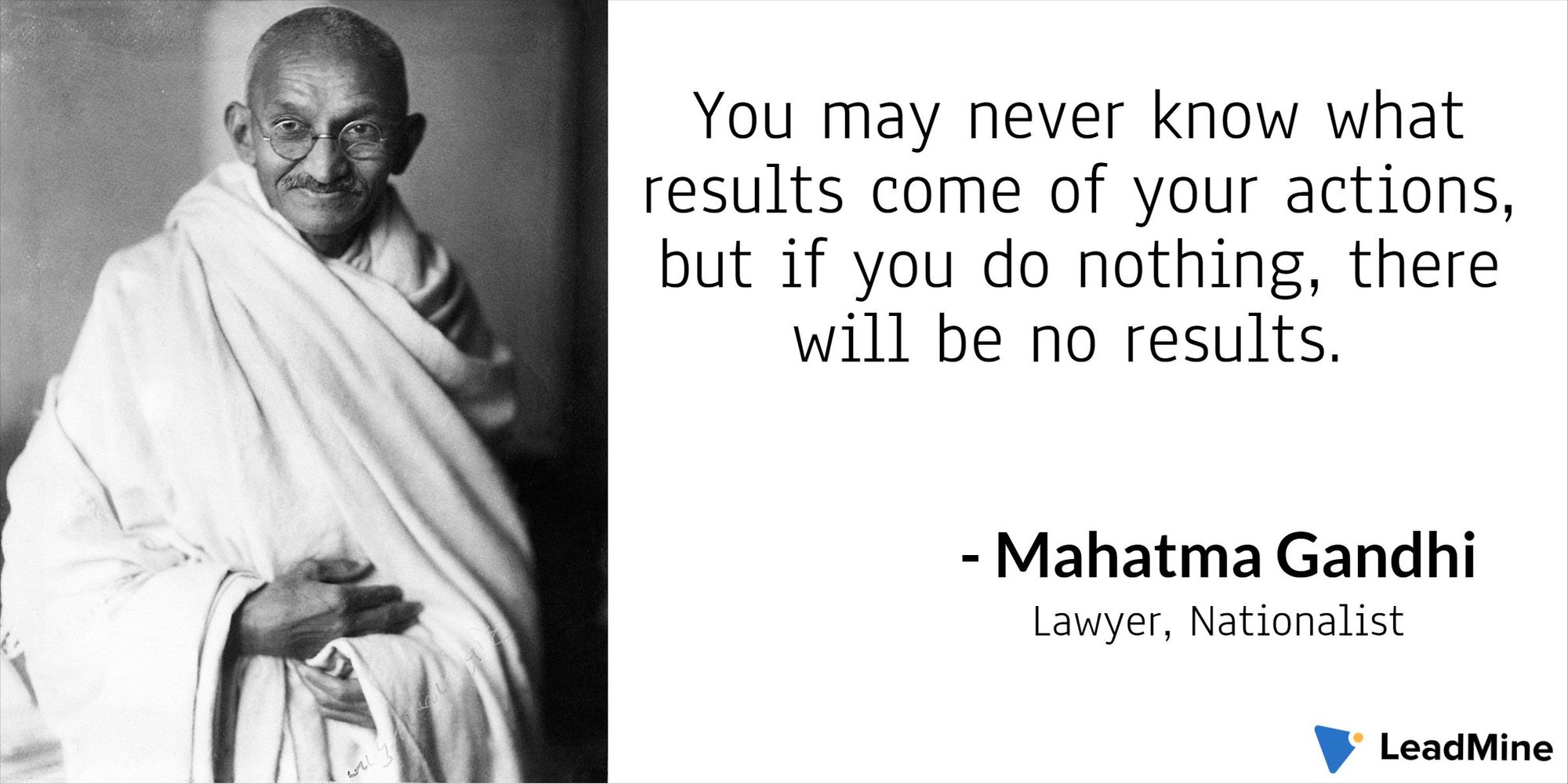 99.  You may never know what results come of your actions, but if you do nothing, there will be no results. - Mahatma Gandhi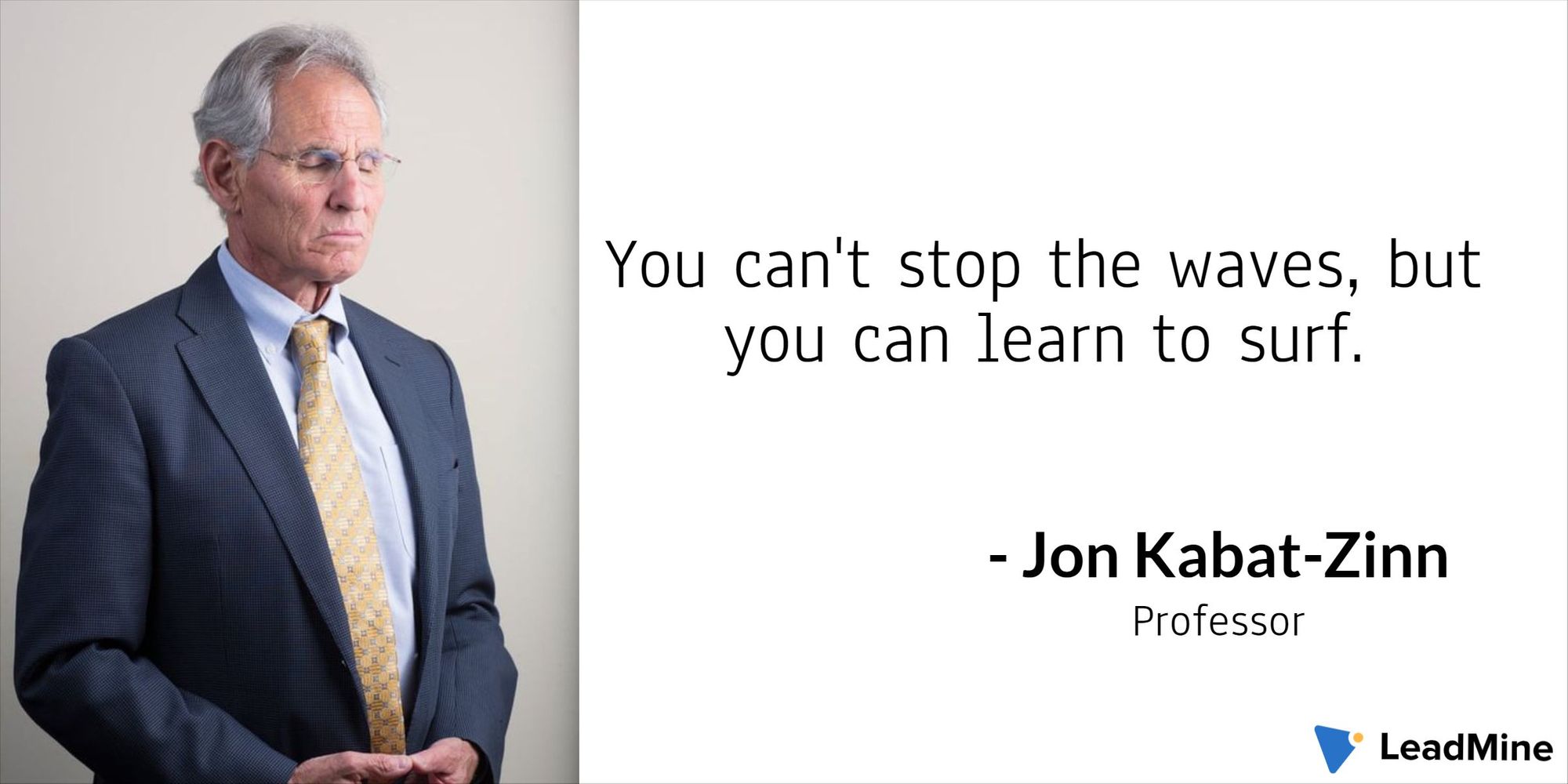 100. You can't stop the waves, but you can learn to surf. - Jon Kabat-Zinn
Whoop!!!
Lead generation tools ignite the company's sales rate through leads for a business. Likewise, salespeople really need the motivation to do their work with energy and enthusiasm, which increase sales rate as well as the company's growth.
But if you are in a sales team, didn't show interest in what you do then no motivation quote or nothing will motivate you.
So, work what you love and love what you work. Don't forget to add some spices like motivational quotes or songs to encourage you. If you have any personal motivational quotes, share them with LeadMine. We would love to know yours.