Table of Content
What is the Importance of Sales Titles?
These common questions would have crossed everyone's mind at some point during their careers. People will often go to even further measures to conceal their true function beneath a seemingly benign moniker.
Simply said, a sales position is one in which your primary responsibility is to sell something. Obviously, this is a large sector, and many businesses appear to be having difficulty with sales titles.
Your responsibilities will mostly be determined by what you're selling, to whom you're selling, and whether you're in a supervisory or management role.
Just keep in mind that you don't want to come across as unprofessional, especially if your vertical is specific. In the end, your audience cares more about these sales job titles than anyone else.
Here are ten innovative ideas to help you get your creative juices flowing, or simply to check out for inspiration!
To make surfing quick and painless, I'll offer a description and a more traditional version for each.
1. Sales Associate
The term "sales associate" is most commonly used in the retail industry.
Take Walmart, for example: "Sales Associate" appears in 666 of their sales job titles. Many in-store sales titles are filled by Sales Associates.
Among the responsibilities of the job are:
Customers must be enticed - Interpersonal skills are essential. Prospects and potential consumers should be able to see eye to eye with a salesperson.
Persuade customers to buy - Their primary goal should be to persuade customers to purchase their company's products and services. As a result, they should emphasise benefits while avoiding disagreements. They'll be careful not to come on too strong during this time. Selling is a delicate balancing act.
Demonstrate self-assurance — Self-assurance is essential. They should be able to answer a wide range of related queries with ease.
Customers are welcomed – Greet customers as they arrive at a company's location and make them feel at ease.
Returns and refunds assistance - If a consumer is dissatisfied with a product, the Sales Superhero will step in to help. They'll direct the customer to the appropriate department and, in the end, expedite the process.
Solve frequent issues - For example, the availability of an item is a common issue that a Sales Rockstar may assist with.
2. Sales Representative
The Sales Representative title is typically applied to a broad sales position whose primary responsibility is to offer and sell solutions to businesses. They could sell from the office or from the field.
If you wish to be more particular, you'll find a list of potential sales titles for sales reps below, including ones that include modifiers like Inside/Outside Sales Representative.
Their responsibilities of the jobs are,
They frequently get leads from consumer referrals and business directories.
They will upsell or cross-sell items and services to a new market if they approach new clients.
Retain existing customers - They nurture ties with their current clients to keep them happy. This includes scheduling meetings, visits, e-mails, and phone calls on a regular basis.
3. Account Sales Consultant
Accounting is a well-known profession with significant responsibilities.
You should be able to produce, reconcile, evaluate, interpret, store, and convey the significance of various financial statements to firms as a practising accounting consultant.
They must have a university degree in accounting or a similar field, as well as professional accreditation from an accounting authority, high professional discipline, and a valid company licence.
Their to-do list includes the following items:
Drive sales – Sales consultants should encourage potential customers to check out their offers. Demonstrating extensive product expertise is one of their tactics.
Assemble product displays – They showcase products and services in a way that would entice potential customers.
Follows up with customers – After a customer buys a product, a sales consultant makes sure that a person is 100 percent satisfied with the investment.
4. Sales Manager
A Sales Manager is usually in charge of a sales team. They are in charge of hiring and keeping salespeople, as well as reporting to sales directors and vice presidents.
In smaller companies, a Sales Manager may still handle sales (this is referred to as a "Player-Coach" combo).
Sales managers spend a lot of time with clients and customers, who are the people who buy and use the company's goods and services. As a result, there are specific activities and responsibilities that should be stated in a Sales Manager job description:
Develop and sustain client relationships
Collaborate with corporate departments such as Marketing and Product to better engage audiences and clients.
KPIs and sales targets must be met and exceeded.
Have a thorough understanding of corporate product offerings and value propositions.
Observe all company policies and regulations that pertain to the Sales department.
Pursue new business and sales prospects in a proactive manner.
Develop new and customised sales solutions to solve difficulties for clients and customers.
Always be a brand ambassador and reflect the company's ideals.
5. Account Executive
Account Executive is a sales term that encompasses both, Start a new business (prospecting) and expand an existing one.
An Account Executive is in charge of completely comprehending a client's needs and assessing whether or not a company can meet them.
An Account Executive manages a team to guarantee that the company's products and services are delivered on schedule, on budget, and according to the client's specifications.
Their responsibilities of the jobs are:
Make precise business strategy to meet predefined targets and quotas.
From locating a client to closing a transaction, you'll be in charge of the whole sales cycle.
By networking, you can discover fresh sales prospects and develop them into long-term partnerships.
Present your products to potential customers.
To increase client loyalty, provide professional after-sales service.
Keep in touch with your clients on a frequent basis to better understand and address their demands.
To maintain the company's reputation, respond to complaints and address issues to the satisfaction of customers.
Negotiate contracts and manage sales and data records.
6. Chief Revenue Officer
The function of the CRO has grown in popularity in recent years. While it was once more frequent among Silicon Valley IT vendor organizations, it has now become a near-essential position in all industries and is gradually becoming mainstream.
The chief revenue officer (CRO) is the person in charge of generating revenue. They are in charge of increasing a company's revenue, as the word implies. The CRO, like any other member of the C-suite, reports to the CEO on all revenue-related matters.
The CRO can be found in both small and large businesses, and is usually employed or appointed a few years after the company is founded. Operations, sales, corporate development, marketing, pricing, and revenue management are all under the control of the CRO.
Their main goal is to sell each product to the most appropriate audience in order to gain the maximum income. They need to get the most out of their marketing and advertising budgets.
Their to-do list includes the following items:
Developing and communicating growth strategies with CEO, COO, and board of directors.
Setting up the process of generating revenue.
Unifying processes to offer the customer the best experience possible, which keeps them coming back.
Integrating sales and marketing, as well as any other process that maximizes the returns on marketing investment and goes on.
7. Business Development Manager
The business development manager, or BDM, provides information about the company's products and services to others and serves as a point of contact for prospective and existing clients.
Their to-do list includes the following items:
Making contact with potential clients in order to create a rapport and set up meetings.
New marketing strategies are being planned and overseen.
In order to uncover new chances, I conduct research on organisations and individuals.
Increasing the worth of existing consumers while also recruiting new ones.
Identifying and expanding new markets, as well as increasing revenues.
Attending industry events, conferences, and meetings.
Creating proposals and prices for clients.
8. Account Representative
Account Representatives close sales, develop new client partnerships, and maintain long-term client relationships. They promote recurring business by ensuring that customers are happy with the company's products and services.
Their to-do list includes the following items:
Serving as the company's primary point of contact with clients.
Assuring that all contracts and papers are completed.
Creating and submitting invoices to clients.
Keeping a detailed record of client payments.
Increasing sales via cold-calling, emailing, and following up on company-generated leads to acquire new clients.
Existing clientele are being introduced to new firm products and services.
Professionally resolving consumer complaints and reporting them to management as needed.
By following up on clients on a regular basis, you may build and sustain strong client connections.
WindUp
As a result, the next time you hire a salesperson, you will understand what certain sales titles actually mean. We hope to be able to cover some of the key sales titles.
Remember that innovative sales job titles are more than just fancy names or unique sales titles. It's an important approach to emphasise your company's beliefs and the attributes you look for in employees.
Good job titles convey the most realistic picture of not only the job your sales person is doing, but also the culture of your firm. You can increase your chances of hiring the proper sales representative and reinforce your company's sales positions more thoroughly by employing the right sales titles.
---
LeadMine : Find your next customer in minutes, not months.
LeadMine is a lead generation platform used by all types of businesses. From over 200 million contacts, you may identify your target b2b leads as well as their email addresses.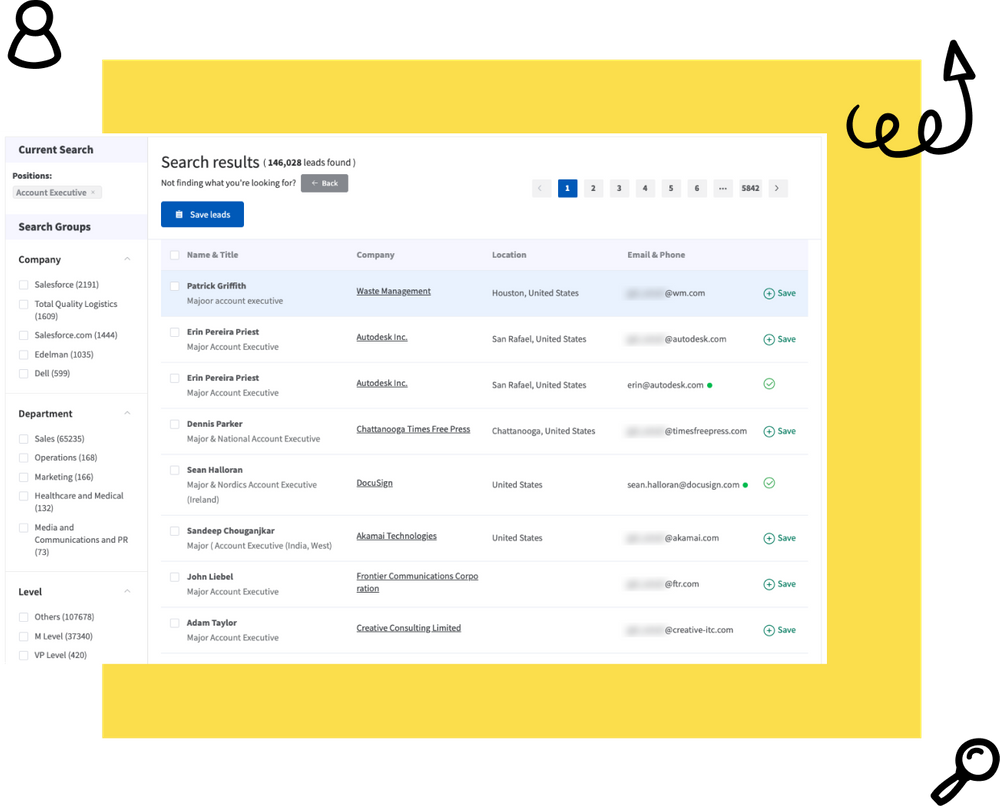 Start your Lead Generation for free today!
30 days free trial
No credit card
Cancel any time