Imagine that. You are entering the cosmetic shop, ask for bath salts. The shop owner made a face and turned away without giving what you asked. How does that feel? Rude!
Everyone is a customer to someone in some way. We buy products and services from all types of companies, and whether the purchase is online or offline, some companies are great at what they do.
Just think for a second about the companies you interacted with before. It can be product or service companies. Which is the one you enjoyed using? Which is the one that you return again and again? Which company do you recommend to your friends and colleagues? What is it about them that makes them special from the crowd?
Here, we are talking about your customer experience. It is an unbelievably powerful force, carrying more influence than just having a great product or great pricing. It may help you to keep a customer or lose them to a competitor and it is a strong weapon to achieve a strong competitive edge.
So, if you are running a business, and you want people to buy from you then you need to attract their attention very quickly by making the customer experience pleasant and easy.
What is the Customer Experience?
Customer experience also known as CX is a customer's experience with your business or brand. CX is the result that has customer interaction with your business, includes website navigation, customer service, and receiving the product or service they bought from you.
Let's See The Statistics:
In 2019, Merkle (Marketing agency in Columbia, US) polled 500 US residents to get an impact report on customer experience. The report says that 66% of consumers care more about experiences than price or brand. Additionally, over half (52%) of online shoppers reported that they stopped shopping on a brand website due to poor website experience.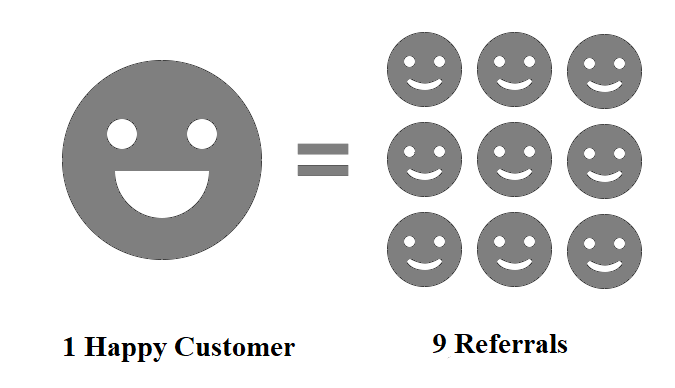 If a customer likes your service then they will refer your product to their friends and colleagues. But, if they don't satisfy with your service then they degrade your product twice as much as they refer.
Customer happiness is one of the best customer retention strategies ever.
Great Strategies are Different from Having Great Goals
Offering a great experience doesn't happen in one night, no matter how good your team is and how smooth your sales process. Beyond the most successful business, there is a well-developed customer experience strategy. The surprising fact is that having a formal strategy is still not that common in business.
So what kind of strategies or tips may help you develop a stronger customer experience?
Top 7 Surprising ways To Improve Customer Experience
#1.  Make Sure That Your Site Loads Quickly – No Buffering
Do you think that speeding up your website isn't effective to improve customer experience?
Well, think again.
A few-second delay in your website yields 12% fewer page views, a 16% decrease in customer satisfaction, and an 8% loss in conversions. A few seconds faster page loads could have a massive impact on your ability to engage visitors and make great sales.
Don't forget mobile users. Studies reveal that one-third of mobile users in the United States use a mobile phone as a primary thing for internet access. They check their emails, messages, and know about companies through the mobile phone.
"Your biggest threat isn't a competitor, it's the back button. If your website loads too slowly, customers won't wait around. They'll go elsewhere." says Gabriel A. Mays, founder, Just Add Content.
Imagine that, when a customer opens your website on their mobile phone and it buffers, which means you lost them. People don't have patience. They need everything in a second. That's why they prefer instant noodles rather than tasty Chinese noodles.
So, make sure your company website loads faster. Remember, more loading less customer.
#2.  Approach The Target Audience
Communication between you and the customer plays a huge part in customer experience. If you not giving the time when a customer needs it, you are missing out on an opportunity to get a customer, who knows you may miss out a huge sales too.
To succeed in the area of customer experience, you must know from which channel your customers are most active so you can adapt your approach and serve them there.
Which channel are customers using the most to communicate with you? How can we use this information to make our outreach feel more original?
It's important to connect yourself with the channel, whether it is social media, email, live chat, or something similar. Reachability is a helpful competitive advantage if you execute properly, so it's essential that your business has a handle on your targeted audience's preferred channels.
#3.  Provide Suitable Customer Service
Get close connection with your customers through providing 24/7 real-time customer support. As customers become more delegate to discover solutions for their problems and information on their own via the internet, the demand to give customer service convenience increased.
To remain in a customer's mind, you should provide online support as per their convenience.
Who knows? The most unsatisfied customer has the potential to become one of the company's ambassadors. Everything is on how you handle them and their complaint.
"One of my top tips for improving the online customer experience is to allow customers to real-time chat with you," says Aalap Shah, co-founder, SoMe Connect.
Live chat can also serve the business with real-time feedback on products, price, and how well your website is working, he adds.
#4.  Focus on Simplicity
Ever opened a website that was a disaster on mobile?
In 2015, mobile internet use grows than desktop internet use for the very first time. Since then, mobile internet users grows gradually, making a simple and mobile-optimized website for business provides a simple and seamless experience for customers.
Customers should easily navigate a company's website. Limit unnecessary clicks and implement new features like auto-scroll to avoid users losing interest. You can't expect customers to wait until they get into a desktop to get the information they need, right?
So, create a simple design website for customers rather than eye-catchy designs.
#5.  A Good Photo can be Worth a Thousand Words
"A picture is worth a thousand words" is an English language saying meaning that complex and multiple ideas can be conveyed in a single picture, which explains it's meaning more effectively than a verbal description.
Some companies though their products might not need a great visual appeal, but customers find images reassuring, not to mention but extremely helpful in identifying the thing that they want to know.
We are living in a visual world. For example, nowadays, we show pictures of our vacation in some holiday designation, not narrating the scenes in words. Great and meaningful photos explain a lot more than words.
Besides, give customers a free session or trial of your product, if you can able to do that.
#6.  Solve Customer's Problem Before They Become Your Customer
You may think, why we have to solve their problem before they become customers of yours?
When people reach out to you with a problem in their business, they already knew or have some belief that you might be able to solve theirs, and may you give a long-time solution. So that only they have chosen you in the first place to check their intuitions are correct.
For example, HubSpot, an inbound marketing software provider, is a valuable company to do business with. The company has more than 11,500 satisfied customers.
Their huge content marketing efforts are the key to their success. They deliver valuable inbound marketing blogs that help prospects and customers to grow their business.
#7.  Learn From Churn
First of all, Churn is a measurement of the percentage of accounts that cancel or choose not to renew their subscription in your business. A high churn rate can negatively impact Monthly Recurring Revenue (MRR) and also indicate dissatisfaction with a product/service.
If you give the best customer service and increase customer retention, you can able to increase your company's sales by nearly 80%. A great way to begin is to analyze the low engagement area of the customer experience.
The low engagement has a higher risk of customer churn, especially in the SaaS industries. It will help to create an engagement correlation, which can help you identify the highest risk of churn customers. You can create a user application analytics to determine what percentage of engagement will result in the highest churn then monitoring system to alert your customer service team. This allows your team to proactively reach out to the customer and solve a problem before it's too late.
Even for the customers that you are not able to get back from churning, make sure to find out why they decided to move on. Provide multiple channels to leave the feedback from customers and take their opinions seriously. If you are focused on creating a better experience for your customer, then you should hear about the area where your business came back short. Make an easy cancellation of account for the customer and ask the customer why they decided to cancel. It may useful for future reference.
Want to Win?
Customer experience strategy is a long-term plan. Updating your customer experience starts with being proactive and planning out your strategy.
Developing a strong and positive customer experience, you will be at the top of the list. If you want to stand out from your competitors, you need to give the best customer experience and make them like your product, also doing business with you.
If you make your customers happy and successful, then they will be happy to do business and pay you.
Did you find the strategies listed in this blog helpful? What are some of your favorites ways to improve customer experience? How they worked for you? Please share with us at LeadMine.