Table of Content
It's no secret that a sales representative's job entails more than just selling. Reps must also manage contact information, update lead and customer records, connect with other reps and team leads, and perform a number of administrative and relationship-related duties. These, and many other obligations, are vital, but they are also time-consuming.
It has various advantages, including centralized customer data, reduced administrative work, and lead prioritization. You'll benefit from improved forecasts, analytics, and reports, as well as an automated workflow and extensive client history.
Business procedures will be aided by sales pipeline management software.
If you spend a lot of time on online documentation and data entry, and you use Excel to anticipate and manage your sales pipeline, it's a good investment. Sales CRM is particularly effective when client contact is sporadic and inconsistent.
When selecting a tool, keep the following considerations in mind:
The implementation process and the technical help that was required.
The ease with which it can be used.
There are restrictions on the number of users.
Integrations
If there are any additional fees, these will be included in the price.
Security features are included.
Best Sales Manangement Software
1. LeadMine
LeadMine is one of the best  software in the list. While it has little to do with your sales management process in general, it does assist in getting leads into your pipeline, which is an important part of the sales process.
The LeadMine has the Email Verifier, it can be used to check the deliverability of any email. With this Chrome plugin, you may get leads directly from your LinkedIn profile and Google search results.
This Lead Generation tool is easy to use and it is used by more than 1000 companies and it has B2B Leads which are desired by sales teams from all industries.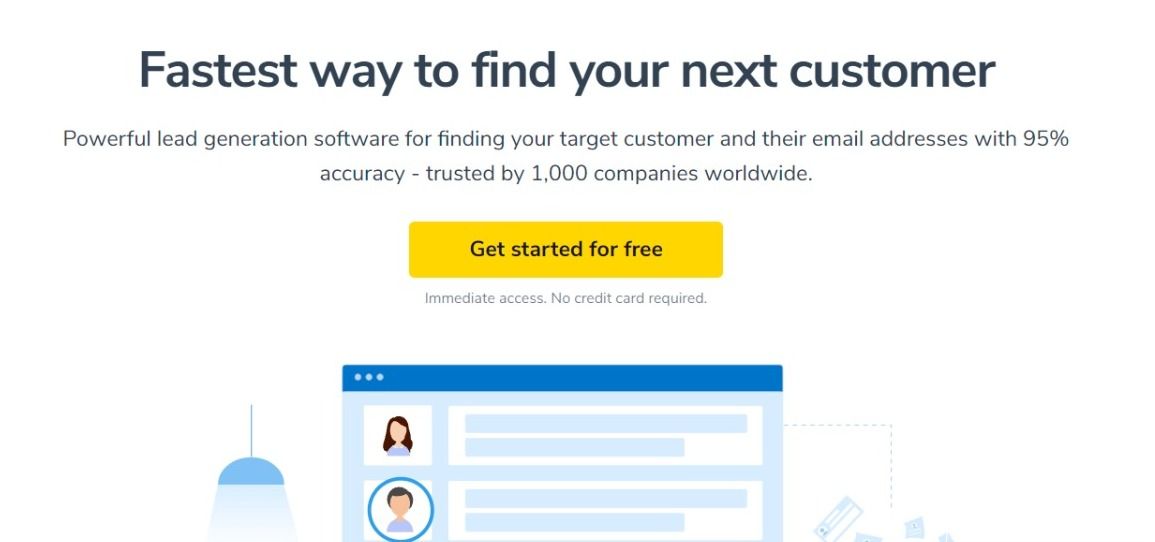 Pricing: The monthly cost of LeadMine starts at $49.00 per user.  If you want to learn more about the price, you can look at their many options here.
2. UpLead
UpLead is one of the Sales management software. While it has little to do with your sales management process in general, it does assist in getting leads into your pipeline, which is an important part of the sales process.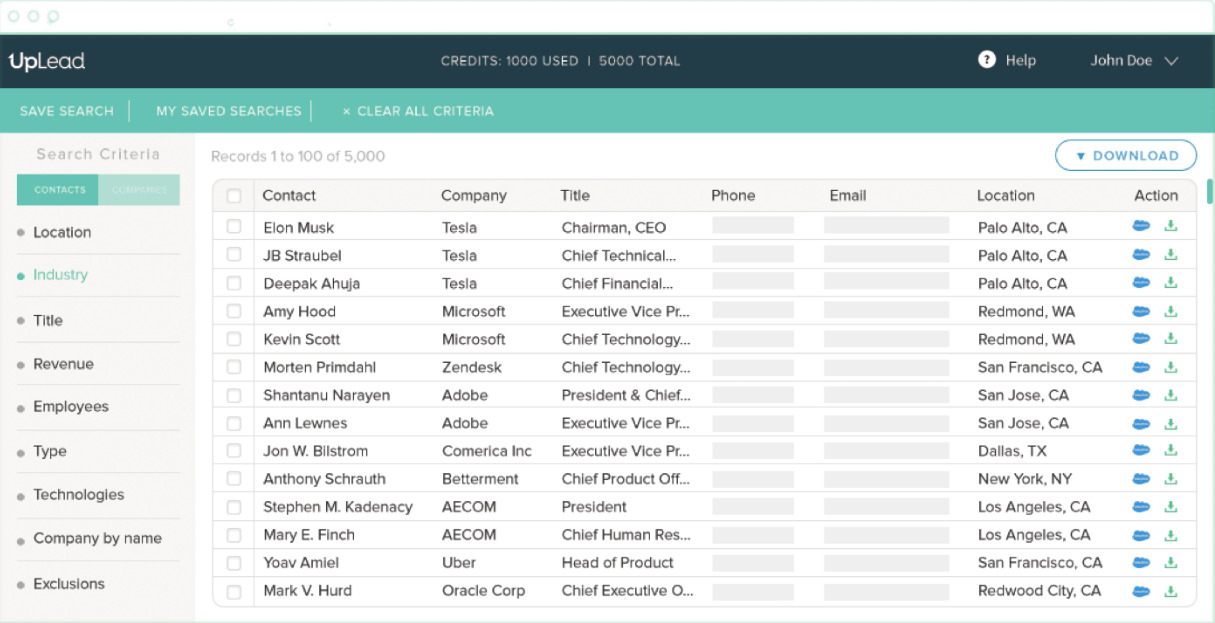 If you're in need of leads, consider UpLead's free trial before overhauling your entire sales management process.
Pricing: The Basic Plan is $99 per month. You can discover their various pricing options here if you want to understand more about their pricing.
3. HubSpot
Best for Small to large businesses.
HubSpot CRM software is a marketing, sales, and service all-in-one solution. It will enable real-time visibility into the sales pipeline. You'll receive comprehensive information on sales activity, productivity, and individual performance.
Sales leaders, salespeople, marketers, customer service teams, operations managers, and business owners can all benefit from it.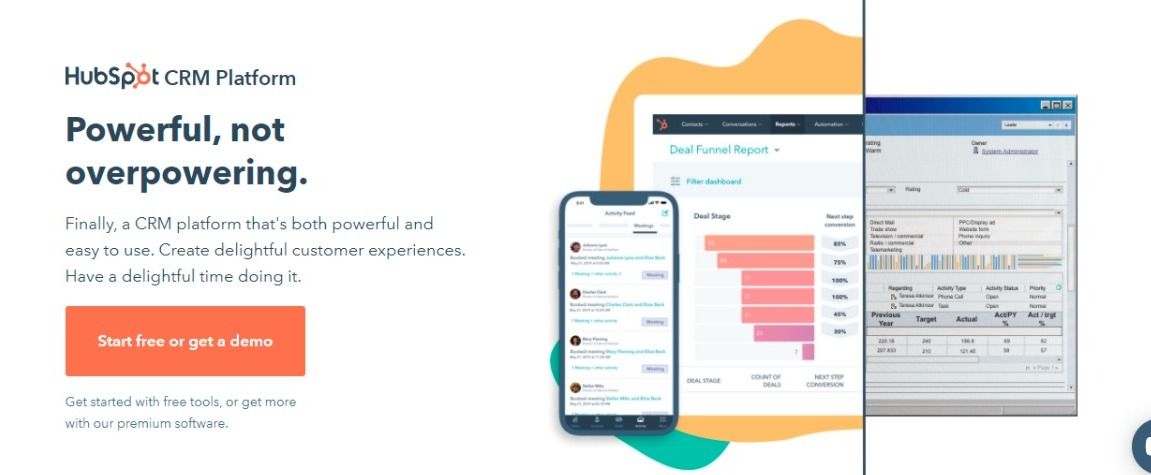 Pricing: It provides CRM software for free. Starter (starts at $50 per month), Professional (starts at $800 per month), and Enterprise (starts at $3200 per month) are the three price options available.
4. Bitrix24
Bitrix24 is a cloud-based, open-source sales management software. It includes free sales, marketing, and client management tools. It can be utilized for the entire sales cycle, from lead to close. Lead management, sales performance tracking, and pipeline management for numerous sales pipelines are among the features.
Quotes, Invoices, Email marketing, Telemarketing, Sales automation, Tasks, Projects, and Document management are all free features of Bitrix24.
It includes call centre features such as inbound and outbound calls, as well as call recording.
The mobile app is available for iOS and Android devices.

Pricing: Bitrix24 cloud-based solution is free for 12 users. For a cloud-based solution, it offers 3 special plans and it also offers three editions for an on-premise solution.
5. Pipedrive
Pipedrive allows you to manage leads and deals with features like sales pipelines, chatbots, and web forms. Sales Assist is an AI-powered sales mentor that will provide you with specific advice to help you improve your performance. You'll be able to import data from the spreadsheet.
Other CRM tools, such as Salesforce, HubSpot, and Zoho, can be used to import data.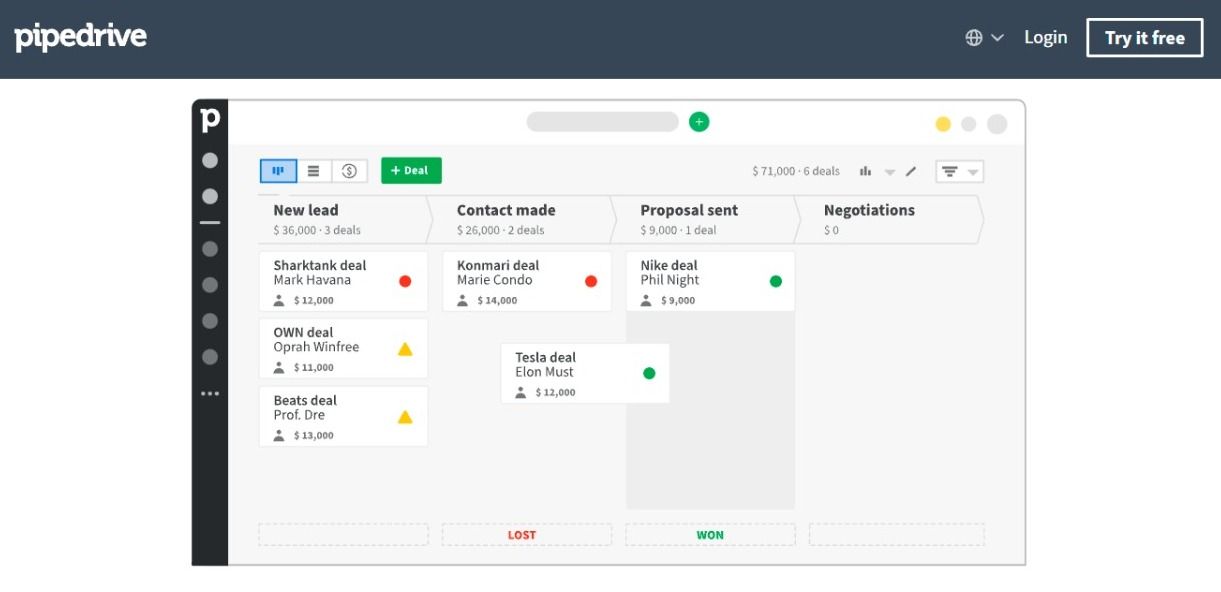 Pipedrive has capabilities for tracking communication such as call tracking, email tracking, contact map tracking, file attachment tracking, and customizable signatures.
A scheduler will assist you in scheduling meetings by providing features such as sharing availability and suggesting meeting times.
Pricing: You can bill both annually and monthly with it. There are four different price plans available. The platform can be tried for free.
6. FreeAgent CRM
FreeAgent CRM is a sales, marketing, support, and project management software. It contains board, list, and card capabilities that will assist you in organizing and prioritising your business flow. It's a fully configurable platform that can be simply connected with your existing apps.
You may set teams, roles, and access controls in FreeAgent CRM. Custom fields and stages, menu items, unique themes, preferences, and other elements allow for customization and personalization.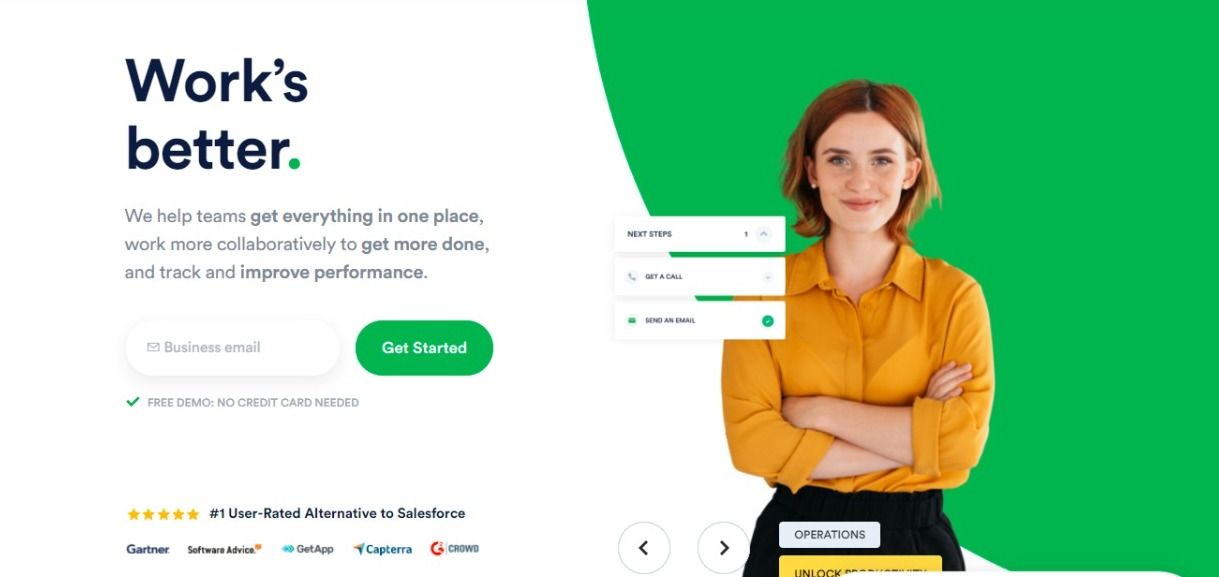 Pricing: FreeAgent CRM has three pricing plans for sales and marketing. All of these prices are for annual billing.
7. Zoho CRM
Zoho CRM is a marketing solution that lets you see leads across your pipeline.
With colorful graphs and reports, Zoho CRM is visually appealing, but it's rated below average on G2 Crowd. Nevertheless, they have excellent customer service and strive to keep their users happy by providing quick updates and friendly service.
While they might not stack up to the competition right now, watch this space. With their constant improvements, they may well turn out to be one of the best choices for CRM.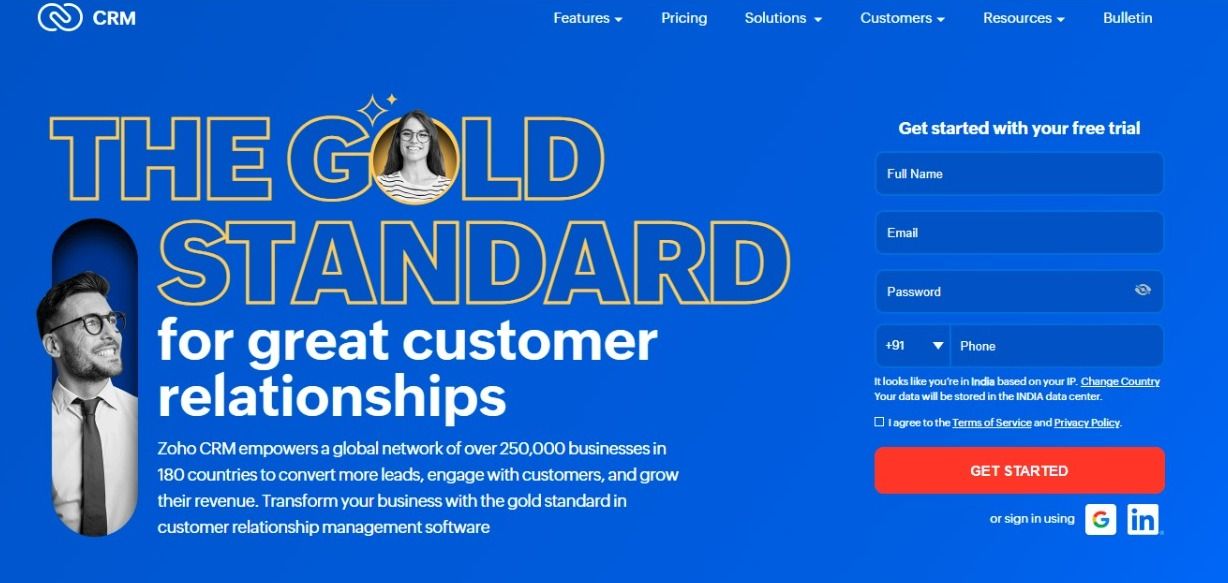 Pricing: A free trial of Zoho CRM is available for 15 days. Three pricing plans are available. All these prices are for annual billing. It also provides the unlimited edition for $100 per user per month.
8. SalesForce
SalesForce Sales Cloud is a CRM platform that includes features such as contact management, collaboration, and marketing. Through Reports, Dashboards, and Sales Forecasting, you will be able to make informed decisions. It offers features that allow you to create and track quotes and orders. You'll get real-time information.
You may use the mobile app to do things like log calls, respond to hot leads, and check dashboards, among other things.
Account management, contact management, lead management, and opportunity management are all elements of Sales Cloud.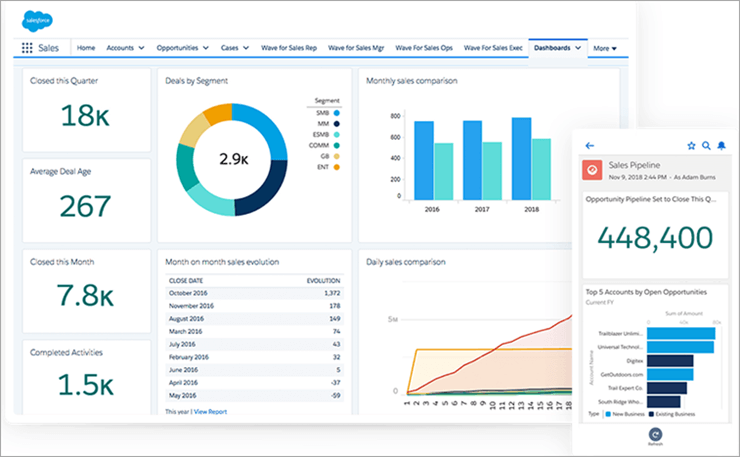 Pricing: Sales Cloud has four pricing plans. A free trial is available for the product.
9. Copper
This customer relationship management software will assist you at every stage of the sales process. It offers lead management, opportunity management, and forecast management features.
Forecast management is a feature of sales forecast reports that shows potential revenue by the predicted close date. It has a meeting scheduler and the ability to send bulk emails.
Copper has tools for task and workflow automation. It can keep track of the Deal stage, competition, lead source, pipeline quantity, and account history, among other things.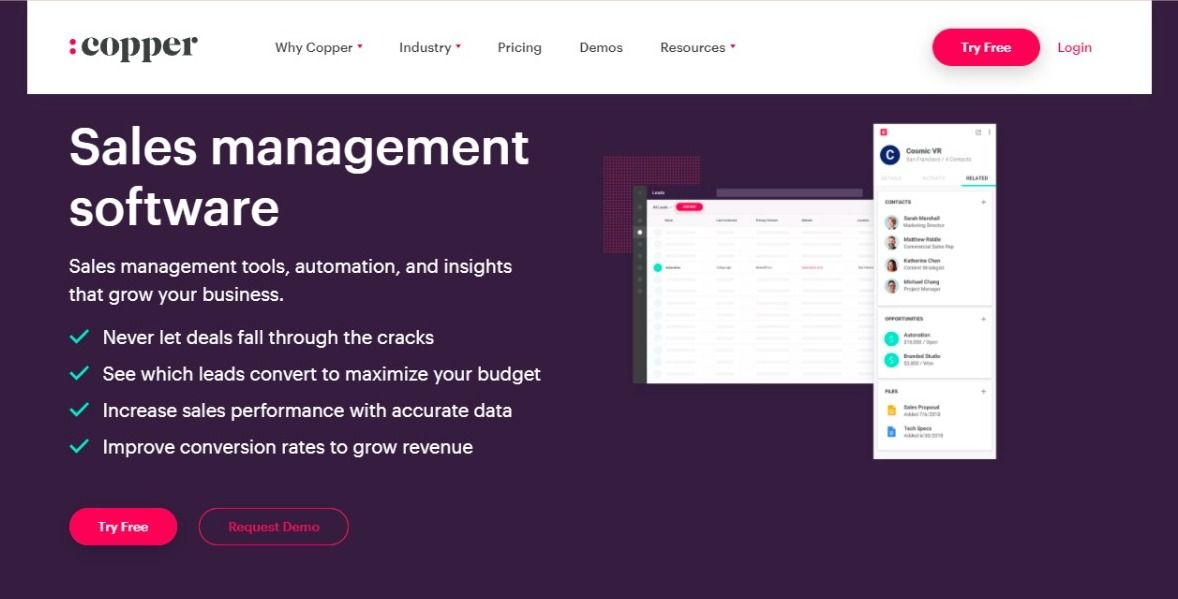 Pricing: Copper offers three pricing plans. It can be tried for free for 14 days.
10. EngageBay
EngageBay is a marketing, sales, customer service, and CRM platform in one. Contact management, appointment scheduling, and email monitoring are just a few of the tools available.
EngageBay allows you to track several deals. This software can be used to replace HubSpot for small and medium-sized organizations.
A Visual deal pipeline, Task management, Appointment scheduling, and more capabilities are offered for free CRM software for 15 users.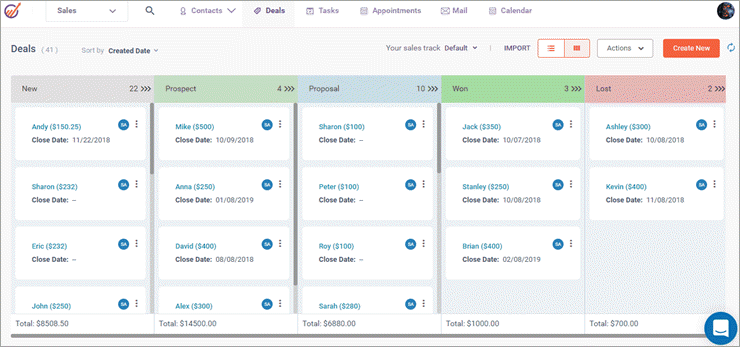 Pricing: There are four pricing plans for an all-in-one solution. A free plan is available for both individual solutions.
11. Keap
Keap is a marketing automation and CRM application. This platform will make it easy to track and follow up on leads.
Through its comprehensive sales pipeline features, you will be able to standardize operations. It contains features that allow you to keep track of daily duties and appointments.
The Smart Forms functionality will allow you to collect client information. Templates, Campaign builder, Segmenting lists, and Built-in lead scoring are among the marketing automation capabilities.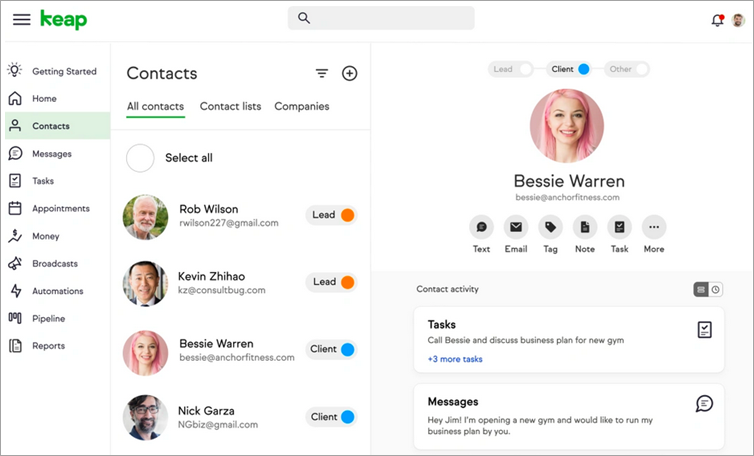 It can handle the full e-commerce workflow, starting with the e-commerce web page template and ending with the marketing message.
Pricing: A free trial is available for Keap Grow and Keap Pro.
12. amoCRM
amoCRM is another fresh entrant into the market. Their main goal is to make things as simple as possible.
However, because it is young, it has challenges with integration with other software that are common in marketing stacks, and there is still a lot of trial and error with cost vs limits. Finally, some customers have reported technical difficulties throughout the installation process.
AmoCRM, on the other hand, is extremely simple to use. It does not necessitate any technical skills and is largely self-explanatory.
It provides all of the features you'd expect from a CRM, as well as a free trial and a simple user-per-month price structure. While it isn't the finest alternative available, it is a growing tool that is well worth adding to your radar.
Pricing: There are Three pricing plans for an all-in-one solution. Also a free plan is available.
13. Ambition
Ambition is a sales management system for businesses that includes scorecards and KPI tracking, as well as gamification features, sales coaching sessions, and dashboard software (which provides automated sales alerts and insights).
Sales leaders can rely on data-driven sales coaching to provide the most accurate and actionable feedback to their salespeople. Ambition also integrates with your CRM and other sales tools, making it simple to keep track of and access all of your sales data.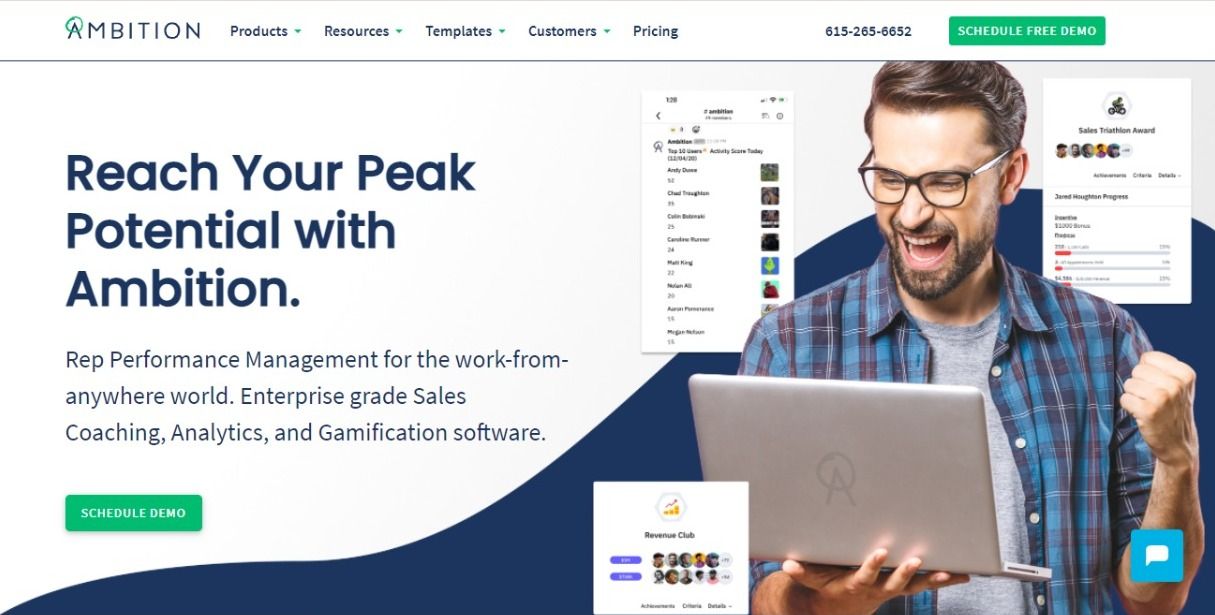 Pricing: Request a quote.
14. TeamGate
Teamgate gives the feeling from away that they genuinely care about their customers.
On their frontpage, you may choose your degree of CRM knowledge, and they only give you the information you need to make an informed selection.
On Capterra and SofwareAdvice, Teamgate has received outstanding reviews. It's simple to use, provides useful information, and comes highly recommended.
If you're looking for a CRM solution, a Teamgate demo is well worth your time.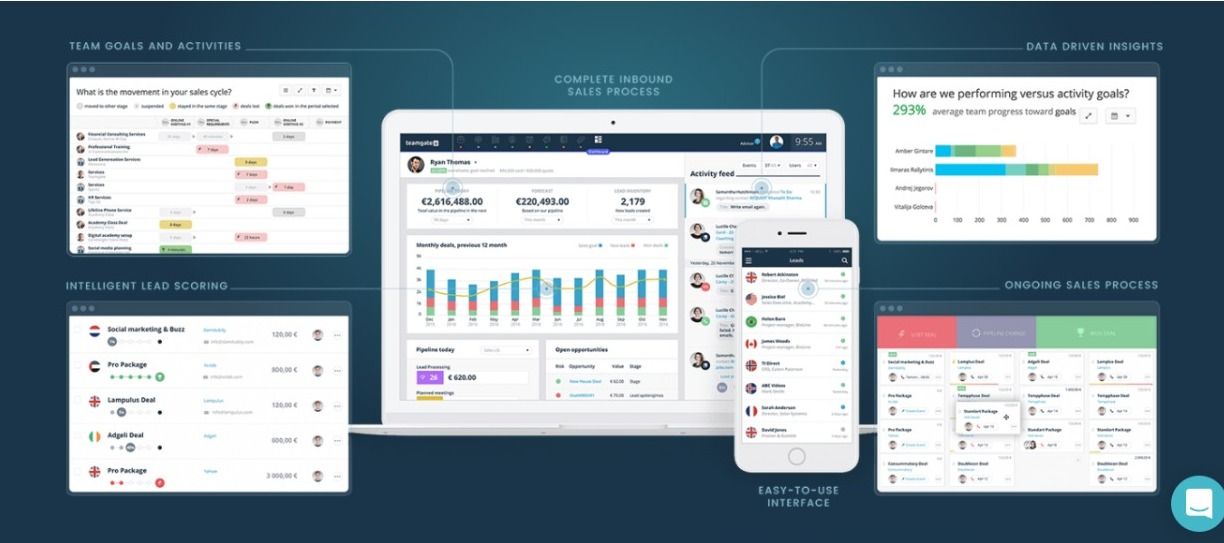 Pricing: There are Three pricing plans for an all-in-one solution. Also a free plan is available.
15. Insightly
Insightly is a versatile CRM that adapts to your business's demands.
On G2 Crowd, they have a high rating. However, some users have complained that the setup is cumbersome and that it lacks several key functionality.
Furthermore, some users have claimed that it is very basic, thus it may use some polishing to make it more appealing.
Despite this, some Insightly users have seen a 20% increase in their businesses, but it should be noted that their user-per-month charging scheme is slightly more expensive than its competitors.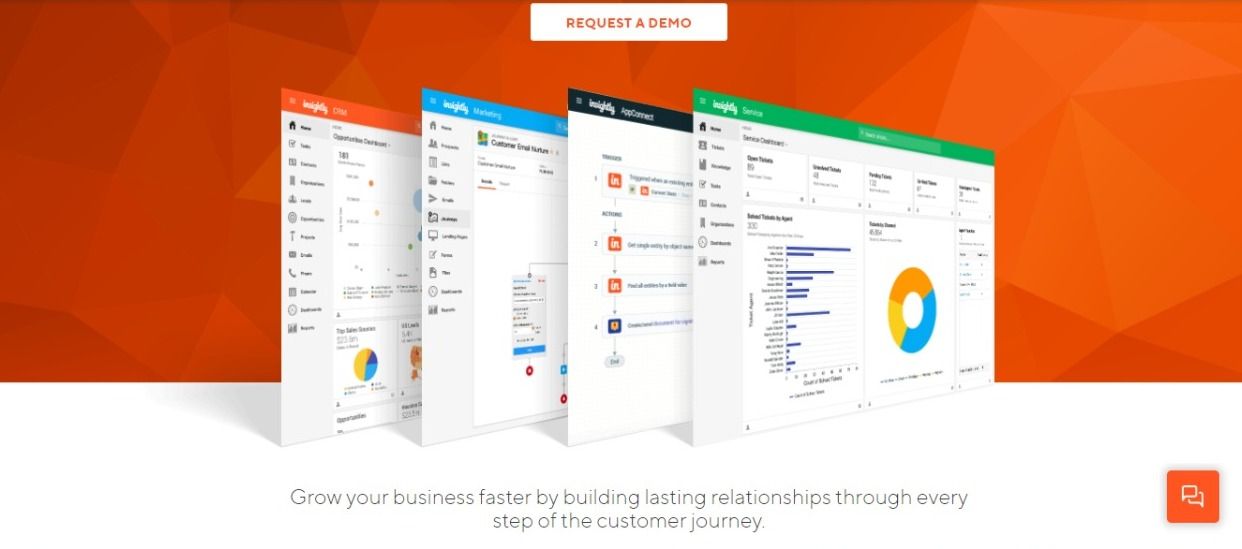 Pricing: There are Four kind of pricing plans. Also a free plan is available.
Conclusion
You'll be able to provide guidance for your sales force, enhance productivity, and find growth prospects with the correct sales management software.
One thing to bear in mind is that your company is constantly changing. Sales tools that are effective for you and your sales team now may not be effective in five years. So, in the end, you should simply make a decision and stick to it.
However, to get the most out of your decision, try a few different CRM choices that now meet your sales team's needs. The greatest sales management solution will provide you with the most value for the least amount of money.
---
LeadMine : Find your next customer in minutes, not months.
LeadMine is a lead generation platform used by all types of businesses. From over 200 million contacts, you may identify your target b2b leads as well as their email addresses.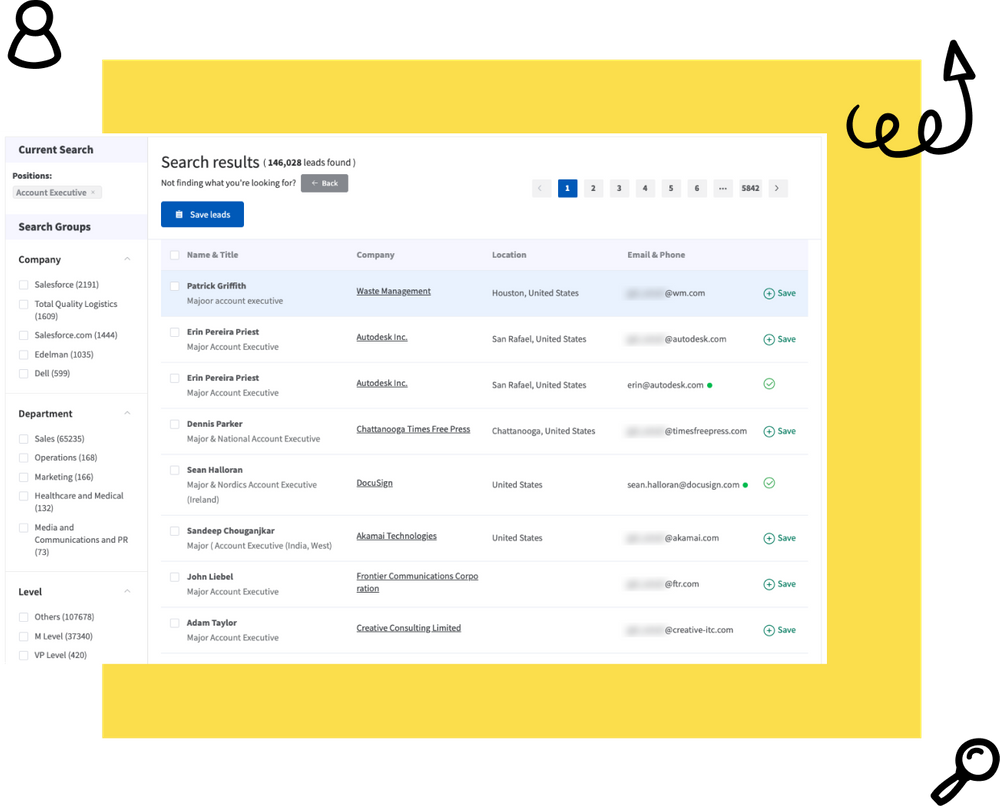 Start your Lead Generation for free today!
30 days free trial
No credit card
Cancel any time