If you are in the marketing field, working on sales, you may have probably heard the term "Buyer Persona". Everyone tossed out casually as they know what it is but that is simply not the case.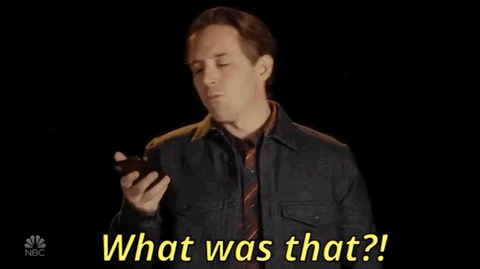 If you are hoping to find out what buyer persona really means, you have come to the perfect place.
Here I will cover the followings:
Let start with the definition.
What is Buyer Persona? 😵
A buyer persona is a research-based profile of the person who will perfectly fit into your prospecting list. This profile is created through market research and collecting online data related to your existing clients or buyers. The information has buyer demographics, behaviours, motivations, and goals.
Buyer persona describes who your ideal customers are, what they do on their days, the challenges they face, and how they get solutions.
It is important to note that a buyer persona is not necessarily to be the person who buys your product for themselves, it is also the person who makes the ultimate decision to buy the product. For example, a buyer persona can be a parent who buys toys for their kids and the purchasing department in a company.
Buyer personas are sometimes called customer or marketing personas, whichever term you use the meaning and purpose are the same. It helps businesses understand and engage with their customers so they can do a better job of providing valuable products and serve them.
Why Buyer Persona is Important? 😕
Buyer personas help to ensure that all activities involved in identifying and engaging with your customers are tailored to the targeted buyer's needs.
If you really pay attention to the companies presenting themselves, you will begin to notice that many of them start talking about what they do. That's a mistake!!!
You should start representing what the customer needs. 🤝
When choosing a product or service, people naturally went to the businesses they know and trust. And to build trust, you need to show how genuine understanding and concern for your customers. Gaining trust in a business requires a subtle, but most importantly, shift in the way how you present yourself.
First, show your potential customers that you understand and address their issues or need. Then, automatically they are open to exploring what you have to offer.
Creating buyer personas and continue using them to guide your business can help you to keep updated on the needs of your prospects.
How are Buyer Personas used? 🧐
One of the immediate benefits of a buyer persona is that it helps businesses to gain customer insights and cross-department alignment. It makes sure that sales, marketing, product development, and customer support have the same view of your potential customer.
You can use your personas to guide the direction of your work such as:
Product development can use buyer personas when building product roadmaps to offer products based on what your customers need the most.
Marketing can use buyer personas to build effective strategies in the identification and prioritization of promotional activities.
It helps your sales team to build a valuable list of potential customers
The customer support team can use buyer personas to serve customers better to have a long-term relationship
How to Create Buyer Persona? ☑️
Creating a buyer persona can be a long process due to the need to collect and emerge different types of data. However, buyer personas are different from normal customers, you should decide if the end-user and buyer are the same people for your product.
There is a main four-step procedure to create your buyer persona. You should know creating a buyer persona will take days, maybe weeks, or months to finish depending on your research and resource.
Step 1: Collect Data 🕵️
The first thing you should do is to put a list of data that you have collected from previous and potential customers. The list includes specific information from your sales and marketing system, email list, social media, etc. It is difficult to identify the customer information that you are looking for that comes from the buyer or end-user.
So create two lists of your collected data to make the process easier. Gather buyer persona details in one list and end-user persona details in another list.
Now you have a pool of buyers that you can start gathering information from. At this point, it is good to conduct user research with the list of people. User research will allow you to ask related questions about purchasing behaviour that can highlight important information to pass to the marketing team or product development team.
Step 2: Identify Needs 🧐
Once you have gathered all the facts about your buyers, you can start conducting tests to know their needs from the information. At this point, you should have a sample requirement that is big enough to pull valuable details from prospects.
For example, if you can only find data related to 20 buyers in your process, that's not enough data. It is like you have to do a more extensive research with people who fit your ideal buyer representation and market research to a valuable list.
Building a persona from this information could have a great effect on your business.
Step 3: Create Buyer Personas 💽
The next step is the important one, you need to develop the actual persona that you can start pulling off. Creating out a buyer persona is the same as a user persona, the only variation is that with a different type of person in mind sometimes.
Common elements to both personas include:
Name
Photo
Demographics
Brief Description
Frustrations
Goals and Motivations
Online and Offline Behaviour
For example,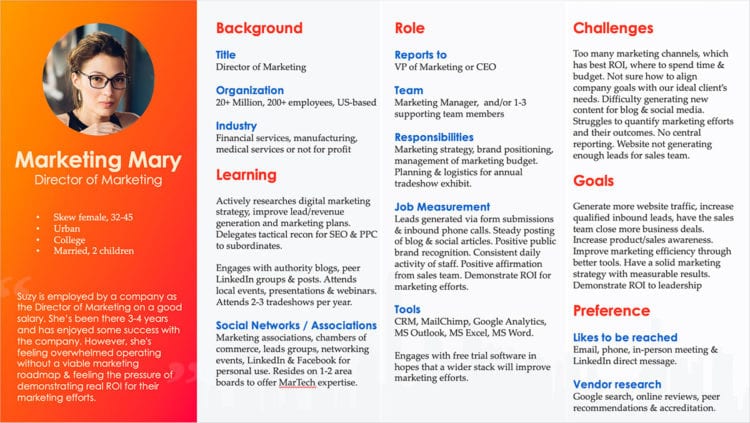 Step 4: Distribute 👩‍💻
Distribute the buyer persona to your sales and marketing teams to ensure that the prospecting list has this new information. Salespeople can now have valuable conversions as they understand their point of contact in a business better.
Create Your Own
Buyer personas are research-based profiles that represent your targeting leads and can help you adapt key aspects of your sales and marketing teams for greater success. Identifying the types of people who benefit from your products or services and the challenges they are facing which you helped them to solve. Those things will improve your efforts to attract and retain customers.
---
LeadMine

: Find Your Next Customer without Wasting Time
LeadMine is a lead generation platform used by all types of businesses. From over 200 million contacts, you may identify your target b2b leads as well as their email addresses.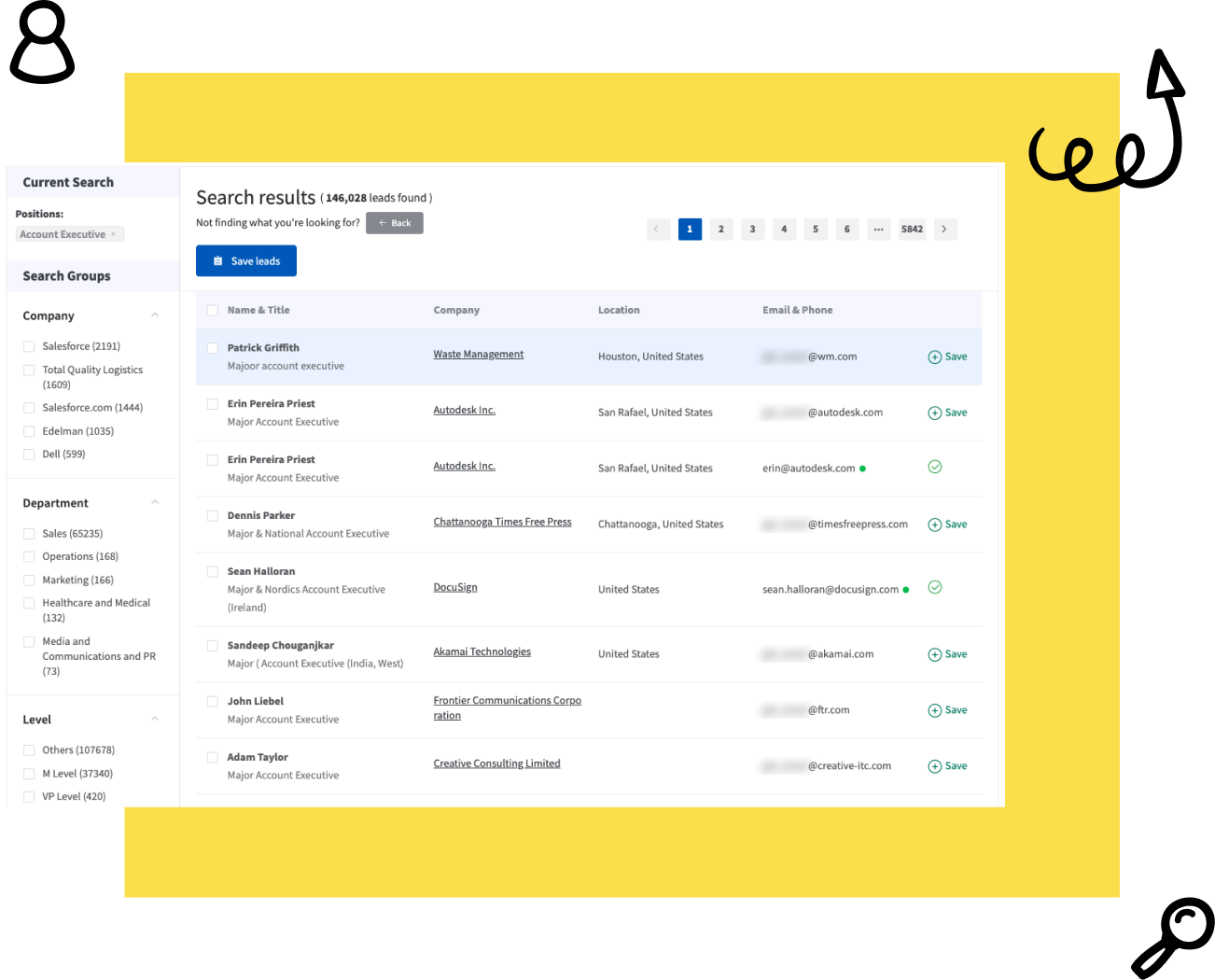 LeadMine is an extremely simple and handy application that can improve your marketing and sales processes. Its user-friendly interface, strong algorithms, real-time data, and email verification features save time that can be better spent on other tasks. The rich API solution can also check hundreds of email addresses in less than a minute. The powerful yet easy solution might be your ideal marketing and sales partner, helping your business grow.