Since a better onboarding experience may double trial conversion rates and reduce customer churn, you'll want to go all out to make a good first impression. Onboarding establishes the tone for your company's interaction with buyers and users, as well as ensures strong product acceptance, which is the foundation for a successful customer journey. As a result, building an excellent onboarding process is critical for SaaS companies.
Here, how it's done:
What is Onboarding?
Onboarding is the process of familiarising new clients or users with your product in order to lower churn rate, increase engagement, build long-term customer relationships, and increase LTV. You may use it to teach customers how to get the most out of your product, boost customer loyalty, and increase the likelihood of gaining brand fans. Of course, what it comprises in detail varies depending on the qualities and features of your product.
Onboarding isn't only about educating new users on how to use your product; it's also about creating a positive experience for them. Your customer's goals should be at the centre of your customer onboarding plan.
Onboarding's ultimate goal is to get customers to return to your product. It's all about integrating your solution into their daily routine in B2B. You don't want them to try your product for the first time and then abandon it.
However, regardless of the nature of your SaaS business, there are some essential issues to examine as well as some nuances to consider.
Why Onboarding is Important?
Onboarding is important for any organization since it familiarises customers with your brand. It establishes guidelines for your continuous engagement with your customers. The onboarding experience of your customers has a direct impact on your attrition rate. If done correctly, you can improve your retention rate and overall customer lifetime value (CLV).
According to research, most businesses lose up to 75% of their new users within the first week. Furthermore, up to 40% to 60% of your free trial signups will never make a purchase.
Retaining your current clients is the most cost-effective way to improve your revenue.
Here are a few of the most important advantages of having a well-designed customer onboarding process:
Keep Your Customers Engaged
Helping customers understand and experience the value of your product will ensure that they not only start using it successfully but will also give them a reason to log back in and use it again and again.
Increase the Number of Trial Conversions
Onboarding is when your trial users get to see the value of your product if you offer a free or reduced product trial. You'll have a better chance of converting them into paying customers if you can offer actual value during the onboarding process, right at the start of their trial.
Improvement in Customer Lifetime Value
Customers who are happy with the product, understand how to use it, and do not feel abandoned by the company once the sale is complete are far more likely to stay and purchase again, boosting the average CLV.
High Revenue
Clients that go through the onboarding process are less likely to churn and are more likely to stay as loyal customers for years, resulting in constant revenue.
More Customers
Word-of-mouth is more effective than most well-planned efforts. Your solution will turn many clients into passionate brand fans with high-quality onboarding, making it more likely to be recommendedV
Good customer onboarding ensures that your customers obtain value from your product right away and continue to do so for as long as they use it.
Who Should be in the Onboarding Process?
Onboarding for SaaS companies is far too important to be left to a single team or department. It should be a company-wide initiative with active engagement from at least the three stakeholders listed below.
Customer Success
Customer success managers (CSMs) are usually in charge of onboarding new customers. When onboarding is more complex, the initial onboarding process may be handled by a separate group called Implementation or Onboarding Specialists, who take the handoff from sales and then pass it on to day-to-day CSMs once implementation is complete.
Their tasks include proactively assisting customers with the installation and configuration of the product for their business, anticipating queries and needs using high-tech and high-touch contact points, and reducing users' time-to-value.
Product Development and Management
Your product team knows everything there is to know about your application and the features it offers. In fact, product management teams are familiar with each feature's full capabilities and how they can be applied to specific customer use cases, they may be involved in the onboarding process to collect feedback and iterate the overall functionality of their product to make it more intuitive, useful, and user-friendly.
Customer Support
Customer Support representatives are the first line of defence in your onboarding process. They can assist you in addressing any weak links in your customer success efforts, as well as product feature gaps, and resolving issues as quickly as possible. Their participation in the customer onboarding process should ideally include providing feedback to your product and customer success teams in order to anticipate problems and respond to frequently asked questions.
Onboarding Process
The important steps new users must take in order to achieve their goals through your product are outlined in your onboarding process. It necessitates careful preparation, meticulous attention to detail, and a complete grasp of the customer's desired objectives. It should also be thoroughly documented and accessible to anybody participating in the onboarding process, including both customers and internal stakeholders.
#1 Initial Contact
These are the first encounters that your customer success team will have with new users. The majority of these are automated or digital engagement points. At this point, it's critical that users feel welcomed and understand what your product can accomplish for them and how it operates.
For you, this is an opportunity to solidify and expand on the information you've likely received from your sales team about their wants, issues, and how they expect your solution to address those challenges.
#2 Kick-off
This step entails giving users everything they need to get started, including login credentials and related documentation, as well as starting a discussion about how your product will affect their requirements and ambitions. It will also be good to describe how you define "successfully onboarding" for the customer so that they know what to expect. Everyone should be on the same page at the end of this step, with shared expectations and agreed-upon success measures, as well as the role of the product in achieving them.
#3 Training
Customers sign in and begin interacting with your features at this point. With the help of your customer success team, they'll determine whether the functionality you provide is useful and compatible with their business procedures. At this stage, your goal is to reduce their time-to-value and achieve quick wins by implementing features that have a relevant, measurable impact on the success criteria you set earlier.
#4 Adoption
Adoption begins when users recognize the value of your product and how it will help them achieve their goals, and they begin to integrate it into their business operations. Expectations are high, so your customer success team must be more proactive than ever, creating focused interaction points to explain sophisticated features and providing premium assistance so consumers can take full advantage of your product's capabilities.
This is also an important moment for feedback, as it allows your customers to feel heard by your team while also allowing your product team to enhance the application based on client demands and needs.
#5 Retention
Your SaaS application will undoubtedly evolve as you gather user feedback, identify areas for improvement, iterate and launch new features to address increasing needs, and provide customers with compelling reasons to renew their subscription month after month. As a result, onboarding should be considered a continuous activity by your customer success team in order to keep users engaged with your product over time and thus increase customer retention.
Conclusion
Customer onboarding is an essential component of establishing a SaaS business. Customers who don't understand how to utilize your product or who are confused are more likely to cancel their account out of frustration. Put time and effort into enhancing your customer onboarding process if you want to enhance customer LTV and reduce churn. It's well worth the effort.
---
LeadMine

: Find Your Next Customer without Wasting Time
LeadMine is a lead generation platform used by all types of businesses. From over 200 million contacts, you may identify your target b2b leads as well as their email addresses.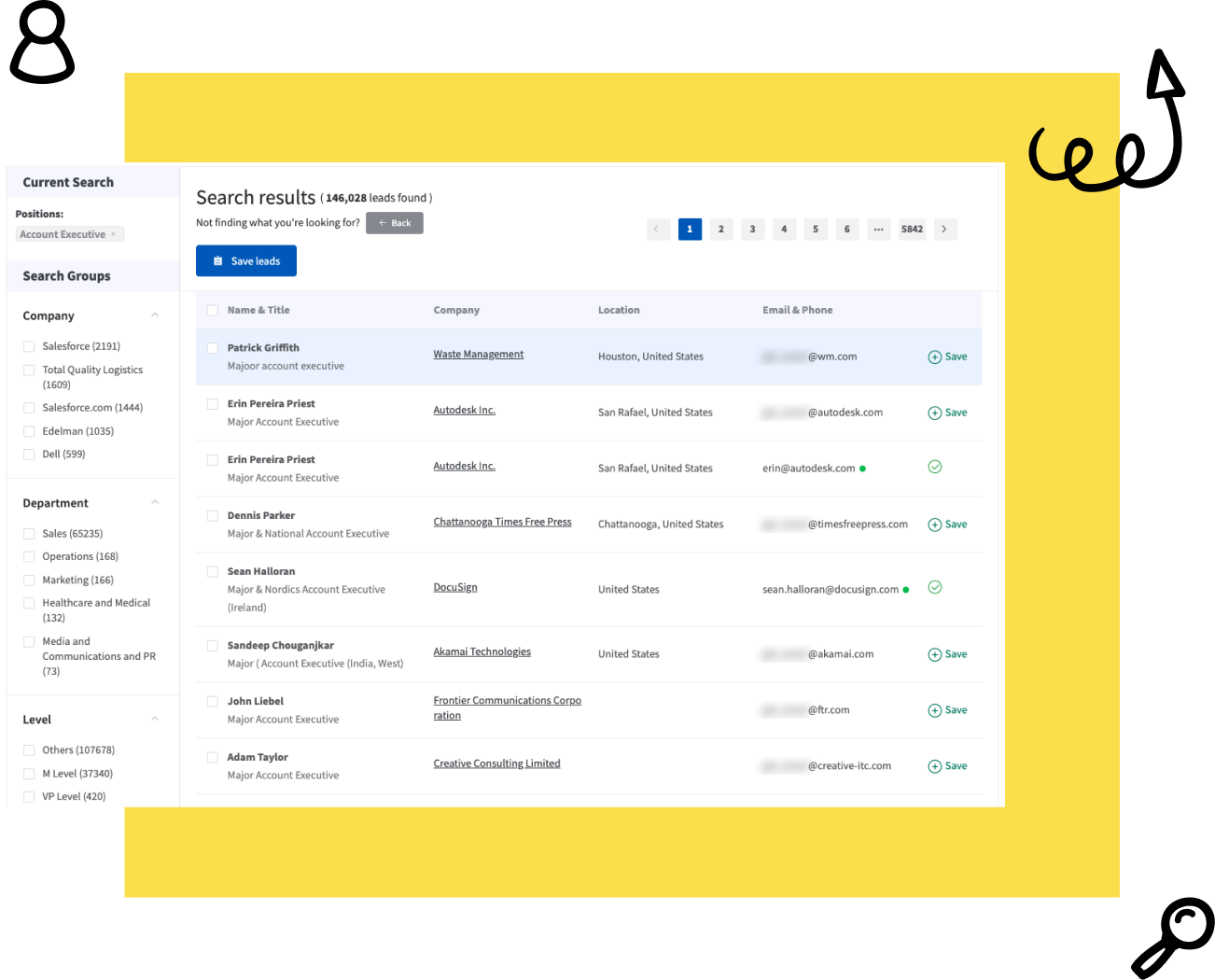 LeadMine is an extremely simple and handy application that can improve your marketing and sales processes. Its user-friendly interface, strong algorithms, real-time data, and email verification features save time that can be better spent on other tasks. The rich API solution can also check hundreds of email addresses in less than a minute. The powerful yet easy solution might be your ideal marketing and sales partner, helping your business grow.