Many people will tell you that outbound sales are hopeless, that inbound is the only way to go, and that anyone who does outbound is wasting their time. Well, that's not true.
We will cover the following:
What is Outbound Sale?
The process of sales reps reaching out to prospects and delivering sales pitches is known as outbound sales. The classic example is cold calling, but current outbound sales teams now employ email and other forms of communication. The distinct aspect is that leads are contacted by reps rather than coming to you.
To connect with leads, today's outbound sales teams employ a variety of strategies. Outbound sales, whether by email, social media, or cold calling, provide companies with a number of advantages, including targeted lead generation, quick feedback, and the potential to drive growth by taking control of the situation.
Outbound sales are often seen as a negative term, with executives being flooded with emails from sales software and believing that all outbound sales approaches are SPAM rather than vital for growth. Many businesses are failing to generate new business as a result of this misunderstanding, and have no strategy for generating new leads.
An outbound sales team's main goal is to generate revenue and fast expand up the business. The team is frequently divided into two groups, each with its own set of responsibilities. They are as follows:
Sales Development Representatives (SDRs)
SDRs are responsible for outbound sales, which is also known as B2B prospecting. They are in charge of generating opportunities and scheduling meetings. Cold calling, outbound email, qualifying leads, and scheduling demos are some of their main responsibilities.
Business Development Managers (BDMs)
BDMs are in charge of concluding deals and bringing in revenue for the company. Demonstrating products, negotiating deals, preparing contracts, and finalizing deals are some of their main responsibilities.
Five stages of Outbound Sales
Outbound sale is still useful in many instances. There are five steps to the outbound sales process:
#1 Identify Prospective Customers
Define your target market and market segmentation, then train your employees on how to communicate with them.
#2 Generate Leads
You must now collect their contact information, either through an in-house lead generation team, the purchase of a database, or the outsourcing of sales lead production to a third party.
#3 Make Contact and Qualify Leads
The outbound sales team will now contact the people on the list via email or phone to see if they are a good fit for your product or service. They proceed to the next phase if they are; if they are not, they are removed from the list.
#4 Show Off Your Clever Idea
The sales team arranges a meeting or a demo with the leads to demonstrate to them all of the benefits of your product or service.
#5 Closing the Deal
It's time to sign the contract if the sales calls and meetings went well. Your sales team has made a sale, and the deal is closed. Of course, there's still a lot to do, but your sales team's part in the process is over.
Cold calling is sometimes confused with outbound sales, but whereas cold calling is an attempt to collect leads through random contacts, outbound sales is the outcome of data-driven research.
How to Create an Effective Outbound Sales System?
You might believe that establishing an outbound sales system entails employing a few salespeople and providing them with a list of prospects to call. However, if you want to be successful with outbound, you'll need to do a lot more. You must assemble an excellent team and devise a deal-closing strategy.
Here are five steps to help you create a successful outbound sales process.
Step 1: Build the Perfect Sales Team
When you're the only person in the organization, you can surely start outbound selling. However, if you're trying to establish a long-term outbound process, having a team on board will be quite beneficial.
There are many different viewpoints on who you should recruit. Some employers seek candidates with relevant industry experience. Others require salesmen to pass in-person tests.
Identify people with the potential to be excellent outbound salespeople and develop their abilities and attitudes. They'll assist you in developing and improving your method.
Hiring more than one outbound salesperson is also a good option. In the long term, a sense of rivalry, a backup for when someone is unable to call, and more freedom for experimentation pay off.
Step 2: Create Ideal Buyer Personas
You've figured out who your target audience is. But now is the moment to narrow your focus. You must be aware of their job titles. Where they read articles on the internet? The specific issues they're attempting to resolve. What does it take to keep them up at night?
In a buyer persona, all of this information is presented in a concise manner. And your salespeople will benefit from that persona. Some of the information that should be included in a buyer persona may already be known to you.
However, it is equally important to ensure that you have as much information as possible. Make touch with people you know, present customers, and even strangers. Remember that you may have several buyer personas. It all depends on how many things you sell and which demographics they appeal to.
Step 3: Nail Down Your Value Proposition
What makes your ideal customer want to buy from you?
Your value proposition is the answer to that question, and it's what's going to bring you sales. Make certain that every salesman can say it without hesitation and on-demand.
Of course, as time passes, your value proposition may evolve. Some customers may utilize your product in unexpected ways, or you may need to reinvent your brand in response to new competitors.
However, diving into outbound selling without a compelling cause for customers to buy from you can backfire. Your salespeople's work will be easier if you make your value offer compelling.
Step 4: Begin Generating Leads Today
Your salespeople now have a better understanding of who they're selling to and what value proposition will appeal to them. It's now time to start building a list of people to market to.
There are several outbound lead generation options such as print ads, outdoor ads, direct mail, and other classic marketing methods that are still effective. Paid lead databases can be really beneficial, but you must be cautious about relying on the information they provide.
The optimal strategy for your business is determined by its industry, sales procedure, and stage of development. Most businesses will employ a mix of strategies, but it's worth spending the time to figure out which ones work best for you because you'll never run out of leads.
Step 5: Plan Your Outreach and Start Selling
You might be wondering if you'll ever start selling at this point. Don't panic; once you've completed this step, your salespeople can begin dialing. But they'll need an outreach strategy to do so.
You can build on your previous sales experience if you've been selling your product or service. If you haven't already, start with what you believe will appeal to your target audience and work your way up from there.
This plan will evolve as you learn what works and what doesn't, but you should have a rough idea of how your salespeople should do their duties before releasing them. You're ready to start selling once you've devised a strategy.
B2B vs B2C Outbound Sales
Reps sell to members of prospective companies in business-to-business (B2B) sales. Sales cycles in B2B sales are sometimes lengthier, and sealing a contract frequently requires numerous touches. B2B outbound sales reps must follow up with prospects on a regular basis.
B2B salespeople will typically call leads that they or another salesperson has previously contacted. That is why it is critical for B2B salespeople to document activity in CRM platforms so that every member of a sales team is aware of the status of a lead in real-time.
Business-to-consumer (B2C) inside sales reps typically sell lower-ticket items, and their sales are frequently international. B2B prospecting is more strategic and less emotional, B2C sales reps often have to dial a higher volume of leads each day than B2B sales reps. Companies that offer insurance policies, stocks, or timeshares are examples of B2C businesses.
Conclusion
A successful outbound sales plan necessitates a significant amount of effort upfront. To enable outbound selling, you'll need a solid plan, a lot of information on your prospects, and the necessary tools. It appears to have taken a lot of time and work. But when you combine all of those factors, you'll be on your way to having a really successful sales campaign.
---
LeadMine

: Find Your Next Customer without Wasting Time
LeadMine is a lead generation platform used by all types of businesses. From over 200 million contacts, you may identify your target b2b leads as well as their email addresses.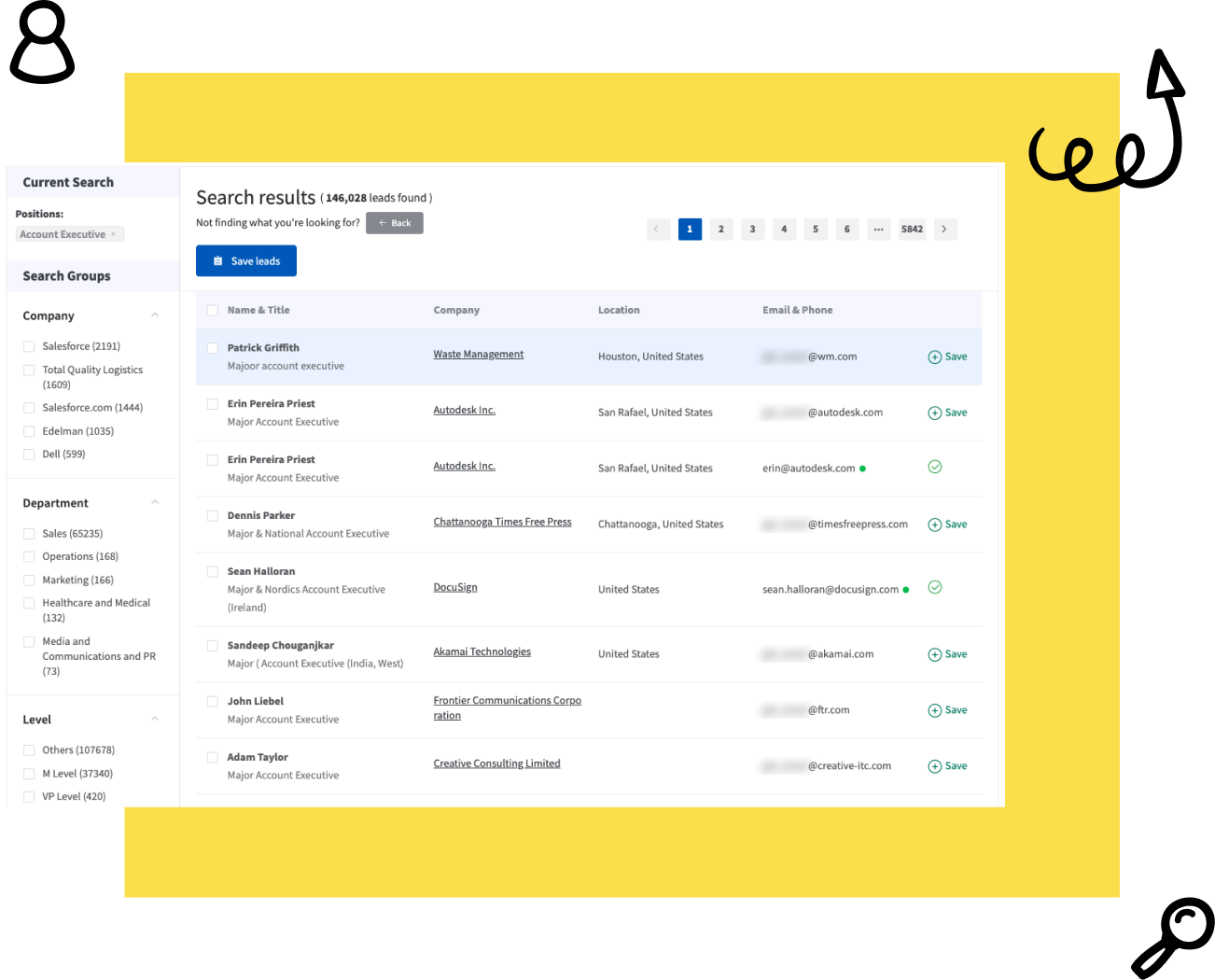 LeadMine is an extremely simple and handy application that can improve your marketing and sales processes. Its user-friendly interface, strong algorithms, real-time data, and email verification features save time that can be better spent on other tasks. The rich API solution can also check hundreds of email addresses in less than a minute. The powerful yet easy solution might be your ideal marketing and sales partner, helping your business grow.