Table of Content
ZoomInfo is a renowned contact management software that is regarded as one of the best in terms of contact database comprehensiveness.
It is not, however, the only good platform accessible, and there are plenty more possibilities to explore. Some are good for discovering contacts, while others include numerous add-on features. You can pick the one that best fits your company's needs.
But, before we look at ZoomInfo alternatives, take a look at our ZoomInfo review, which includes its features, benefits, and drawbacks.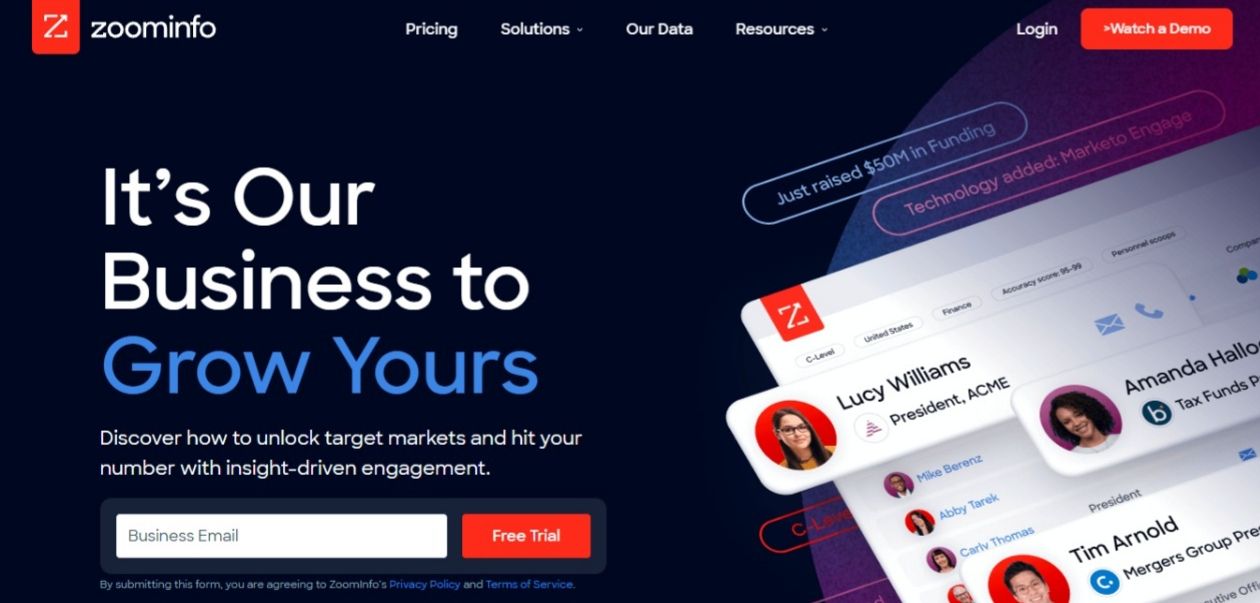 ZoomInfo Reviews
What makes ZoomInfo one of the most effective contact management platforms?
Continue reading to discover out...
ZoomInfo is a sales intelligence product with a large contact database that can improve the performance of your sales and business development teams. It gives you correct contact and company information to help you with your business development and sales efforts.
You may connect with important decision-makers in any organization or industry using ZoomInfo's Growth Acceleration Platform.
You may acquire direct dial phone numbers, email addresses, and other background information for your prospects on demand. You can also use it to create tailored contact lists for better sales prospecting and conversions.
Still have doubts regarding its utility?
Let's have a look at some of its other characteristics:
Contact search that is quite powerful.

Possibility of creating specific contact lists.

A cloud-based platform that may be used by any sort of company.

It is compatible with a wide range of laptops, desktops, and mobile devices.

It also comes with a Chrome plugin that is really useful.
Benefits:
1.  More names and numbers and email addresses than any other provider.
       2.  An easy-to-use interface with powerful features
       3.  A comprehensive contact database compiled by gathering information from various sources.
Drawback:
       1. The contact database is not updated on a regular basis, so you may come across information that is out of date.
What are the Best ZoomInfo Replacements?
Do you want to know if there are any other tools that can provide similar or better features?
There are, indeed...
These are some of the best ZoomInfo alternatives to consider.
1. Lead411
Lead411 is a robust sales intelligence platform that can be used as a replacement for ZoomInfo. It includes a database that can assist recruiters, sales teams, marketing managers, and business owners in improving their performance.
Every day, Lead411 sends you thousands of mobile/office direct dials and verified email addresses. The information they provide is really accurate and dependable.
You can target customers just when they want to buy utilizing sophisticated sales triggers, competition data, buying signals, and decision-maker role changes, in addition to accurate direct dials.
With a demo today, you can also earn 50 free leads.

Price: Their most basic package costs $75 per month. You may learn more about their other plans by clicking here.
2. Leadfeeder
Leadfeeder is a lead generation and sales prospecting tool that can assist you in locating leads in your niche and building contact lists. This differs from ZoomInfo in that it is not a contact database in and of itself, but can assist you in locating relevant leads. (This is why it is still listed as a ZoomInfo substitute.)
It works by integrating with Google Analytics and analyzing users who visit your website. Prospects can be identified even if they do not fill out any forms and simply visit your website.
Aside from that, it can locate contact information for any company's employees. It can also track user behavior to assist you in nurturing those leads in the most effective way.

Price: The Tentative version is free, and the Premium plan costs $53 per month.
3. Lusha
Lusha is yet another useful ZoomInfo alternative for locating and organizing contact information. It gives you all pertinent information about a contact or company to assist you in making better business decisions.
What's more, you might be wondering?
It includes a plugin that scans prospects' social profiles when you visit them and collects all relevant information from them. It is a relatively simple tool that businesses of all sizes and types can use.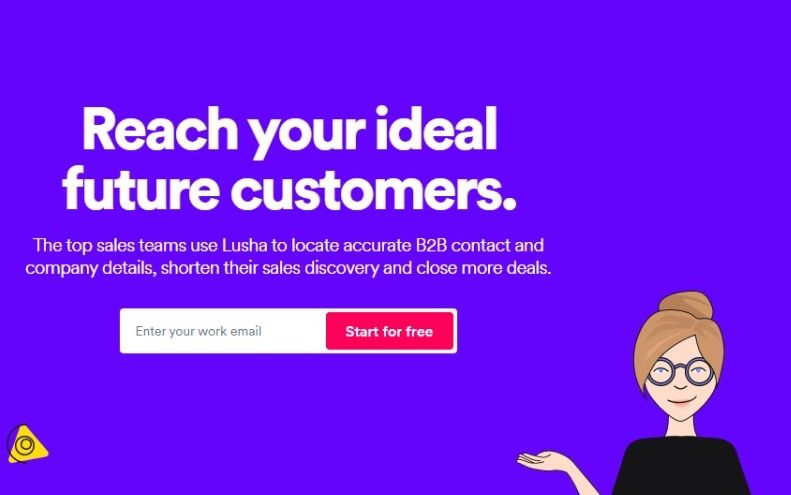 Price: One user can take advantage of a free trial plan. Paid plans for two users per month begin at $75.
4. LeadMine
LeadMine is another handy ZoomInfo substitute for getting contact information is this one. This is a lead generation and sales prospecting application that may help you find prospects and create contact lists in your sector.  
It is a strong and easy-to-use lead generation tool used by 1000s of businesses around the world. It provides the following services: You can search for B2B leads by title, company, location, and industry in the Lead Finder.
Search for someone's email address by entering their entire name and domain. Verify the deliverability of any email using the Email Verifier. Get leads directly from your LinkedIn profile and Google search results with this Chrome plugin.
B2B Leads are desired by sales teams from all industries.
Price : The monthly cost of LeadMine starts at $49.00 per user.  If you want to learn more about the price, you can look at their many options here.
5. Slintel
Slintel is a sales and marketing data intelligence platform.
Sales and marketing teams can use it to have access to a wealth of useful information on firms and prospects. In addition, Slintel assists them in streamlining lead generation and research procedures, increasing conversions and maximizing marketing ROI.
Machine learning and predictive intelligence are used to power this platform, which allows users to acquire deep insights from technographic and firmographic data. It's feasible to look for different rival technologies and learn about their purchasing habits, as well as their technology usage and spending habits.
Slintel also gives additional corporate and lead intelligence, such as email or direct dial information, social activity, financial data, products and services, and key decision-makers.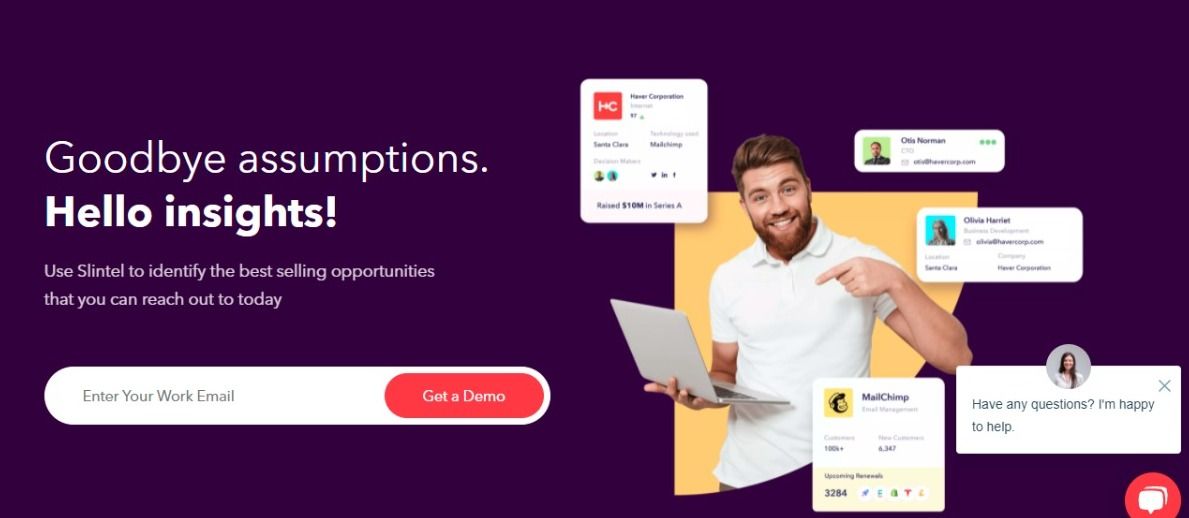 Price:  It's based on a quotation, which is a set price that can't be adjusted once the customer accepts it.
6. DiscoverOrg
DiscoverOrg  is another  ZoomInfo alternative for gathering contact information and market trends. Your sales staff will benefit from the platform's powerful data collection, analytics, and visualization tools.
It, too, features a comprehensive contact database with up-to-date information on contacts and their details, similar to ZoomInfo. It also gives regular updates on any leadership changes or important news that may be useful in sales prospecting.
However, unlike ZoomInfo, the data collection procedure is manual rather than automatic. This implies the database may not be as comprehensive, but you can be confident that it is accurate (95 % ).

Price : On request, a price might be provided.
7. UpLead
UpLead is a B2B sales intelligence tool that links you with qualified prospects via the internet. This ZoomInfo rival already has over 46 million online profiles in its lead database.
It's an excellent tool for salespeople, marketers, and recruiters.
You may find leads and check their contact details in real time using their platform. You can apply over 50 filters to your search to locate your ideal leads.
UpLead interfaces with common CRM platforms like Zoho, HubSpot, and others, which is a huge plus. This allows you to switch between different software programs with ease.
You may also share all of the information you need with your peers by downloading it from UpLead in a matter of minutes.
A 7-day free trial is available to get you started. 5 credits are pre-added to the free trial plan.

Price : The Basic Plan is $99 per month. You can discover their various pricing options here if you want to understand more about their pricing.
The End
Without a question, ZoomInfo is a fantastic platform with much more potential for those who understand how to use it effectively.
However, it is evident that you do not need to pay a fortune to have a good sales intelligence product that will do the job.
So, take a close look, weigh all of your possibilities, and decide whether you'll go with one of the options presented in this article.
---
LeadMine : Find your next customer in minutes, not months.
LeadMine is a lead generation platform used by all types of businesses. From over 200 million contacts, you may identify your target b2b leads as well as their email addresses.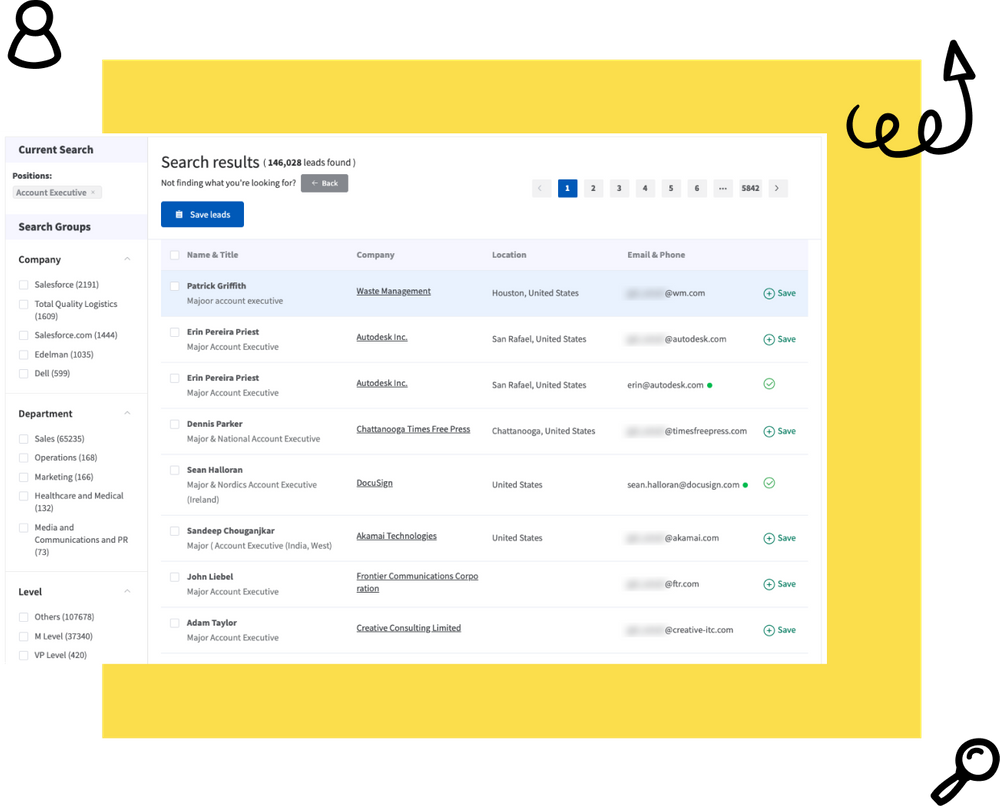 Start your Lead Generation for free today!
30 days free trial
No credit card
Cancel any time