Whether you are already an expert or new to you, you will find a clear explanation. This will enable you to successfully formulate a successful lead generation formula for your business.
Table of Content
What Exactly is a Lead?
In basic terms, a lead is a person or entity who is interested in what you're selling. The interest is expressed through the exchange of contact information, such as an email address, a phone number, or even a social media handle.
It is also defined as anyone who expresses an interest in a company's product or service in any way, shape, or form.
Leads are typically contacted by a company or organization after initiating contact (by submitting personal information for an offer, trial, or subscription).... rather than receiving a cold call from someone who purchased their contact information.
What is Lead Generation?
B2B lead generation is the key to attracting new leads who are interested in the products offered by your B2B company. The more potential customers you bring, the better for your business, which makes the generation of potential customers a very valuable part of the transaction.
There are many ways to generate these potential customers, including email marketing, inbound marketing, ground and online advertising, content marketing, social media marketing, etc.
No matter what type of marketing material you use, it is essential. First, determine who your target audience is most interested in. Then, design your content to meet their needs to acquire potential customers through their information and add them to your sales channel.
What is the Purpose of Lead Generation?
The transition from stranger to customer is much more natural when a stranger initiates a relationship with you by showing an organic interest in your business.
The second stage of the inbound marketing methodology is lead generation. It happens after you've gathered an audience and are ready to turn those visitors into leads for your sales team.
As shown in the diagram below, generating leads is a necessary stage in an user's journey to becoming a satisfied customer.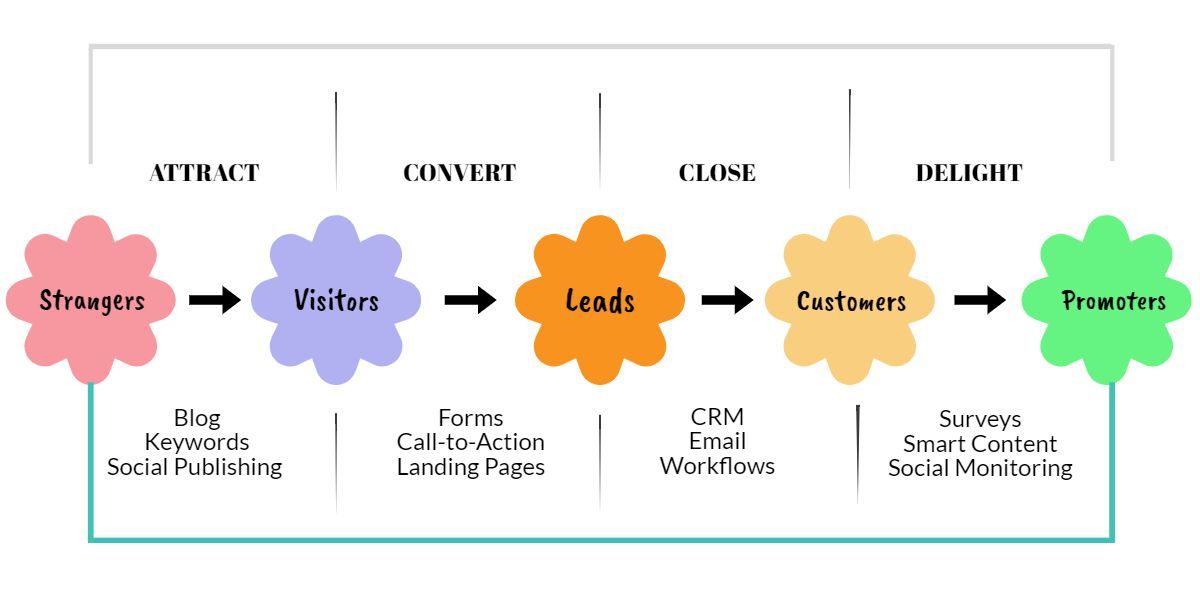 Process
Now that we've established how lead generation fits into the inbound marketing methodology, let's go over the steps involved in lead generation.
First, a visitor learns about your company via one of your marketing channels, such as your website, blog, or social media page.
That visitor then clicks on your call-to-action (CTA), which is an image, button, or message that encourages website visitors to take action.
This CTA directs your visitor to a landing page, which is a web page designed to collect lead information in exchange for an offer.
In exchange for the offer, your visitor fills out a form on the landing page. (Although forms can technically be embedded anywhere on your site, they are typically hosted on landing pages.) Voila! You've got a new lead. That is, as long as you adhere to best practises for lead-capture forms.
You should also check out our free lead generation tool. It enables you to create lead capture forms that can be displayed directly on your website. It's also very simple to set up.
Benefits of B2B Lead Generation
B2B lead generation drives marketing and sales in a statistical and quantifiable format, making it easier to understand and cater to your target audience.
Here are a few more reasons why companies engage in B2B lead generation:
It raises awareness of your brand.
A significant increase in salesThis results in a positive ROI.
Focuses on your ideal customers.
Assists you in gathering vital information about potential clients.
More cost-effective than other forms of advertising
What Exactly are B2B Leads?
B2B leads are people who have been identified as potential customers for your company in the context of B2B lead generation. They can be classified as people who would benefit from using your product or service.
There are some types of leads:
1. Marketing Qualified Lead (MQL)
Contacts that have interacted with your marketing team's efforts but aren't ready to get a sales call are referred to as marketing qualified leads. A contact who submits a landing page form for an offer is an example of a MQL.
For Example:
Downloading trial software or free ebook
Using software demos
Filling out online forms
Submitting an email address for a newsletter or mailing list
2. Sales Qualified Lead (SQL)
Contacts who have performed activities that demonstrate an interest in becoming a paying customer are known as sales qualified leads. A contact who fills out a form to ask a question about your product or service is a SQL.
Qualified sales leads are very likely to become customers' leads. They express interest in your product or service, and you know that they are likely to buy the product you sell because they have the financial means to buy it immediately (ie, not on credit).
3. Product Qualified Lead (PQL)
Product qualified potential customers are contacts who have used your product and acted to indicate that you want to become a paying customer. PQL is generally suitable for companies that offer trial versions of products or free or limited versions of their products and upgrade options. This is where your sales team comes in. An example of PQL is that a customer activates your free version, but asks for features that are only available through payment.
4. Service Qualified Lead
Service qualified leads are contacts or customers that's how your service team that they are interested in becoming a paying customer. An example of a qualified service executive is a customer telling their customer service representative that they want to update their product subscription. At that time, the customer service representative will recommend the customer to the appropriate sales team or representative.
How is B2B Lead Generation Carried out?
B2B lead generation occurs through a variety of marketing and sales activities. In this section we will give definitions for each of the most common.
1. Sales
B2B lead creation is done in sales through a method known as B2B outbound. This essential requirements:
Cold calling: One of the most effective lead generating marketing tactics is cold calling. Unlike other advertising methods, this one puts you in direct contact with your target audience. Cold calling is especially vital considering how frugal most consumers have gotten in recent years.
Outbound email: SDRs are sending emails to B2B leads in the aim of starting a conversation. Email automation services are commonly used to manage outbound email.
Social Media: From the swipe up option on Instagram stories to Facebook bio links to bitly URLs on Twitter, social media sites make it simple to encourage your followers to take action. You can also use your social media posts to market your services and include a call-to-action in the caption.
2. Marketing
Demand generation is the term used by marketers to describe the process of generating B2B leads. Marketers can use a variety of strategies to drive leads and demand. They are as follows:
Content marketing: Content can help users find their way to a landing page. Typically, you develop content to deliver free, helpful information to visitors. CTAs can be placed anywhere in your content, including inline, at the bottom of the page, in the hero, and even on the side panel.
Growth hacking: Growth hacking is a marketing area that focuses on a company's growth. Both a procedure and a set of cross-disciplinary talents are used to describe it. Before committing a lot of resources, the goal is to quickly test ideas that can improve the customer journey, repeat and expand the ones that work, and alter or abandon the ones that don't.
How do you get Started with B2B Lead Generation Quickly?
Several easily available tools and methods can be used to generate B2B leads. Working with B2B lead generating businesses that create high-quality leads is the most reliable approach to achieve it.
LinkedIn and Email Outreach, on the other hand, are the most reliable and traditional approaches for a newbie to produce leads quickly.
The following is how it works:
Identifying Your Target Market:
This entails learning about your target audience's business, industry, job types, and region, among other things. You can also identify the primary benefits and characteristics of your service or product and link them to the needs of the people you'll be contacting.
Launching LinkedIn and Email Outreach Campaigns:
Now that you have information about your target demographic, you may segment your campaigns correctly. Segment campaigns by messaging, business type, industry, job kinds, and area, among other factors.
Final Words
We encourage that you test LeadMine's free lead generation tool now that you know more about how to produce leads for your business. It may be used to add simple conversion assets to your site (or scrape your current forms) to help you understand more about your visitors and what material motivates them to convert.
B2B lead generation is an important aspect of your company's success because it allows you to interact with your target market. You can convert potential leads into loyal customers and increase your earnings with this access to your target demographic.
---
LeadMine : Find your next customer in minutes, not months.
LeadMine is a lead generation platform used by all types of businesses. From over 200 million contacts, you may identify your target b2b leads as well as their email addresses.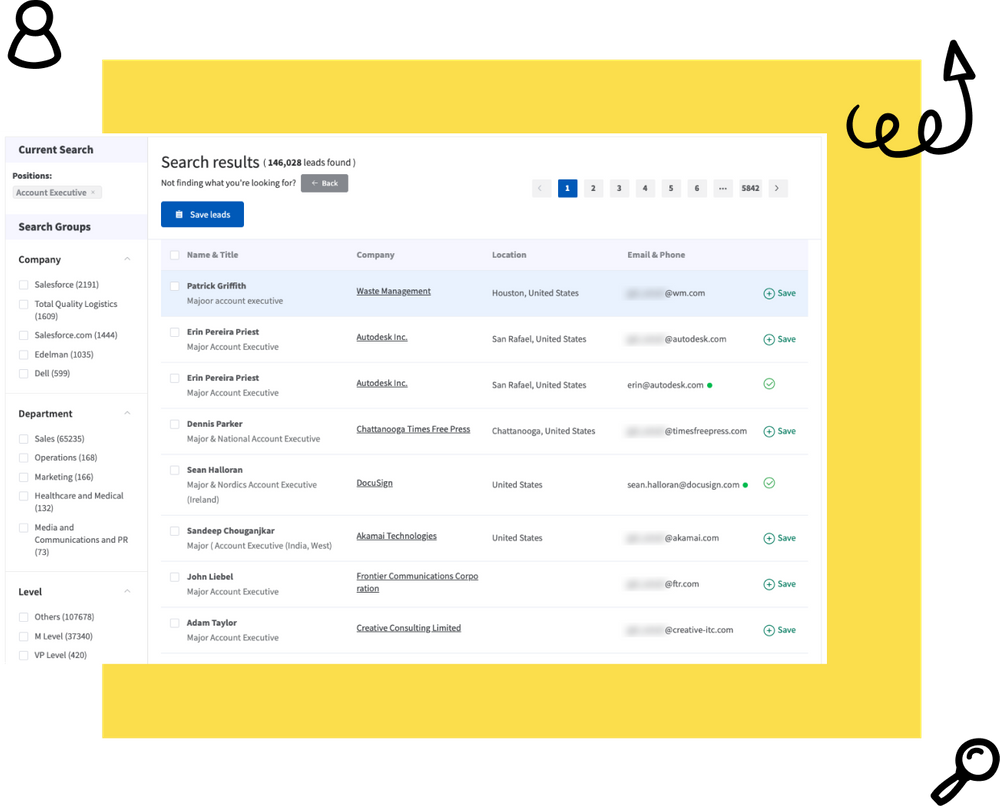 Start your Lead Generation for free today!
30 days free trial
No credit card
Cancel any time