Sometimes marketers can't find an email address on a prospect's website so they go directly to LinkedIn, Facebook, etc. to find the email address of their prospect's.
The LinkedIn networking site has over 740 million members in more than 200 countries and territories worldwide. It has become a valuable resource for finding email addresses for the purpose of contacting people and getting new job contacts.
This guide gives a few tips and tricks for locating email addresses on LinkedIn so you can grow your professional network.
Look the Person up on LinkedIn
If you find someone interesting on LinkedIn but doesn't know how to contact them through email or photo number then you are in the right place.
LinkedIn is a powerful social networking tool for professional people and places. To find an email address on LinkedIn – First, you have to send a connection request to the person. If the person is already on your connected list, then it is a one-step forward situation.
You just need to open their LinkedIn profile and click the 'Contact Info'.

There will be a pop-up containing LinkedIn profile URL, Website URL, phone number, email address, birthday, etc.
Remember, that the main purpose of sharing the email address on LinkedIn is to connect with professionals across the different regions. This is the most common way to find someone's email address on LinkedIn.
But what if they didn't mention their email address on their LinkedIn profile? The chances of not mention their email on their profile are also the same as the chances of mentioned on their profile.
Guess It
Welcome to the email guessing game!!!
We have done guessing someone's email address by their name even for once in our lifetime. I did that many times if I couldn't find their email address.
What are the possibilities of getting an email address from their LinkedIn profile?
Once I have the person's name, I look for that person on LinkedIn. The email address may be mentioned in one of two places.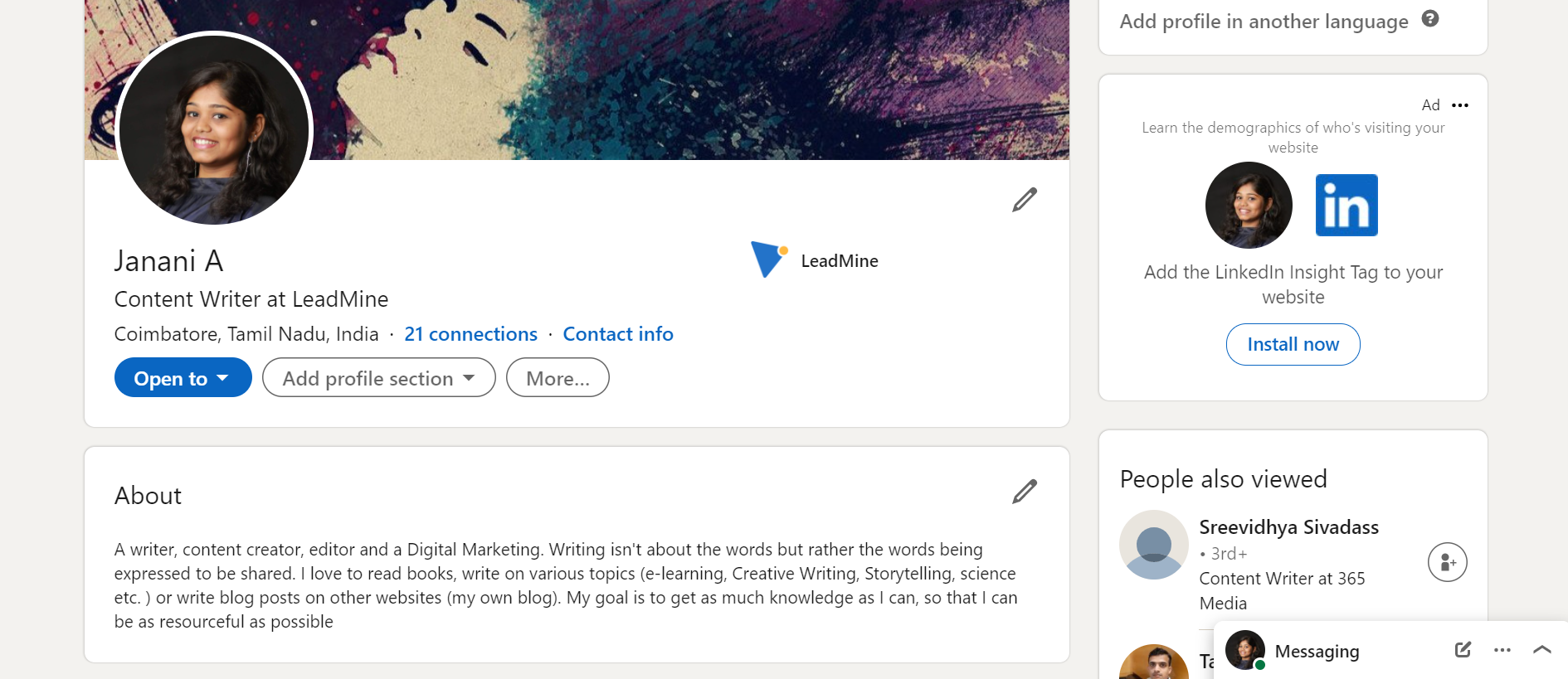 Contact Info – when you click on the contact Info of the profile, the email address may be mentioned. The success rate is 80%.
In About – Sometimes people will mention it as a part of their summary. The success rate is very low.
Here you need to play the guessing game to find an email address.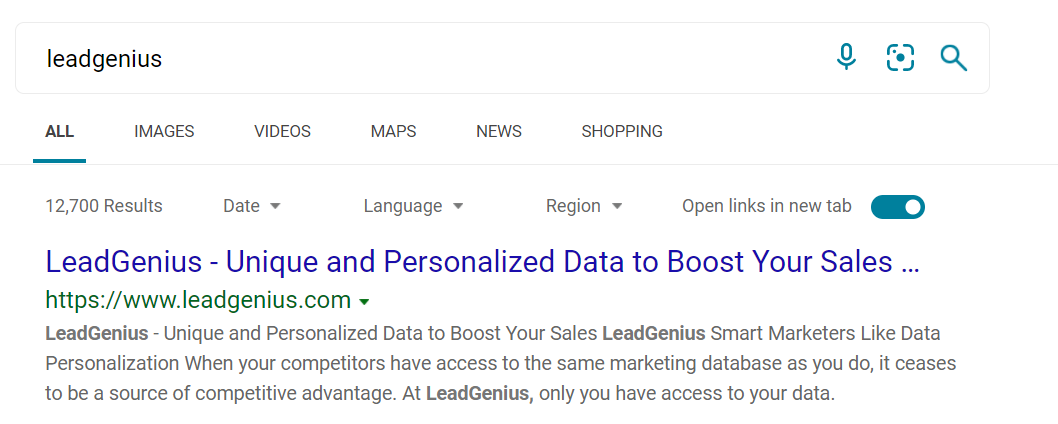 For example, if you are searching for a person who is working in LeadGenius then try '[email protected]'. Here, 'leadgenius.com' is a domain name. You can get their domain name in their website URL.
When you had their name in your hand then all you need to go is to start guessing the pattern with the official domain name.
Some pattern examples,
But after finding the email pattern, verify the email address in our email verifier.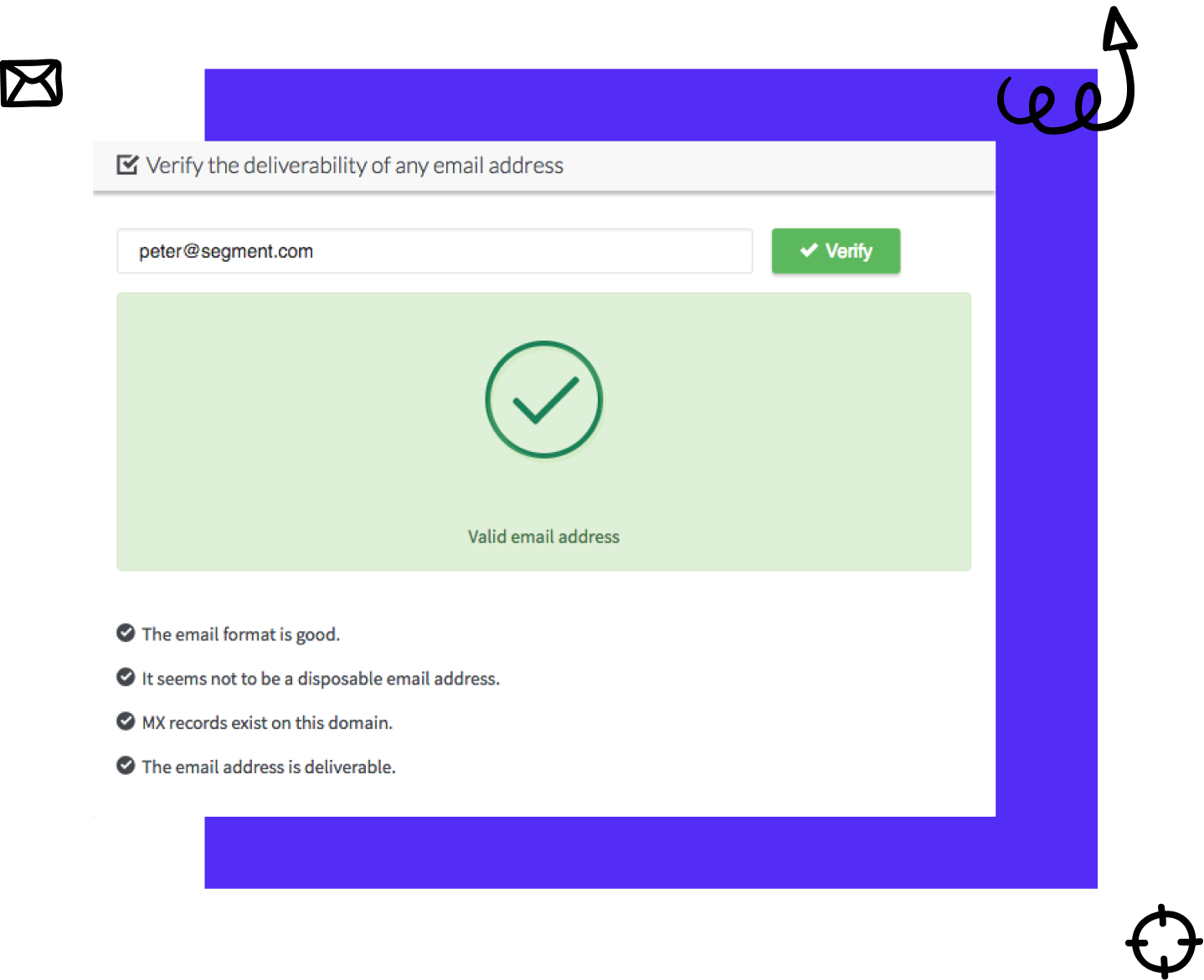 We provide a free email verifier to verify the email address that you guessed or taken from LinkedIn. It's good to verify the email before sending the emails.
If you don't have time for guessing games or finding the email address on LinkedIn. Then, try the next method.
Email Lookup Tool
Email Lookup tools allow you to match an email address with a profile you are interested in getting in touch with.
Introducing LeadMine's Email Lookup, helps you to get the verified business email address directly and rapidly by name and company domain name. It uses many methods to find emails through searching a million records and cross-checks with the existing data in the database and performs direct server validation.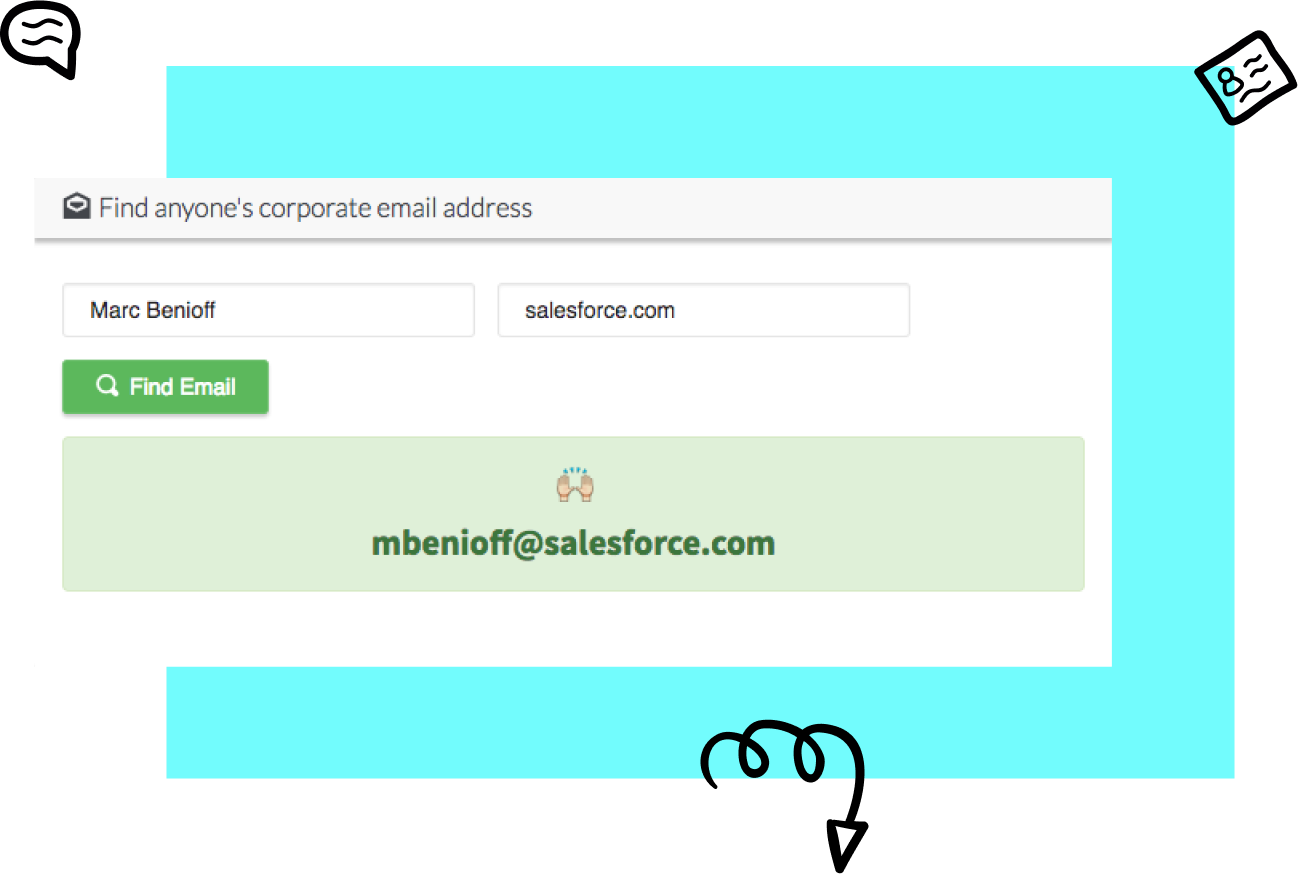 We provide free Email Lookup to develop your business by generating more leads. Just sign-up with us.
Top Email Lookup Tools with accurate results:
Through Chrome Extension or Email Finder Extension
Email Finder Extension is used to utilize the information that you can easily find on LinkedIn to connect with the person with who you want to get in touch.
If you are trying to extract emails from LinkedIn for lead generation or prospecting, it can take a while to get a bulk email address. Here is how to do it in bulk:
Use LinkedIn search to find a list of people based on their job title, industry, company size, seniority, and more.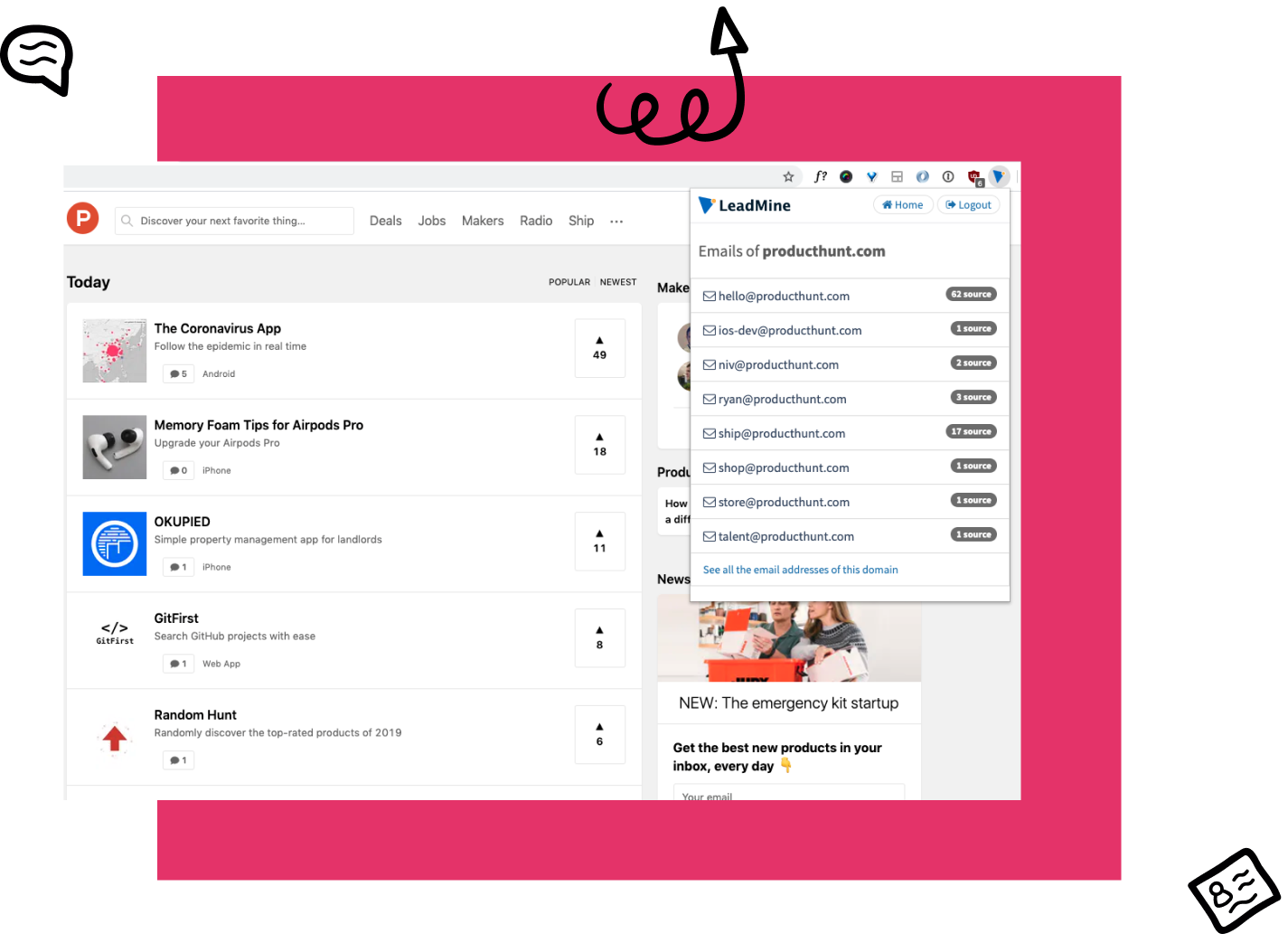 Use Chrome Extension to determine which of those people it automatically determines an email address for. Then you can export those lists of emails in a CSV file.
What to do if you couldn't find the email address or the email address doesn't work?
Not every email address you find will actually work. Well, if there is a problem then the solution is also in there.
There is a lot of email finder tools and chrome extensions in the market that use their own unique email database. If one tool gave you a non-functional email address, jump to another one.
If you still can't find the email address, you could send them a connection request to see their email address on the contact Info or message directly to them on LinkedIn.
Try finding the person on other social media platforms or see if they have a personal website. Maybe, they mention their email address in there.
Conclusion:
How to Find Email on LinkedIn –
Go to the LinkedIn profile of the prospect that you want to know their email
Click 'contact info' and you can see the email address if they mentioned
If not, then try an email finder like LeadMine to find an email address on LinkedIn
LinkedIn is a steady platform to connect with professionals from different regions. Getting an email address from a LinkedIn profile is one of the easiest ways to do but if you couldn't find it out there. You can use LeadMine to exact those email addresses for you.