In your business you would have got tons of emails and have to reply each one of them.
Actually we have a template option where you can draft a content and save them, then the time you have to send your email you simply click on the template it automatically paste the draft you have previously saved.
Now how useful it is, you don't have to type for everyone's Email anymore.
Here are the topics that we will be looking in this blog:
What is Automated Email Response?‌
Automated Email Response is a feature provided by email services and account providers to make bulk actions or repeated actions simpler with prior drafted templates that can be used as many times as a user wants to use them.
The only tip on automated email responses is to proofread your emails' automated templates before you send them, as they can be irrelevant at any point in time.
13 Tips to Create a Strong Automated Email Response:
#1 Emotional subject-line
Subject-line is the key element that makes your recipient open your email.
If you have a poor or weak subject line, all the emails with that template have been ignored by your recipient.
This explains why you need a good subject line.
There are a bunch of words that have an emotional impact on your recipient compared to an email sent by a bot.
Emotional words to use in your email subject line:
Successful
Quality
Delighted
Limited
Valuable
Check
#2 Short and crisp
Your automated email does not have to be a two-line message, but who is going to read a long typed message?
Always have a point when messaging. Unless you are going to provide them with conditions.
#3 Make it personalized
At the time you are proofreading your automatic email, make sure you simply add your recipient's pronoun and their name in your email.
Leave a space to personalize your email context when you draft it. This can make it easier.
#4 Add Emoji
Adding emoji to your email context makes it look more interactive and friendly.
You don't want your recipient to feel awkward after receiving your literary or professional language.
Here are some emojis you can use in your email to make it sound more friendly.
😀 😅 🙂 🥳 😉 👋🏻 🎊 🎉 💡
#5 Add visuals
Adding memes, images, and gifs to your email can make your email automatic response template funnier and not a boring email from an annoying company.
Adding visuals to the email automatic response template is totally optional.
Never make it obvious and add more visuals, which sometimes look like an advertisement, as this can revert back the opportunity.
#6 Give a call to action
CTA (Call-to-actions) are the heroes of email. You are never supposed to miss them by any chance.
Always give the relevant CTA in your email automatic response templates.
#7 Give your email signature
Email signatures are the new visiting cards for your roles.
Give your email signature in every email and never forget to add them in your unless it is sent from your business' official email, which is not yours.
#8 Send an email at common shift times
Sending an email at the wrong time is an abstract mistake.
Don't feel the urgency and reply to it the soonest you see it.
You would have seen it at midnight.
Make a mid-day schedule to revert back to all the emails you have received or to start a new email.
#9 Mention a magical word
Sending an email with too much can be too much for a recipient who may see you as just another company.
Use magical words to sound more kind and interactive, like "Thanks" and "Please". Other words you can use to express more kindness are regards, "thank you for understanding,," or "thank you for your patience."
#10 Do not add two or more links
Just like call-to-action links, which are a way to make your recipient take action.
But, giving a lot of links in your email may lead to user frustration like rage clicks. So make your links minimal.
Also, you all think long linked words can work, and they do, but do not make your recipient feel like the email is a linked page.
#11 Use transition words
Transition words make your Email feel more like a conversation.
Draft your automated email response templates as you have just typed them for your recipient.
Here is a list of transition words you can use in your automated email response templates.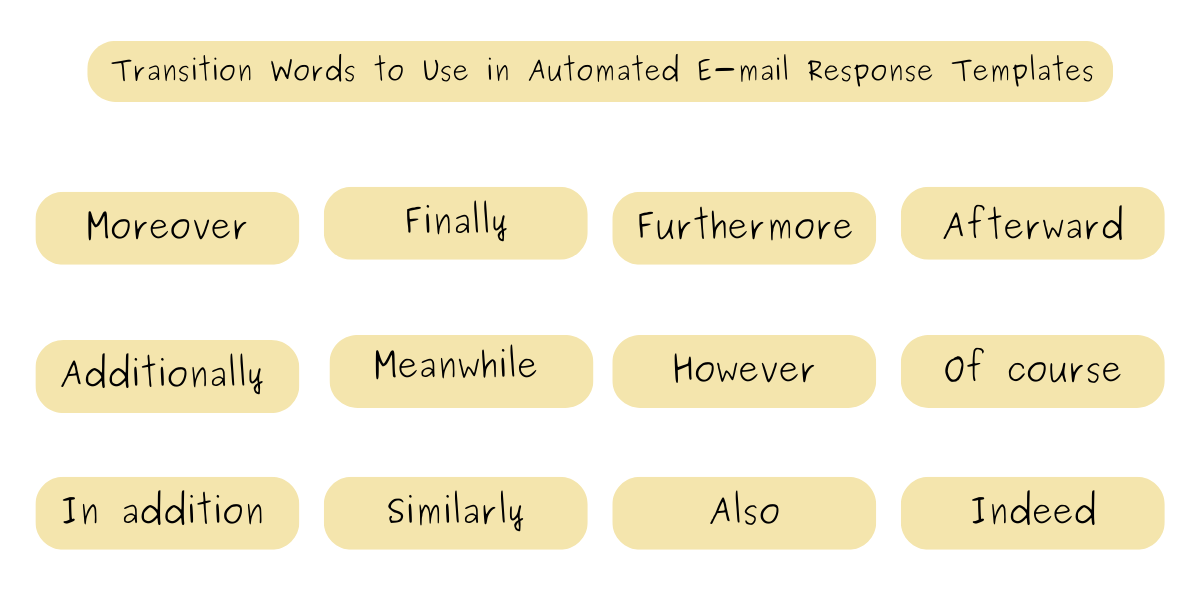 #12 Do not give data
There is a vast difference between insightful and lots of data. Make your mail more insightful.
Adding numerical values in your automated email responses can grab attention and build trust between you and your recipient.
But giving unwanted and irrelevant data can make your recipient feel that your automated email responses are more like spam.
#13 Use grammatical tools
Tools like Grammarly and Quillbot can make your automated email responses errorless.
It is common that us all to make spelling and grammatical errors in our emails. But it is not common when your recipient is a client.
Your recipient may lose trust in you and your company.
So be more conscious of what and how error-less automated email response templates are drafted.
You may also like: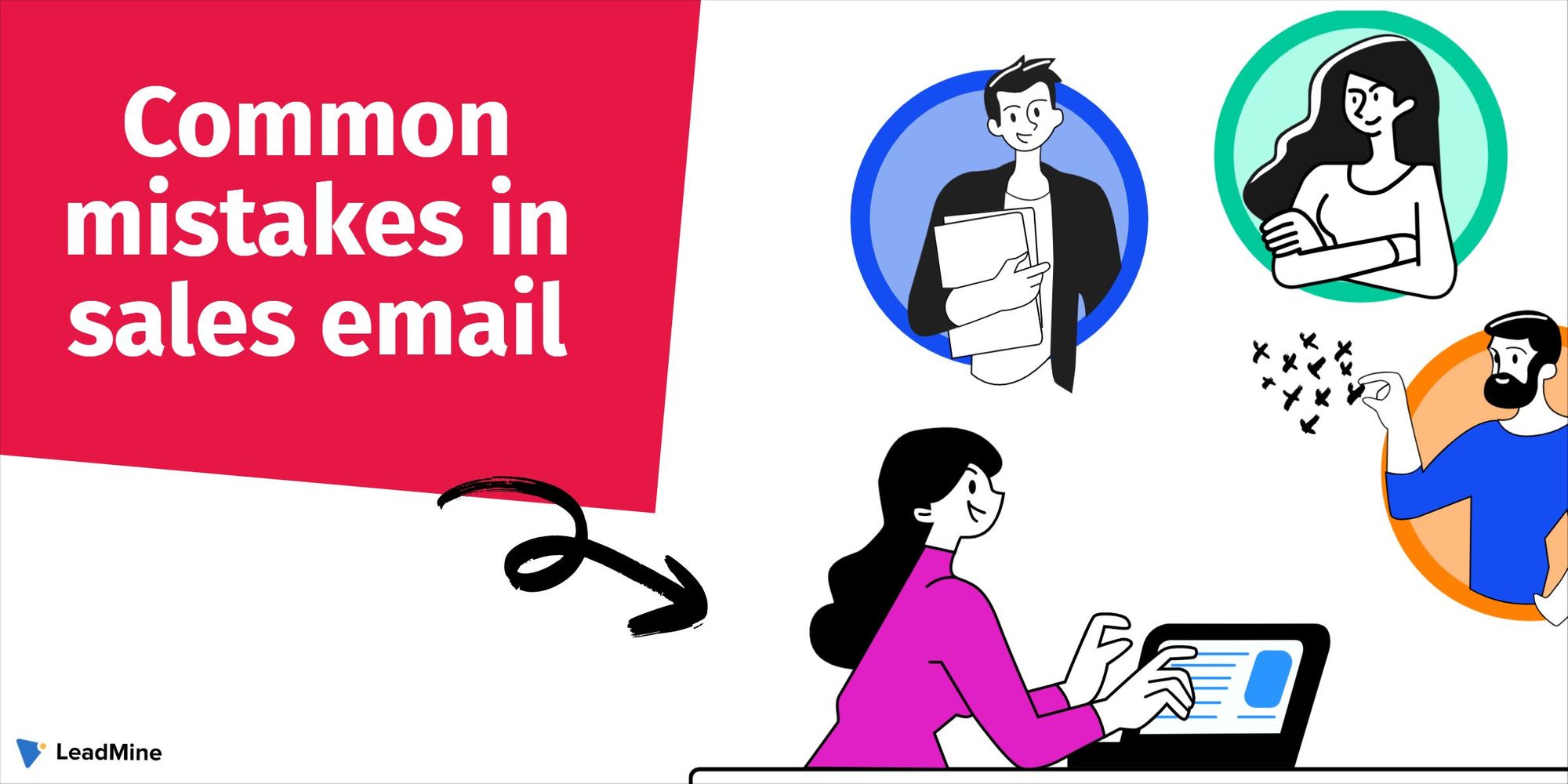 13 Automated Email responses Templates:
For Marketing:
#1 Join Your Social Media Page
Hi, Eleven!
We are glad that you are part of us and we would be happy to connect with you on other social media too. Follow us on Twitter, Instagram, YouTube, and Facebook to be one among us and have a follow-up on our every post.
Twitter - @Starcourt
Instagram - star_court
Facebook -  /Starcourt
YouTube - c/Starcourt
Excited to see you there! Thanks.
#2 Engage with the newsletter
Hi, Will Byers!
We are providing a newsletter once a week. You get new tips on how to escape from upsidedown every Sunday. Subscribe to our Escaping Upsidedown newsletter.
Thanks for showing interest in us!
#3 Check your cart
Hello! Max
We found that you have placed one of our books, "How to over-come brother's Passing." This is to inform you that we only have only 2 left in stock. Click the below button to check out the cart. We hope you have a good time reading them.
Happy Reading! Thank you!
#4 Check New stocks
Hi! Mike
You are one of our favorite customers. We would like to show you all our newly released and restocked products, including Roller Skates in 25 different colors. Check out our website to find out more. Happy shopping, Mike!
Thanks!
#5 Feedback Request
Hi Lucus!
We found you have received our product successfully. We are hoping you love them! It is our pleasure to find a kind customer like you. We would love to receive feedback from you on our service and the product that you bought, which will help us to improve our service and others to purchase the same product. Please kindly fill out the feedback, which only takes 3 minutes.
Thank you for purchasing from us!
#6 Discount Offer
Hi Suzie!
Here comes the spring season! We have offered a 40% discount on all our floral printed dresses for you to make your spring outings more colorful and cheerful. Get yours now from our Starcourt shop. The offer is available only for the first 50 customers.
Hurry! There's not much time left!!
Kind Regards,
Starcourt
#7 Stock Clearance
Hi Dustin!
Here comes our year's end. And we are left with so much stock, and all of this stock is available in the store until February 30th, 2022, with an offer of a 50% discount. There can be a lot of hats that are your favorite hats in the clearance stock. Come grab your favorite.
Thanks!
#8 Out of Office
Hi Nancy!
I saw your mail about the clarification of your order placed. as I am out of the office and due to some unavoidable situation I cannot check your order and clear your doubts. Please hold your patience and I will respond with an answer as soon as possible. Here is the other support team, [email protected], who may help you with your clarification.
Thank you for your patience.
For sales
#9 Confirm Transaction
Hi! Harrington, Steve
Transaction Confirmed! We are happy to tell you that your transaction was successful. We have received your payment for your order and it is yet to be shipped. Please check our payment confirmation receipt that is attached to this mail. We hope you will love our babysitting kit.
Thank you for buying from us!
#10 Service Request
Hi! Jim Hopper
We are from Starcount! We received your request for service. Your service request has been confirmed, and our team will reach you and do the service according to your satisfaction.
Thank you for reaching us!
#11 Confirm customer details
Hi! Joyce Byers
Thank you for filling out our customer details form. We have received your details. We confirm that our customer details will not be used against you or given to any third party. This is for marketing purposes only.
Name: Joyce Byers
Contact Number: 00000000000
Address: 149 Coastline Rd, Fayetteville, GA, USA
Age: 45
Nationality: American
Thank you and regards!
For Human Rsource
#12 Apply for the role
Hi Eddie Munson!
I look at your profile and resume. Your skills and education qualifications are relevant to the job role of a software engineer in our company. Apply for this role if you are interested. We would like to give you the job description and package available for this role. Looking forward to receiving an application from you.
Thanks and regards!
#13 Application received
Hi Crissy!
We received an application from you for the role of software engineer, this mail is t let you know that w received your application. And we will reach you back after reviewing your resume and cover letter. Thank you for choosing our company to work.
Thanks and regards!
How to Set Your Automated Email Response Templates:
Step 1: Go to the settings in your Gmail (see all settings).

Step 2: Go to "Advanced" and find the "template" options.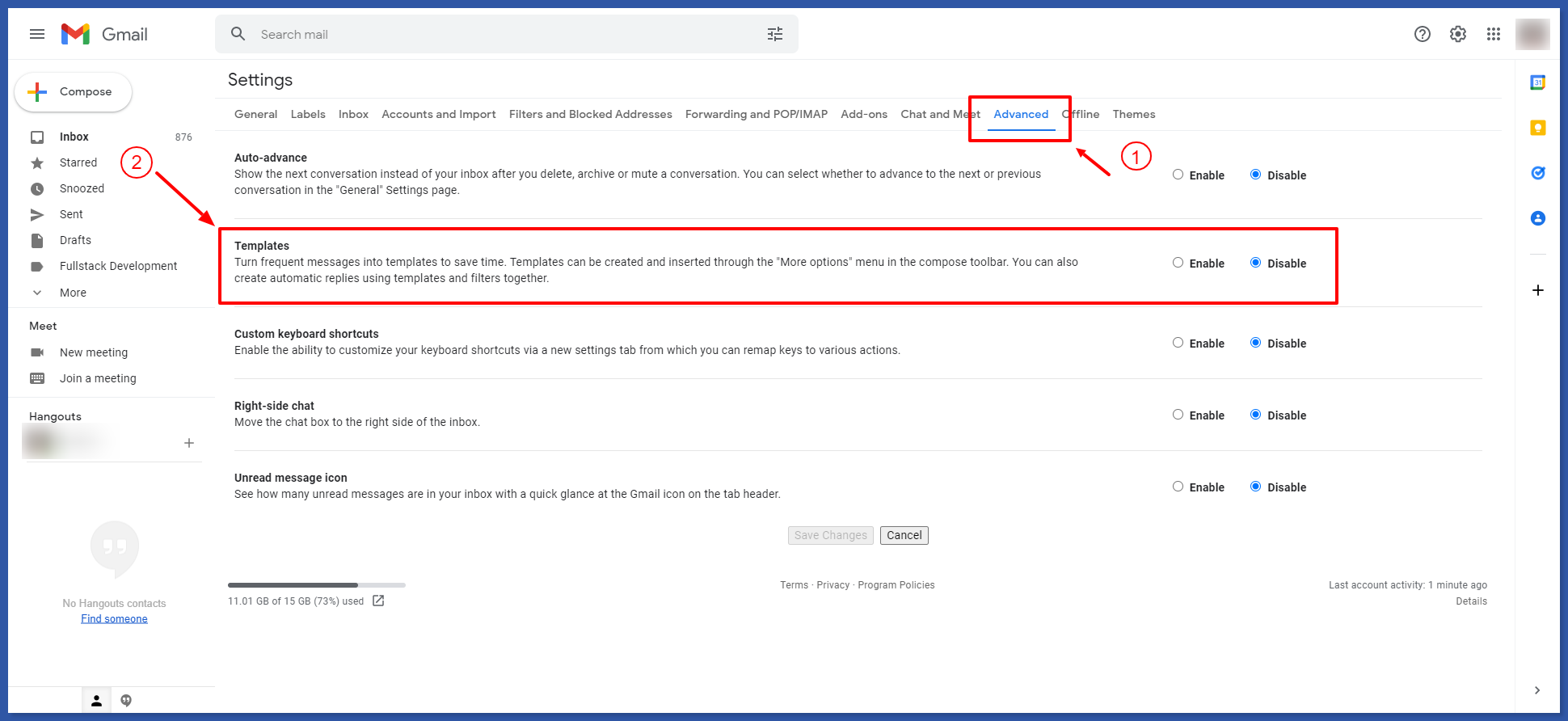 Step 3: Enable the "templates" option and do not forget to save the changes.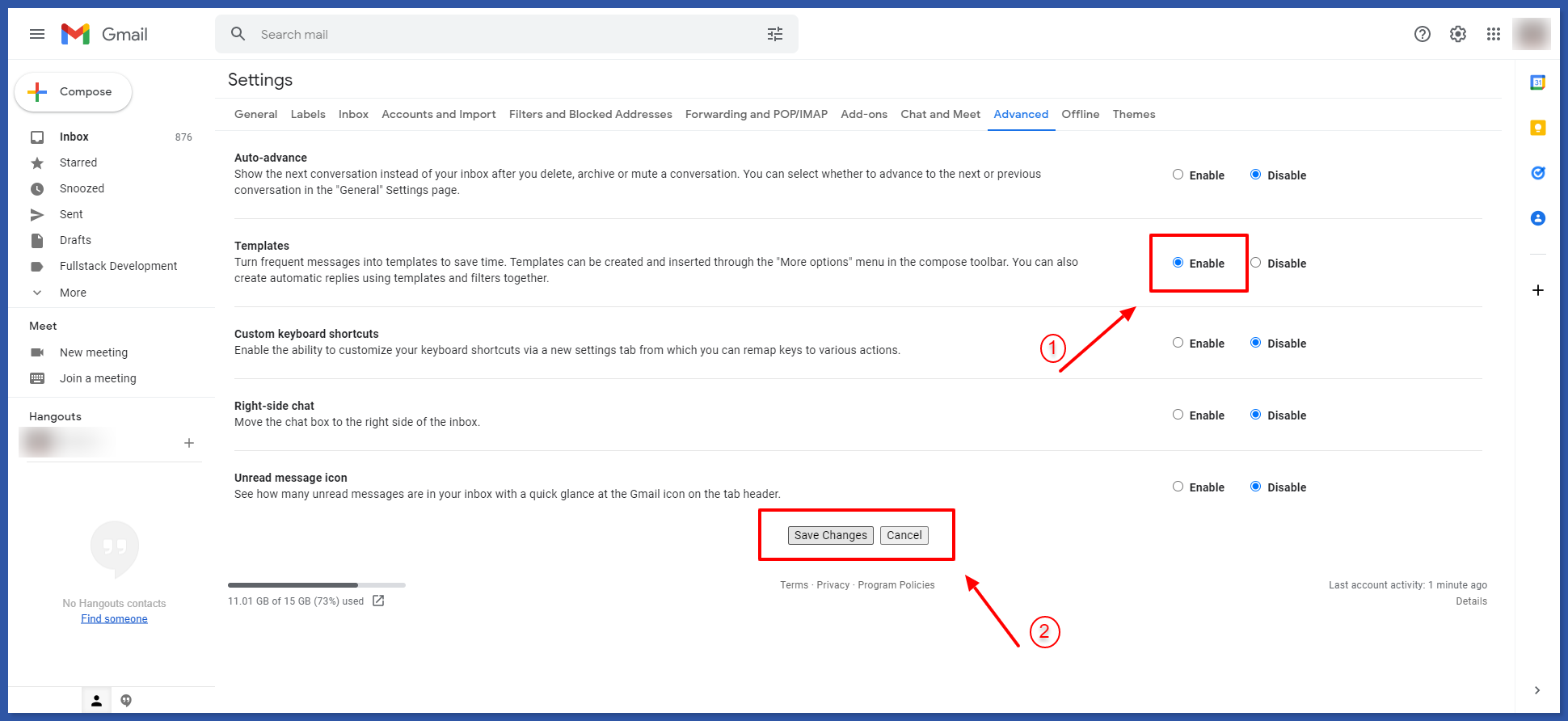 Step 4: Compose a new mail and click the more options.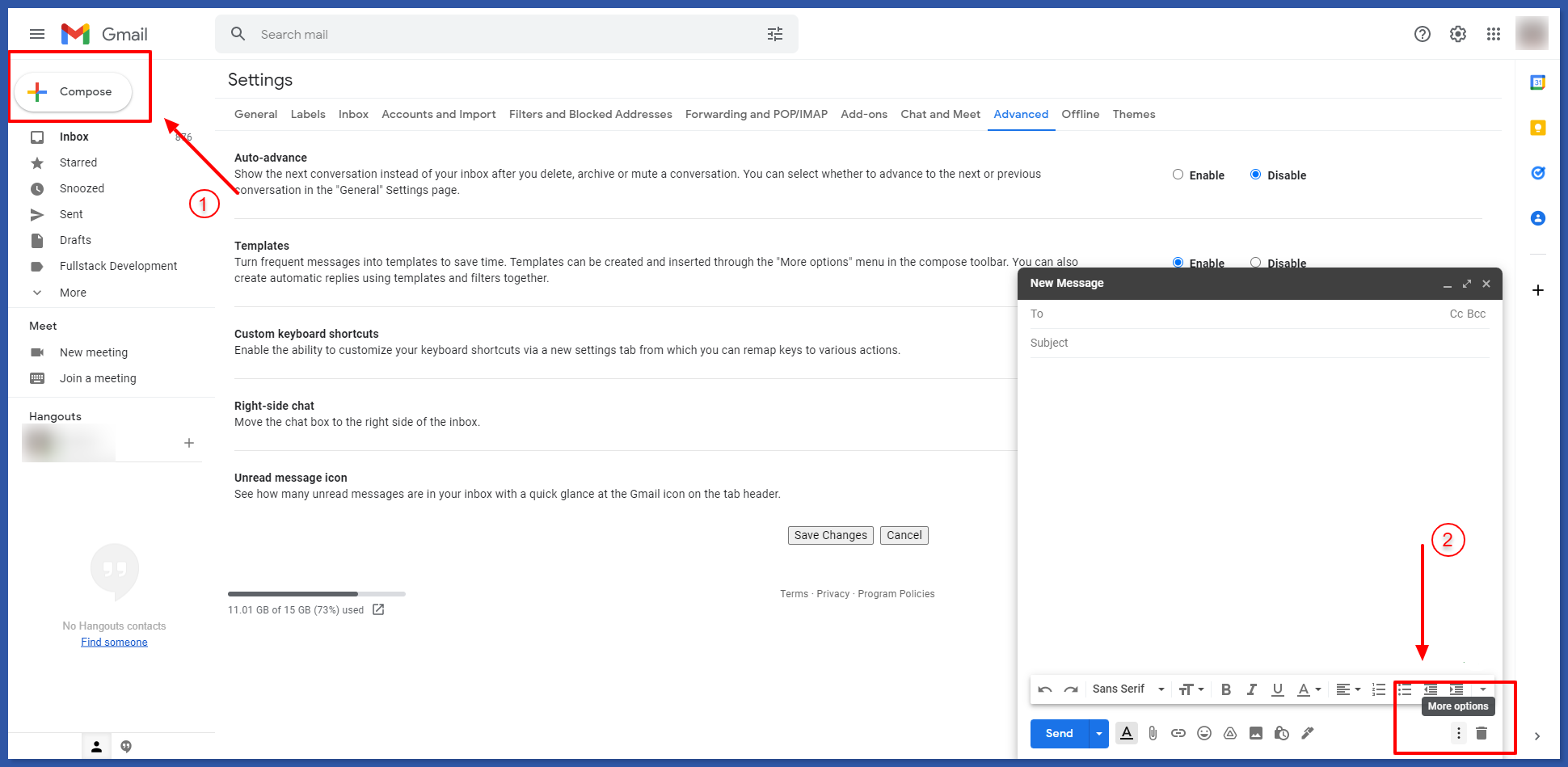 Step 5: Add your text and save it as a new template.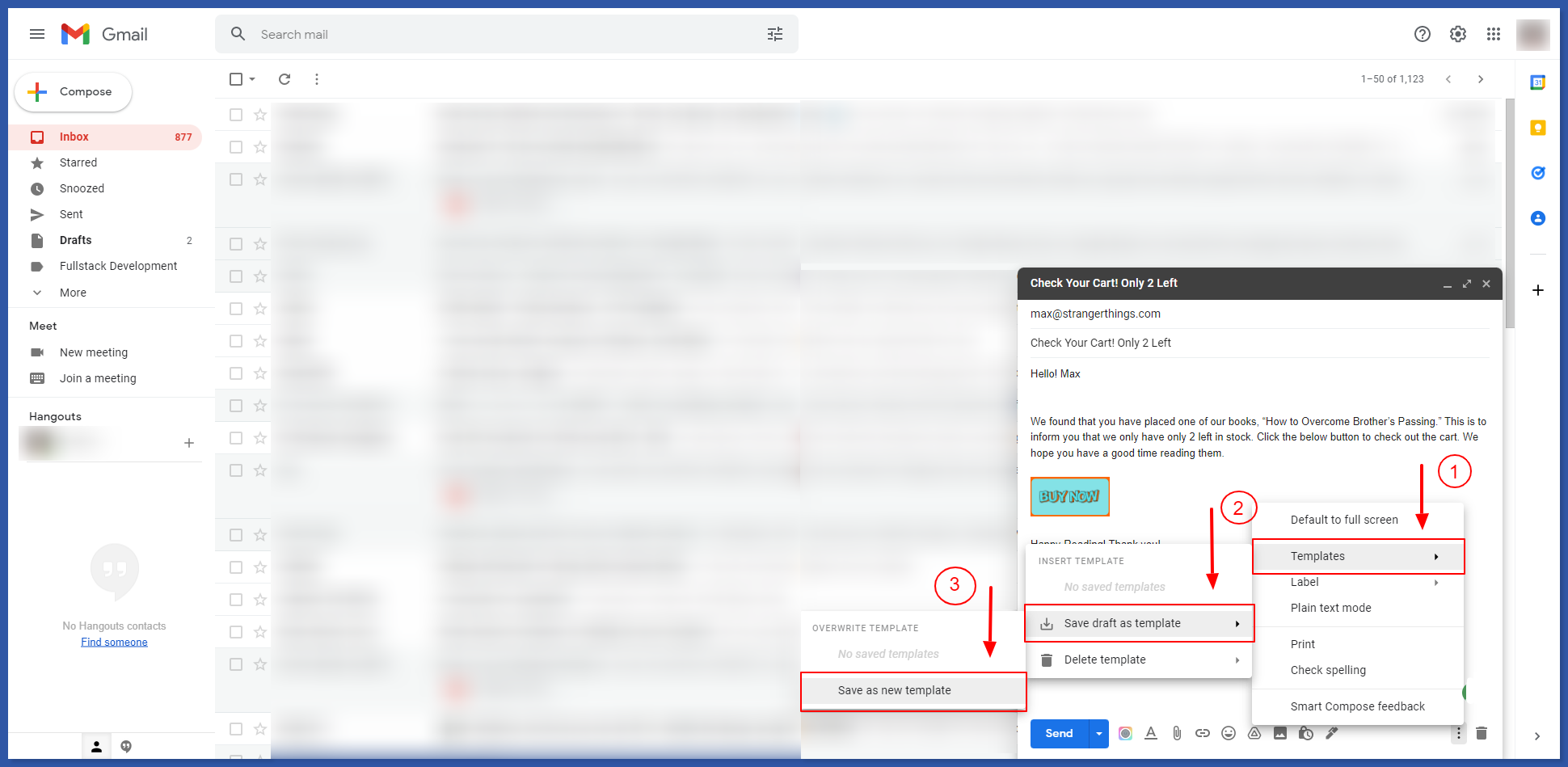 The Final Step: Give your new template a name and save it.

---
LeadMine: Find your next customer in minutes, not months.
LeadMine is a lead generation platform used by all types of businesses. From over 200 million contacts, you may identify your target b2b leads as well as their email addresses.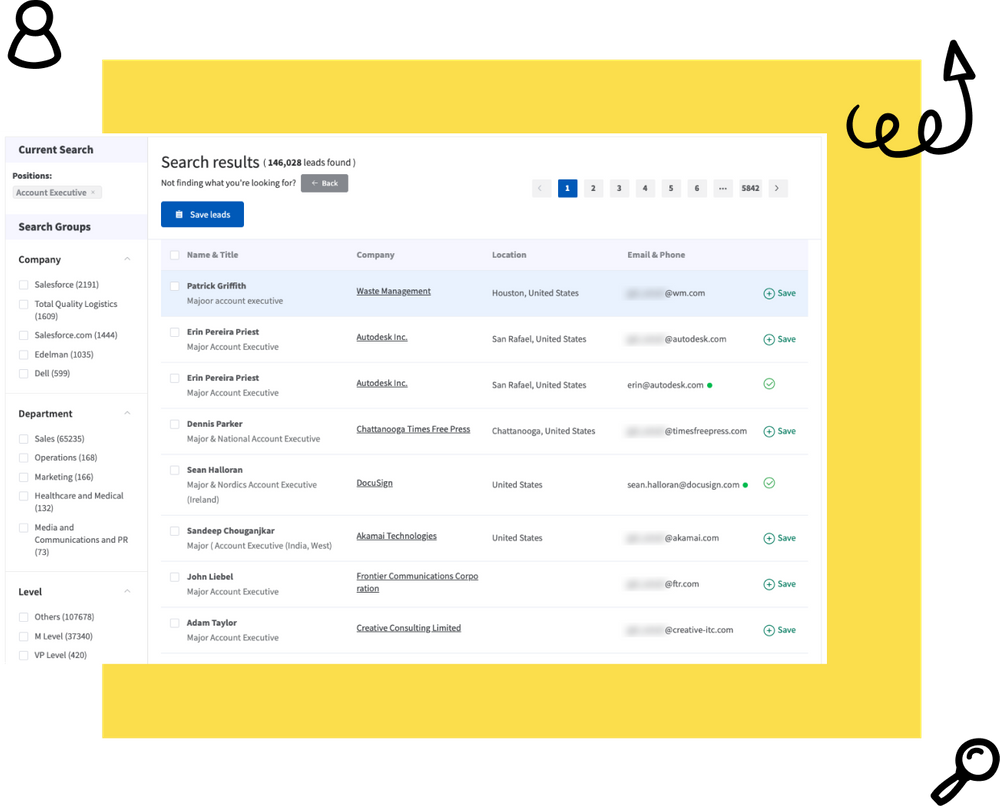 Start your Lead Generation for free today!
30 days free trial
No credit card
Cancel any time
Further Readings: