One of the most crucial yet difficult marketing techniques is lead generation. Furthermore, for B2B companies, obtaining qualified leads is essential.
Email marketing is used by a lot of people, organizations, and corporations nowadays. For effective emailing, such organizations must build a huge email list. You may also need to send a customer support email to another company to inquire about their products as a business.
If you search without the help of any device or application, finding these emails might be a nightmare. Email extractors come in handy in this situation.
We'll show you the best email extractor tools in this article to assist you to get those email addresses. We'll tell you about their features and pricing so you can pick the finest email extractor according to your needs.
Here, how it's done:
What is Email Extractor?
An Email Extractor is a web application or browser extension that extracts email addresses from web pages, websites, and social networking sites. You can use this tool to extract emails from both online and offline sources. It allows you to extract email from several sources, including email accounts, files, directories, and websites.
It's typically used to extract email addresses so that marketers and sales professionals may build a list of contacts and send email campaigns to their prospects. By automating the procedure, email extractor tools eliminate the need to manually collect email addresses.
Rather than buying leads from shady websites, email extractors allow you to narrow down on a certain niche, resulting in hyper-personalized email lists that are considerably more likely to convert. They can also pull emails from your existing data to update and enrich it. The best email extractors will even validate those email addresses before downloading them, ensuring that you're getting accurate data.
Why Email Extractor is Important?
Email extractors are essential for B2B companies. You'll need an email address extractor if you want to use email marketing to promote a product or service. Here are two compelling reasons to employ them.
#1 To Create a Powerful Email List
We're all aware of the value of collecting a significant email list.  If you choose the manual method, building an authoritative email list might be a tedious process.
For instance, you are looking for the contact information of your prospects on various websites in order to send out email campaigns and create trust. After surfing a number of web pages from a single platform, you've managed to collect a few email addresses. The list, however, is insufficient, and there are still more websites to explore.
Furthermore, you have no way of knowing whether the emails you have found are authentic or not. This is one of many instances where email extractors can undoubtedly provide you with significant mental relaxation.
#2 Saves Time
One of the most important ways that an email extractor can help organizations save time and effort in searching for contacts and reaching out to prospects is by saving time. Email extractors have the ability to take email marketing efforts to the next level.
This not only increases your team's productivity but also keeps them motivated to focus on doing useful work rather than wasting time searching hundreds of websites for a few email addresses.
Manually creating an address generator for an email list might be challenging. Using an email extractor, though, you can complete the task in a matter of minutes.
Overall, email extractors make life a lot easier for salespeople and marketers. The key to making this plan work for your company is to use the correct email extractor.
Top 15 Email Extractors for Lead Generation
#1 LeadMine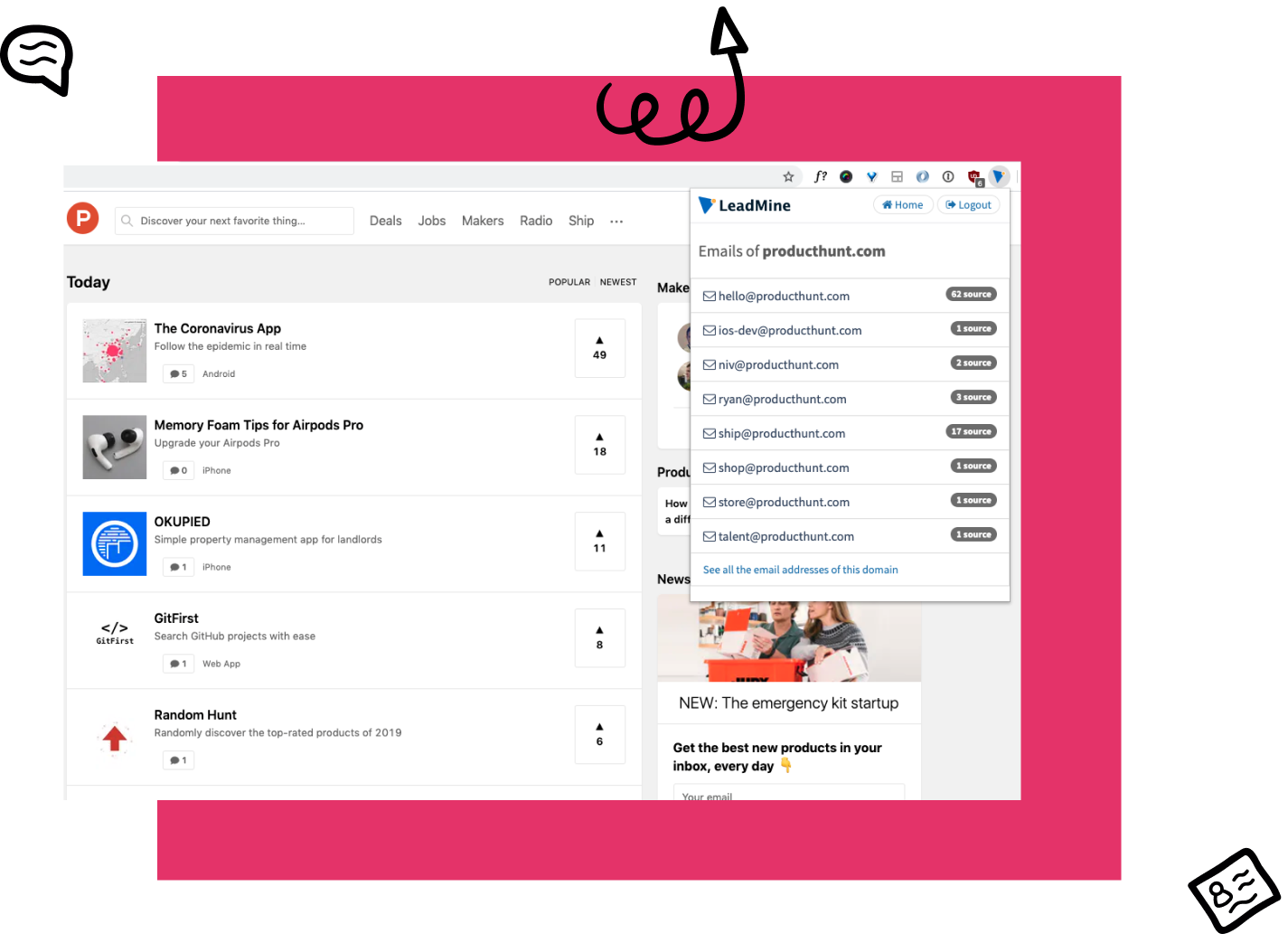 LeadMine is a sophisticated lead-finding platform with an email extractor. Within our portal, you can search for titles and companies directly. It makes generating an email list simple and hassle-free for all of their users so they can focus on other important business tasks. LeadMine allows you to find business emails from social media sites such as LinkedIn and you can even export those emails into CSV files.
From corporate websites to Google search results, our powerful chrome extension can help you identify targeted leads and their email addresses. It helps you to extract data about a lead rapidly, such as their name, position, company, and social network accounts.
You can get the lead's confirmed email address with only one click. LeadMine will handle every step of the complicated process for you, ensuring that you get the best results. We also provide an email finder and email verifier.
Feature:
Allows you to scan all pages of a website for emails
Supports PDF, Word, and Excel files
Enables you to export a CSV to enrich several records at once
It allows you to extract details from emails, phone numbers, and social profiles
Pricing:
We provide a free plan and the paid plan starts from $49/month.
#2 Hunter.io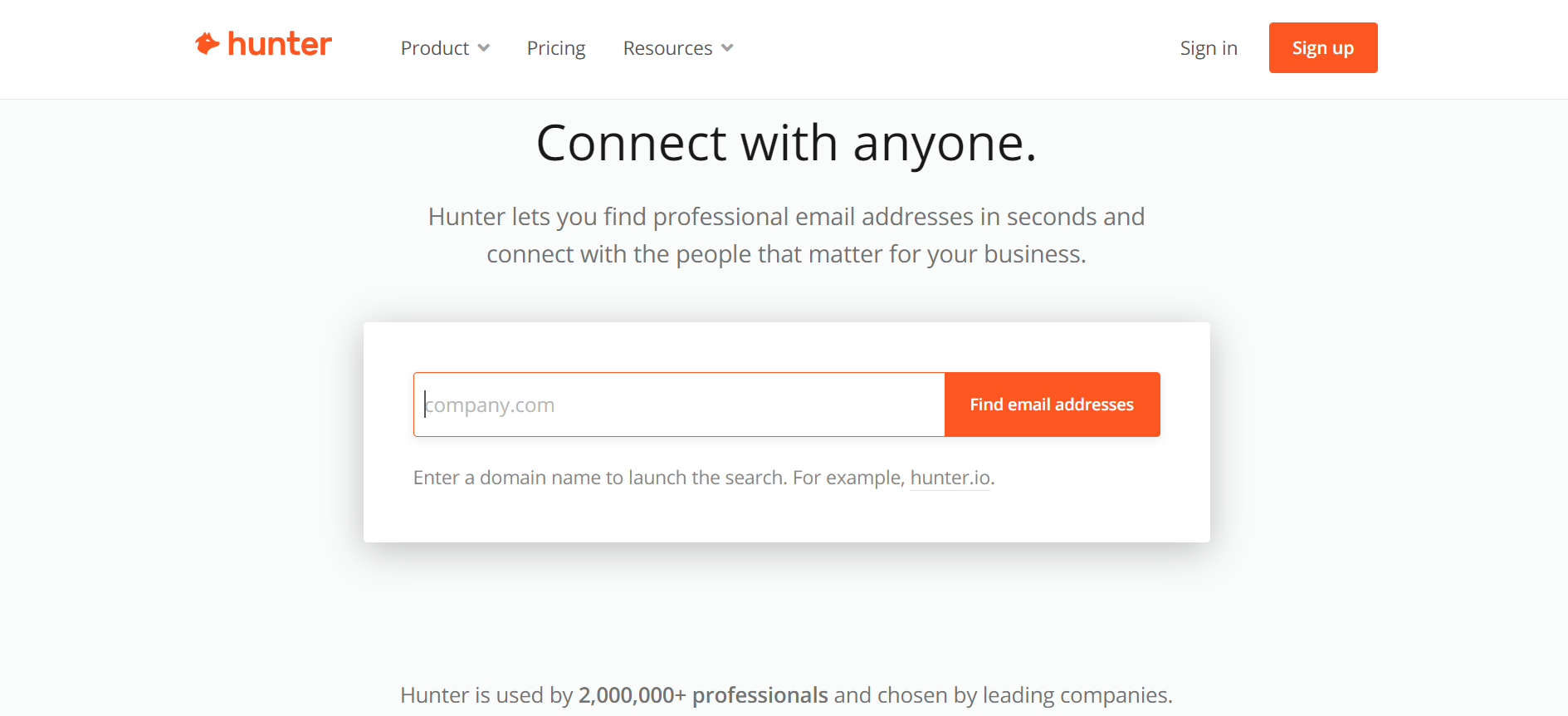 The Hunter chrome extension assists you in locating the most important contact information - company email addresses. It can be used on any website. If the icon is orange, it implies it has discovered some emails for that company, and you can click on it to see the findings.
You also get a name with the email to help you figure out who it is, but this isn't always the case. Other times, you may discover a large number of out-of-date emails, but Hunter combats this by scoring all emails, letting you know whether or not they are in use.
Feature:
It integrates with your existing CRM
Allows you to search for targeted emails using keywords
It also has API integration for domain research information
Dashboard to view notifications
Pricing:
They provide a free plan and the paid plan starts from $49/month.
#3 Web Email Extractor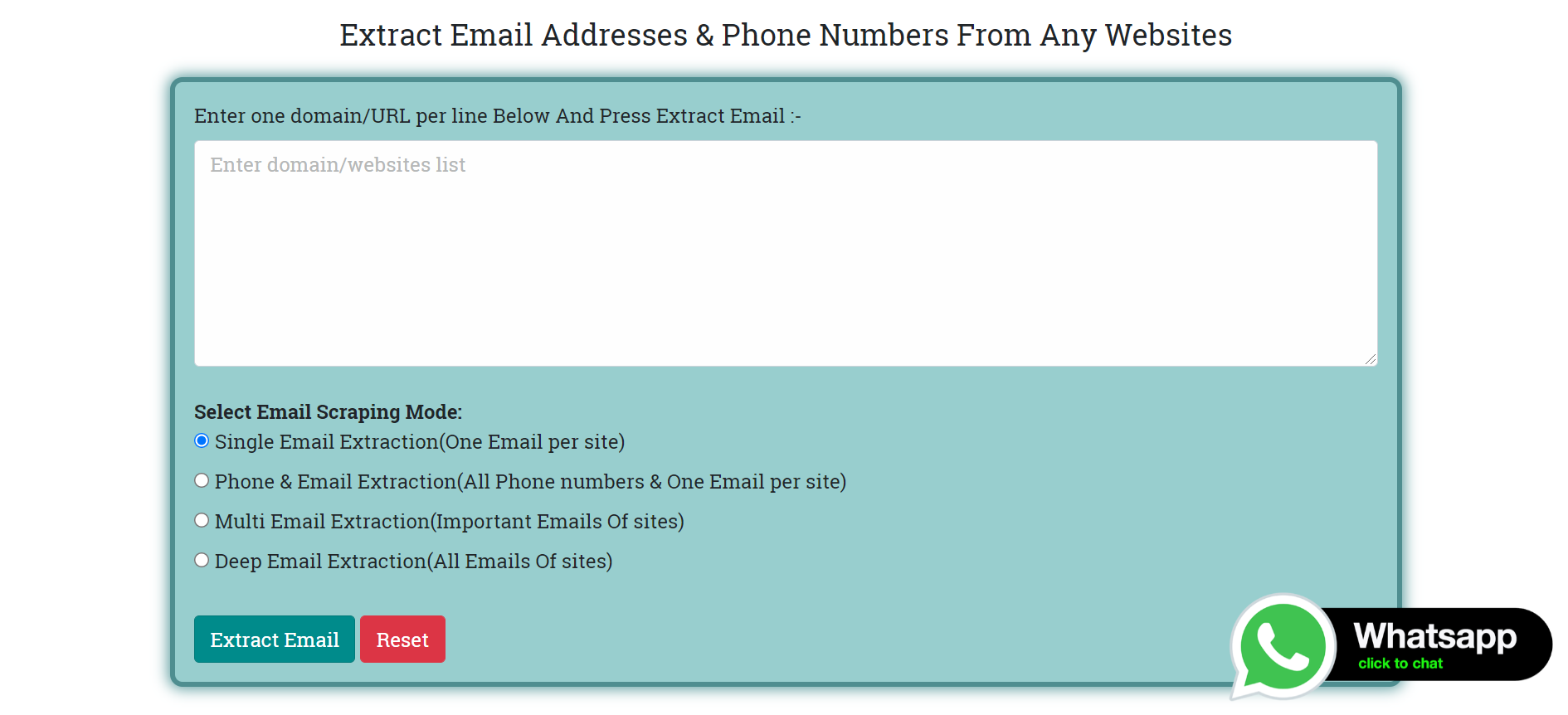 Web Email Extractor is a free online tool that extracts prospects' email addresses and phone numbers from any website. This tool supports Multi-Threaded Connections, allowing for extremely rapid scraping.
It is a web-based email marketing tool with advanced filtering capabilities that collects websites from search engines such as Google, Bing, and Yandex. By using the tool, you can track traffic and targeted leads. The software is used by freelancers, small, medium, and large businesses.
Feature:
Ability to extract email addresses and phone numbers from an unlimited number of websites
Export data/results in CSV format
Extract emails from text files or text content
Collect websites from search engines and text files
Pricing:
Free
#4 Orbitly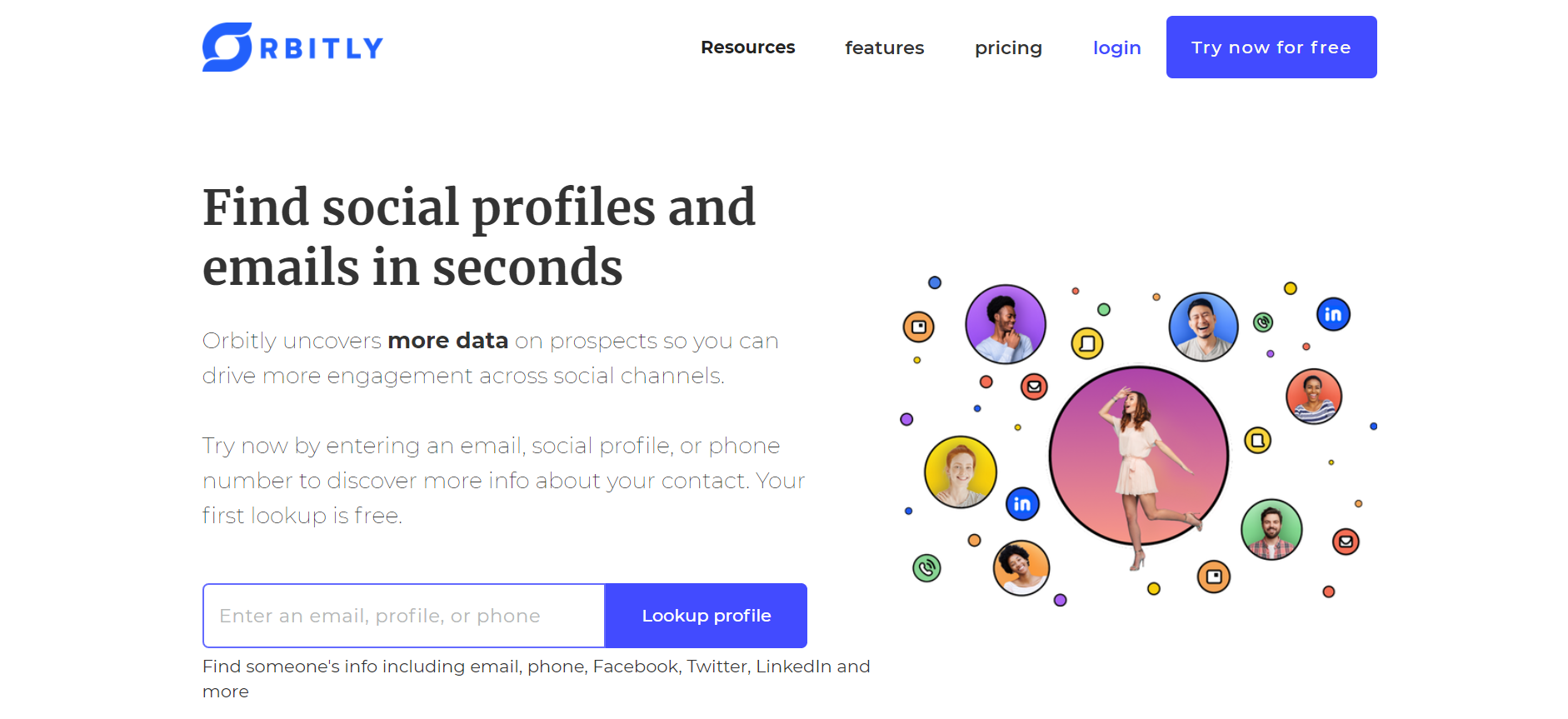 Orbitly allows you to create an email list while also giving you access to your prospect's contact information, which you'll need to contact them in order to establish a successful relationship. It can assist you in locating target customers' or prospects' social media profiles as well as their email addresses.
It provides you with a web application that is much more than an email extractor, allowing you to concentrate on growing up your marketing campaigns. Orbitly's capabilities include reverse email lookup, mail merge, and data upload to a CSV file. Many developing companies, such as Nextdoor, HEAP, Sizebay, and Playment, rely on Orbitly.
Feature:
Allows you to export a CSV file to enhance a large number of records at once
Allows you to use an API to extract email data
It gives you the ability to extract information from emails, phone numbers, and social media profiles
Pricing:
Pricing is determined by the number of credits required. It starts at $15 for 100 credits.
#5 AeroLeads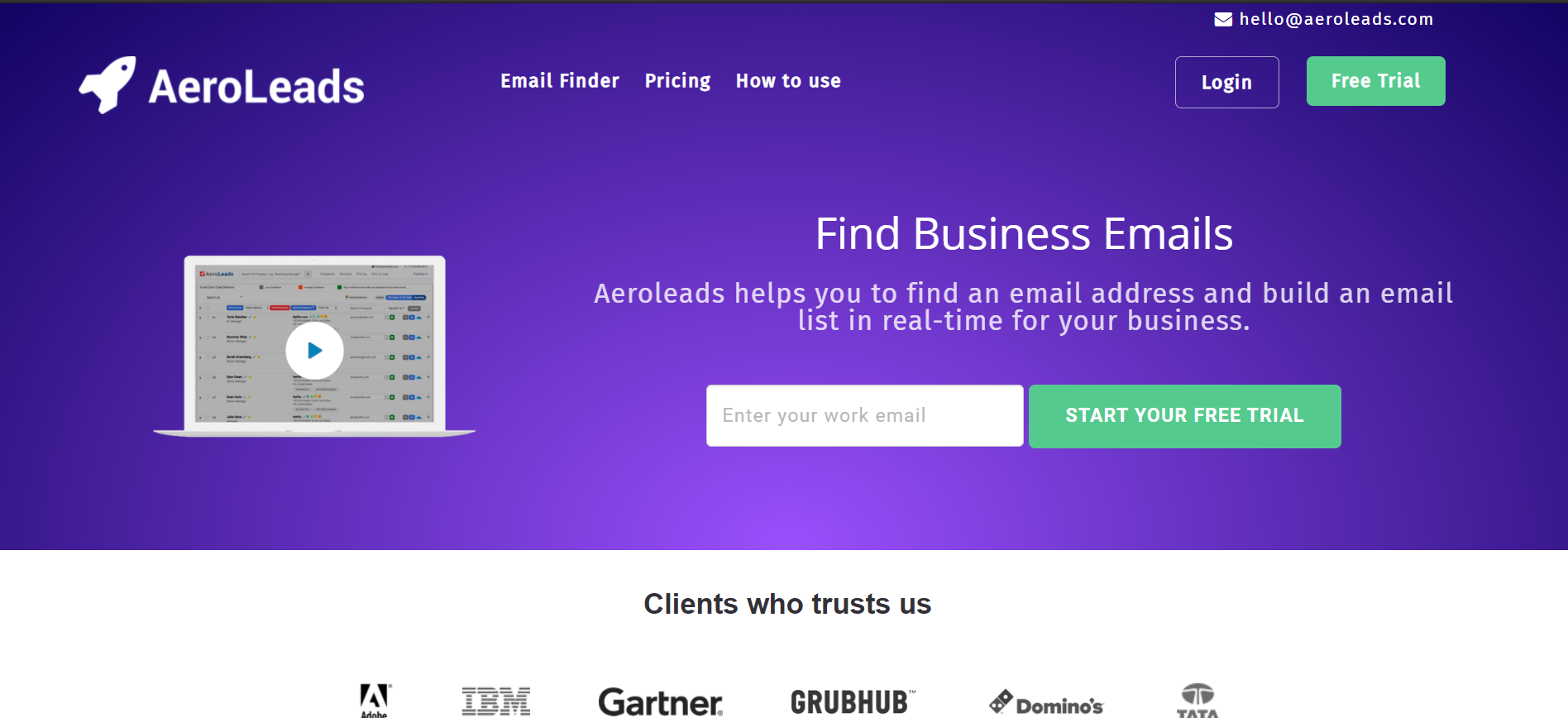 AeroLeads is a data mining tool that allows you to search its database for decision-makers email addresses and company phone numbers. This lead generation application can intelligently collect real-time information, such as organizational details and contact information, from any leads and prospects.
You can export your data as a CSV file or move it to other CRM and marketing tools. It can scan a variety of platforms, like Google and GitHub, and provide you with data that you can import into your CRM.
Feature:
Great customer support
Easy to use
Find emails and phone numbers from LinkedIn
Pre-existing email templates
Pricing:
The plan starts from $49/month. They also provide a free trial with 10 credits.
#6 GetProspect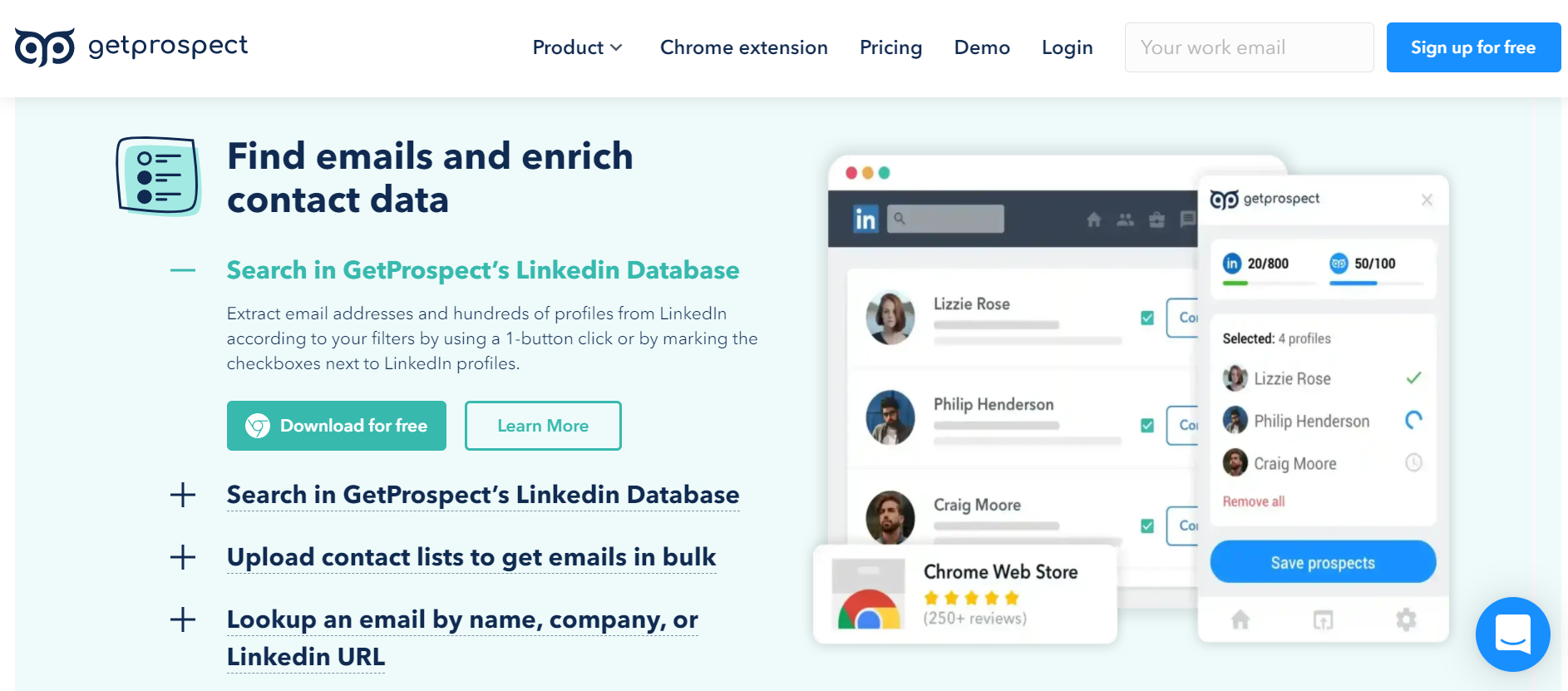 GetProspect is a web application that lets you extract emails and produce leads while keeping track of the emails you've generated. Another fantastic piece of software that assists you in attracting leads and converting them into potential customers.
Over 60,000 enterprises, including Oracle, Stripe, and Cloudflare, rely on Getprospect. LinkedIn email finder, organize contacts in CRM software, execute email campaigns, and integrate with other tools to analyze data are some of the functions given by this software.
Feature:
Most accurate emails
UI is very simple
Easy to use
Pricing:
They provide a free plan and the paid plan starts from $49/month.
#7 AtomPark Software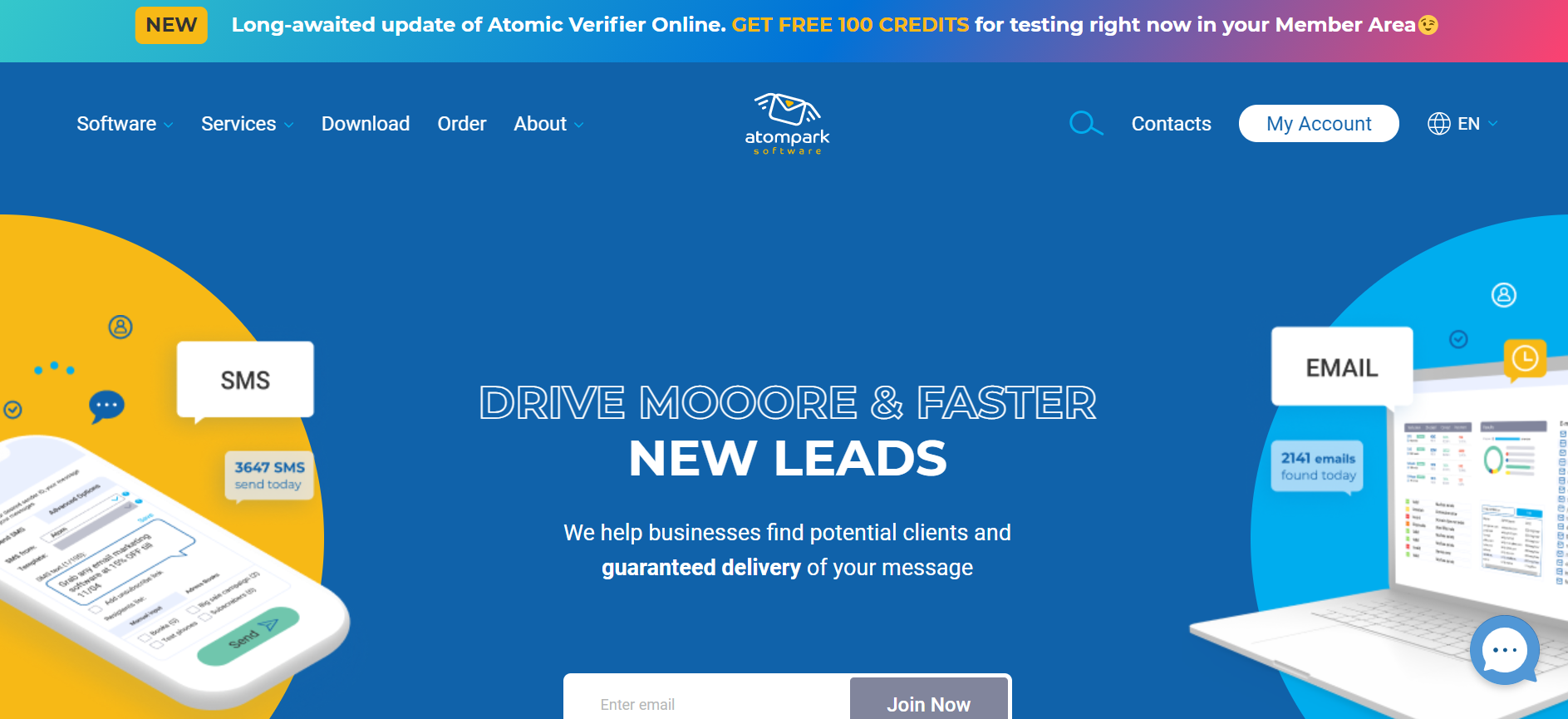 AtomPark Software is one of the top email extractors for extracting emails from your prospects' social media profiles. An email hunter that makes it simple for organizations to gather emails from websites and other online sources.
This tool collects bulk emails, manages your email list, checks the email list, and extracts emails. You may receive reliable and verifiable information about your prospects by typing their contact information into a search engine.
Feature:
Provides targeted lists of phone numbers
You may extract fax numbers and cell phone numbers from text
It allows you to reach out to their customer service team at any time
Pricing:
Their lead extractor starts from $53.91. Also, they provide a free trial.
#8 Debounce
Debounce is one of the most reliable and cost-effective email checker services. It has a 96.5 percent email verification accuracy, giving all validated emails a high level of credibility. Users frequently demand a full summary of emails after verification; Debounce delivers extensive reports to help users better understand the process.
Users can get accurate results from unknown emails by checking the status of the email three times. They're also the first to confirm G-suite catch-all emails. Organizing marketing initiatives on a regular basis can be a demanding job. Debounce can help you save time by giving a list monitoring option.
Feature:
Pricing is more affordable
Integrate with EMSs and provide flexibility
They even offer integration with WordPress plugins to make verification easier for their WordPress users
Pricing:
The plan starts from $10 to $1500 according to how many credits you required. They also provide a free trial with 100 credits.
#9 Email Extractor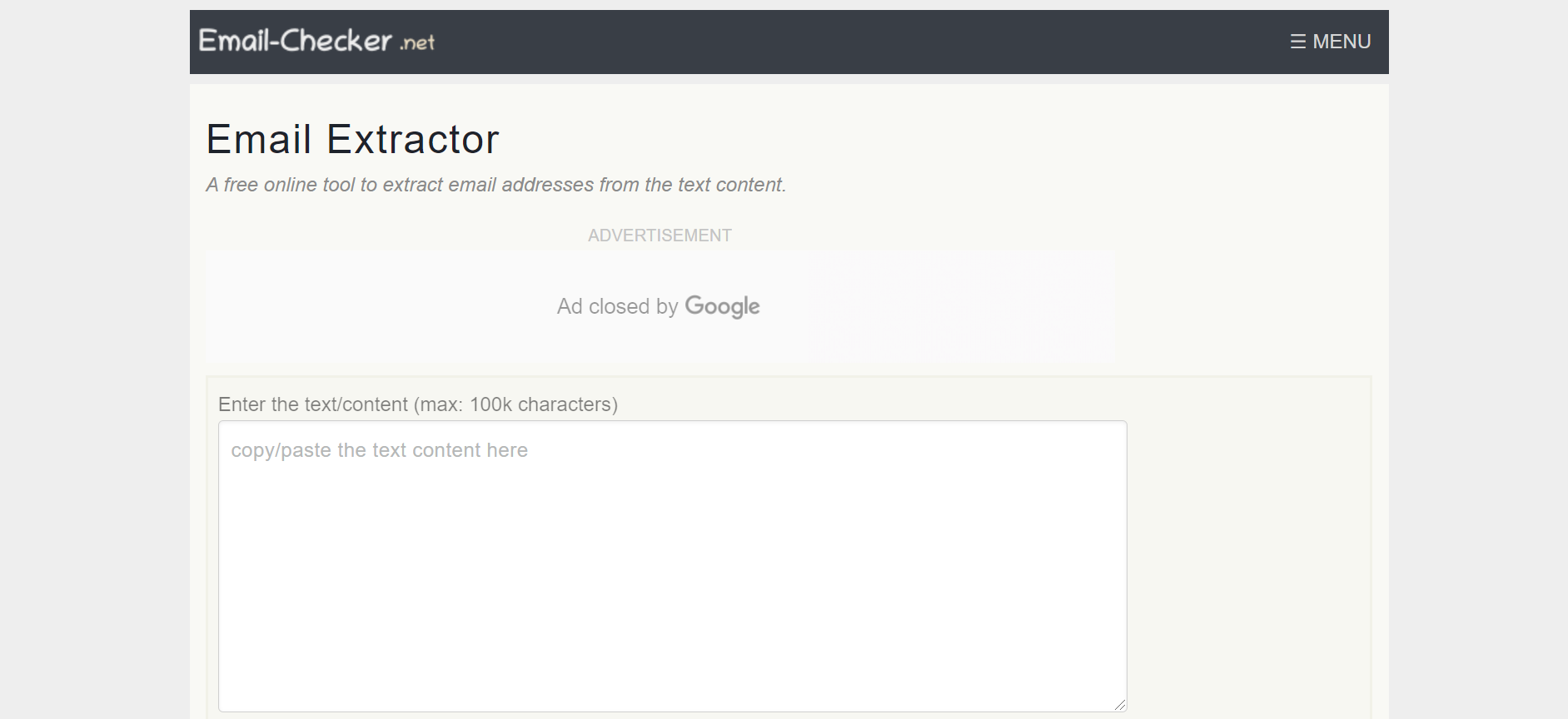 The Google Chrome addon Email Extractor allows you to extract emails from websites. You can use this email scraper tool to extract emails automatically. It allows you to save email lists either online or on a local drive. This email web crawler application aids in the recognition of emails from Ajax pages such as Google Search.
In recent years, it has grown in popularity and is currently one of the most popular ones. It scrapes the company's website and then analyses the emails' adjacent placements.
Feature:
It allows you to download emails automatically
Duplicate data on the page is automatically removed
The best extractor for an ad-free experience
Filters out duplicate email addresses
Pricing:
Free
#10 Discover.ly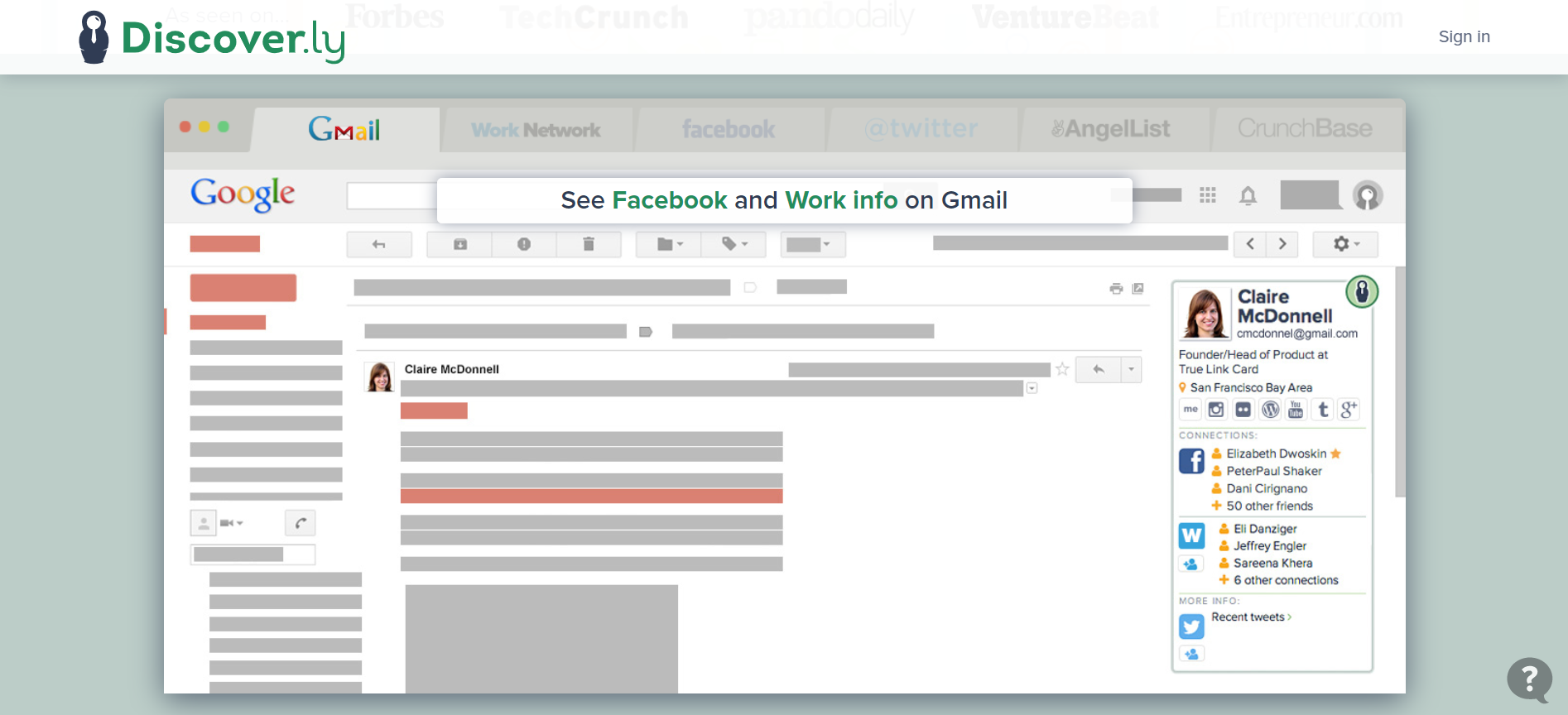 Because of its research-based contact details across numerous platforms, Discover.ly software is trusted by many well-known businesses such as Forbes, Entrepreneur.com, and TechCrunch. This software comes with a browser extension that collects all of your prospect's contact information.
The browser extension allows you to extract all of the necessary data from a variety of social networking accounts, including LinkedIn, Gmail, Facebook, and Twitter. It helps in the management of all collected data, allowing you to efficiently conduct all lead generation processes and marketing efforts.
Feature:
Amazing features will cost you $0 as they serve all their services for free
Easy to use
Create a Rolodex of contacts by loading social data into a CSV file
Pricing:
Free
#11 Email Grabber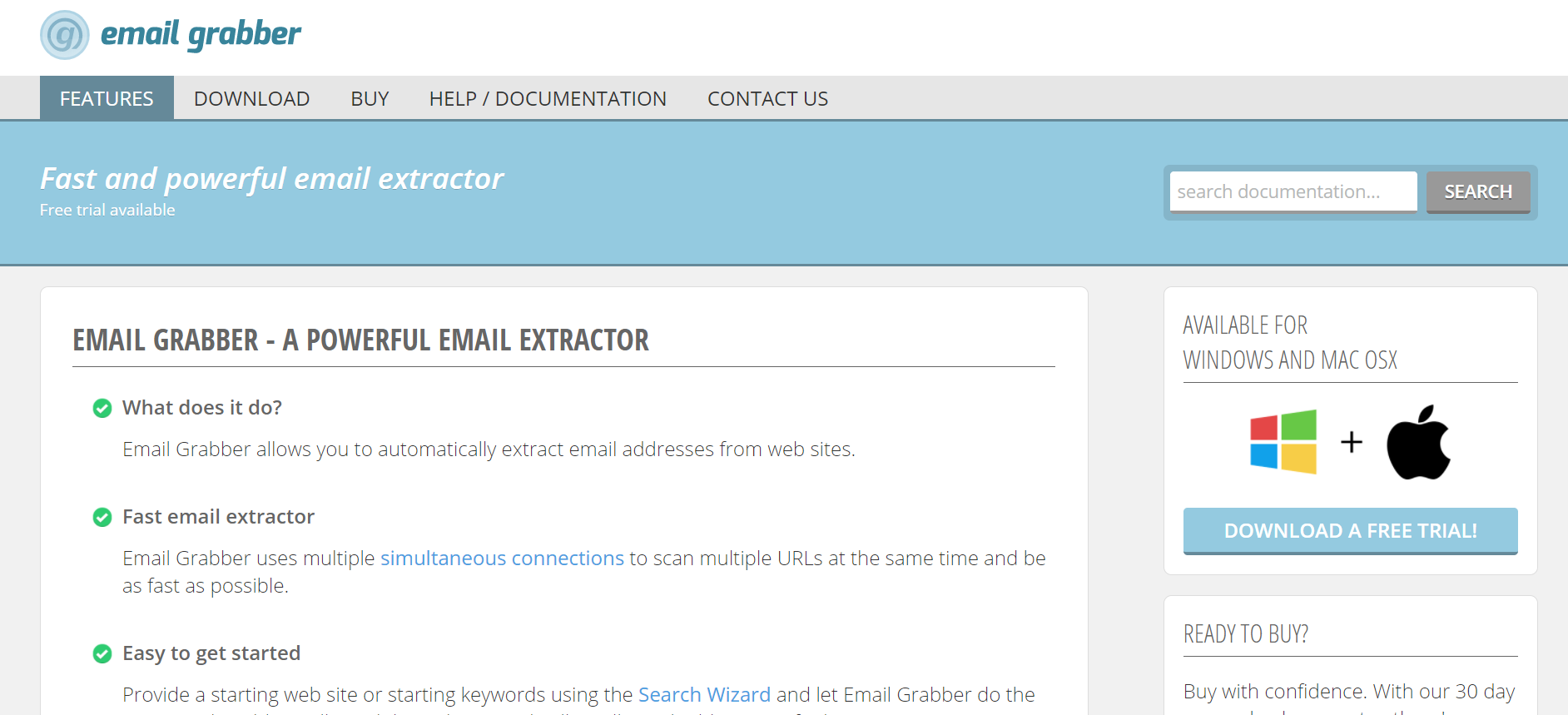 Email Grabber is a powerful and quick email-finding tool that collects data from several URLs to help you retrieve an email from a variety of websites. This software is the one for your organization to create leads if you're seeking a quick and easy way to find emails.
This fantastic software is compatible with both Windows and Mac. You can even restrict some websites from appearing in the search results. This tool allows you to export the data you've gathered into another tool that you may utilize in your marketing campaigns.
Feature:
It helps you to search by using the level filters and URL filters
Allows you to narrow down your search by limiting the number of layers that can be searched
Users can search by keywords using the Search Wizard
It helps you merge email addresses from multiple local files and remove duplicate emails from those files
Pricing:
The paid plan starts from $16.95 with a 30-day money-back guarantee scheme and also, they provide a free trial.
#12 Email Extractor 14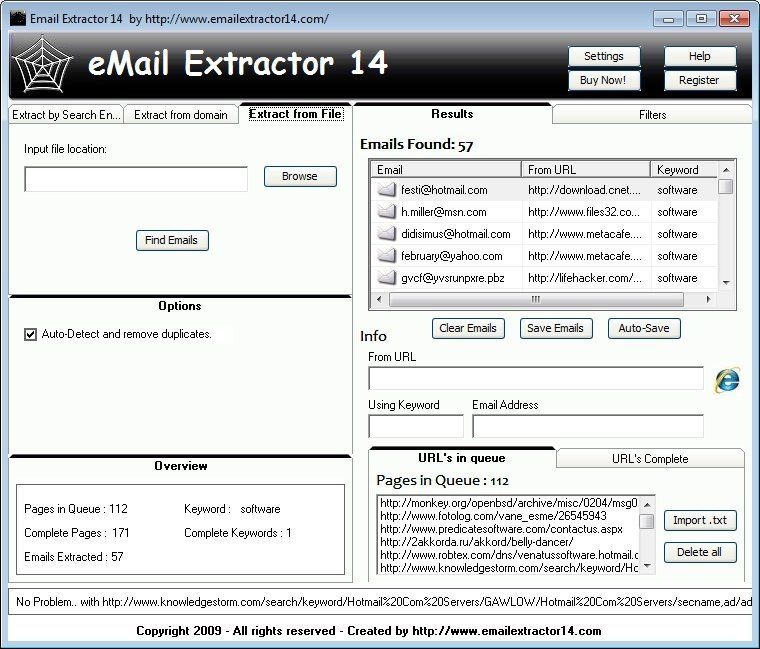 Email Extractor 14 (EX14 or EE14) is an easy-to-use, low-cost automated spider software tool that searches the web for the email addresses of potential customers. To work properly, email marketing relies heavily on trustworthy data, such as email addresses. EX14 improves the accuracy as well as the efficiency of the email address collection procedure.
Email harvesting is a highly successful method of expanding your customer base since it allows you to quickly collect the email addresses of potential customers. EX14 searches online search engines such as Google, Yahoo, and MSN for websites that meet your specified criteria in order to locate possible clients that are interested in your services or products.
Feature:
Can swiftly extract emails from search engines and websites
Capable of extracting emails from sites based on social media
Keywords can be used to extract emails
Updates to the software are available for free
Pricing:
The plan starts from $81 and they provide a free trial.
#13 Yellow Lead Extractor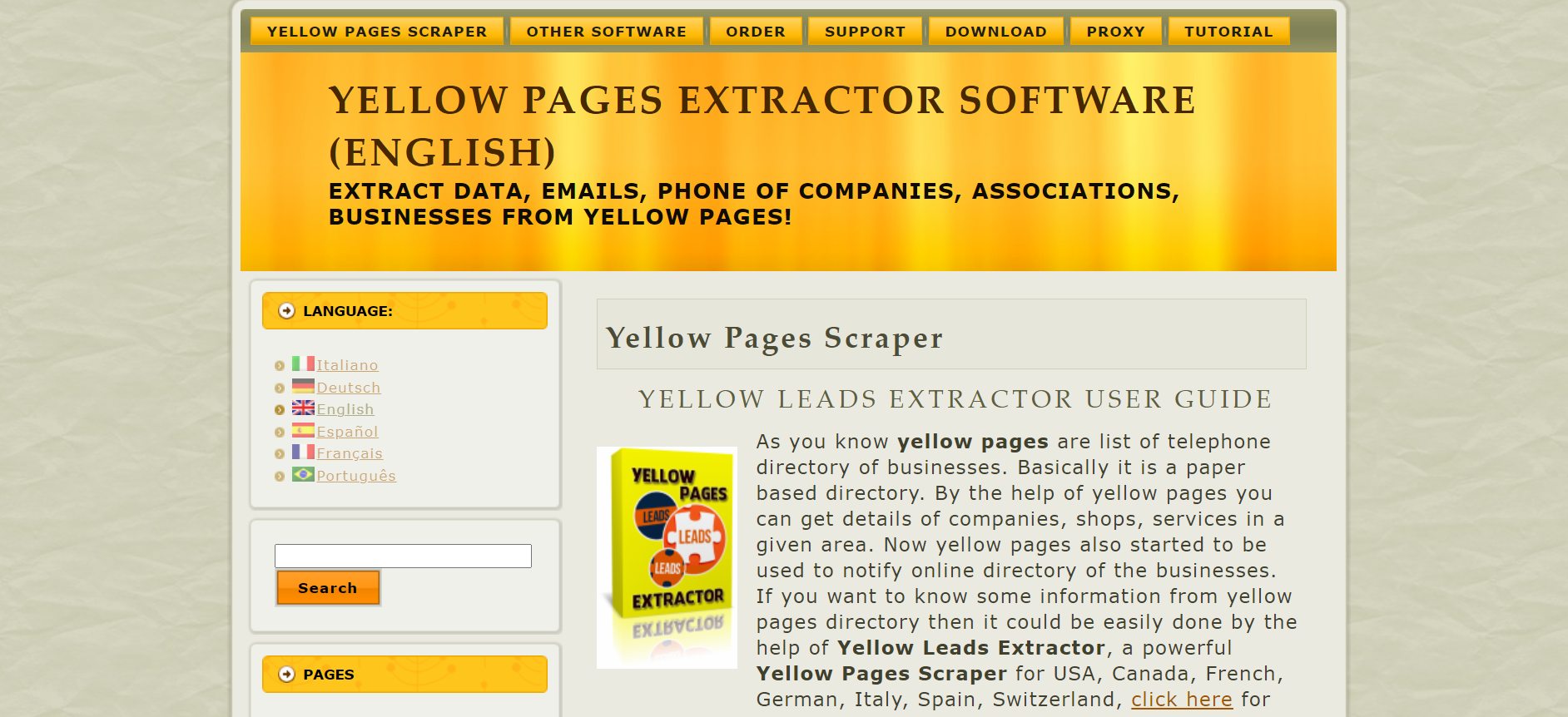 Yellow Leads Extractor is a sophisticated tool that was designed specifically for scanning the most well-known yellow pages directories. It will easily extract phone numbers, business names, addresses, and emails. Simply choose a company category and area, begin searching, and when the first page of results displays, hit the "Get Data!" button and the rest will take care of itself. All data will be recorded in Excel or CSV format.
Yellow Leads Extractor is a part of the system utility category and was created by the automation tools subcategory. It allows its users to conduct completely personalized searches in their browser.
Feature:
Capture corporate data from all around the world
Extract email addresses, phone numbers, and addresses from the yellow pages
Save it in CSV or MS Excel format
Pricing:
The paid plan starts from $89. They also provide a free trial with limited features.
#14 Email Drop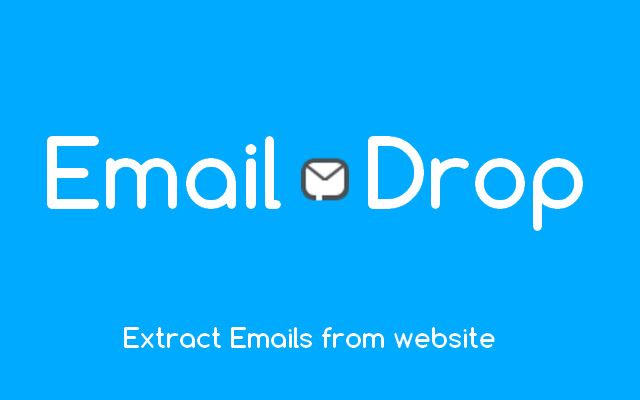 Email Drop that identifies email addresses from web pages in a matter of seconds, saving you time and providing you with a list of accurate emails. It merely provides a browser extension and does not provide further information to its users through a website.
The biggest feature of this email extractor has to be the quick and easy email extraction service, which saves you time by eliminating the need to go through all of the email addresses one by one.
Feature:
It's quick, practical, and extremely secure
A free inbox where you may send all of your spam emails
The alias feature is useful since it assures that only you have access to incoming messages
Pricing:
Free
#15 Cute Web Email Extractor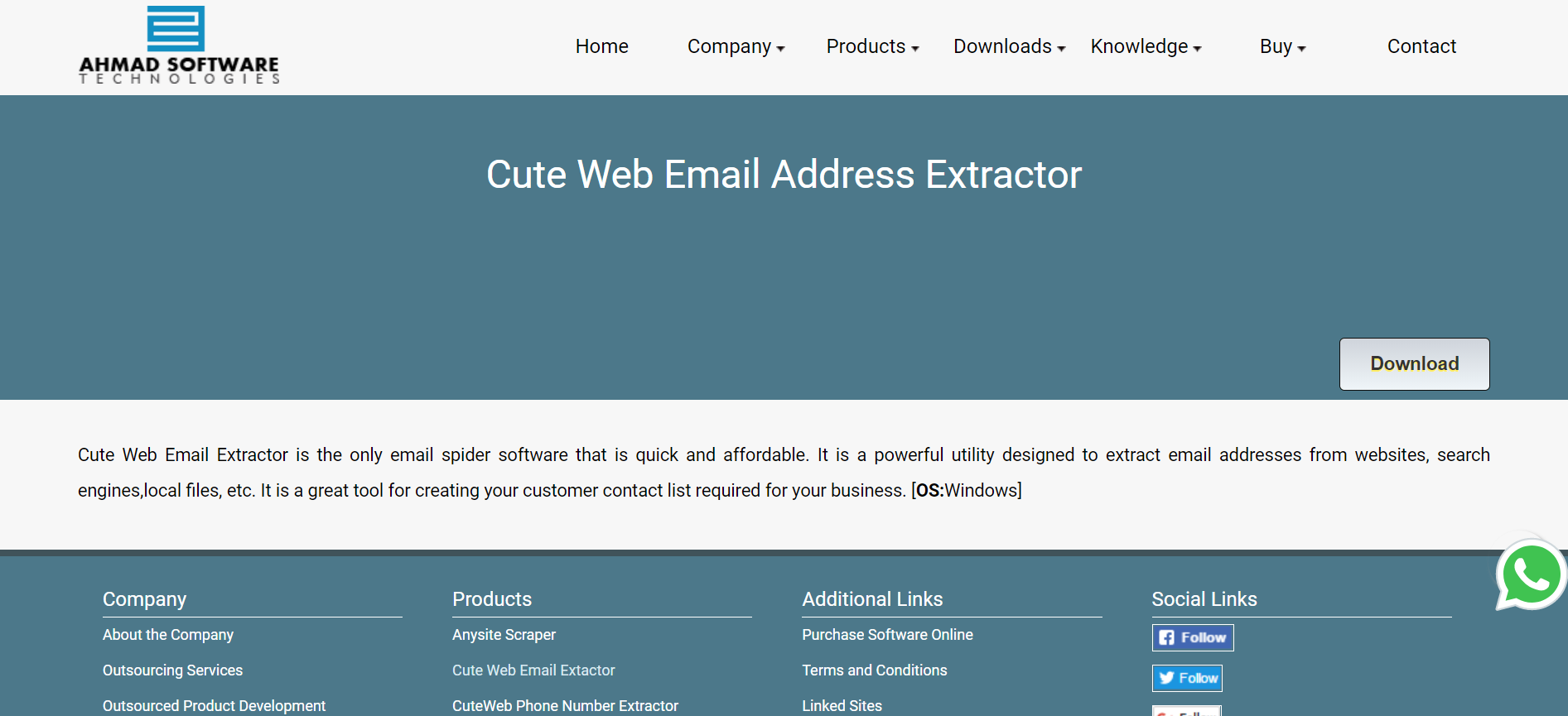 With Cute Web Email Extractor, you can search well-known search engines like Google, Yahoo, Bing, and others for email addresses for anyone in any industry or company. The tool can search a large number of email addresses from website pages automatically and return almost all genuine email addresses. Following that, it creates an output file containing only genuine and properly formatted email addresses.
It allows you to set rule-based searching criteria to improve the pace of your searches and to retrieve only the list of email addresses you need from websites rather than all email addresses; this will save you a lot of time. The tool also allows you to filter email addresses before exporting them to a file.
Feature:
The application is extremely effective, dependable, and fast
Auto-save & recovery
Network failure detector
Custom email address limit
Pricing:
The plan starts at $59.99/year.
Finally!!!
Without a question, these tools and extensions can provide incredible marketing benefits, but only if they are used properly. Most importantly, using these technologies rarely results in complications. Every business needs a budget to operate a successful marketing campaign, and we've made it easy for you to find out everything you need to know about each email extractor's plans. As a result, your sales representatives make the proper decision by purchasing the appropriate email extractor.
We hope this list of the best email extractor tools was helpful. Please share your thoughts about the email extractor with us in the below comment section.
---
LeadMine

: Find Your Next Customer without Wasting Time
LeadMine is a lead generation platform used by all types of businesses. From over 200 million contacts, you may identify your target b2b leads as well as their email addresses.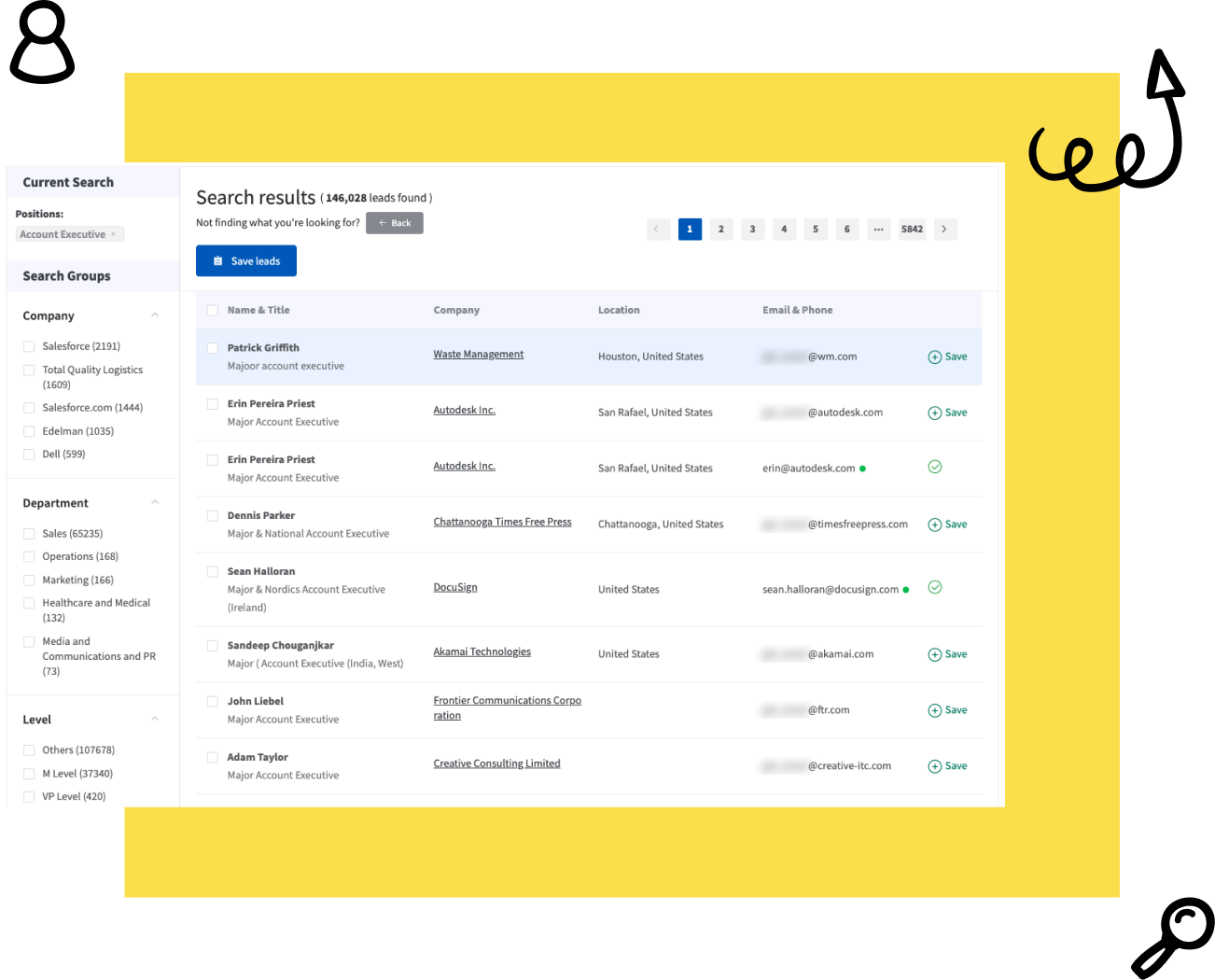 LeadMine is an extremely simple and handy application that can improve your marketing and sales processes. Its user-friendly interface, strong algorithms, real-time data, and email verification features save time that can be better spent on other tasks. The rich API solution can also check hundreds of email addresses in less than a minute. The powerful yet easy solution might be your ideal marketing and sales partner, helping your business grow.