Customer data is all over the place. Companies may benefit from various forms of consumer data if they put in the effort to understand and use it. To remain competitive, you must harness the power of data. You leave a trail of breadcrumbs behind you every time you interact with a brand. These bits of data, taken individually, reveal something about you as a customer. When they're combined, though, they form a useful consumer profile that companies can use.
In general, businesses collect six different types of customer data, each of which serves a different role in helping them get to know you – and informs how they offer unique customer experiences.
Here how it's done:
What is Customer Data?
Types of Customer Data
Summary
What is Customer Data? 🤔
Customer data is described as the information provided by your customers when they interact with your company through your website, mobile apps, surveys, social media, marketing campaigns, and other online and offline channels. It is the behavioural, demographic, and personal data about consumers that businesses and marketing firms obtain in order to better understand, interact, and connect with customers.
A good business plan relies heavily on customer data. Data-driven businesses understand the significance of this and take steps to ensure that they obtain the requisite consumer data points to optimize customer experience and fine-tune business strategy over time.
Types of Customer Data 🤓
Throughout the buyer's path, a company gathers a plethora of consumer data points. Since the number of data points is so large, we've divided them into categories to make them easier to understand.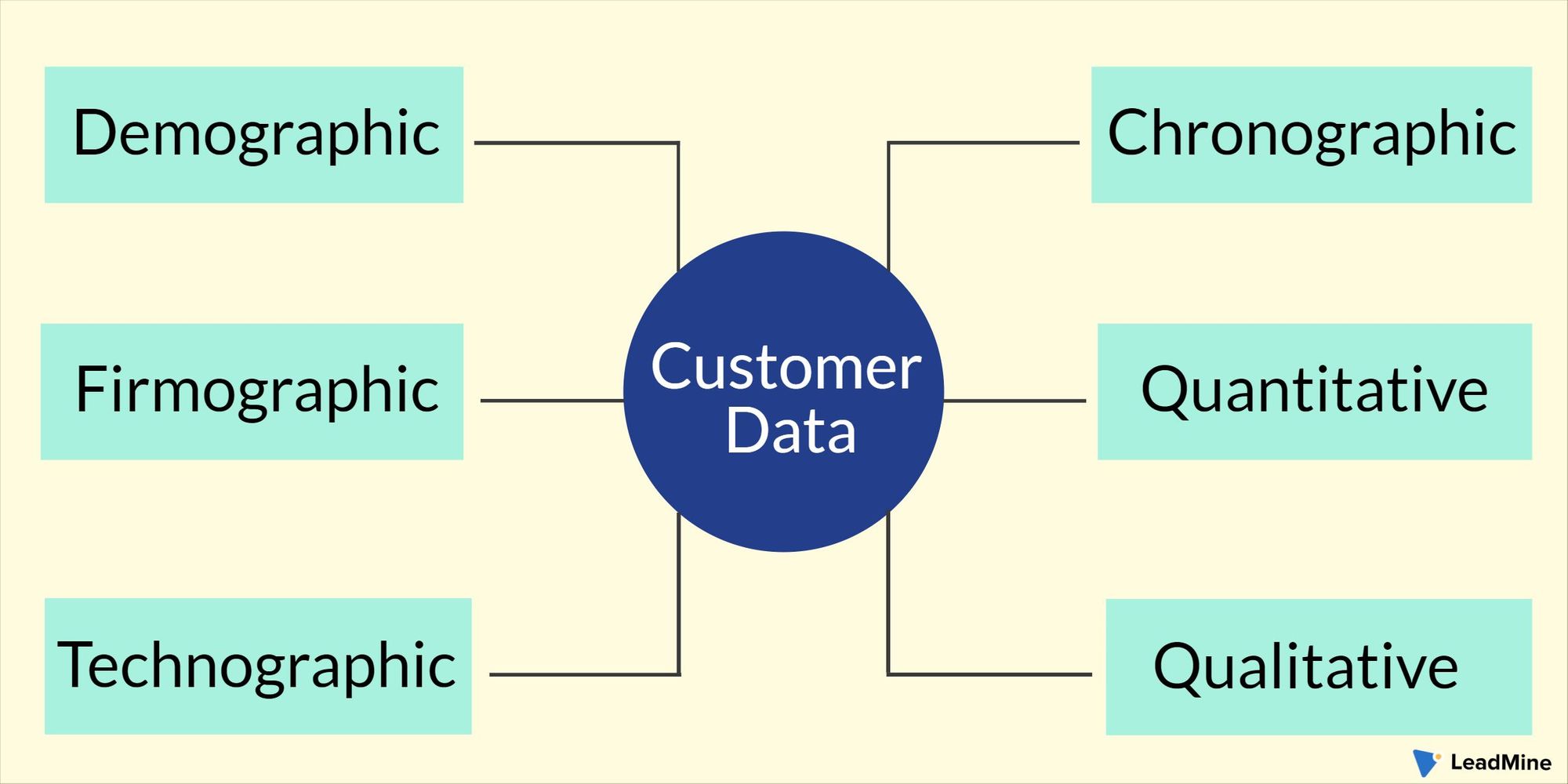 #1 Demographic Data 🧾
The first type of customer data looks into the heart of database marketing – the most basic data that can be used to identify an individual. It gathers information about a customer's name, gender, age, phone number, postal address, email address, occupation, social media handles, and account (i.e., customer account IDs).
The identity data category serves as the foundation for identifying and building buyer personas, allowing you to see exactly who is interested in your goods and services. This enables you to figure out who your target demographic is. When a customer subscribes to your newsletter, makes a purchase, or signs up for a membership, you can obtain their unique identity details.
This entails gathering the following data points for B2B marketers:
Name
Age
Email address
Phone Number
Location
Work Experience
Qualifications
This is basic knowledge that any marketer should have. It won't tell you anything about the lead's purchasing preferences or desires, but it will tell you whether or not they suit your ICP (ideal customer profile).
#2 Firmographic Data 🤩
Geographical location, number of customers, type of entity, sector, technologies used, and other forms of firmographic data may be used to categorize organizations. The information is used to categorize businesses into meaningful groups.
Firmographic data such as public or private company, non-profit, or charity designations are important, but data unique to a specific entity, such as name, address, or CEO, is not. Industry and market research, B2B marketing, and competitive intelligence (CI) are all examples of firmographics applications.
Here are a few firmographic categories to consider:
Performance, which can be classified further based on annual revenue and average sales period.
Size, which can be broken down into employee numbers and geographic locations.
Ownership - Public, private, government, and cooperative ownership are the four types of ownership.
Trends are divided into three categories: rising, decreasing, and stable.
Demographics, the comparative analysis of groups of people, is the organizational counterpart of firmographics. Firm demographics and emporographics are two other terms for firmographics.
#3 Technographic Data 👩‍💻
After Demographics and Firmographics, Technographic is the next phase in market research growth. Technographic evaluate the tools used by your prospects in the same way as surveys determine people's behaviours. You can learn a lot about a company's technology stack and their possible plans to purchase technical solutions in the future using technographic data.
Technographic data will help you learn more about:
Hardware and software applications used by your prospects
Remarketing – did they use remarketing or didn't they?
Is it a marketing stack or marketing automation that they're using?
Simply put, technographic is data about a company's existing technological climate. It contains information on both software and hardware technology stacks, as well as, perhaps more importantly, when improvements are likely to occur. To define revenue goals, ideal customer profiles (ICP), total addressable markets, and craft marketing messaging, many technology companies still depend on firmographics data (company size, vertical, location) and demographics data (contact title, job history, social handles).
#4 Chronographic Data 😇
The chronographic data points shift over time. These data points, like technographic data, may refer to either the organization or the employee. The following items make up chronographic data:
Change of location
Joining/leaving a job
Support from the company
Purchase of a company and attendance at a company function
Recruiting for the company
Chronographic data sets will easily become stagnant if they are not updated on a regular basis.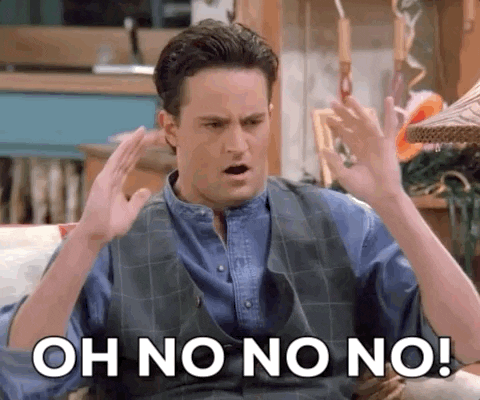 #5 Quantitative Data 😵
Quantitative data is any type of data whose value is expressed in numbers or counts, with each data set having a specific numerical value. Quantitative data, also known as numerical data, represents numeric variables (e.g., how many? or how much? or how often?).
Because of the ease with which quantitative data can be calculated, it can be used to manage a variety of parameters. This data category can also be described as a collection of quantifiable data that can be used for statistical analysis and informing real-life decisions for a particular population segment. The obtained findings can be applied to a large group of people.
The following are examples of quantitative data points:
Clicks on a website
Completed forms
Appearances at events
Data about current customers
Since the amount of quantitative data you can collect is immense, we've just mentioned a few of the most interesting. The biggest advantage of quantitative data is that it is objective; you know where you are.
#6 Qualitative Data 🧐
Finally, once you've figured out your customers' basic facts, personal data, and actions, you'll need to figure out their attitudes, opinions, and motivations about your brand (and your competitors'), as well as why they bought your product or service and how they feel about it. All of these can be discovered by qualitative data analysis.
You'll come across information that gives you a more detailed picture of your customer and their future behaviour, and it's typically in the form of a questionnaire with questions about their mood, motivation, and opinion:
Attitude data – How will you rate our customer service, the reliability of the product, the likelihood of purchasing our product again, and so on?
Opinion – What is your favourite colour, where do you want to go on vacation, and so on.
Motivational – What was the primary reason for purchasing our product (locality, price, quality), and why was it purchased (personal use, gift for someone, etc.).
You will "listen" to what your customers are talking about your Products and services using social media monitoring software. The data shows who your most loyal customers are, allowing you to identify future brand ambassadors. It also reveals which aspects of the consumer communication and marketing plan could be improved.
Summary
We are surrounded by vast quantities of data in today's digital world. As a result, determining which data is important is crucial. You should take advantage of this to assist you in developing good marketing ideas and tactics.
Data is a powerful tool. It's how you can successfully develop your company by understanding what your customers want and need. Your gathered experiences hold the key to providing a better and more personalized experience for your customers.
Share your thoughts about customer data types with us at LeadMine.