What could be more difficult than entering the field of internet lead generating for the first time? Realizing that there are numerous approaches to generate sales leads.
There are several aspects to lead generating. It entails far more than simply attracting your target audience to your website. This method include attracting a target consumer base interested in the company's products and services.
The knowledge gathered about the target can subsequently be utilised to create effective marketing communication.  It may appear simple, but without the correct sales lead creation tools, it may be a difficult task.
As a result, you'll need the assistance of professional lead generating solutions that can create plans and campaigns to help you collect lead information.
Table of Contents
Why is Lead Generation Important?
It is critical for a company to generate leads. Without leads, most firms will be unable to develop their sales and customer base.
Companies can't rely on intuition; they need well-thought-out plans for the clients they want to attract.
Without such a strategy, a firm will be unaware of the type of people it should be targeting, and most businesses will struggle to generate leads without it.
To keep solvent, most businesses require a steady stream of potential customers.
What Kind of Companies require Lead Generation?
Any business that relies on customers to stay afloat will require lead generating.
Businesses that rely entirely on consumer revenue to stay afloat, such as merchants, restaurants, and service providers, rely heavily on leads to keep the doors open and stay viable.
There is no one-size-fits-all solution for what works best for each firm, but some alternatives include social media marketing (such as Facebook advertising), email marketing, and keyword-focused search engine optimization (or SEO) campaigns.
There are many various parts that make up the Lead Generation process, and it doesn't have to mean selling right away.
This includes 'lead nurturing,' which entails contacting someone again after they've been contacted once, and 'lead qualification,' which is the process of assessing whether someone is a suitable fit for your company.
Ways to Get Your Business Started Generating Leads Right Away
Here are some ideas of how to get started with lead generation for your business:
Using content marketing, such as a blog and articles, to target specific keywords .
Lead nurturing resources, such as Lead Magnets and E-books.
Selecting a few distinct social media platforms where your target audience spends the most time and placing advertising to expose them to your offers/products/services, as well as cross-promoting across all channels.
Top Websites Where You Can Purchase Leads
Today's companies are competing to be recognised by potential customers, and it takes more than just professional marketers to get things moving in their favour.
Professionals, too require top lead generation technologies to get things moving in their favour. As a result, having the correct marketing tools will assist you in increasing your sales.
Using these tools will benefit firms in the following ways:
Identifying the appropriate consumer base
Increasing brand recognition and brand loyalty
Increasing brand recognition
Boosting brand equity
Obtaining useful prospect information
Here are some of the most critical aspects of your lead generating process, as well as the tools I recommend to make it more efficient.
1. LeadMine
LeadMine is one of the best  software in the list. This is a lead generation and sales prospecting software that can assist you in finding prospects and building contact lists in your industry.
This Lead Generation tool is easy to use and it is used by more than 1000 companies and it has B2B Leads which are desired by sales teams from all industries. User-friendly service with a lot of customization options.
Search for someone's email address by entering their entire name and domain. Verify the deliverability of any email using the Email Verifier. Get leads directly from your LinkedIn profile and Google search results with this Chrome plugin.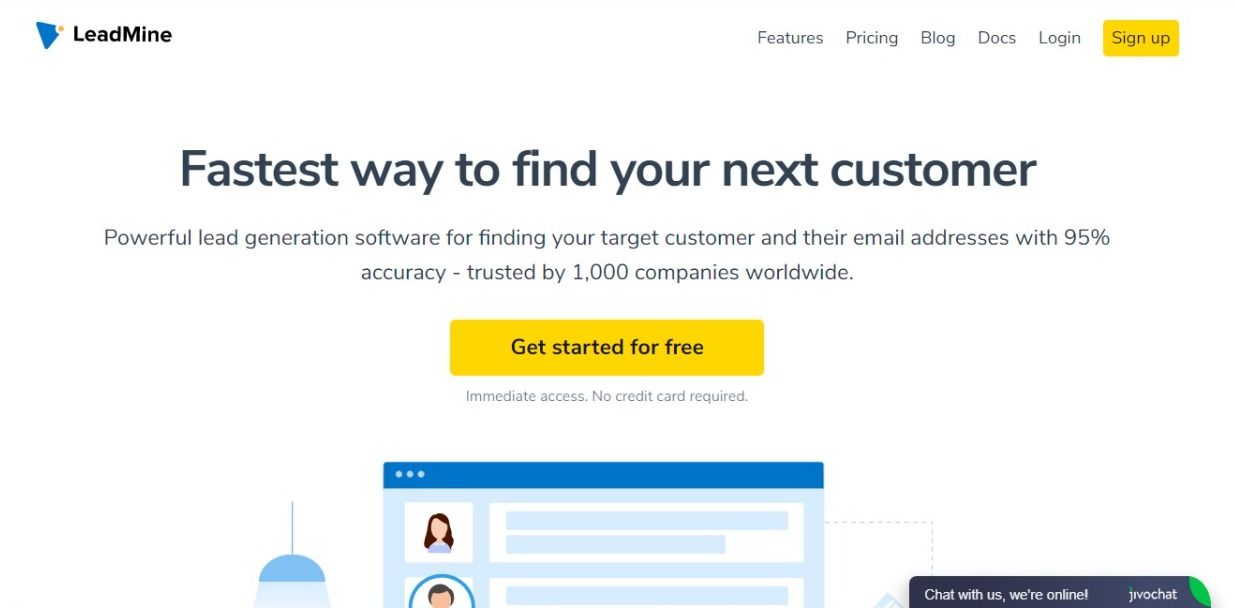 Pricing: The monthly cost of LeadMine starts at $49 per month with a free option.  If you want to learn more about the price, you can look at their many options here.
2. UpLead
UpLead is a lead generation tool that enables connecting with the right people simple for businesses. There are about 46 million high-quality business connections in the database.
Using high-quality, verified data, create tailored lists. Look for specific people and businesses. Make your own data more valuable by enriching and enhancing it.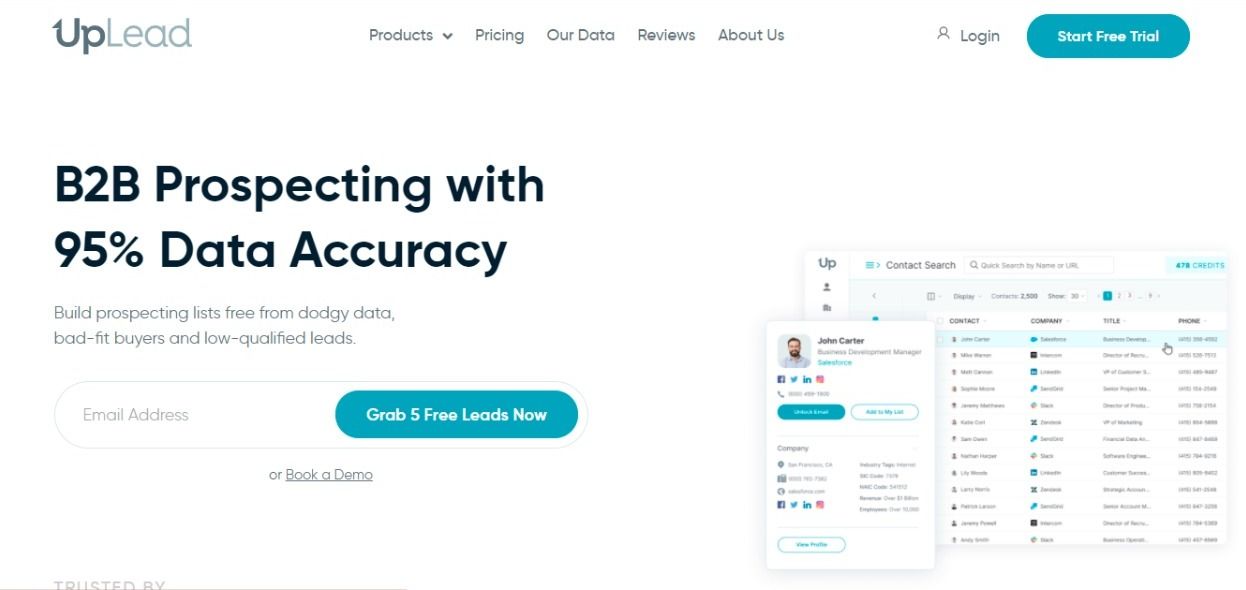 Consider UpLead's free trial before reworking your entire sales management process if you're in need of leads.
Pricing: The Basic Plan is $99 per month. You can discover their various pricing options here if you want to understand more about their pricing.
3. Hunter.io
Hunter has always been a very professional B2B lead generation software that allows businesses to quickly access the email addresses of their leads. The following are some of the most significant advantages of using this tool:
You can use this simple tool by entering the name of the person and the company for which you want to find the email address.
It also allows you to search through an entire company's address database.
This lead generation platform will handle the first 100 email search requests for free.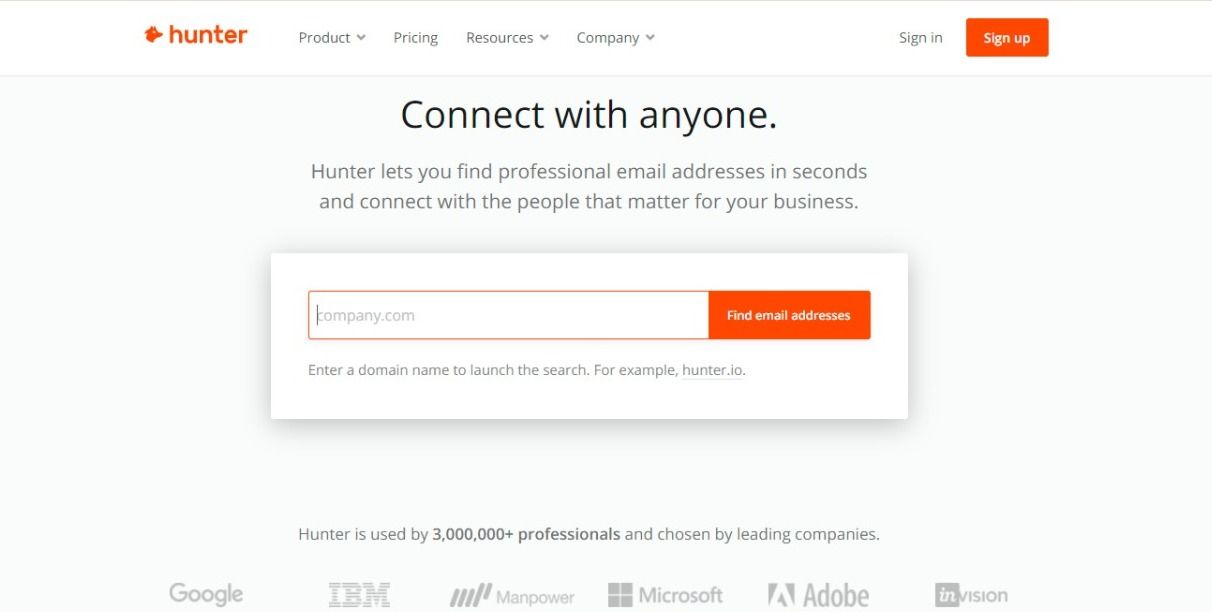 Pricing: Free to find up to 25 requests/mo, plans start at $49/month with a free option.
4. Prospect.io
Prospect.io (now Overloop) is a modern sales automation platform that works seamlessly with Salesforce, Pipedrive, Close.io, and HubSpot. Prospect.io's Chrome extension allows you to find prospects with a single click and launch cold email campaigns directly from your browser in seconds.
It takes time and effort to look for new leads. With Prospect.io, you can concentrate on what matters most: selling to decision-makers.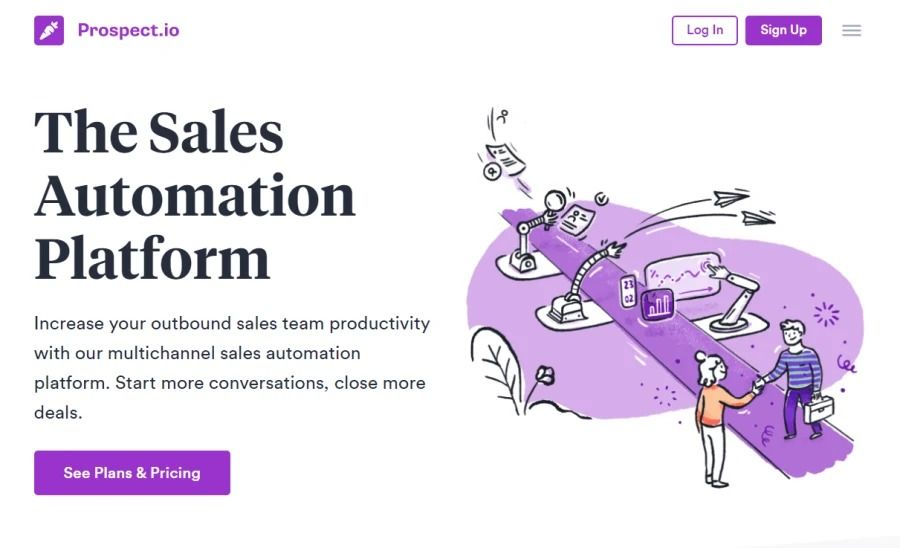 Pricing: Paid plans start at $74/month (annually) or $89/month (monthly).
5. Voila Norbert
Voila Norbert is a sales tool that aids in the discovery of email addresses. Simply enter the name of the person you want to see an email for, as well as the company they work for, and Norbert will find the email address for you. There is also the option of identifying emails in bulk.
CSV files can be used to search for and verify bulk email addresses. This tool integrates with a wide range of CRM applications.
Allows you to schedule emails and receive notifications when someone opens them or clicks on a specific link. Lead generation graphs are simple to track.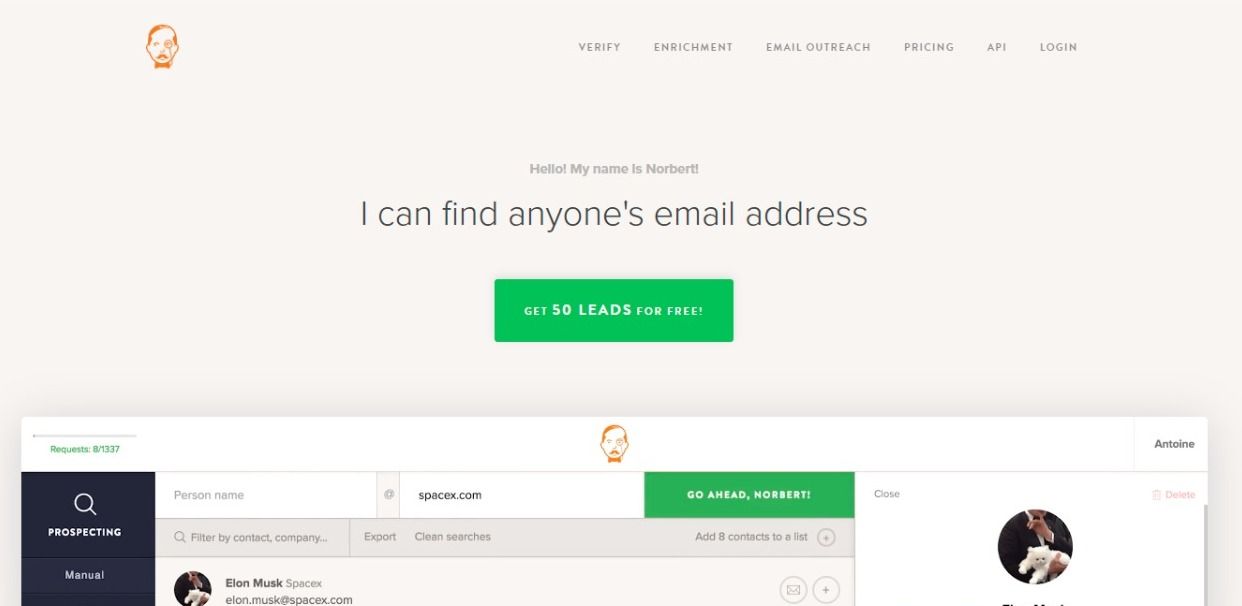 Pricing: Pricing packages start from $49 a month to $499 a month. As many as 50,000 leads can be generated with the highest subscription.
6. Aeroleads
This highly effective sales lead generation platform works in tandem with Google Chrome. Marketers and salespeople can use Aeroleads to get decision-makers' email addresses and phone numbers. This user-friendly extension allows you to add prospects directly from their social profiles.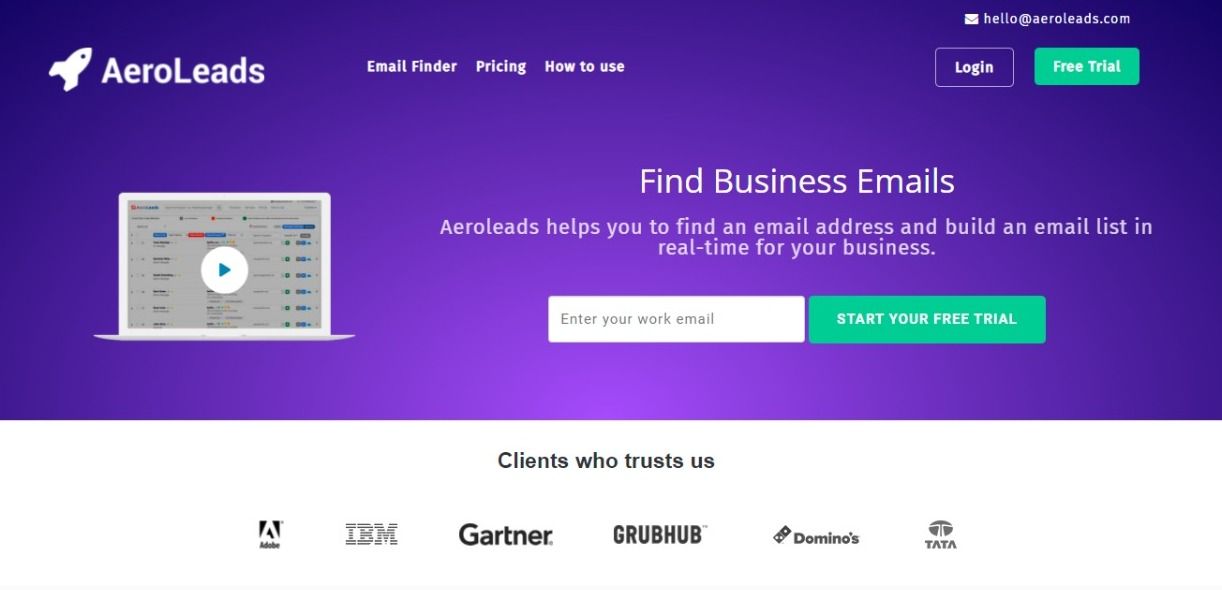 Pricing: A free trial version can be used to begin operations. Subscription and pricing models start from $49 a month.
7. Lusha
Lusha provides marketing and sales professionals with B2B contact information. The platform takes pleasure in providing a diverse set of data points as well as integration with other platforms like Salesforce.
Personal emails are also included. LinkedIn connection is seamless. Existing contact records can be updated.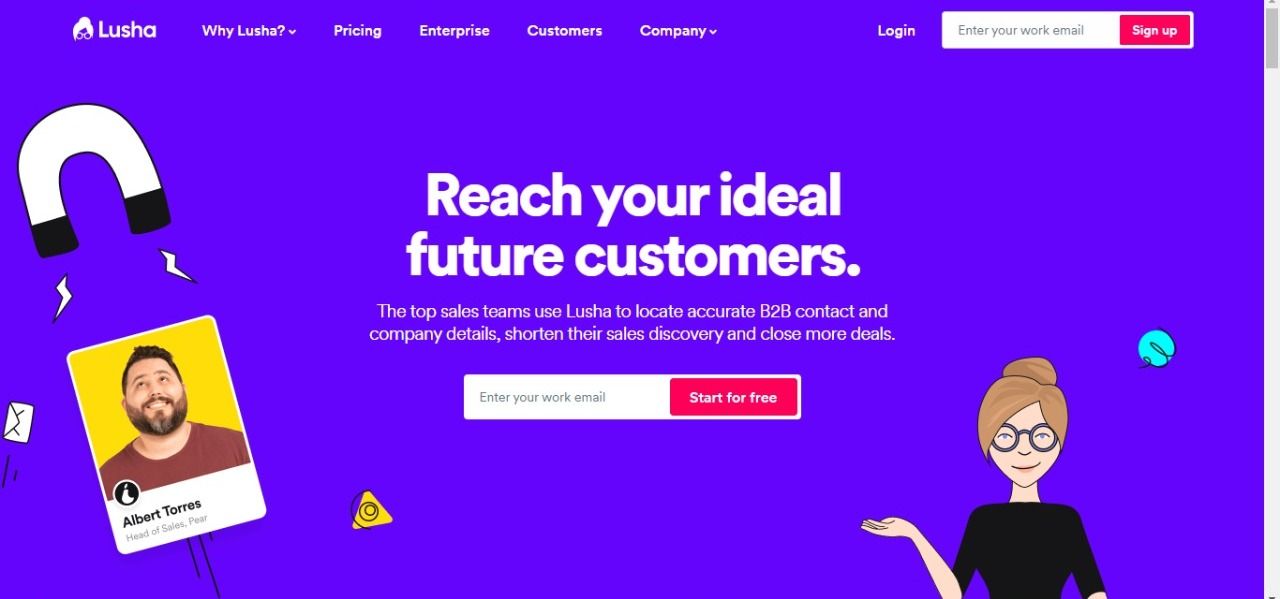 Pricing: One user can take advantage of a free trial plan. Paid plans for two users per month begin at $75.
8. Lead411
Lead411 is a sales intelligence tool that provides companies with direct dials, verified emails, and other information. It also works on a subscription basis, with a variety of options available.
Filters and search options, to name a few. Data that is mostly correct, Customer satisfaction is prioritised.
You can also get 50 free leads if you sign up for a demo today.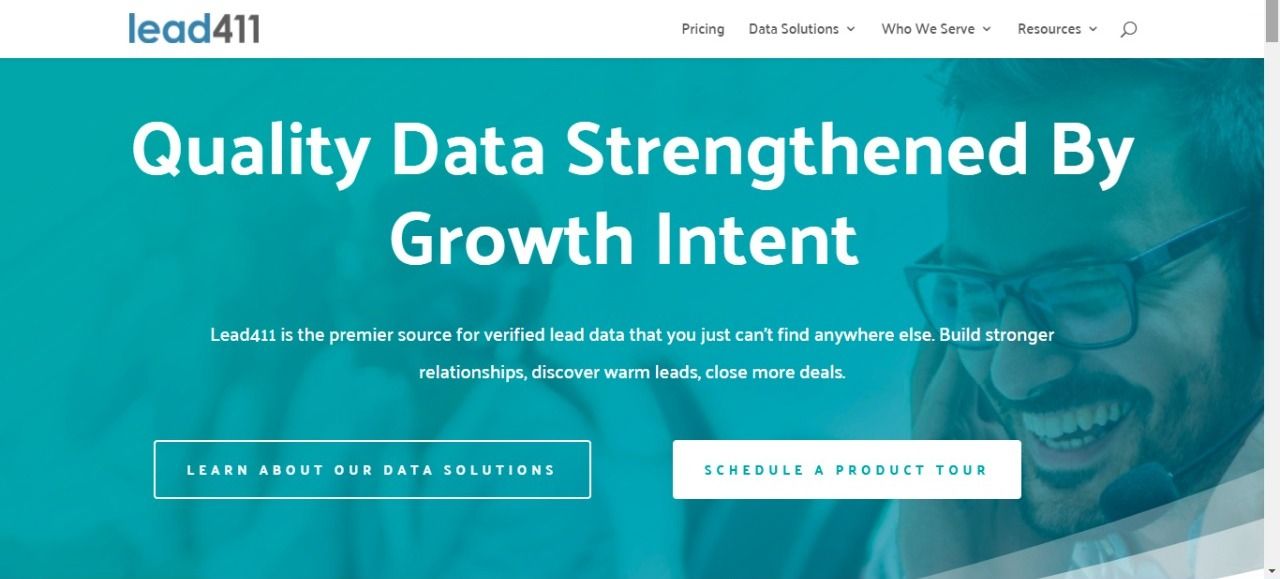 Pricing: Their most basic package costs $75 per month. You may learn more about their other plans by clicking here.
9. SalesIntel
SalesIntel is a trusted B2B business partner, offering human-verified customer and organisation data to firms ranging from start-ups to Fortune 500. To aid your prospecting, the portal also gives extra information, such as technological and firmographic data.
It allows you to keep your forms brief for inbound sales. You only need to enter an email address, a name, and a message, and SalesIntel will use data enrichment to add human-verified firmographic data, technical data, and direct dials.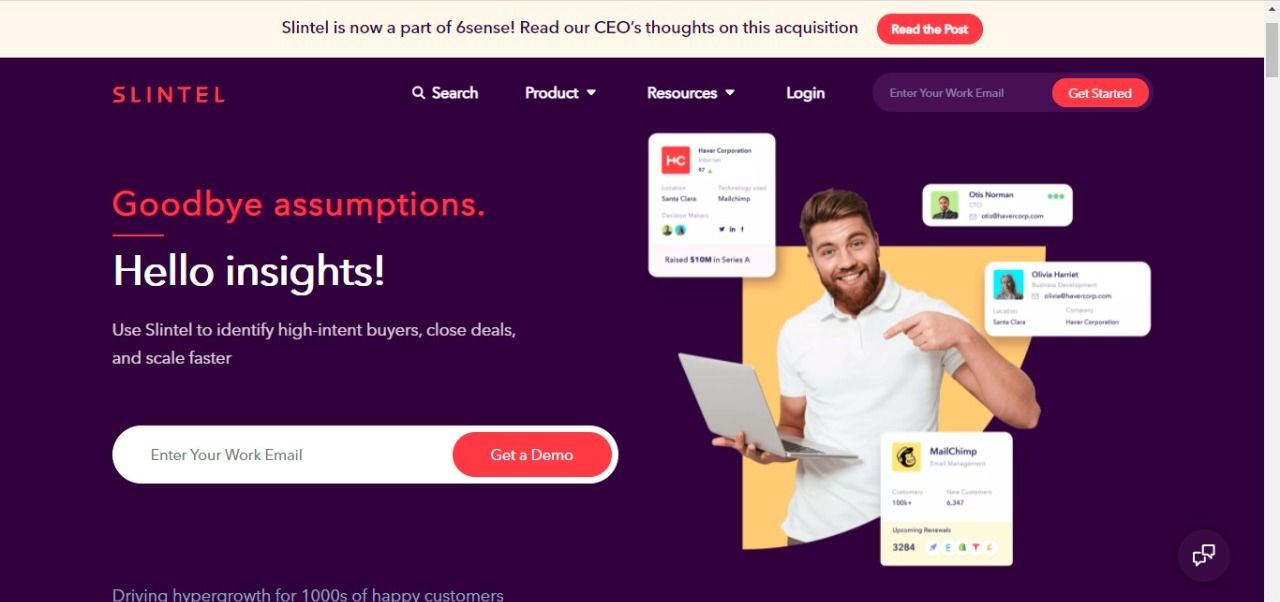 Pricing: It's based on a quotation, which is a set price that can't be adjusted once the customer accepts it.
10. Seamless.AI
Real-time search engine that gives you direct access to B2B decision makers. Artificial Intelligence-powered advanced tech lead generation platform! Salespeople can now create contact lists in minutes rather than hours.
Get 100 free lead credits when you sign up for a new account, or request a one-on-one demo with one of our sales reps!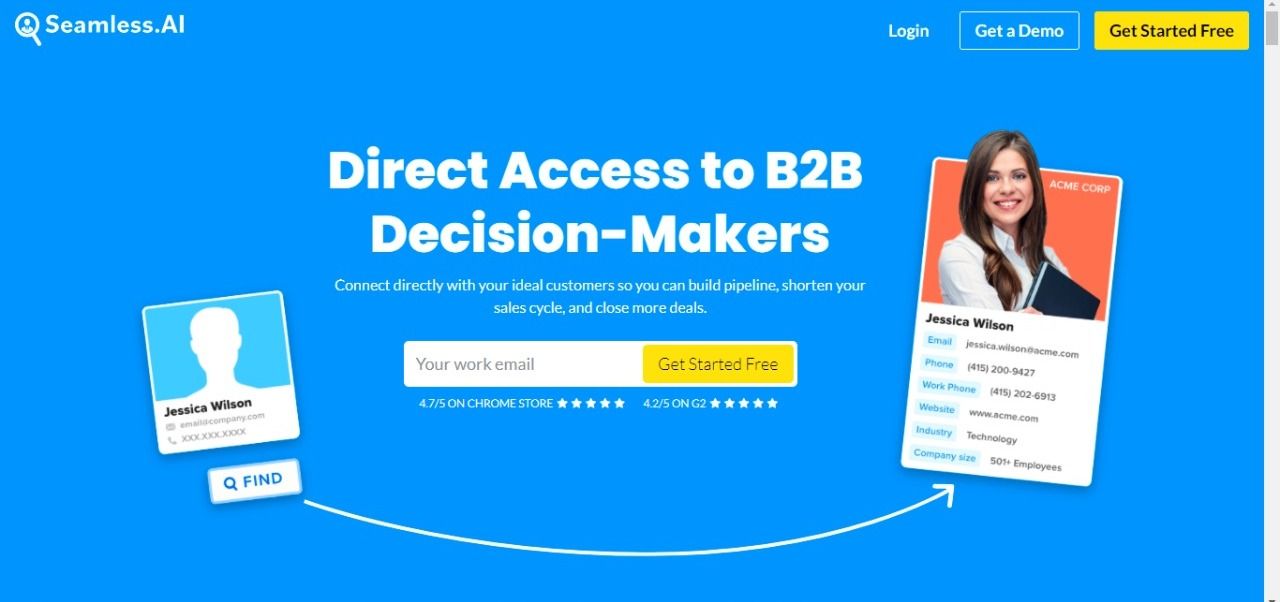 Pricing: Pricing begins at $94.70 per month per user. A free version is available. There is no free trial available.
11. DiscoverOrg
DiscoverOrg is a business contact database that enables companies to create tailored sales lead lists and engage with decision-makers directly. Subscriptions are required to use the platform.
It's useful for locating high-level information. It has a lot of useful information.
A wide range of capabilities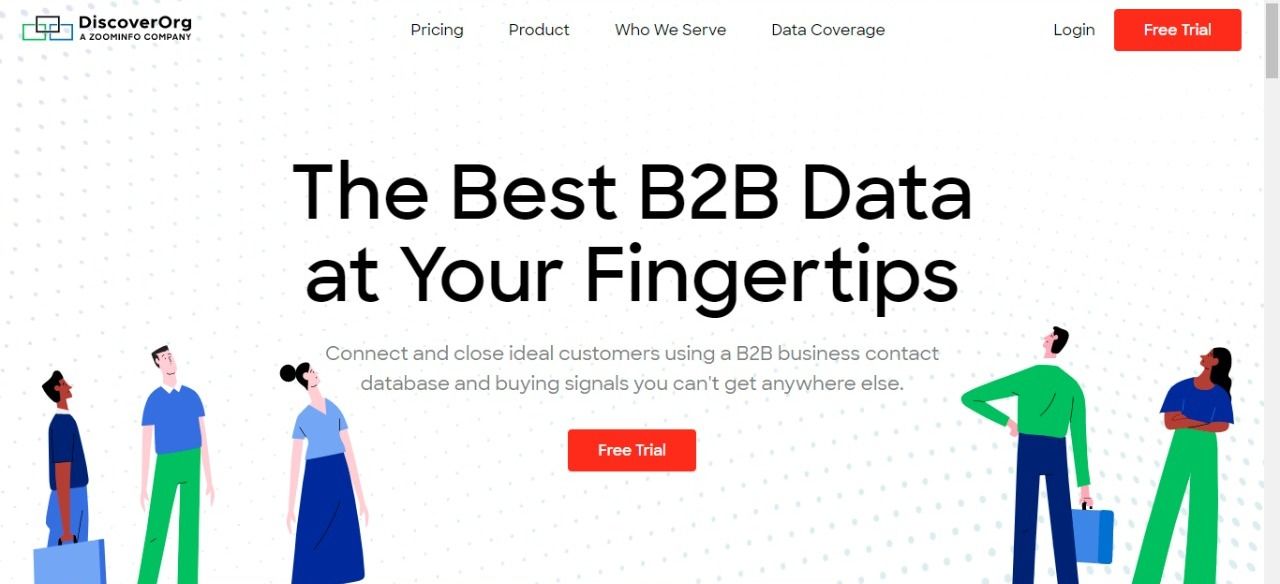 Pricing: On request, a price might be provided.
WindUp
The email leads generation software stated above will assist you in populating your list with confirmed leads. Conversions will quickly begin to rise, and sales will follow suit.
These lead automation systems serve as a link between marketing communications and salesforce efficiency. With these tried-and-true methods, you can easily expand your lead list in a cost-effective and hassle-free manner.
We hope that this article assists you in making the best possible decisions when purchasing leads. As you can see, you have a plethora of choices when it comes to finding and purchasing high-quality leads.
---
LeadMine : Find your next customer in minutes, not months.
LeadMine is a lead generation platform used by all types of businesses. From over 200 million contacts, you may identify your target b2b leads as well as their email addresses.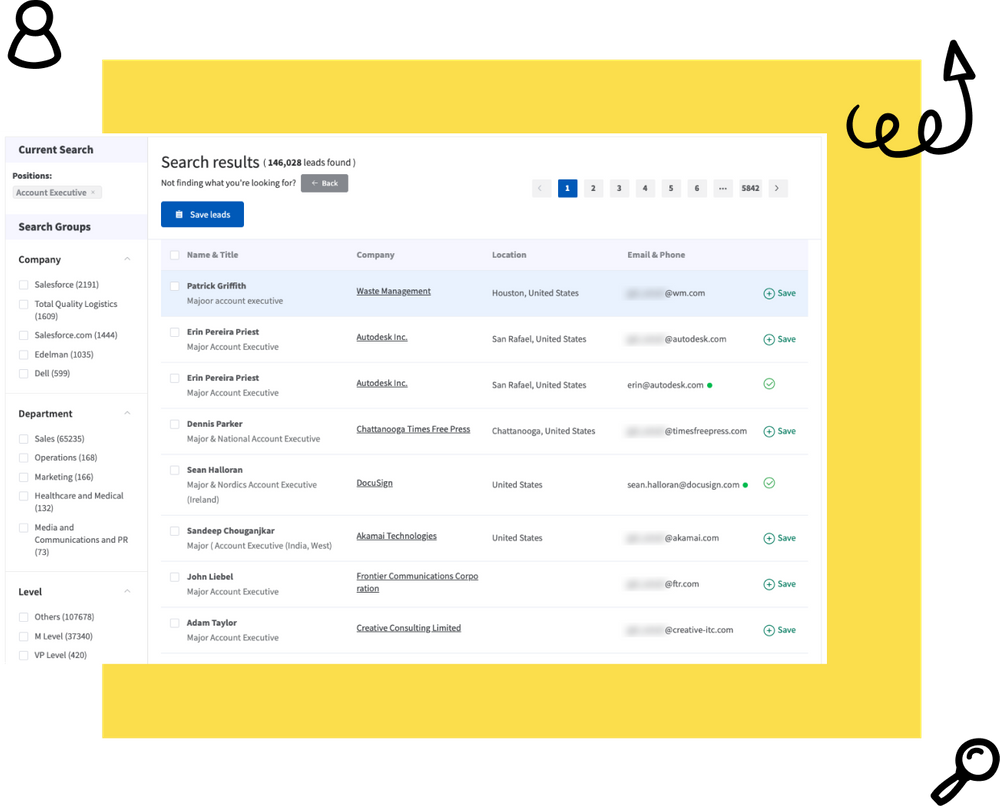 Start your Lead Generation for free today!
30 days free trial
No credit card
Cancel any time